January 29, 2020. EN . Philippines : Taal , Costa Rica : Rincon de la Vieja , Italy / Sicily : Etna , Alaska : Shishaldin .
January 29 , 2020 .
Philippines ,Taal :
TAAL VOLCANO BULLETIN 29 January 2020 8:00 A.M.
Activity in the Main Crater in the past 24 hours has been characterized by moderate to voluminous emission of white to dirty white steam-laden plumes 600 – 800 meters tall that drifted northeast. Sulfur dioxide (SO2) emission was measured at an average of 64 tonnes/day.
The Philippine Seismic Network (PSN) plotted a total of seven hundred sixty (760) volcanic earthquakes since 1:00 PM, January 12, 2020. One hundred seventy-seven (177) of these registered at magnitudes M1.2-M4.1 and were felt at Intensities I-V. Since 5:00 AM on January 28, 2020 until 5:00 AM today, there were three (3) volcanic earthquakes plotted that registered at magnitudes M1.7-M2.1 with one felt event at Intensity III.
For the past 24 hours, the Taal Volcano Network, which can record small earthquakes undetectable by the PSN, recorded one hundred twenty three (123) volcanic earthquakes including three (3) low-frequency events. These earthquakes signify magmatic activity beneath the Taal edifice that could lead to eruptive activity at the Main Crater.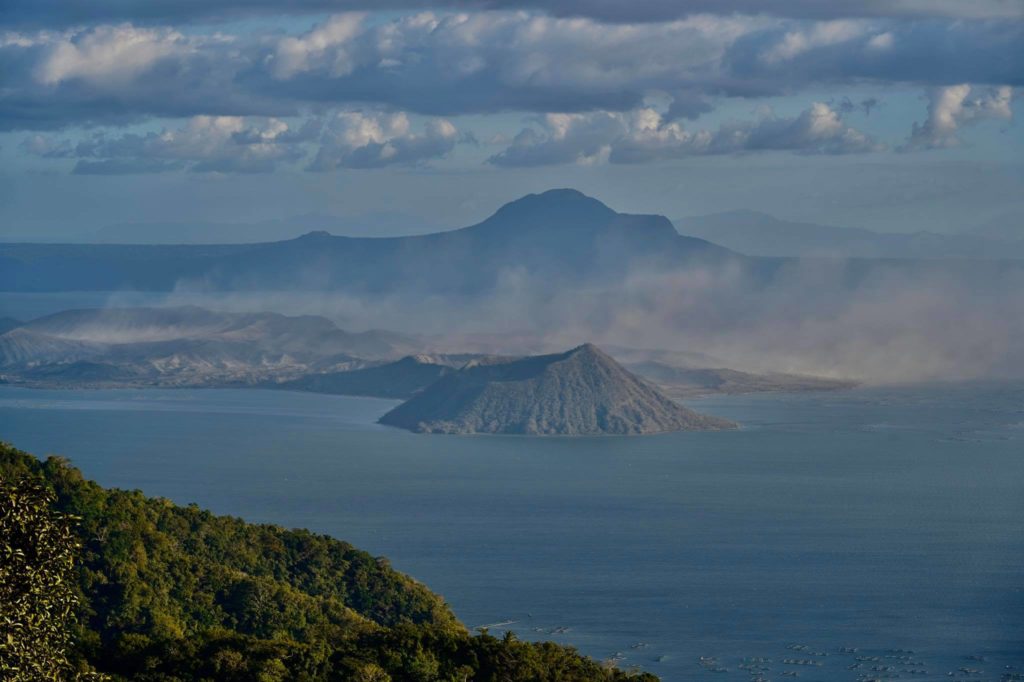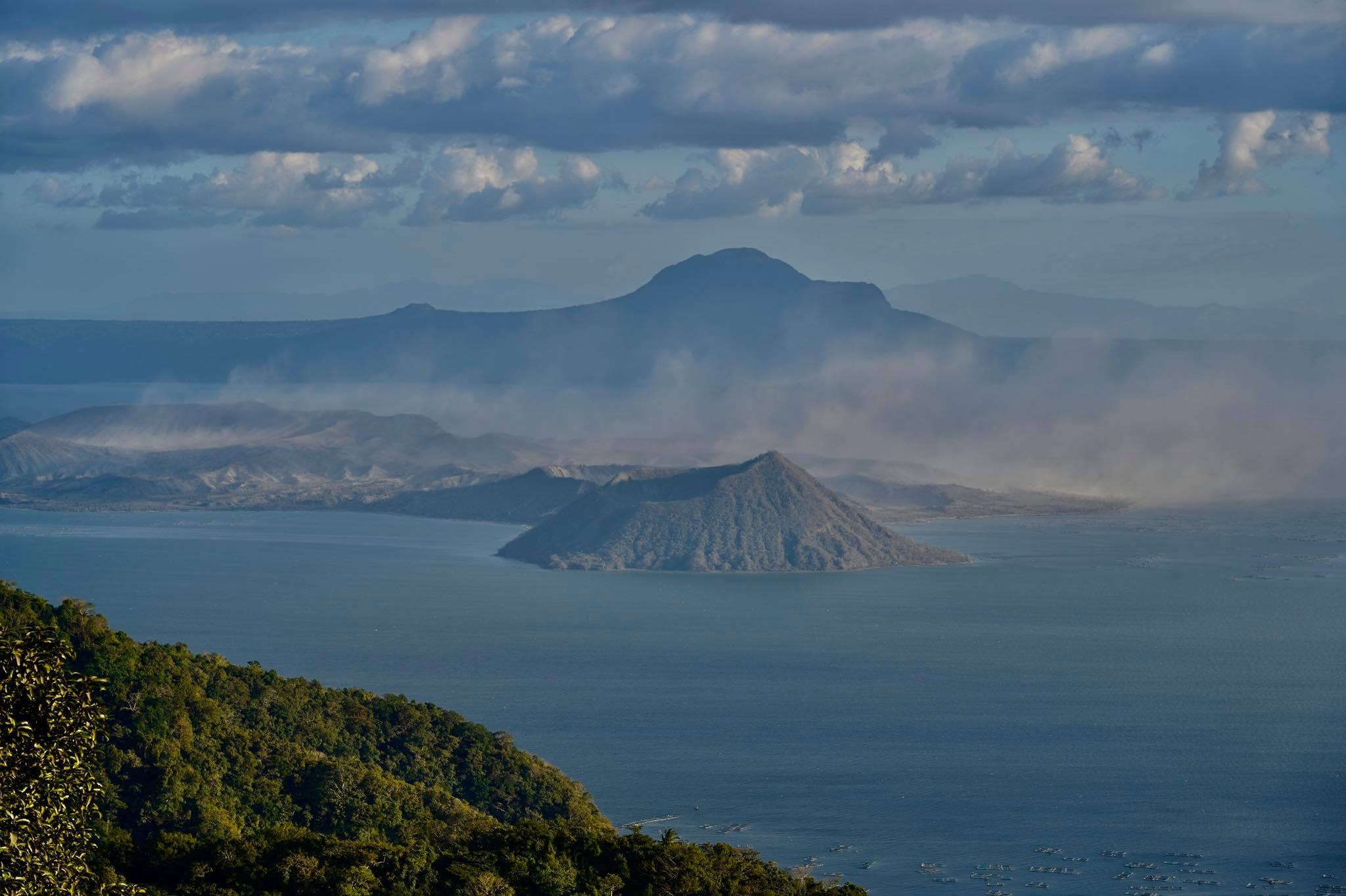 Alert Level 3 is maintained over Taal Volcano. DOST-PHIVOLCS reminds the public that sudden steam-driven and even weak phreatomagmatic explosions, volcanic earthquakes, ashfall, and lethal volcanic gas expulsions can still occur and threaten areas within Taal Volcano Island and nearby lakeshores. DOST-PHIVOLCS recommends that entry into the Taal Volcano Island as well as into areas over Taal Lake and communities west of the island within a seven (7) km radius from the Main Crater must be strictly prohibited. Local government units are advised to assess areas outside the seven-kilometer radius for damages and road accessibilities and to strengthen preparedness, contingency and communication measures in case of renewed unrest. People are also advised to observe precautions due to ground displacement across fissures, frequent ashfall and minor earthquakes. Communities beside active river channels particularly where ash from the main eruption phase has been thickly deposited should increase vigilance when there is heavy and prolonged rainfall since the ash can be washed away and form lahars along the channels. Civil aviation authorities must advise pilots to avoid flying close to the volcano as airborne ash and ballistic fragments from sudden explosions and wind-remobilized ash may pose hazards to aircrafts.
DOST-PHIVOLCS is closely monitoring Taal Volcano's activity and any new significant development will be immediately communicated to all stakeholders.
Source : Phivolcs .
Photo et video : Raffy Tima .
Costa Rica , Rincon de la Vieja :
The Rincon de la Vieja volcano increases its seismic activity.
The OVSICORI reported that since Monday, the Rincon de la Vieja volcano has shown an increase in seismic activity, associated with the movement of hydrothermal fluids inside the volcano. Until now, there is no presence of magmatic movements in the massif which could generate an eruption.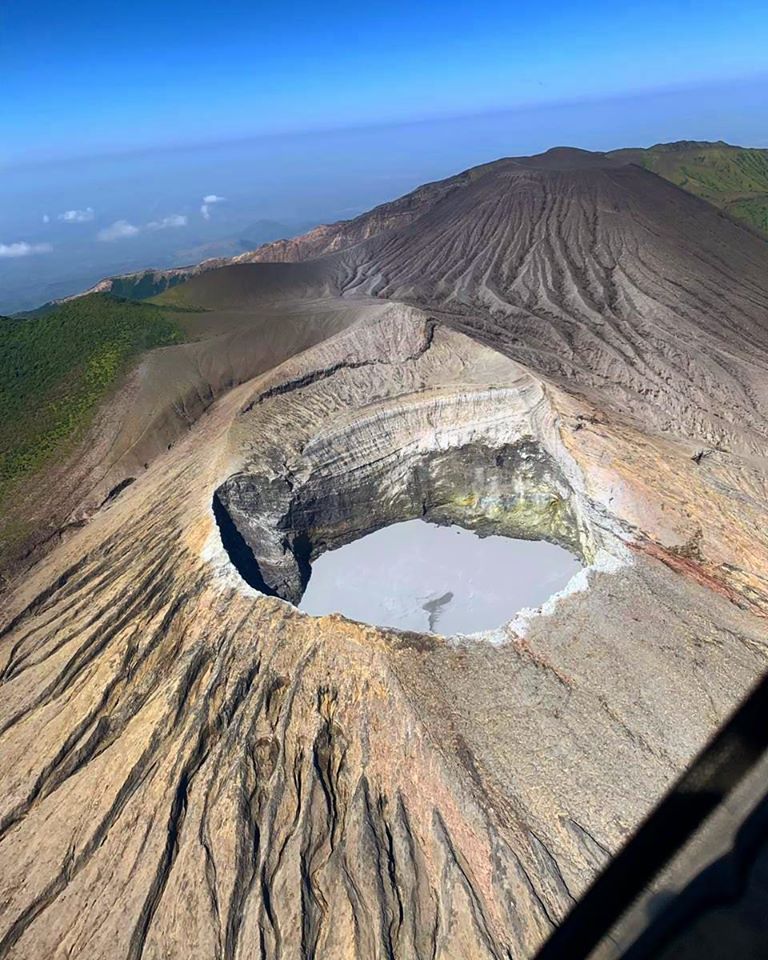 However, the CNE notes that we are facing one of the 5 active volcanoes, and that a change in its condition can occur at any time. Consequently, the communities close to the canals which drain the northern part are advised to be cautious for the descent of mud and mud currents associated with hydrothermal eruptions which expel water from the lake.
The volcano is under constant observation by the scientific technical organizations #OVSICORI #RSN and CNE.
Source : Ovsicori
Photo: Christopher Allen
Italy / Sicily , Etna :
Weekly bulletin from 20/01/2020 to 26/01/2020 (date of issue 28/01/2020)
SUMMARY OF ACTIVITY STATUS
In light of the monitoring data, it is highlighted:
1) VOLCANOLOGICAL OBSERVATIONS: Strombolian and effusive intra-crater activity of the Voragine crater and ash emissions from the New Southeast Crater and the Northeast Crater.
2) SEISMOLOGY: Modest seismic fracturing activity; stability of volcanic tremor parameters.
3) INFRA-SOUND: Sustained infrasonic activity.
4) DEFORMATIONS: Analysis of data from GPS networks and tiltmeters does not show significant variations.
5) GEOCHEMISTRY: The fluxes of SO2 and HCl are placed at a medium-low level. Soil CO2 flow values are low to medium. As for the dissolved CO2 in the aquifer, the C / S and the isotopic ratio of helium, there is no update compared to last week.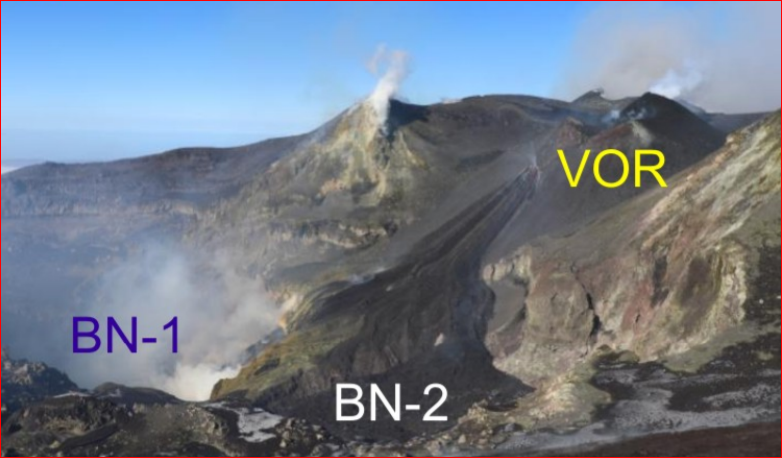 VOLCANOLOGICAL OBSERVATIONS.
During the week, Etna surveillance was carried out by analyzing the images taken by the network of surveillance cameras from the INGV – Catania Section, the Etneo Observatory, and direct observations from a distance. On January 20 and 21, the cloud cover strongly prevented the observation of activity in the upper craters; for the rest of the week, the weather was pretty good.
During the period in question, eruptive activity continued in the craters of Voragine, New Crater South-East and North-East crater, accompanied by a degassing regime of variable quantities for each individual crater.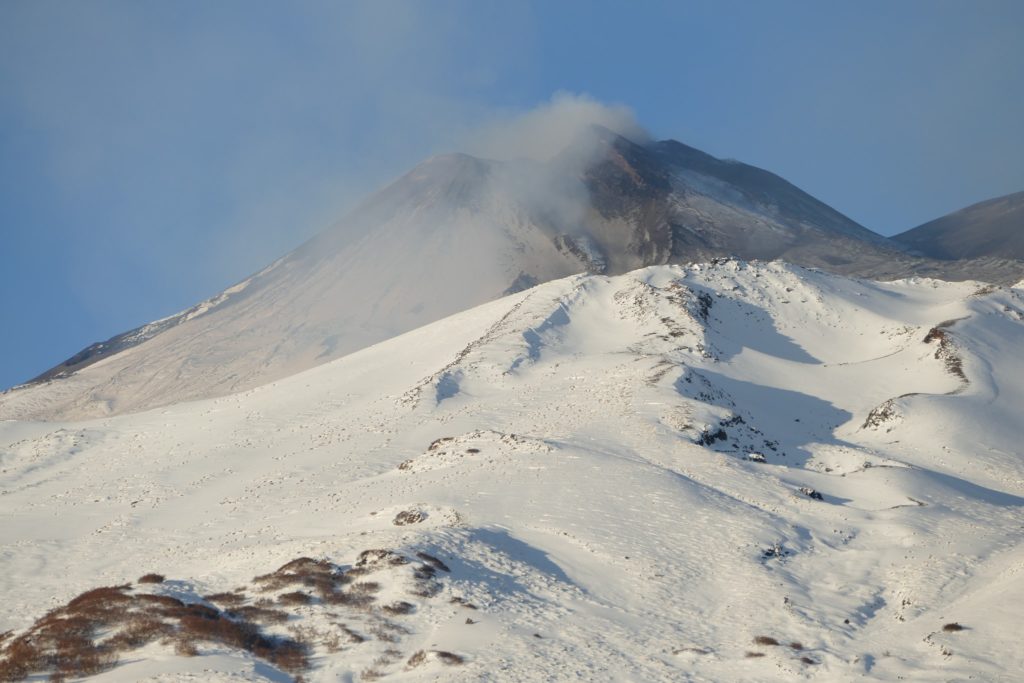 In detail, the intra-crater eruptive activity continued in Voragine with strombolian explosions and the emission of a lava flow, which pours from the southern flank of the intra-crater cone of the adjacent Bocca Nuova. By the end of the week, lava had completely filled the eastern well of the Bocca Nuova (BN-2). During the week, an increase in the frequency of Strombolian explosions was observed, which led to rapid growth of the cone, especially in its northern part. The explosions were only rarely accompanied by very light ash emissions.
On January 21 and 22, the New Southeast Crater (NSEC) produced several episodes of modest ash emissions by mouth which opened on December 11, 2019 on the side of the « saddle cone ». These episodes lasted a few tens of minutes each. Emissions of ash from the eastern mouth of the NSEC were also observed more rarely. Few of these emissions were accompanied by anomalies visible on the images of thermal surveillance cameras. After January 22, ash emissions from the NSEC fell sharply.
Finally, the Northeast crater was the site of discontinuous intra-crater strombolian activity and periodic very diluted ash emissions.
Volcanic tremor: The time trend of the average amplitude of volcanic tremor showed a slight decrease compared to the previous week and remained at a medium-high level. The location of the source of the tremor is located below the summit craters, at a depth of about 2200-2800 meters above sea level.
Source : INGV.
Read the whole article : file:///C:/Users/Utilisateur/AppData/Local/Packages/Microsoft.MicrosoftEdge_8wekyb3d8bbwe/TempState/Downloads/BollettinoEtna20200128%20(1).pdf
Photos : INGV , Gio Giusa .
Alaska , Shishaldin :
54°45'19 » N 163°58'16 » W,
Summit Elevation 9373 ft (2857 m)
Current Volcano Alert Level: WATCH
Current Aviation Color Code: ORANGE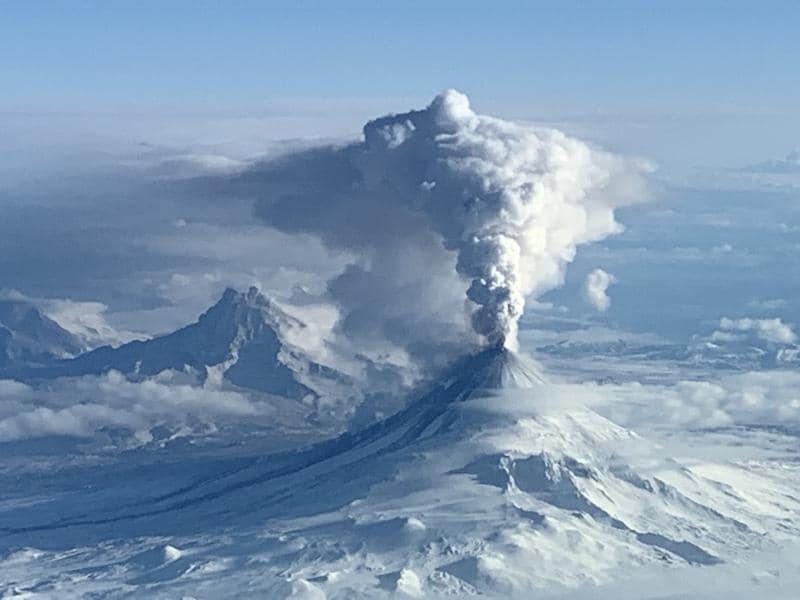 No significant eruptive activity has occurred over the past 24 hours. Seismicity remains above background. Weakly elevated surface temperatures were observed in satellite data. No activity was observed in partly clear web camera images. It remains possible for unrest to escalate at any time with little warning, and additional lava flows, lahars, and ash-producing eruptive events may occur.
Shishaldin is monitored by local seismic and infrasound sensors, satellite data, web cameras, a telemetered geodetic network, and distant infrasound and lightning networks.
Source : AVO.
Photo : setiavan