January 27, 2020. EN . Iceland : Thorbjorn , Philippines : Taal , Russia / Kurile Islands : Ebeko , Peru : Sabancaya , Indonesia : Semeru .
January 27 , 2020 .
Iceland , Mt Thorbjorn :
Possible magma accumulation beneath Mt. Thorbjorn on Reykjanes peninsula
Inflation has been detected in the last few days. An earthquake swarm has been ongoing during the same period. A state of uncertainty has been declared. The aviation color code has been raised to yellow for Reykjanes.
An inflation has been detected since January 21st and is centred just west of Mt. Thorbjorn on Reykjanes peninsula. The inflation is unusually rapid, around 3-4 mm per day and has accumulated to 2 cm to date. It has been detected both on continuous GPS stations and in InSAR images. The inflation is most likely a sign of magma accumulation at a depth of just a few km. If magma accumulation is causing the inflation, the accumulation is very small, with the first volume estimate is around 1 million cubic meters (0,001 km3). This is the conclusion of a meeting held with the Scientific council of the Civil Protection at the IMO this morning.
Accurate measurements of crustal deformation on Reykjanes peninsula span approx. three decades. During this period no comparable signal has been measured. This is unusual for this period. An earthquake swarm has been ongoing, since January 21st, alongside the deformation signal just east of the inflation centre (northeast of Grindavík). The largest earthquakes occurred on January 22nd and were of M3,7 and 3,6. They were felt widely on the Reykjanes peninsula and all the way to Borgarnes region. The earthquake swarm is currently in decline. Swarms like this are common and not unusual by itself in the area. The fact that an inflation is occurring alongside the earthquake swarm is a cause for concern and closer monitoring.
The inflation is centred within an active volcanic zone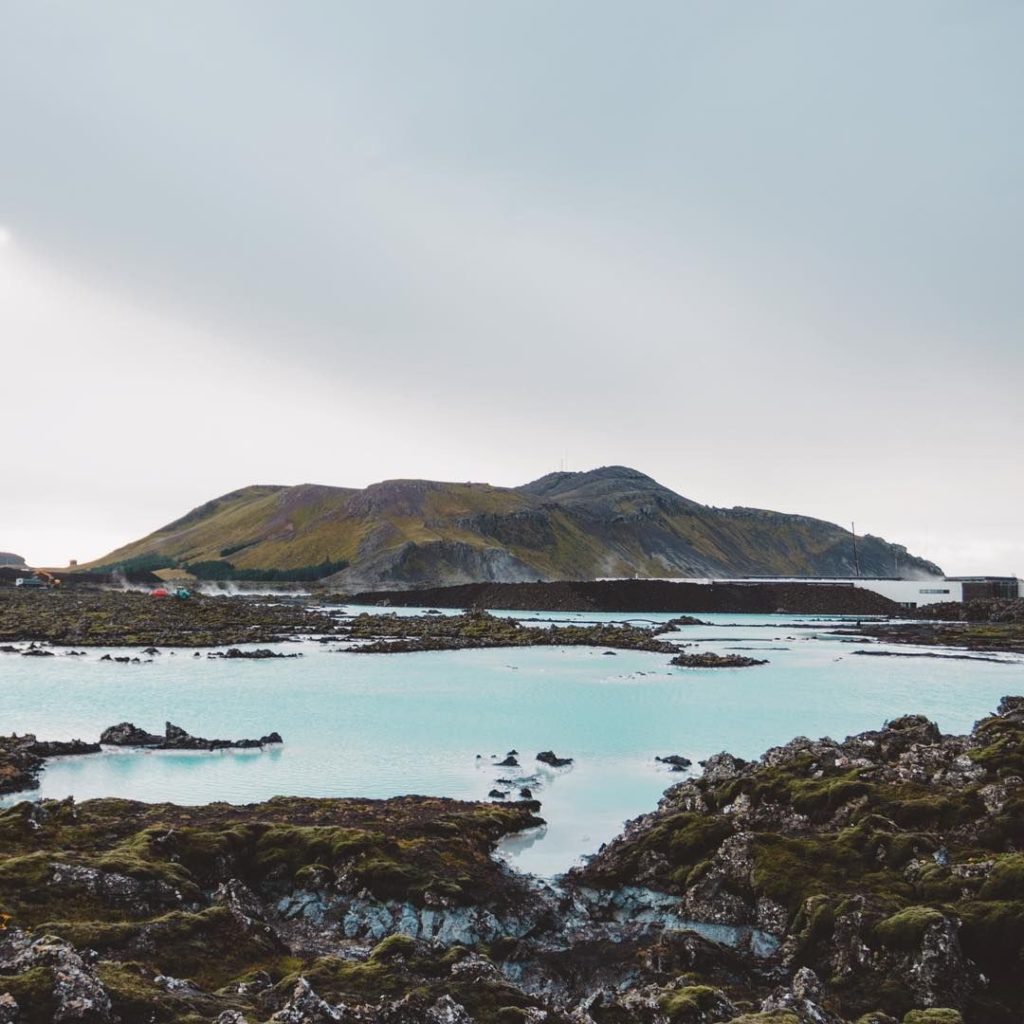 Þorbjörn Volcano seen from across The Blue Lagoon. Photograph taken from unknown photographer via Volcanodiscovery .
The inflation is occurring on plate boundaries and within the volcanic system of Svartsengi which is either considered a separate system or part of the Reykjanes volcanic system. The last known eruption was during Reykjanes fires, which occurred between 1210-1240 AD. Within that period a several eruptions occurred within that system, thereof there were three eruptions in Svartsengi system. The eruptions were effusive (non-explosive) fissure eruptions erupting on 1-10 km long fissures. No explosive eruptions are known from this system. The largest eruption in the swarm, from 13th century, formed Arnarseturshraun lava (estimated 0,3 km3 and 20 km2). Historically, the duration of these eruptions spans from a few days up to several weeks. Seismic activity is very common in this area and is linked to the plate boundaries, geothermal activity and possible magma intrusions. The largest earthquakes measured in this area are about M5.5.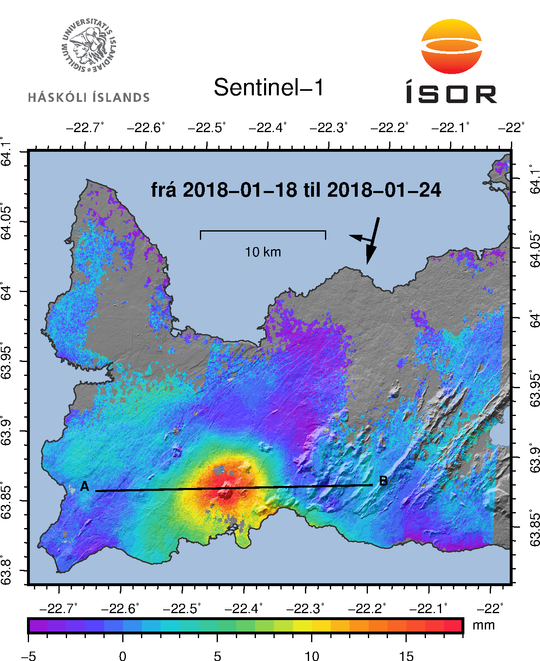 An InSAR measurement (InSAR: interferometric analysis of synthetic aperture radar images) based on satellite information showing inflation during the period from 18 to 24 January. The red color indicates an inflation of about 15 mm during the period. (Vincent Drouin, ISOR).
Possible scenarios :
The activity has only been ongoing for a few days and it is uncertain if it will escalate to more serious activity. Based on current information, the following scenarios are considered possible, without stating which is most likely or within what timeframe.
1. If the inflation is due to magma accumulation:
• Magma accumulation will cease soon without further activity.
• Magma accumulation continues for some time without further activity.
• Magma accumulation will lead to a magma intrusion.
• Magma accumulation will lead to magma intrusion and eruption (effusive fissure eruption).
• Magma accumulation triggers seismic activity with larger earthquakes (up to M6.0).
2. If the inflation is not caused by magma accumulation:
• The inflation might be linked to tectonic activity and lead to larger earthquakes (up to M6.0).
The National Commissioner of the Icelandic Police in cooperation with the Police Commisioner on Reykjanes has declared a state of uncertainty. A public community meeting will be held in Grindavík tomorrow, Monday January 27th at 4pm. There the situation will be discussed with the Department of Civil Protection, scientists and first responders. The 24/7 monitoring of the area has been increased at IMO.
Source : Vedur.is
Lire l'article : https://en.vedur.is/about-imo/news/possible-magma-accumulation-beneath-mt-thorbjorn-on-reykjanes-peninsula?fbclid=IwAR1tsuKA8L6gSJg2VfpUELDLo1wU0aWjM8IARZ9_Orp9ncqgsvnEG5lGPkk
Philippines , Taal :
TAAL VOLCANO BULLETIN 27 January 2020 8:00 A.M.
Activity in the Main Crater in the past 24 hours has been characterized by weak to moderate emission of white steam-laden plumes 50 to 800 meters high that drifted northeast. Sulfur dioxide (SO2) emission was measured at an average of 87 tonnes/day. The Taal Volcano Network recorded one hundred seventy (170) volcanic earthquakes including four (4) low-frequency earthquakes.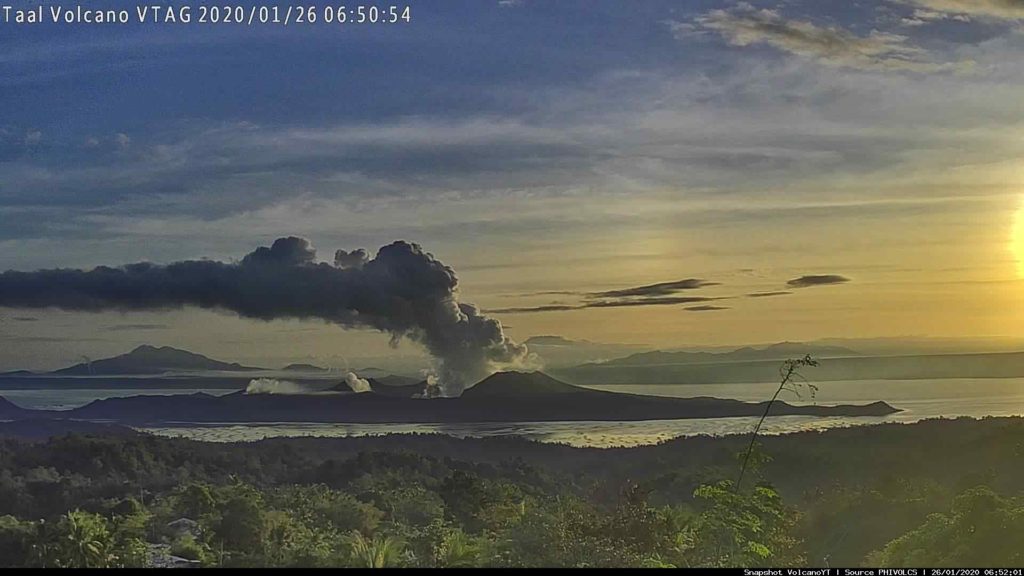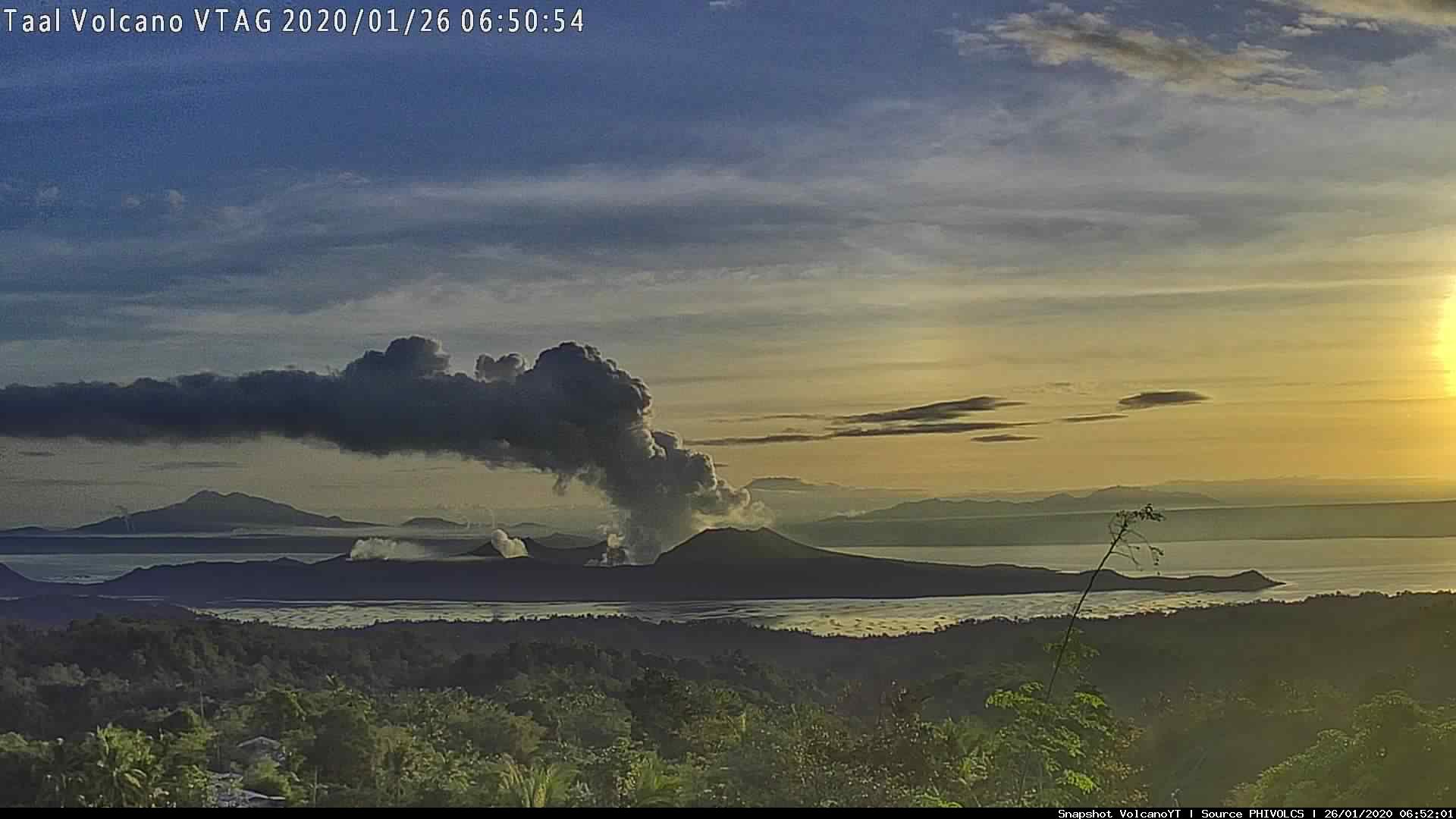 Alert Level 3 is maintained over Taal Volcano. DOST-PHIVOLCS reminds the public that sudden steam-driven and even weak phreatomagmatic explosions, volcanic earthquakes, ashfall, and lethal volcanic gas expulsions can still occur and threaten areas within Taal Volcano Island and nearby lakeshores. DOST-PHIVOLCS recommends that entry into the Taal Volcano Island as well as into areas over Taal Lake and communities west of the island within a seven (7) km radius from the Main Crater must be strictly prohibited. Local government units are advised to assess areas outside the seven-kilometer radius for damages and road accessibilities and to strengthen preparedness, contingency and communication measures in case of renewed unrest. People are also advised to observe precautions due to ground displacement across fissures, frequent ashfall and minor earthquakes. Communities beside active river channels particularly where ash from the main eruption phase has been thickly deposited should increase vigilance when there is heavy and prolonged rainfall since the ash can be washed away and form lahars along the channels. Civil aviation authorities must advise pilots to avoid flying close to the volcano as airborne ash and ballistic fragments from sudden explosions and wind-remobilized ash may pose hazards to aircrafts. DOST-
PHIVOLCS is closely monitoring Taal Volcano's activity and any new significant development will be immediately communicated to all stakeholders.
Source : Phivolcs
Russia / Kuriles Islands , Ebeko :
VOLCANO OBSERVATORY NOTICE FOR AVIATION (VONA).
Issued: January 26 , 2020
Volcano: Ebeko (CAVW #290380)
Current aviation colour code: ORANGE
Previous aviation colour code: orange
Source: KVERT
Notice Number: 2020-12
Volcano Location: N 50 deg 41 min E 156 deg 0 min
Area: Northern Kuriles, Russia
Summit Elevation: 3791.68 ft (1156 m)
Eruption of Ebeko volcano on 20 Jan 2020 (image: Leonid Kotenko)
Volcanic Activity Summary:
A moderate eruptive activity of the volcano continues. According to visual data by volcanologists from Severo-Kurilsk, explosion sent ash up to 1.7 km a.s.l., an ash cloud is drifting to the south-east from the volcano.
A moderate eruptive activity of the volcano continues. Ash explosions up to 19,700 ft (6 km) a.s.l. could occur at any time. Ongoing activity could affect low-flying aircraft and airport of Severo-Kurilsk.
Volcanic cloud height:
4920-5576 ft (1500-1700 m) AMSL Time and method of ash plume/cloud height determination: 20200126/2304Z – Visual data
Other volcanic cloud information:
Distance of ash plume/cloud of the volcano: 3 mi (5 km)
Direction of drift of ash plume/cloud of the volcano: SE
Time and method of ash plume/cloud determination: 20200126/2304Z – Visual data
Source : Kvert .
Photo : Leonid Kotenko via Volcanodiscovery .
Peru : Sabancaya :
AN INGEMMET TECHNICAL REPORT REPORTS THAT THE SABANCAYA LAVA DOME IS PARTIALLY DESTROYED.
The technical report « State of the eruption of the Sabancaya volcano, period November 2019 to January-2020 » produced by the Geological, Mining and Metallurgical Institute – Ingemmet, indicates that the lava dome located in the crater of the Sabancaya volcano is underway to be partially destroyed.
The study carried out by specialists from the Volcanological Observatory of Ingemmet (OVI), through the use of a camera installed on December 4 and satellite images, details that between December 2019 and January 2020, the dome lost 65% of its volume in the Southeast sector, part of this volume was expelled during the explosions, while the other collapsed on the south side of the crater.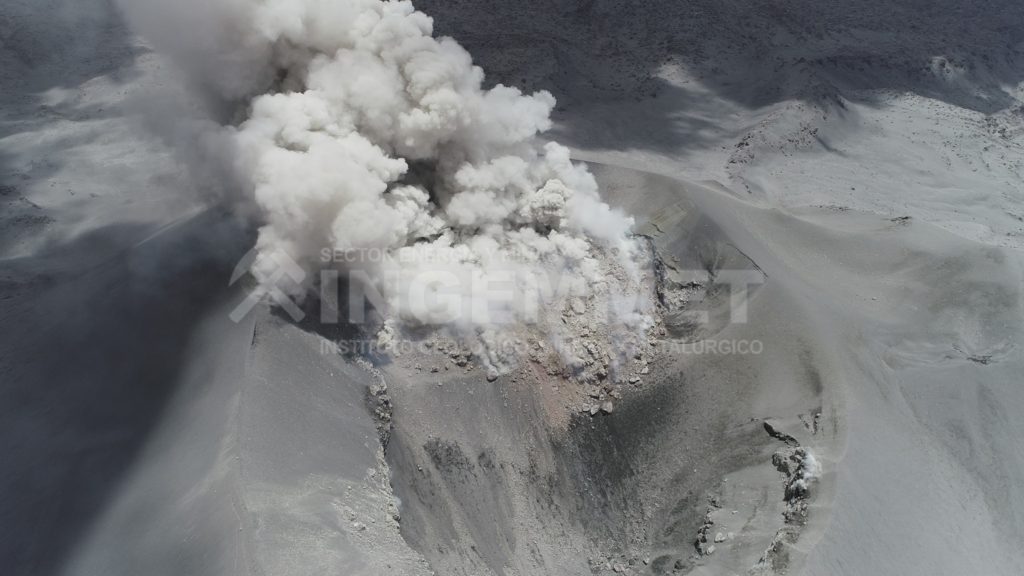 The document also presents the possible future scenarios concerning the activity of the Sabancaya volcano:
« Scenario 1 (most likely): Moderate explosive activity (eruptive column <5 km), with partial destruction and reconstruction of the dome, gas emissions, ashes, ballistic projections, small volume pyroclastic flows at short distance. »
"Scenario 2 (less likely): high explosive activity (eruptive column> 5 km), with total destruction of the dome, gas emissions, ash, ballistic projections and generation of pyroclastic flows of moderate volume, up to a few kilometers.  »
Due to the significant accumulation of ash and the current rainy season, the presence of lahars (mud-debris flows) of moderate volume which can affect the rivers of Mollebaya-Sepina, the Hualca Hualca river, the stream Huayuray is expected.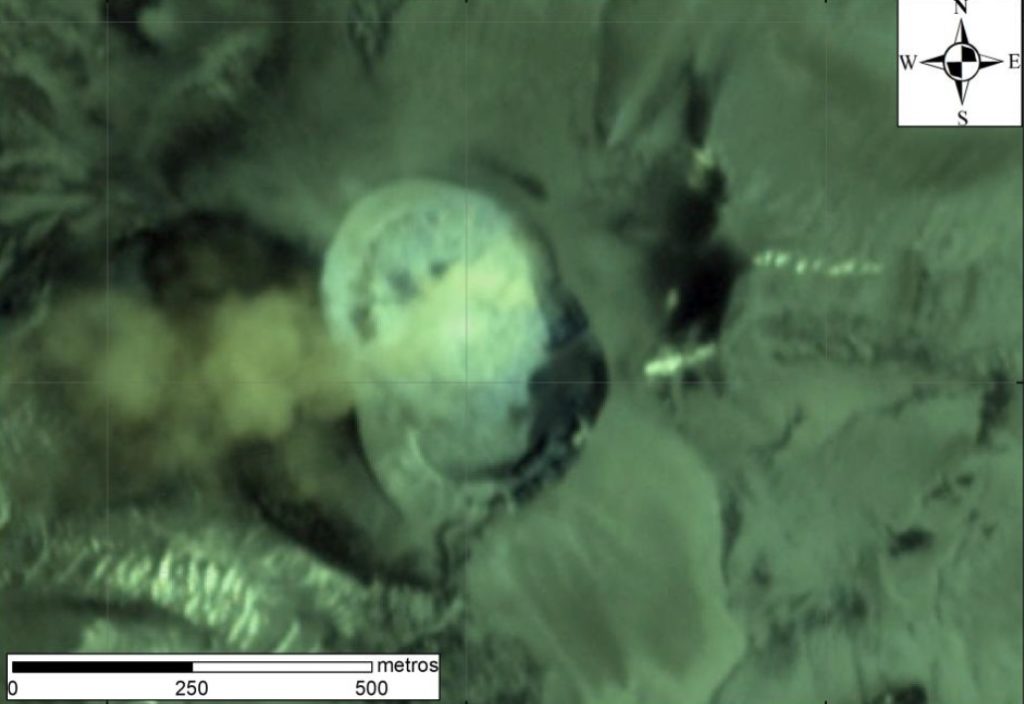 Finally, among the recommendations, it is necessary: not to approach the volcano, within a radius of 12 km around the crater; carry out an assessment of the impact of the ash on the health of people, the environment and the affected villages, mainly within a radius of 40 km; implement the delivery of protective accessories; among others.
Source : Ingemmet .
Indonesia , Semeru :
VOLCANO OBSERVATORY NOTICE FOR AVIATION – VONA.
Issued: January 26 , 2020 .
Volcano: Semeru (263300)
Current Aviation Colour Code: ORANGE
Previous Aviation Colour Code: orange
Source: Semeru Volcano Observatory
Notice Number: 2020SMR08
Volcano Location: S 08 deg 06 min 29 sec E 112 deg 55 min 12 sec
Area: East java, Indonesia
Summit Elevation: 11763 FT (3676 M)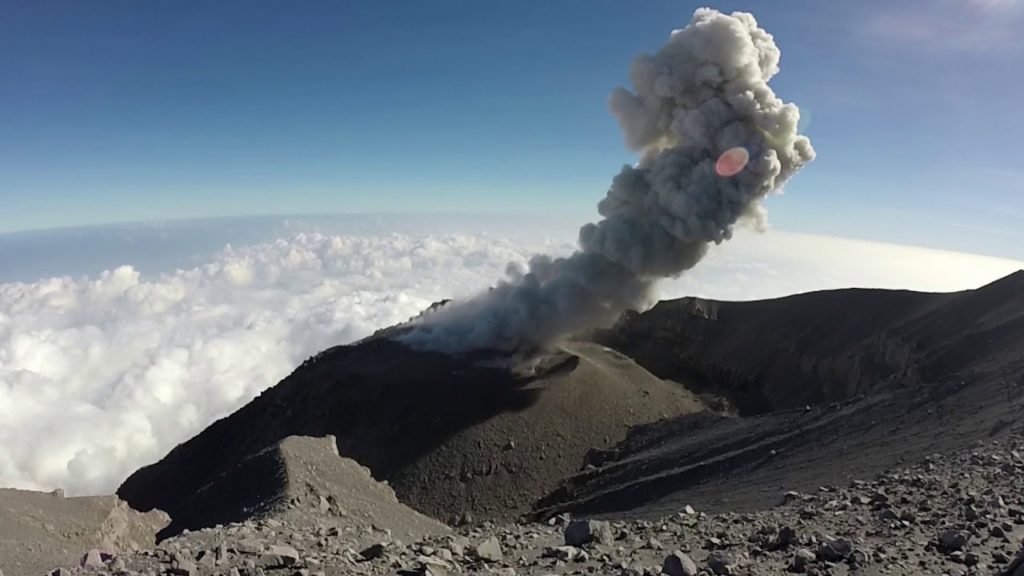 Volcanic Activity Summary:
Eruption with volcanic ash cloud at 22h43 UTC (05h43 local).
Volcanic Cloud Height:
Best estimate of ash-cloud top is around 12723 FT (3976 M) above sea level, may be higher than what can be observed clearly. Source of height data: ground observer.
Other Volcanic Cloud Information:
Ash cloud moving to south
Remarks:
Seismic activity is characterized by eruption, avalanche and gas emission earthquakes
According to the seismographs of January 26, 2020, it was recorded:
50 eruption earthquakes
4 avalanche earthquakes
13 emission earthquakes
3 distant tectonic earthquake
Recommendation:
The community must not carry out activities within a radius of 1 km and in the area up to 4 km in the South-South-East slope sector of the active crater which is an active area of openings of the crater of G. Semeru (Jongring Seloko) as a channel for sliding warm clouds.
Be aware of the presence of the lava dome in the Seloko Jongring crater.
Source : Magma Indonésie . PVMBG.
Photo : Auteur inconnu .