November 14, 2019. EN. Alaska : Shishaldin , Colombia : Nevado del Ruiz , Indonesia : Sangeangapi , Guatemala : Fuego .
November 14 , 2019.
Alaska , Shishaldin :
54.756°N, 163.97°W
Elevation 2857 m
AVO reported that the eruption at Shishaldin continued at variable levels during 5-12 November. Periods of high-amplitude tremor during 5-6 November were likely related to increased lava effusion and fountaining, though weather clouds prevented visual confirmation. Intermittent advancement of active lava flows and lahars on the N flank were confirmed in RADAR data, and by 7 November the lava flow was 1.3 km long and the debris flow runout was 5 km. Seismic tremor was low during 8-9 November suggesting lava effusion was less likely .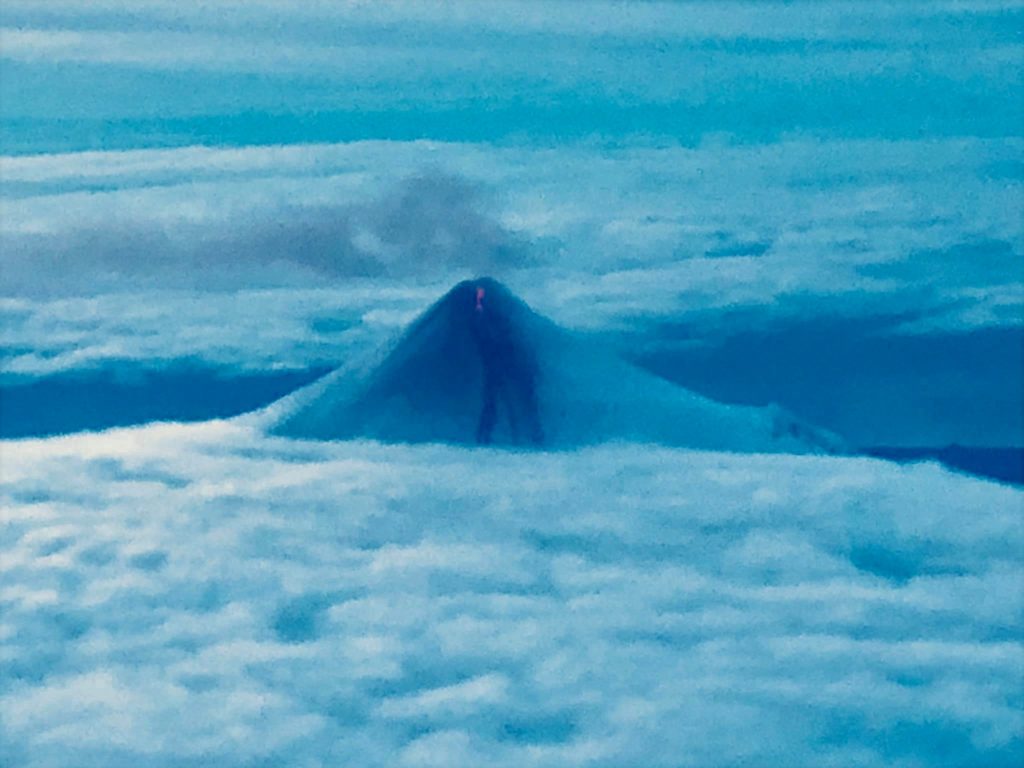 Weather cloud cover continued to obscure views, though elevated surface temperatures were sometimes detected during brief periods of clear weather. Activity significantly increased during 10-11 November with lava fountaining visible in webcam views throughout the evening and night. Strongly elevated surface temperatures at the summit and along the flanks were visible in satellite data. Ash emissions reported by pilots and visible on webcam images rose as high as 3.7 km (12,000 ft) a.s.l. and drifted N. Activity decreased during 11-12 November. Strongly elevated surface temperatures were consistent with cooling lava flows. Seismicity decreased during the evening of 11 November and remained low. Minor steam-and-ash emissions were visible in webcam images. The Aviation Color Code remained at Orange and the Volcano Alert Level remained at Watch.
Seismicity has increased over the past day. Elevated surface temperatures continue to be observed in mostly cloudy satellite views, consistent with the cooling of the lava flow. Web camera views are currently obscured by clouds.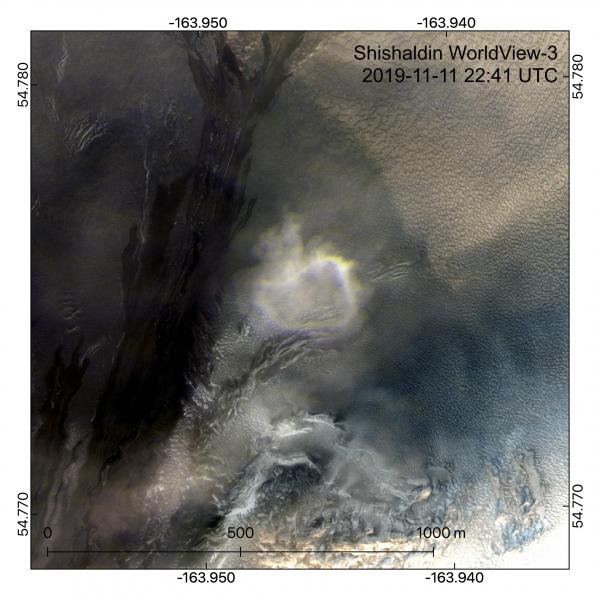 A volcanic « smoke ring » produced in the ongoing eruption of Shishaldin was captured in this clear WorldView-3 satellite view on Nov 11, 2019. These rare clouds are produced from strombolian eruptive activity and have been observed during eruptions of Stromboli and Etna volcanoes in Italy. New black lahar deposits extending from an active lava flow melting snow and ice upslope are also seen in the background.
Shishaldin is monitored by local seismic and infrasound sensors, satellite data, a web camera, a telemetered geodetic network, and distant infrasound and lightning networks.
Current Volcano Alert Level: WATCH
Current Aviation Color Code: ORANGE
Source:US Geological Survey Alaska Volcano Observatory (AVO), GVP .
Photo : Dietterich, Hannah. Bernadette Oller Namasivayam.
Colombia , Nevado del Ruiz :
Weekly activity bulletin of the Nevado del Ruiz volcano.
The level of activity continues at the level: Yellow activity level or (III): changes in the behavior of volcanic activity.
With regard to monitoring the activity of the Nevado del Ruiz volcano, the COLOMBIAN GEOLOGICAL SERVICE reports that:
The Nevado del Ruiz volcano continues to display unstable behavior. Over the past week, the monitored parameters have continued to show significant changes, reflecting the instability of the volcanic system. The variations are highlighted mainly in seismicity, associated with the movement of fluids inside the volcanic ducts and in the degassing rates. It is not excluded that these monitored parameters will continue to change, indicating an acceleration of the process and therefore changes in the activity level of the volcano.
Seismicity related to fluid dynamics in the volcanic system has shown an increase in the number of registered earthquakes. It was characterized by the presence of continuous volcanic tremors, long period type earthquakes and very long period pulsations (VLPs), with varying energy levels and changes in spectral characteristics. This seismicity was mainly located in the Arenas crater and its surroundings.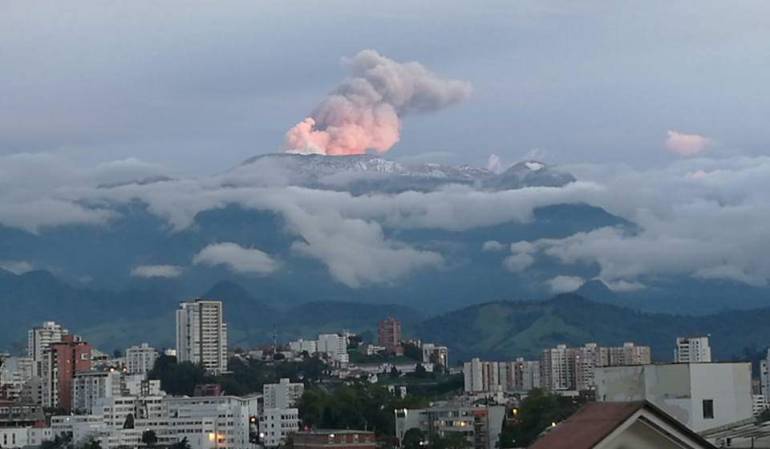 Some of these signals were associated with small gas and ash emissions, confirmed by the cameras installed in the volcano area, and according to a report by GSC officials and PNNN staff.
The seismicity caused by rock fracturing resulted in a decrease in the number of earthquakes and a similar level of released seismic energy compared to the previous week. This type of seismicity was mainly located in the South-South-West and North-East sectors of the volcanic structure as well as in the Arenas crater and, to a lesser extent, in the northern sector of the volcano. The depth of the earthquakes ranged from 0.5 to 8.3 km. The maximum magnitude recorded during the week was 1.0 ML (local magnitude), corresponding to an earthquake recorded on November 8 at 3:47 pm (local time), located 3.1 km south-southwest of the structure volcanic 3.67 km deep.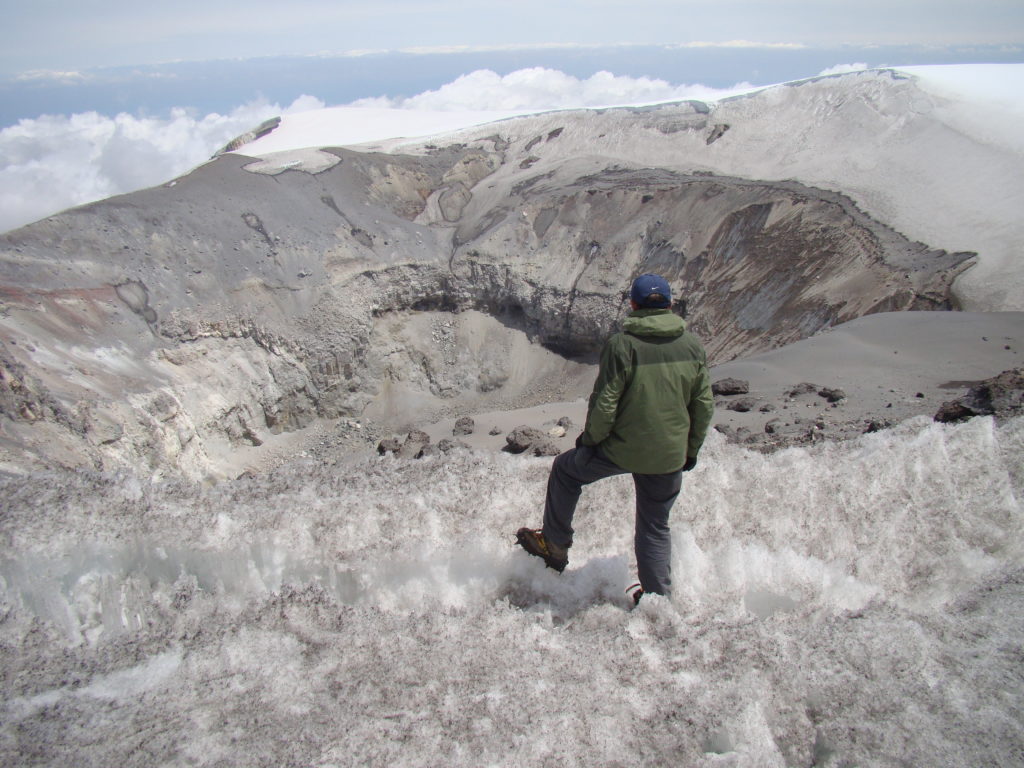 Volcanic deformation measured from electronic inclinometers and GNSS (Global Navigation Satellite System) stations did not show any significant changes during the week.
The volcano continues to emit water vapor and high levels of gas, mainly sulfur dioxide (SO2). These levels are estimated from data obtained from SCANDOAS stations and the processing of satellite images.
The column of gas and steam reached November 5 a maximum height of 1,300 m measured at the top of the volcano. The direction of dispersal of the column was governed by the direction of the wind in the area, which varied during the week without showing any preference for any area.
The Nevado del Ruiz volcano continues at the level of yellow activity.
Source : Ingeominas.
Photo : archive/Caracol Radio , Leonardo Real / IDEAM , ( 2010) .
Indonesia , Sangeangapi :
VOLCANO OBSERVATORY NOTICE FOR AVIATION – VONA.
Issued: November 14 , 2019 .
Volcano: Sangeangapi (264050)
Current Aviation Colour Code: YELLOW
Previous Aviation Colour Code: unassigned
Source: Sangeangapi Volcano Observatory
Notice Number: 2019SAN01
Volcano Location: S 08 deg 12 min 00 sec E 119 deg 04 min 12 sec
Area: West Nusa Tenggara, Indonesia
Summit Elevation: 6237 FT (1949 M)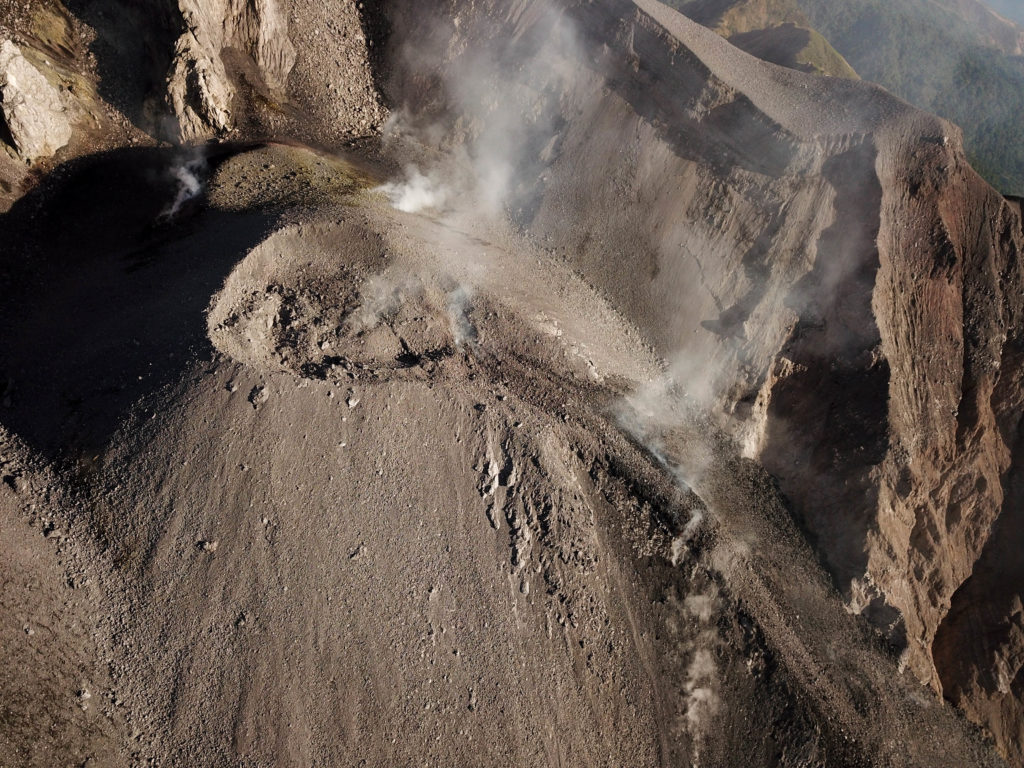 Volcanic Activity Summary:
Small gas emission observed at 01h45 UTC (09h45 local).
Volcanic Cloud Height:
Best estimate of ash-cloud top is around 6397 FT (1999 M) above sea level, may be higher than what can be observed clearly. Source of height data: ground observer.
Other Volcanic Cloud Information:
Thin and white emission moving to west.
Remarks:
Seismic activity is dominated by gas emission earthquake.
Source : Magma Indonésie .
Photo : 80 jours voyages / S Chermette . https://80joursvoyages.com/
Guatemala , Fuego :
VOLCANOLOGICAL SPECIAL BULLETIN BEFGO N ° 102-2019, LAVA FLOW .
Type of activity: Vulcanian
Morphology: Composite stratovolcano
Geographical location: 14 ° 28'54˝Latitude N; 90 ° 52'54˝Longitude O.
Altitude: 3,763msnm.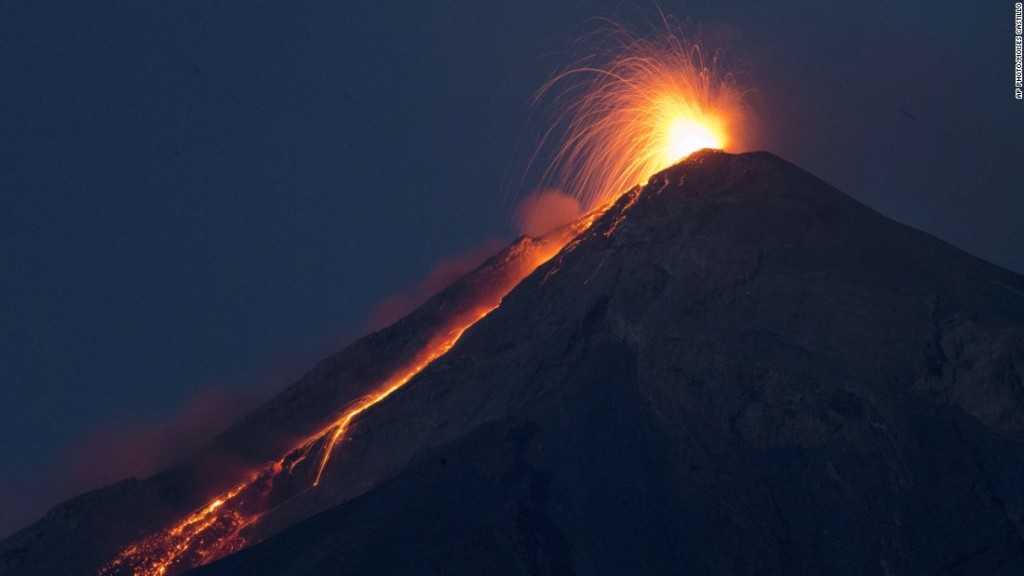 As indicated in the daily bulletins since November 6, a lava flow is observed in the direction of the Seca canyon, it reaches a length of 900 meters until today. OVFGO observations, monitoring the seismic and acoustic activity of the Fuego volcano, show that this type of activity has effusive characteristics, because this incandescence is observed (mainly at night and early in the morning) with a sustained degassing causing sounds similar to those of a train locomotive, with intervals not exceeding 30 minutes. This activity is similar to the one recorded in April of this year, which indicates that it can continue for the following days.
Emissions of ash and gas are recorded discreetly and continuously. This activity is responsible for the ash columns that reach a height of approximately 4,700 meters above sea level (15,420 feet) and move 20 km to the west and southwest.
Source : Insivumeh .
Photo : Moise Castillo .