September 27, 2019. EN. Hawaii : Mauna Loa , Italy : Stromboli , Alaska : Shishaldin , Indonesia : Karangetang , Italy / Sicily : Etna .
September 27 , 2019.
Hawaii , Mauna Loa :
19°28'30 » N 155°36'29 » W,
Summit Elevation 13681 ft (4170 m)
Current Volcano Alert Level: ADVISORY
Current Aviation Color Code: YELLOW
Activity Summary:
Mauna Loa Volcano is not erupting. Rates of deformation and seismicity have not changed significantly in the past week and persist above long-term background levels.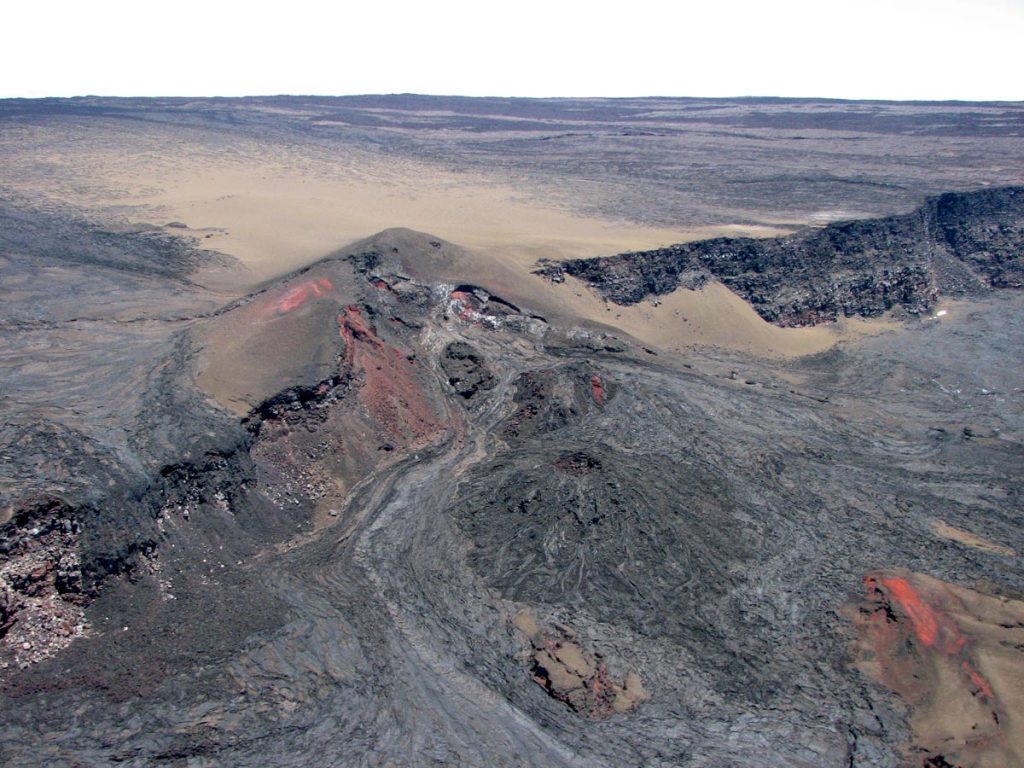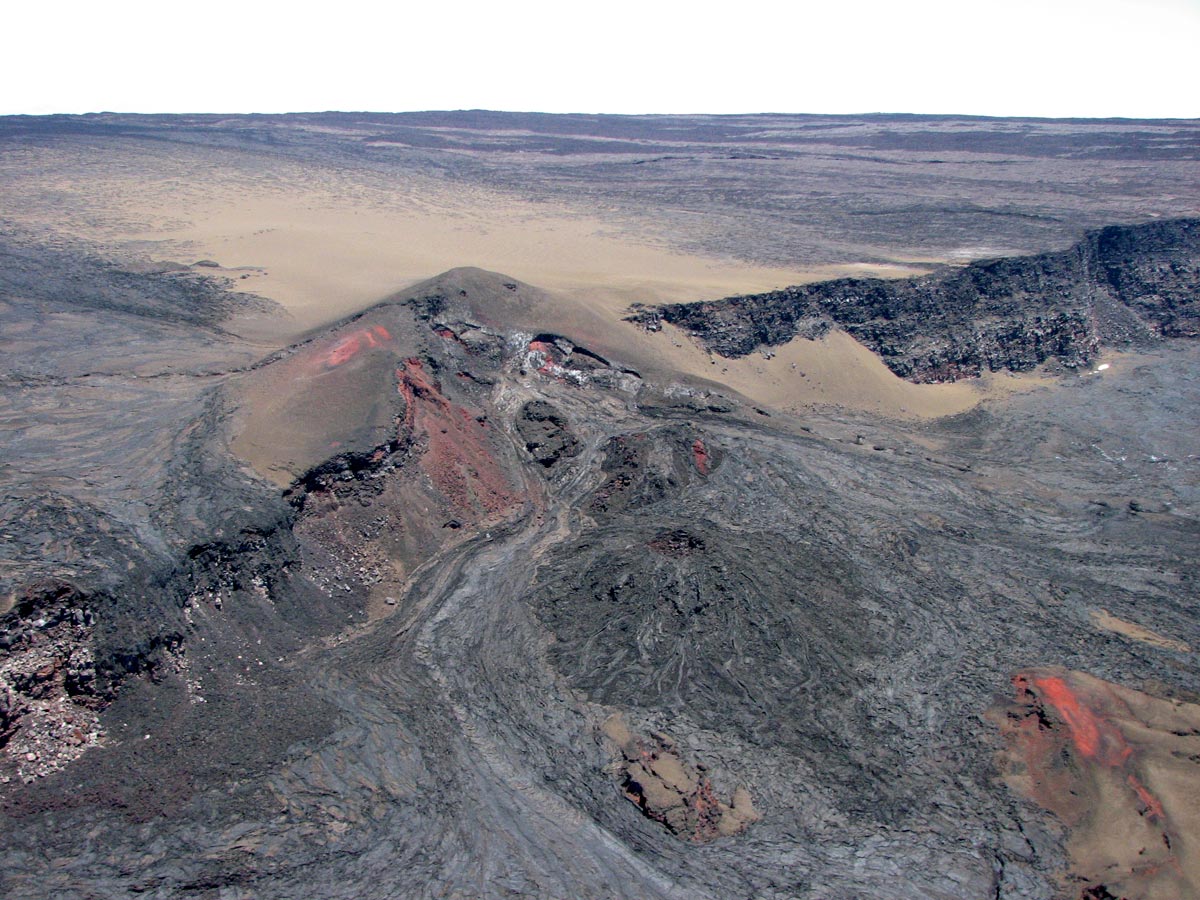 Observations:
During the past week, approximately 40 small-magnitude earthquakes (all smaller than M2.5) were detected beneath the upper elevations of Mauna Loa. Most of the earthquakes occurred at shallow to intermediate depths of less than 10 km (~6 miles) below ground level.
Global Positioning System (GPS) and Interferometric Synthetic Aperture Radar (InSAR) measurements show continued summit inflation, consistent with magma supply to the volcano's shallow storage system.
Readings of fumarole temperature and gas concentrations at the Sulphur Cone monitoring site on the Southwest Rift Zone remain stable, but are slightly elevated from measurements from two weeks ago due to repositioning and servicing of instrument sensors during maintenance last week by HVO field crews.
Source : HVO.
Italy , Stromboli :
Daily Bulletin of 26/09/2019
SUMMARY OF ACTIVITY
In light of the surveillance data, we highlight:
1) VOLCANOLOGICAL OBSERVATIONS: Normal explosive activity of Strombolian type accompanied by degassing activities.
2) SISMOLOGY: The seismological parameters do not show any significant changes.
3) DEFORMATIONS: The deformation monitoring networks of the island did not show any significant variation in communication during the last 24 hours.
4) GEOCHEMISTRY: The SO2 flux is placed at a medium-high level, the helium isotopic ratios being at medium-low values.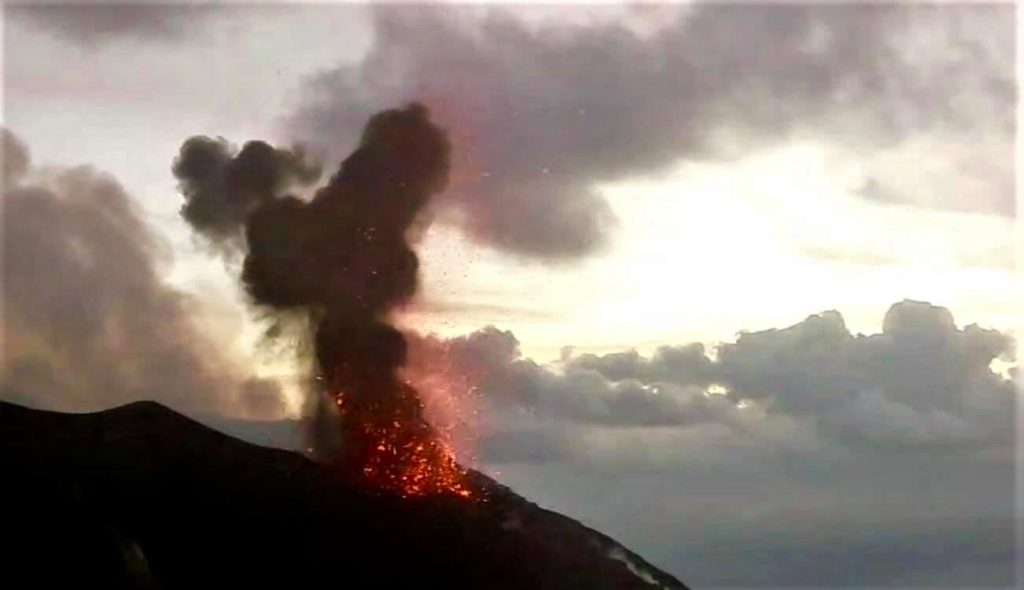 VOLCANOLOGICAL OBSERVATIONS
According to the observations of surveillance cameras located at 400 m altitude and Punta dei Corvi, there is an ordinary Strombolian activity coming from mouths more active in the crater areas as North as Center-South. The explosions frequently exceed the edge of the crater terrace and the products fall on the upper part of the Sciara del Fuoco. The number of explosive events was 11 to 13 events / h (average frequency).
In more detail, in the North zone, the explosive activity was 5 to 6 events / h. The explosions had a low intensity (less than 80 m high) to medium (less than 150 m) and produced coarse materials (lapilli and bombs) which, in some cases, covered the slopes of the cone facing the Sciara del Fuoco. The south-central zone was characterized by a mean explosions frequency of 11 events / h (with peaks of 12 events / h) and produced a fine material mixed with coarse and low to medium height materials (the products sometimes reached 150 m high.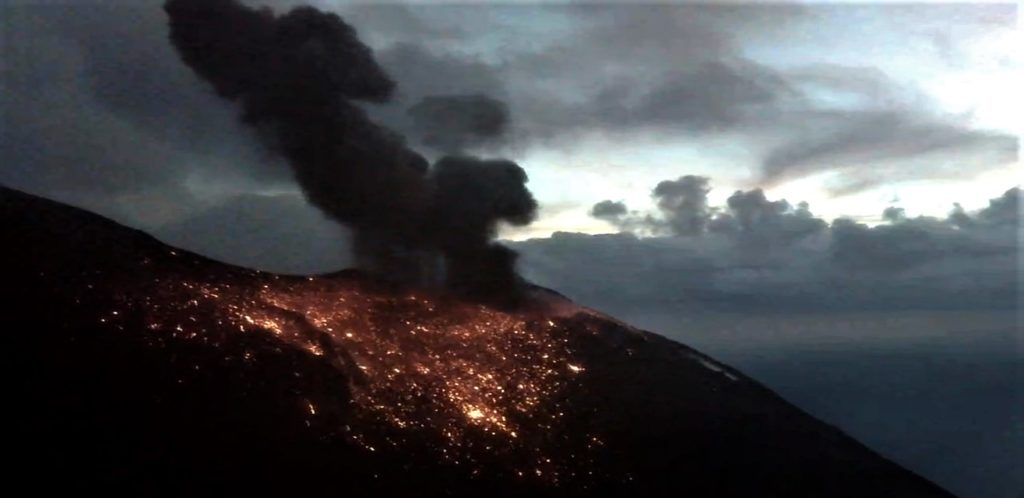 Seismology:
The bulletin is established with data acquired from a maximum of 8 stations. The seismic activity recorded over the past 24 hours has had the following characteristics: 3 seismic signals have been recorded that may be associated with small-scale landslides. Very long period (VLP) event counting provides an average of about 20 events / hour. The magnitude of VLP events has remained generally low, with some events having a medium to low amplitude. The amplitude of the explosion earthquakes remained generally low, with some events of medium to low amplitude.
The amplitude of the volcanic tremor, estimated at the STR1 station, was maintained at values between medium-low and medium-high. Currently, updated at 06:30 UTC, the values are low on average.
Source : INGV.
Lire l'article : file:///C:/Users/Utilisateur/AppData/Local/Packages/Microsoft.MicrosoftEdge_8wekyb3d8bbwe/TempState/Downloads/BollettinoGiornalieroStromboli20190926%20(1).pdf
Photos : webcam
Alaska , Shishaldin :
AVO/USGS Volcanic Activity Notice
Current Volcano Alert Level: ADVISORY
Previous Volcano Alert Level: WATCH
Current Aviation Color Code: YELLOW
Previous Aviation Color Code: ORANGE
Issued: Thursday, September 26, 2019, 1:09 PM AKDT
Source: Alaska Volcano Observatory
Location: N 54 deg 45 min W 163 deg 58 min
Elevation: 9373 ft (2857 m)
Area: Aleutians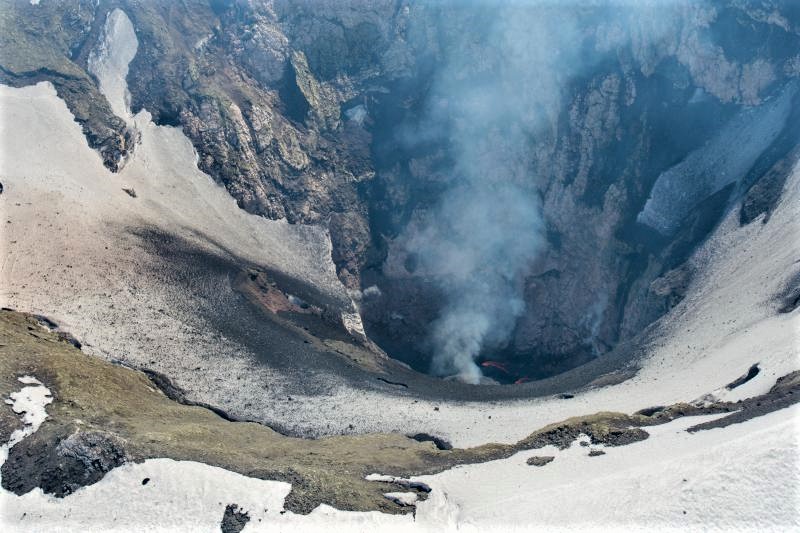 Volcanic Activity Summary:
Seismicity at Shishaldin Volcano has decreased over the past few weeks to levels slightly above background. In addition, satellite views of the volcano over the same period show a decrease in surface temperatures at the summit. Eruptive activity appears to have ended or paused. Due to this decrease in activity, the Alaska Volcano Observatory is decreasing the Aviation Color Code for Shishaldin Volcano to YELLOW and the Alert Level to ADVISORY.
Shishaldin is monitored by local seismic and infrasound sensors, satellite data, a web camera, a telemetered geodetic network, and distant infrasound and lightning networks.
Recent Observations:
[Volcanic cloud height] None
[Other volcanic cloud information] N/A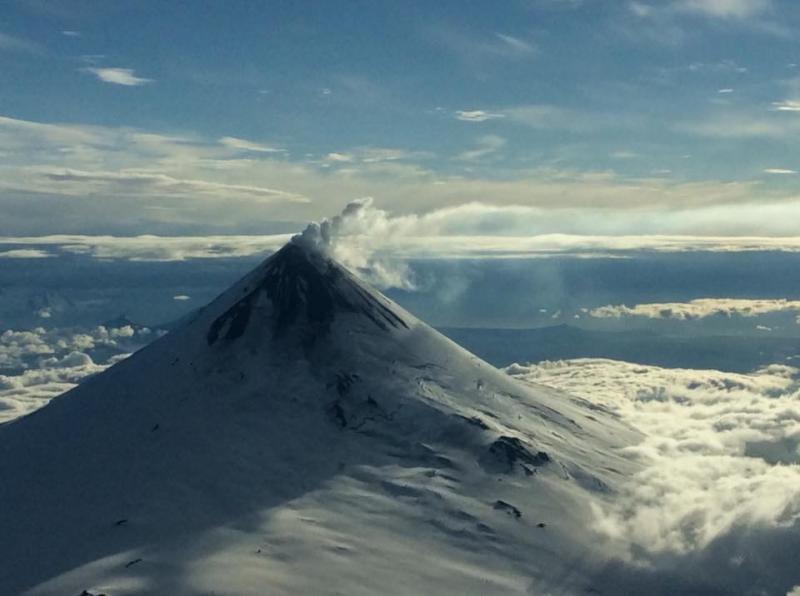 Remarks:
Shishaldin volcano, located near the center of Unimak Island in the eastern Aleutian Islands, is a spectacular symmetric cone with a base diameter of approximately 16 km (10 mi). A 200-m-wide (660 ft) funnel-shaped summit crater typically emits a steam plume and occasional small amounts of ash. Shishaldin is one of the most active volcanoes in the Aleutian volcanic arc, with at least 54 episodes of unrest including over 24 confirmed eruptions since 1775. Most eruptions are relatively small, although the April-May 1999 event generated an ash column that reached 45,000 ft above sea level.
Source : AVO.
Photos : Ketner, Dane , Wetzel, Tarek . ( AVO).
Indonesia , Karangetang :
OBSERVATION PERIOD: September 27, 2019. 00h 00-06h 00 WITA
Karangetang (1784 m), Siau Tagulandang Biaro (Sitaro), North Sulawesi
METEOROLOGY
Sunny weather. The wind is blowing weakly to the northwest. The temperature is 26-28 ° C, the humidity is 0-0% and the atmospheric pressure is 0-0 mmHg.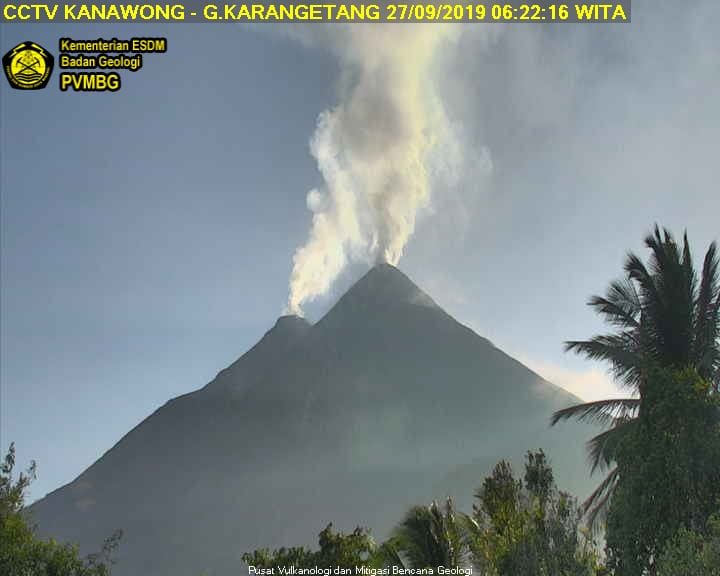 VISUAL
● Clear weather. The smoke from the crater is low pressure, white in color with moderate to thick intensity and 200 to 300 m above the top of the crater.
● Intense projections of 10 m. The descent of the lava from the top of the main crater often occurs even in the direction of the river and is between 1000 and 1000 m, sometimes as far as the Pangi River, sometimes as far as Kali Batuawang. The smoke from both craters is thin to medium and rises 100-200 m. Sometimes we hear a low rumble.
SEISMICITY
■ Avalanches (number: 23, amplitude: 3-6 mm, duration: 45-75 seconds)
■ Emission (number: 3, amplitude: 3-7 mm, duration: 20-30 seconds)
■ Non-harmonic tremors (number: 1, amplitude: 36 mm, duration: 935 seconds)
Tremor continuous (Microtremor) recorded with an amplitude of 0.5-2 mm (dominant value 1 mm).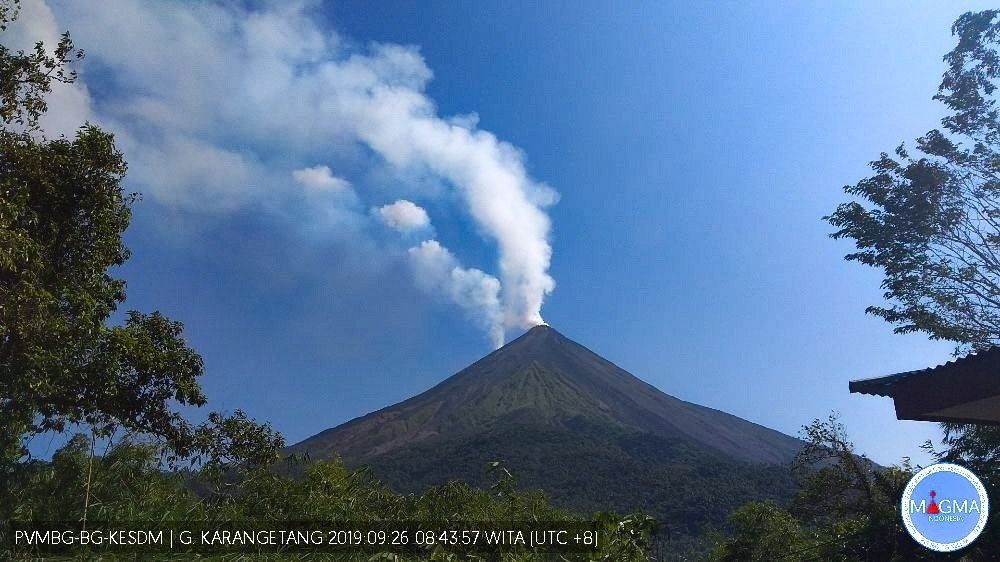 CONCLUSION
Karangetang Activity Level: Level III (SIAGA)
RECOMMENDATIONS
(1) The community and visitors / tourists must not approach, climb or move through the hazard forecast area within 2.5 km of the crater's summit. ) and the main crater (South) and the sectoral expansion zone from Crater Dua to North-North West for 4 km, and the main crater up to 3 km to the west.
(2) It is recommended that communities around Mount Karangetang prepare masks for the nose and mouth to anticipate the potential danger of breathing problems in the event of falling ash. Communities living along rivers that rise at the top of Mount Karangetang need to improve preparedness for the potential threat of lahars and sudden floods that can spread to the beach.
Source : PVMBG.
Photos : PVMBG.
Italy / Sicily , Etna :
COMMUNICATION on the volcanic activity of September 27, 2019, 05:16:08 (UTC) – ETNA.
The National Institute of Geophysics and Volcanology, Osservatorio Etneo, announces that from approximately 5:00 GMT, an emission of ash from the Northeast crater is visible. The dispersion of volcanic ash occurs in the direction of the southern quadrants.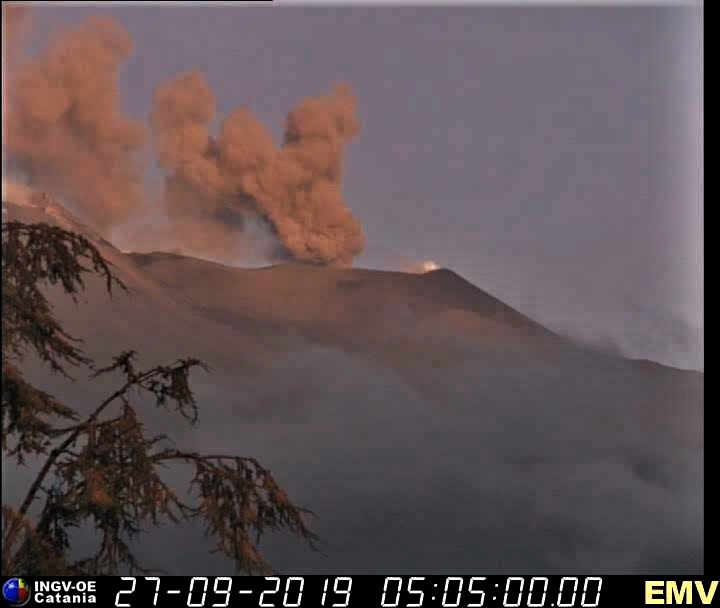 Source : INGV Vulcani .