September 22, 2019. EN. Kamchatka : Sheveluch , Mexico : Popocatepetl , Indonesia : Merapi , Peru : Sabancaya .
September 22 , 2019.
Kamchatka , Sheveluch :
VOLCANO OBSERVATORY NOTICE FOR AVIATION (VONA).
Issued: September 21 ,2019
Volcano: Sheveluch (CAVW #300270)
Current aviation colour code: ORANGE
Previous aviation colour code: orange
Source: KVERT
Notice Number: 2019-140
Volcano Location: N 56 deg 38 min E 161 deg 18 min
Area: Kamchatka, Russia
Summit Elevation: 10768.24 ft (3283 m), the dome elevation ~8200 ft (2500 m)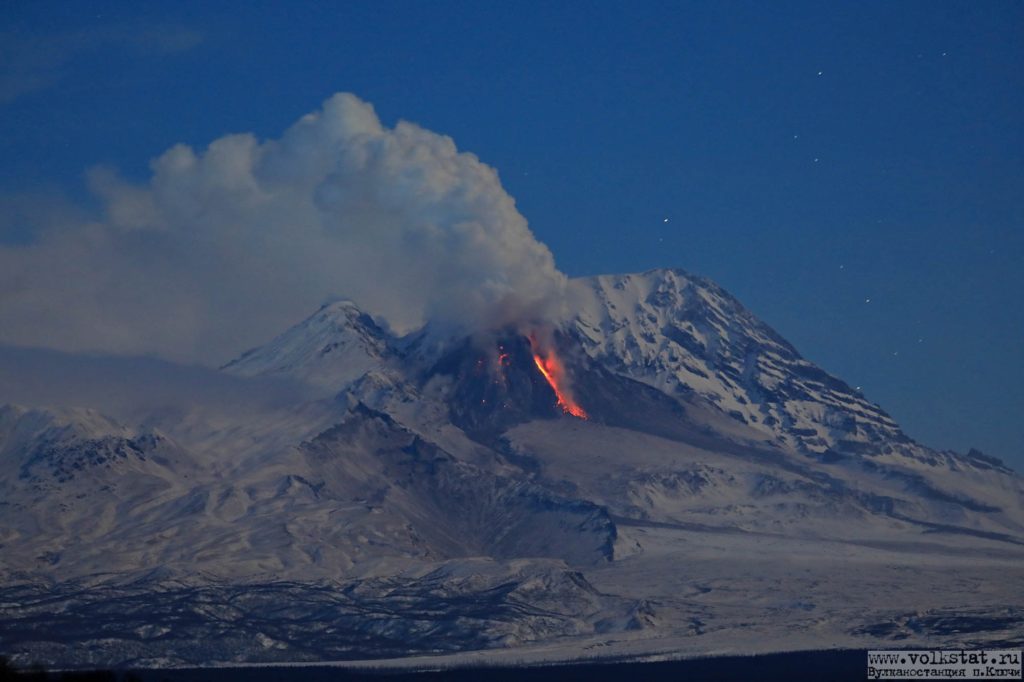 Volcanic Activity Summary:
A growth of the lava dome continues, a strong fumarolic activity and an incandescence of the dome blocks and hot avalanches accompanies this process. A gas-steam cloud containing some amount of ash drift for 18 km to the south-east of the volcano.
Explosive-extrusive eruption of the volcano continues. Ash explosions up to 32,800-49,200 ft (10-15 km) a.s.l. could occur at any time. Ongoing activity could affect international and low-flying aircraft.
Volcanic cloud height:
14760 ft (4500 m) AMSL Time and method of ash plume/cloud height determination: 20190921/0350Z – Himawari-8
Other volcanic cloud information:
Distance of ash plume/cloud of the volcano: 11 mi (18 km)
Direction of drift of ash plume/cloud of the volcano: ESE / azimuth 104 deg
Time and method of ash plume/cloud determination: 20190921/0350Z – Himawari-8
Source : Kvert.
Photo : Y. Demyanchuk.
Mexico , Popocatepetl :
September 21, 11:00 am (September 21, 16:00 GMT)
Thanks to the surveillance systems of the Popocatépetl volcano, 159 exhalations have been identified, accompanied by light amounts of ash. Similarly, there were eight explosions. Yesterday, there were seven and the last this morning at 5:15, accompanied by incandescent fragments that fell on the slopes of the volcano, at a distance of 1.5 km. In addition, 546 minutes of tremor of low to medium amplitude were recorded.
Today and at the time of writing, some emissions containing ash and gas dispersed to the northwest have been observed.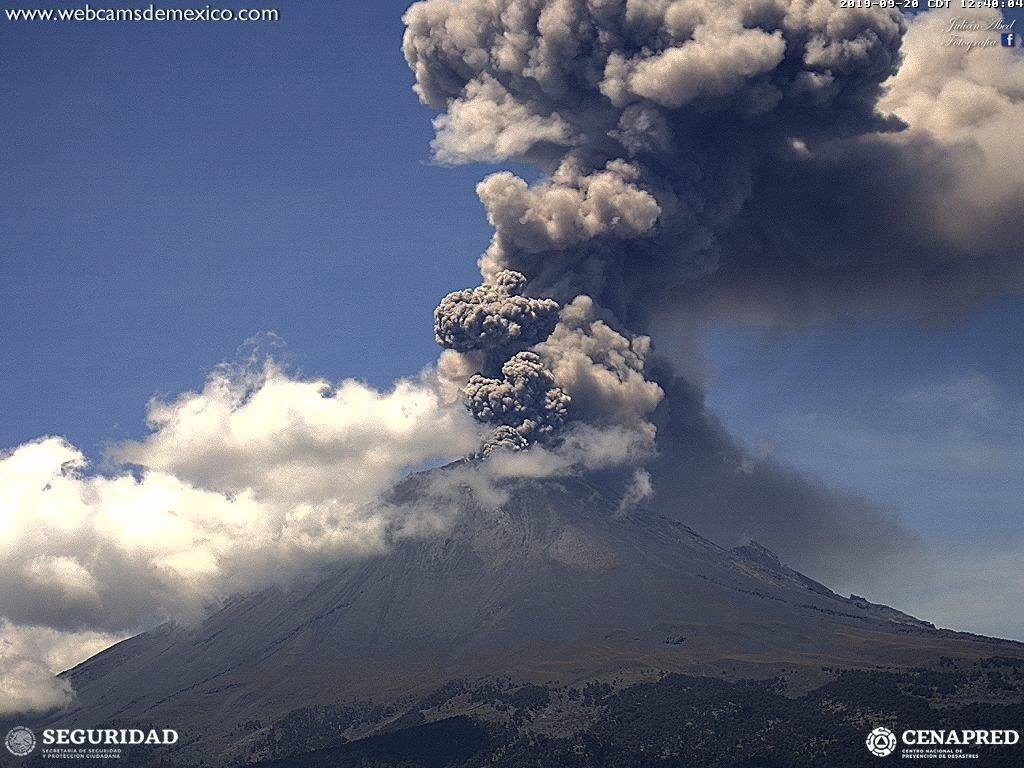 Saturday morning, the volcano Popocatepetl recorded a major explosion at 5 hours 15 minutes, which emitted incandescent fragments and a plume of 1800 meters high.
CENAPRED urges NOT to approach the volcano and in particular the crater, because of the risk of falling ballistic fragments, and in case of heavy rains, to stay far from the bottom of the ravines because of the risk of mudslides and debris.
The warning light of Popocatépetl is in YELLOW PHASE 2.
Source : Cenapred.
Indonesia , Merapi :
VOLCANO OBSERVATORY NOTICE FOR AVIATION – VONA.
Issued: September 22 , 2019
Volcano: Merapi (263250)
Current Aviation Colour Code: ORANGE
Previous Aviation Colour Code: unassigned
Source: Merapi Volcano Observatory
Notice Number: 2019MER01
Volcano Location: S 07 deg 32 min 31 sec E 110 deg 26 min 31 sec
Area: Special Region of Yogyakarta, Indonesia
Summit Elevation: 9498 FT (2968 M)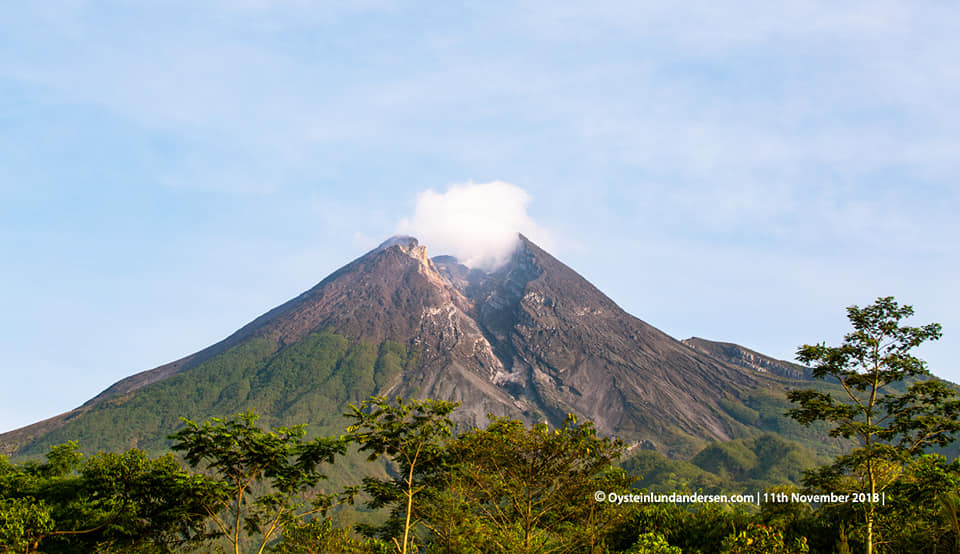 Volcanic Activity Summary:
Small eruption with volcanic ash cloud at 04h36 UTC (11h36 local). Eruption has stopped.
Volcanic Cloud Height:
Best estimate of ash-cloud top is around 12058 FT (3768 M) above sea level, may be higher than what can be observed clearly. Source of height data: ground observer.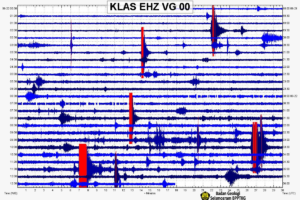 Other Volcanic Cloud Information:
Ash-cloud movement is not observed.
Remarks:
Merapi activity still continue with small rockfalls and potential ash produced by PDC. (hot avalanches).
Source : Magma Indonésie .
Photo : Oystein Lund Andersen.
Peru , Sabancaya :
The Geophysical Institute of Peru (IGP) reports that the eruptive activity of the Sabancaya volcano has remained at moderate levels; that is, moderate and continuous explosions are recorded with the resulting ash emission. Therefore, for the following days, no significant change is expected in the current eruptive process.
The analysis of the recordings obtained from the seismic network of the Sabancaya volcano for the period from 9 to 15 September 2019 made it possible to identify the appearance of 2561 earthquakes of volcanic origin, most associated with the movements of magmatic fluids (LP ) and some signals. associated with the breaking of rocks inside the volcano. The seismic signals associated with rock breakage (type VT) were located 14 km east of the Sabancaya volcano crater and 10 km deep, with magnitudes less than M3.5. During the last week, there were an average of 32 medium to low level daily explosions.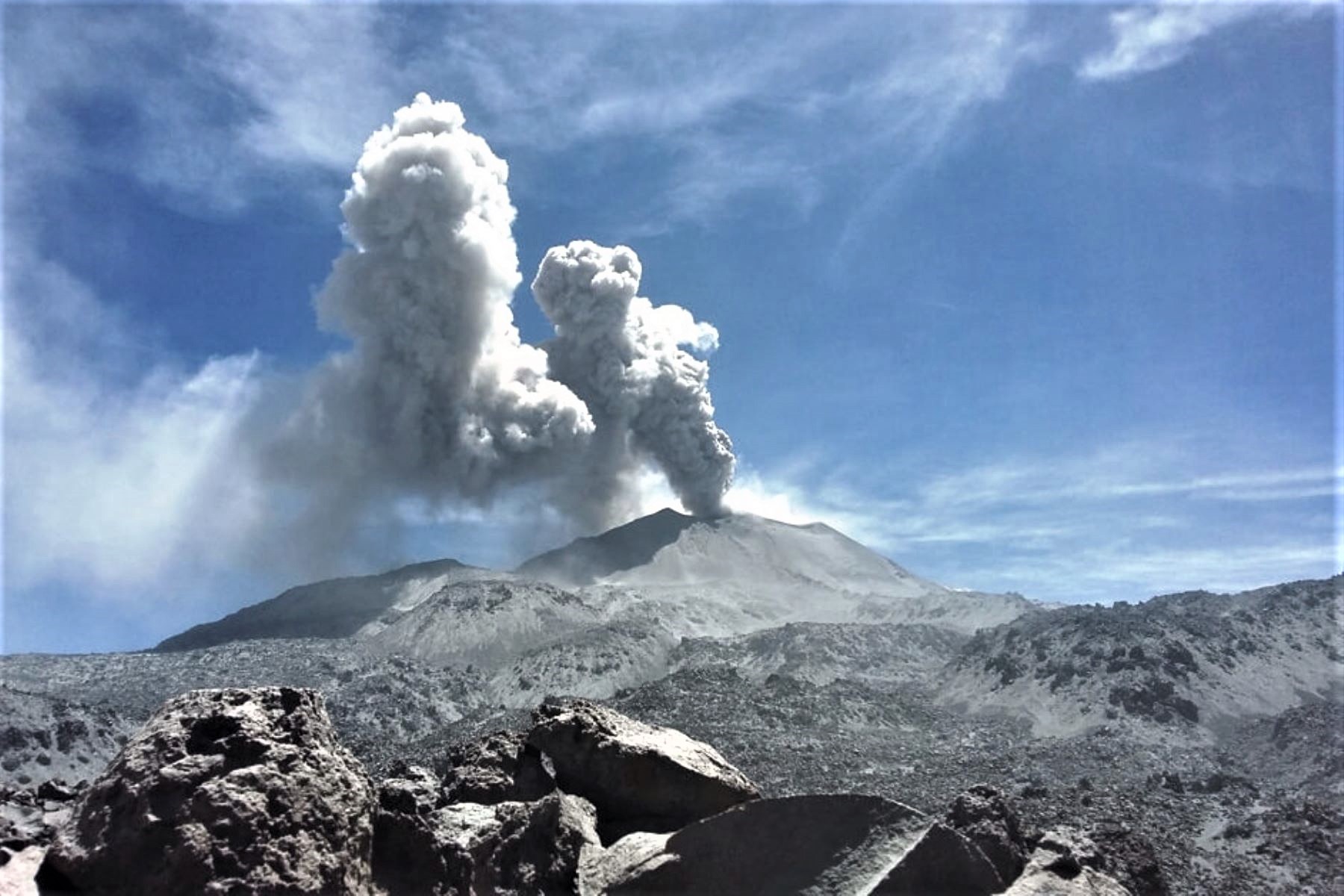 The monitoring of the deformation of the volcanic structure, using GNSS data (processed with fast orbits), did not record any significant anomalies. The visual surveillance, using surveillance cameras, made it possible to visualize the presence of gas columns and ash up to 2.5 km high above the top of the volcano, which were then dispersed in the eastern sectors. Southeast of Sabancaya. Satellite monitoring has identified 9 volcanic anomalies on the volcano, ranging from 1 to 25 MW, associated with the presence of a hot body near the volcano's crater.
Ash alert
Issued on the 20/09/2019 09h37
Direction of the ashes: south
Broadcast radius: 10km
Villages: districts and annexes of Huanca and Lluta
Recommendations: Ashes can cause environmental problems and affect the health of the population. Before ash falls, we recommend: a) protect the eyes with lenses and wear masks to protect the respiratory tract. (b) That the competent authorities and institutions make a permanent assessment of the impact of ashes on water, soil, air and the health of the population.
Source : IGP Peru.
Photo : ingemmet