July 25, 2019. EN. Indonesia : Bromo , Alaska : Shishaldin , Italy : Stromboli , Peru : Ubinas , Mexico : Popocatepetl .
July 25 , 2019.
Indonesia , Bromo :
Level activity Level at level II(WASPADA). The Bromo (2,329 m altitude) is experiencing a prolonged eruption.
Since yesterday and until this morning, the volcano was clearly visible until it was covered with fog. It was observed that the smoke from the crater was white, with a high intensity, and was about 50-100 meters above the peak. The weather was clear to cloudy with weak winds in the southwest, west and northwest.
The seismographs of July 23, 2019 recorded: – Continuous tremor amplitude of 0.5 to 1 mm, dominant value of 1 mm.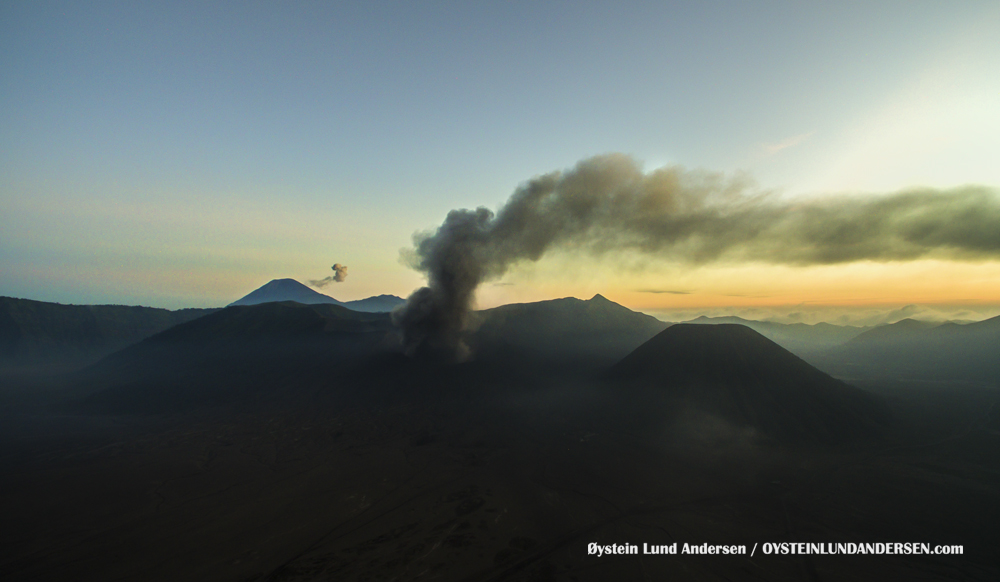 VONA: The latest ORANGE color code sent by VONA was published on July 19, 2019 at 18:52 WIB and concerns an ash eruption accompanied by rumbling and explosive noises. The seismic signals were recorded on seismographs with a maximum amplitude of 37 mm and a duration of 7 minutes 14 seconds. The height of the eruption column was not clearly observed because the volcano was covered with fog.
The crater of Bromo forbidden access.
JAKARTA, 24 July 2019: After Friday's eruption at Mount Bromo in Central Java the authorities banned visits to the crater until further notice, Asian Trails Indonesia reported Tuesday.
The ban on visits to the crater came into effect at the weekend. The notification prohibits visitors and residents from going within a 1 km radius of volcano's crater rim.
However, people can still visit the Penanjakan Lookout, and vehicles can drive them to the car park at the foot of Mount Bromo.
Source : PVMBG , ttrweekly.com .
Photo : Oystein Lund Andersen.
Alaska , Shishaldin :
AVO/USGS Volcanic Activity Notice
Current Volcano Alert Level: WATCH
Previous Volcano Alert Level: ADVISORY
Current Aviation Color Code: ORANGE
Previous Aviation Color Code: YELLOW
Issued: Wednesday, July 24, 2019, 11:39 AM AKDT
Source: Alaska Volcano Observatory
Location: N 54 deg 45 min W 163 deg 58 min
Elevation: 9373 ft (2857 m)
Area: Aleutians
Volcanic Activity Summary:
The Alaska Volcano Observatory is raising the Aviation Color Code to ORANGE and the Alert Level to WATCH at Shishaldin Volcano. Field crews reported an active lava lake and minor spattering within the summit crater during a helicopter overflight. Elevated seismic activity continues similar to the past few weeks along with consistent elevated surface temperatures in satellite images. No lava or ash has erupted outside the summit crater at this time.
Shishaldin is monitored by local seismic and infrasound sensors, satellite data, a web camera, a telemetered geodetic network, and distant infrasound and lightning networks.
Recent Observations:
[Volcanic cloud height] None
[Other volcanic cloud information] N/A
[Ballistics] Weak lava spattering confined to summit crater
[Lava flow] Active lava lake observed within summit crater
Remarks:
Shishaldin volcano, located near the center of Unimak Island in the eastern Aleutian Islands, is a spectacular symmetric cone with a base diameter of approximately 16 km (10 mi). A 200-m-wide (660 ft) funnel-shaped summit crater typically emits a steam plume and occasional small amounts of ash. Shishaldin is one of the most active volcanoes in the Aleutian volcanic arc, with at least 54 episodes of unrest including over 24 confirmed eruptions since 1775. Most eruptions are relatively small, although the April-May 1999 event generated an ash column that reached 45,000 ft above sea level.
Source : AVO
Photo : Fee, David , July 23, 2019 12:00 AM.
Italy , Stromboli :
38.789°N, 15.213°E
Elevation 924 m
INGV reported that multiple vents on Stromboli's crater terrace were active during 15-21 July, though the exact number was unknown due to the unfavorable positions of the cameras. Vents in Area N (north crater area, NCA) produced low-to-medium-intensity explosions at a rate of 4-10 events per hour, ejecting lapilli and bombs less than 150 m high.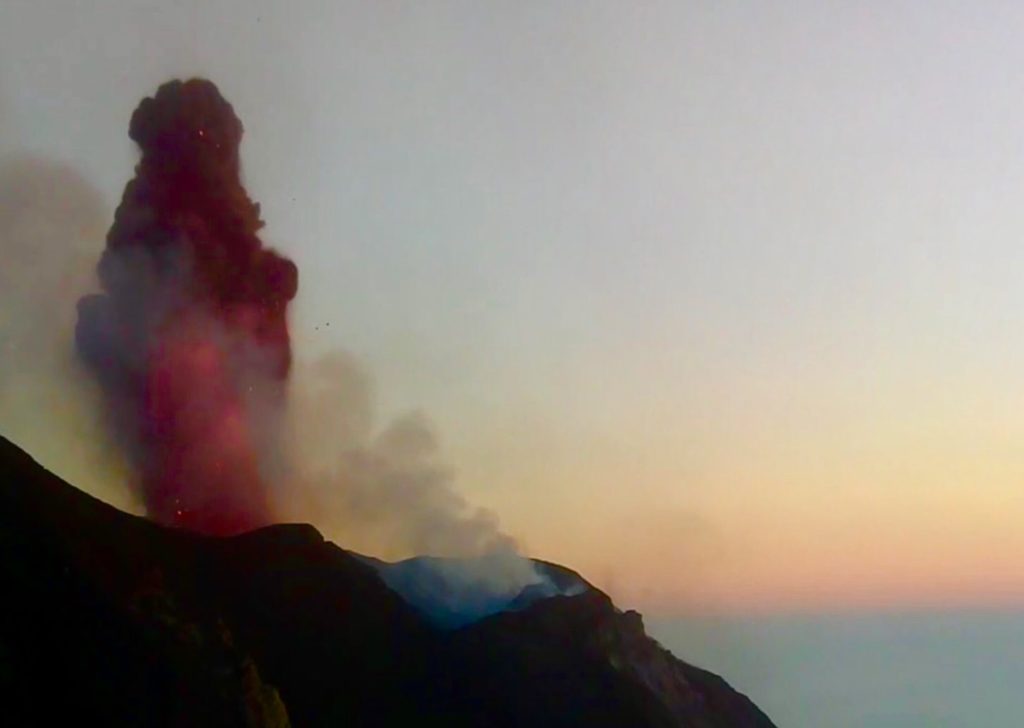 The vents of Area C-S (South Central crater area) generated explosions of intensities variable between low and very high and at a rate of 6-17 events per hour. Tephra was ejected over 200 m high. Lava from Area C-S vents continued to travel down the S part of the Sciara del Fuoco shedding blocks that rolled all the way to the coastline.
Source: Sezione di Catania – Osservatorio Etneo (INGV) , GVP .
Photo : Wolfgang Künker.
Peru , Ubinas :
Period of analysis: from July 20 to 24, 2019. Arequipa, July 24, 2019
Alert level: ORANGE
The Geophysical Institute of Peru (IGP) reports that the Ubinas volcano continues its eruptive process. To date, a significant explosive activity has been recorded with the expulsion of rock fragments and volcanic ash. After this scenario, explosive activity and gas emissions decreased. However, during the last two (2) days, there has been an increase in seismic events associated with a possible rise in magma, with the consequent accumulation of energy. In this new scenario, one would expect a significant explosive activity in the next hours or days.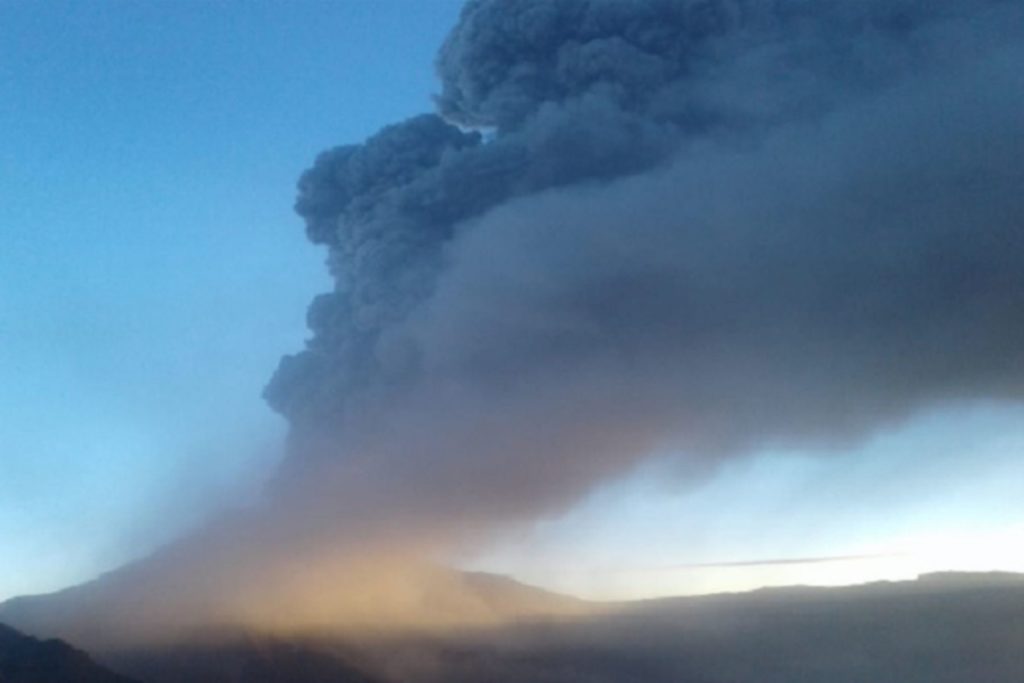 The IGP recorded and analyzed a total of 1522 seismic events occurring on the Ubinas volcano between 20 and 24 July 2019; all with magnitudes less than M2.2. Similarly, there were 2 volcanic explosions releasing energies of 0.2 MJ and 25 MJ, occurring on July 22 at 7:18 am and 11:25 pm, respectively. During this period of analysis, seismic signals were also recorded, which would be related to the rise of the magma (LP and hybrid types), which went from 112 events of July 20 to 406 on July 24.
On July 22, Ubinas volcano surveillance cameras recorded the expulsion of rock fragments and large ash and gas emissions that affected several districts in the east and south-east of the volcano crater, in the Moquegua region. The monitoring of the deformation of the volcanic structure, using GNSS data (processed with fast orbits), presents no anomalies. Satellite monitoring, using information from NASAFIRM and MIROVA systems, shows the presence of 39, 11 and 8 MW thermal anomalies, indicating the arrival of magma on the surface of the crater.
RECOMMENDATIONS: 
Do not approach within a radius of less than 15 km around the crater. 
It is recommended that the authorities evacuate the cities of Querapi, Ubinas, Tonohaya, Escacha, San Miguel, Huarina, Huatagua, San Carlos de Tite and Santa Rosa de Para, at a distance of at least 15 km from the crater of the volcano.
Source : IGP Pérou.
Photo : ANDINA/Difusión.
Mexico , Popocatepetl :
July 24 at 11:00 am (July 24 at 16:00 GMT).
During the last 24 hours, 280 exhalations were identified using the surveillance systems of the Popocatepetl volcano, accompanied by water vapor, gas and light amounts of ash. In addition, a moderate explosion was recorded today at 08:35, reaching a height of approximately 1,200 m, with a moderate ash content and dispersed in a south-easterly direction, as well as two minor explosions, one yesterday at 09: 22 h and another today at 02:45 h. In addition, 245 minutes of tremor were recorded.
At the time of this report, there was no visibility. However, any event will be scattered in the Southeast direction.
On 19 July, with the support of the federal police, a reconnaissance flight was conducted on the crater of the Popocatépetl volcano. During this overview, photographs were obtained that identified the presence of a new dome with a diameter of 70 meters and a thickness of 15 meters; during this time, the internal crater retains its dimensions. The presence of dome number 83 and its possible destruction is confirmed, due to the recorded explosions and emissions containing ashes, which reached certain parts of Mexico City on Saturday, July 20, as well as minor explosions that threw incandescent fragments on a short distance around the crater.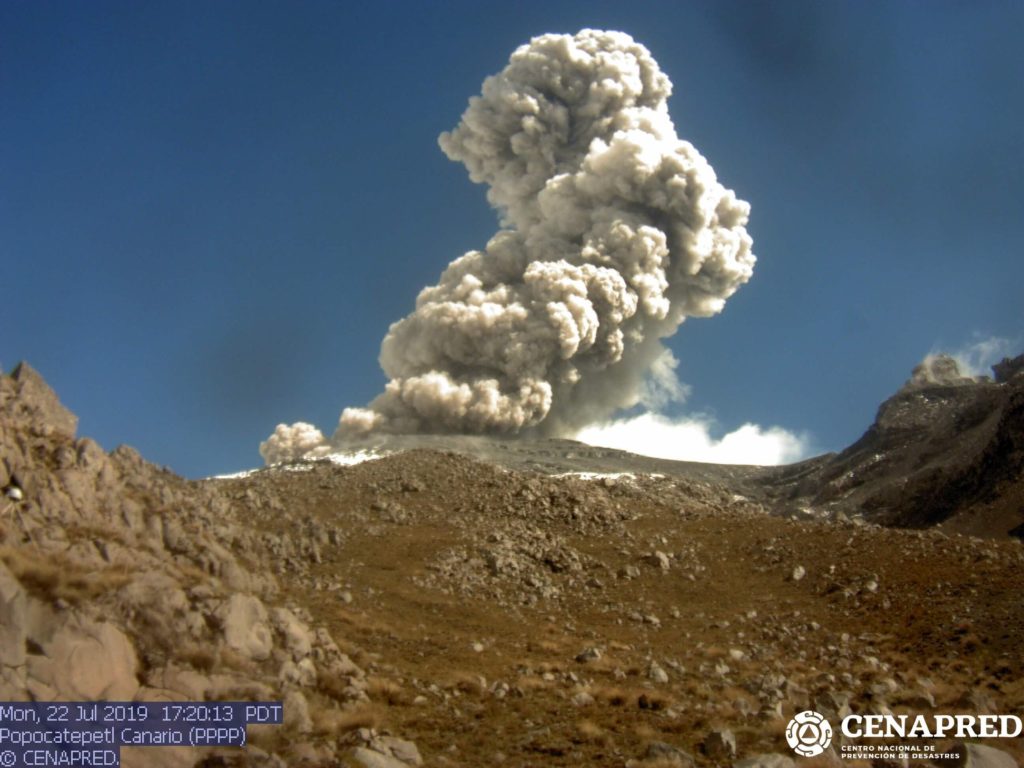 CENAPRED urges NOT to approach the volcano and in particular the crater, because of the risk of falling ballistic fragments, and in case of heavy rains, to stay far from the bottom of the ravines because of the risk of mudslides and debris.
The warning light of Popocatépetl is at YELLOW PHASE 2.
Source : Cenapred.
Video : Cenapred / Webcamdemexico.