May 24, 2019. EN. Chile : Planchon Peteroa , Kamchatka : Karymsky , Philippines : Taal , Colombia : Nevado del Huila , Indonesia : Anak Krakatau .
May 24 , 2019.
Chile , Planchon Peteroa :
During this period, 24 seismic events were recorded that were classified as volcano-tectonic (VT) types associated with rock fracturing processes. The largest energy event had a local magnitude of M 1.1, located 3.8 km north of the active crater and 6.0 km deep.
In addition, 2670 long-period (LP) earthquakes related to fluid dynamics within the volcanic system were recorded. The largest of them had a reduced displacement value (DRC) of 23.8 cm2. The locations were concentrated near the crater area, at variable depths less than 3 Km.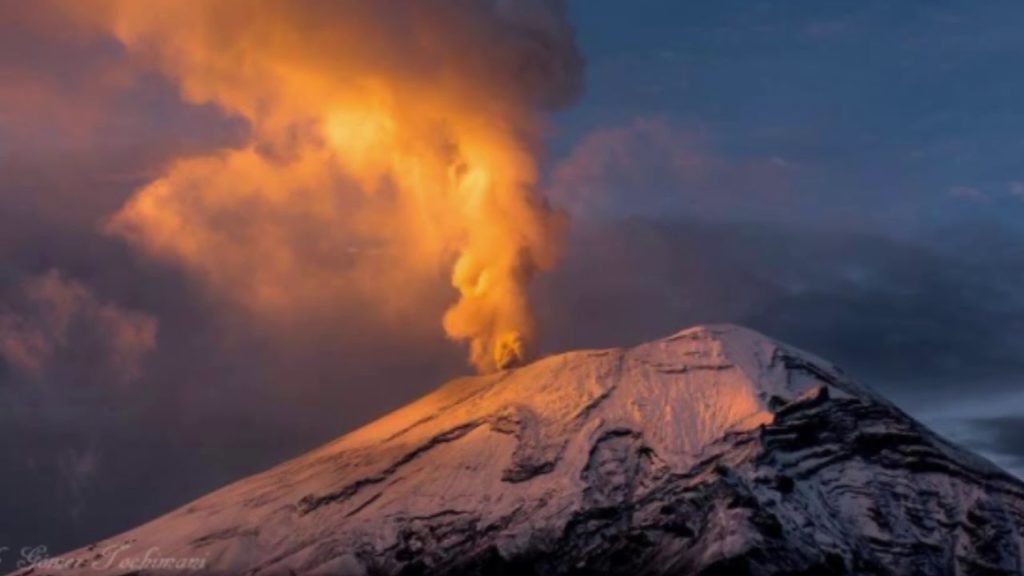 The tremor type seismic signal maintains a continuous shape maintaining its highest potential around 3.0 to 4.0 Hz, with approximate reduced displacement values ​​(DRc) at 1.0 cm 2.
The images provided by the IP camera show constant degassing throughout the evaluated period. The predominant white coloration suggests a high concentration of water vapor, with little or no particulate matter, reaching heights no greater than 800 m above the active crater.
From the data obtained by three (3) GNSS stations, which measure the deformation in the volcanic complex, deformation values ​​of less than 0.15 cm / month are observed for this period. However, we observe minimal movements of the stations, responding to a local change, not a deformation of the volcanic building.
No anomalies in sulfur dioxide (SO2) emissions have been reported, according to data obtained by the Ozone Monitoring Instrument (IMO).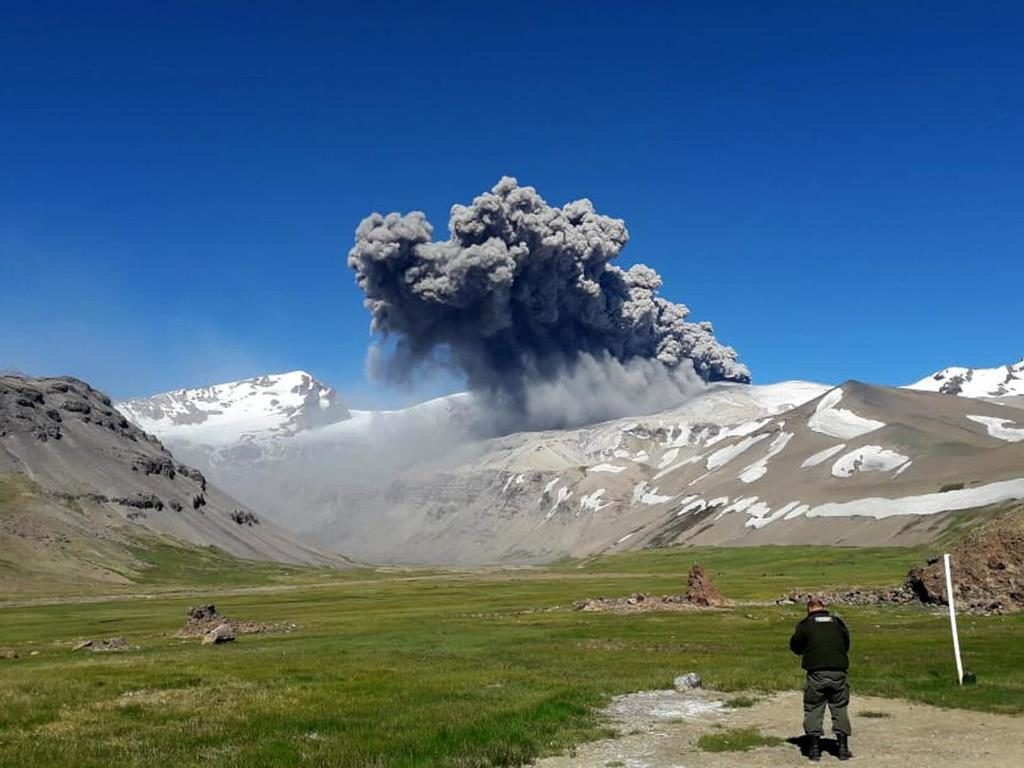 There have been no reports of thermal warnings in the area associated with the volcanic complex, according to data published by Middle Observation InfraRed of Volcanic Activity (Mirova) on its website (http://www.mirovaweb.it/ ).
Depending on the monitoring parameters, the surface activity is observed stable. Despite all the increase in the energy of fluid activity suggests the presence of a magmatic body that comes in contact with the hydrothermal system. Considering the characteristics present on the volcanic complex, we can not rule out the generation of new ash emissions of greater or equal intensity as previously recorded.
As a result, the volcanic alert is maintained at the level:
YELLOW LEVEL: Changes in the behavior of volcanic activity – Probable time for an eruption: WEEKS / MONTH.
Observations: The current area of ​​assignment is considered to be within 1,000 meters of the area of ​​active craters.
Source : Sernageomin
Photo : REAL THINGTV CH2 ( 02 / 2019) , El Sol ( 12/2018).
Kamchatka , Karymsky :
54.05 N, 159.44 E;
Elevation 4874 ft (1486 m)
Aviation Colour Code is ORANGE
A moderate activity of the volcano continues. Ash explosions up to 13,100-19,700 ft (4-6 km) a.s.l. could occur at any time. Ongoing activity could affect low-flying aircrafts.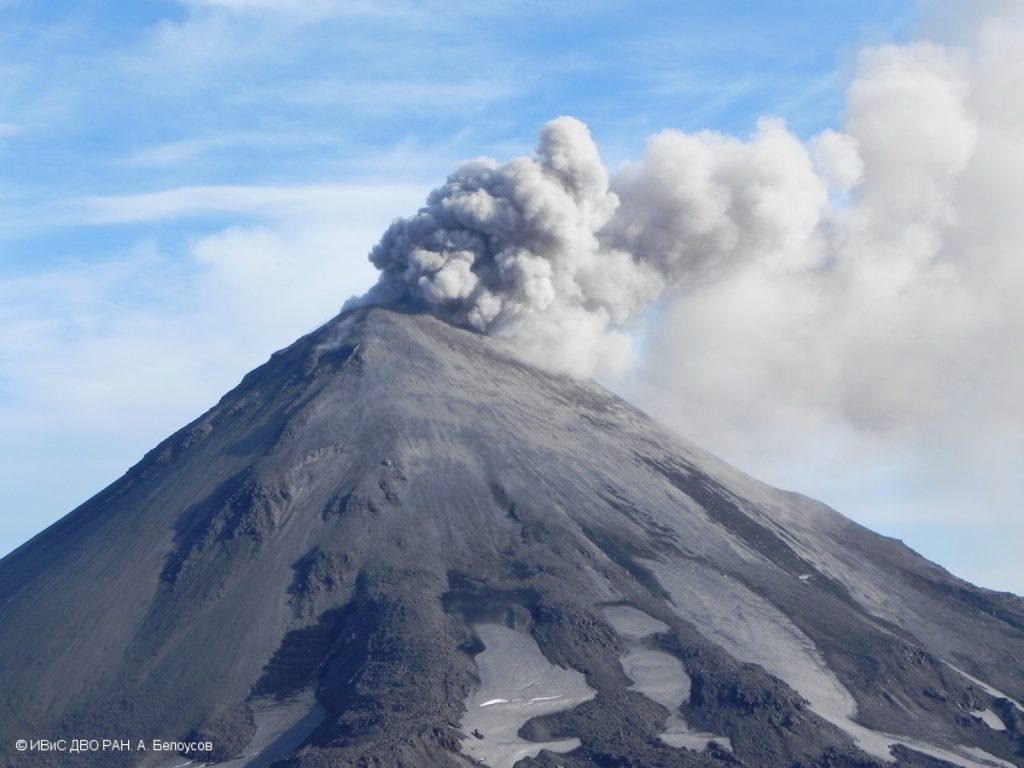 A moderate activity of the volcano continues. Satellite data showed an ash plume extended about 9 km to the south-west from the volcano on May 21; and a thermal anomaly over the volcano on May 17-21. The volcano was quiet or obscured by clouds during other days of Week.
Source : KVERT.
Photo : A. Belousov, IVS FEB RAS / 2017.
Philippines , Taal :
TAAL VOLCANO BULLETIN 24 May 2019 8:00 A.M.
Taal Volcano's seismic monitoring network recorded four (4) volcanic earthquakes during the 24-hour observation period. Field measurements on 23 May 2019 at the eastern sector of the Main Crater Lake yielded an increase in water temperature from 32.3°C to 33°C, a decrease in water level from 0.20 meter to 0.18 meter and decrease in pH from 2.84 to 2.64. Ground deformation measurements through precise leveling surveys from 18 – 27 March 2019 indicated slight inflation of the edifice consistent with recent results from continuous GPS data.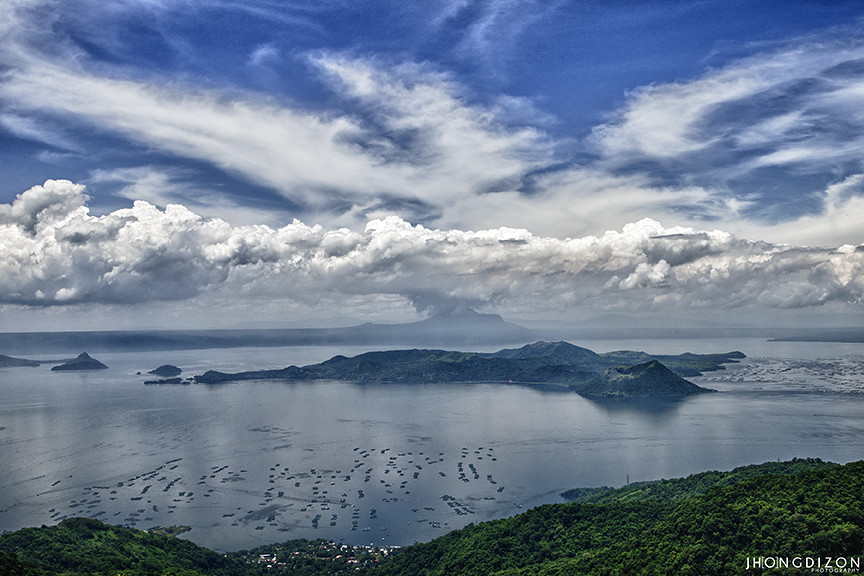 Alert Level 1 remains in effect over Taal Volcano. This means that hazardous eruption is not imminent. The public, however, is reminded that the Main Crater should be strictly off-limits because sudden steam explosions may occur and high concentrations of toxic gases may accumulate. The northern portion of the Main Crater rim, in the vicinity of Daang Kastila Trail, may also become hazardous when steam emission along existing fissures suddenly increases. Furthermore, the public is also reminded that the entire Volcano Island is a Permanent Danger Zone (PDZ), and permanent settlement in the island is strongly not recommended.
Source : Phivolcs.
Photo : 27 juillet 2013 , Jhong Dizon.
Colombia , Nevado del Huila :
Weekly activity bulletin of the Nevado del Huila volcano.
The level of activity of the volcano continues at the level: yellow activity level or (III): changes in the behavior of volcanic activity.
According to the analysis and evaluation of the information obtained through the surveillance network of the Nevado del Huila volcano, from May 14 to 20, 2019, the COLOMBIAN GEOLOGICAL SERVICE – Volcanological and Seismological Observatory of Popayán indicates that:
• During the evaluated period, 281 seismic events were recorded, 209 related to rock fracturing processes (type VT) and 72 related to fluid dynamics in volcanic canals. Of these, 62 were classified as long-period type events (LP type), six (6) as low energy tremor pulses (TR type) and four (4) as events associated with fracture mechanisms and transit of fluids. , which have been classified as hybrid type (HB type).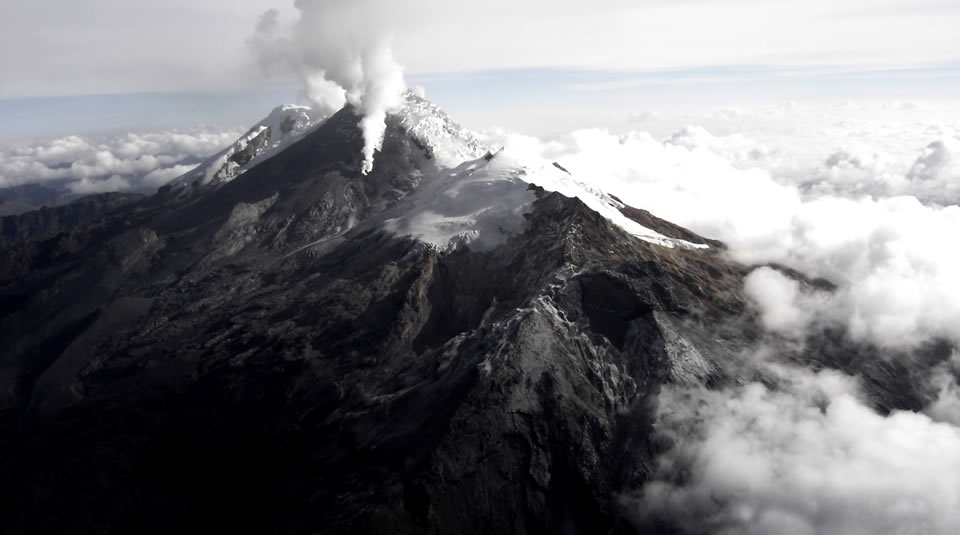 • On the seismic activity associated with fracture processes, it should be noted that the majority of events are still located to the northeast of the volcanic building, at a distance from the central peak oscillating between 8 and 21 km and with depths between 6 and 13 km.
• The images obtained during the week by the web cameras of Caloto, Tafxnú, Maravillas and La Palma showed a weak degassing of the volcanic system.
• Sensors for monitoring soil deformation, magnetic fields, and infrasound did not record any variations associated with changes in volcanic activity.
It is repeated that, although the VT seismicity located to the northeast of the Nevado del Huila volcano is in its zone of influence, these events occur in a tectonically active zone, they have not affected until now the others. parameters of volcanic monitoring; therefore, the level of activity of the volcano has not changed, which continues to Amarillo or level III.
Source : SGC
Photo : Parque Nacional.
Indonesia , Anak Krakatau :
Mount Anak Krakatau, Lampung, was erupted on 23 May 2019 at 22:59 WIB, but the height of the ash column was not observed. This eruption is recorded on a seismogram of maximum amplitude of 55 mm and a duration of ± 1 minute 29 seconds.
There was no explosion noise.
Currently, G. Anak Krakatau is at level II (Waspada) with recommendations:
People / tourists are not allowed to approach the crater within 2 km.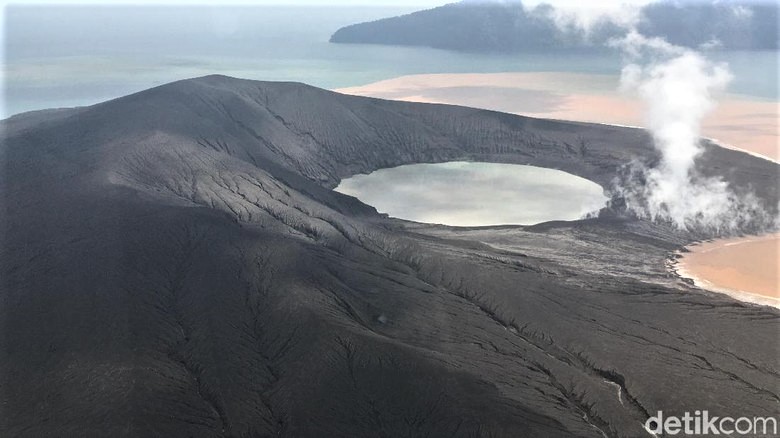 VOLCANO OBSERVATORY NOTICE FOR AVIATION – VONA.
Issued: 20190524/0057Z
Volcano: Anak Krakatau (262000)
Current Aviation Colour Code: ORANGE
Previous Aviation Colour Code: orange
Source: Anak Krakatau Volcano Observatory
Notice Number: 2019KRA100
Volcano Location: S 06 deg 06 min 07 sec E 105 deg 25 min 23 sec
Area: Lampung, Indonesia
Summit Elevation: 502 FT (157 M)
Volcanic Activity Summary:
Eruption with ash clouds at 00:43 UTC (07:43 local time). The eruption lasted for 242 seconds.
Volcanic Cloud Height:
Ash-cloud is not visible
Other Volcanic Cloud Information:
Anak Krakatau volcano is not clear.
Remarks:
Eruption recorded on seismogram with maximum amplitude 50 mm and duration 242 second.
Sources : PVMBG , Magma Indonésie .
Photo : Arief/detikcom ( 01 / 2019)