February 18 , 2019. EN. La Réunion , Piton de la Fournaise , Update 10h45.
February 18 , 2019.
La Réunion , Piton de la Fournaise , Update 10h45.
The Piton de la Fournaise erupted at 9:48 am Monday, February 18, 2019. « At least two eruptive fissures and a dozen lava fountains » are located on the eastern flank of the massif, said Aline Peltier, director of the observatory Volcanological Piton de la Fournaise (OVPF). She flew over the volcano late in the morning with Imaz Press Reunion. All images of the eruption, the first of the year, are to be seen on (Photos re / www.ipreunion.com)
The first seismic crisis broke out on Saturday, February 16th. It was then relatively calm and it left more beautiful this Monday morning. « The crisis was very short, there was barely an hour between its beginning and the arrival of magma on the surface, » says Aline Peltier. The director of the volcanological observatory flew over the volcano in the late morning with Imaz Press Reunion.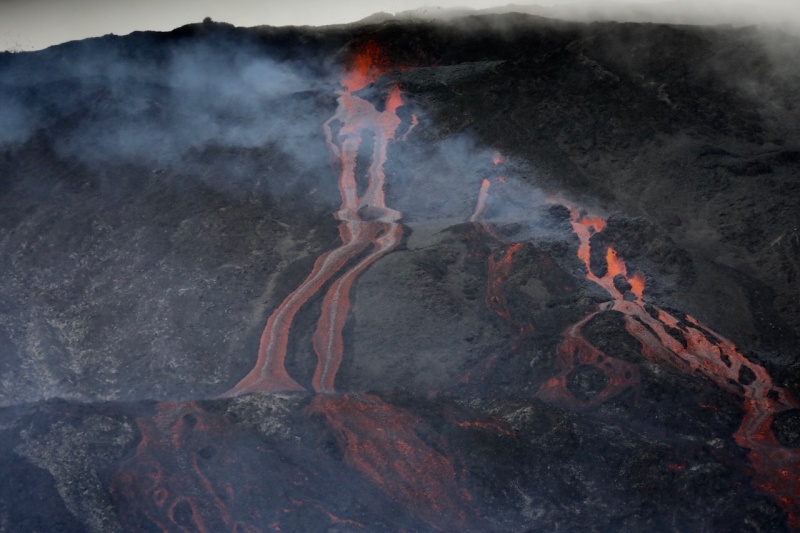 At first, due to the poor weather conditions – a significant fog covers the site – it had not yet been possible to accurately determine the number of eruptive fissures and their precise location. But thanks to the OVPF's seismographs, the scientists estimated that the eruption took place at altitude near the crater Dolomieu rather on the eastern or northeastern edge of this crater.
From the beginning of the eruption several witnesses in the south-east of the island claimed to see the lava escape from eruptive mouths. « It's quite plausible, the phenomenon is at altitude, it is possible to see lava down the slopes » confirms the director of the observatory.
« The prefect decided on the implementation of the alert phase 2-2 » eruption underway in the Enclos « of the specific device Osec volcano this Monday at 10:15. » Public access to the Enclos Fouqué, since the path Pas de Bellecombe or any other path, as well as the pose of aircraft in the volcano area, are prohibited until further notice « says the prefecture.
Source : ipreunion.com www.ipreunion.com/volcan/reportage/2019/02/18/piton-de-la-fournaise-nouvelle-crise-sismique-depuis-ce-matin-eruption-probable-dans-les-heures-qui-suivent,97978.html