June 29 , 2018. EN. Indonesia : Agung , Ecuador / Galapagos : Sierra Negra , Peru : Sabancaya , Hawai , Kilauea .
June 29 , 2018.
Agung , Indonesia :
VOLCANO OBSERVATORY NOTICE FOR AVIATION – VONA .
Issued: June 28 , 2018
Volcano: Agung (264020)
Current Aviation Colour Code: ORANGE
Previous Aviation Colour Code: orange
Source: Agung Volcano Observatory
Notice Number: 2018AGU31
Volcano Location: S 08 deg 20 min 31 sec E 115 deg 30 min 29 sec
Area: Bali, Indonesia
Summit Elevation: 10054 FT (3142 M)
Volcanic Activity Summary:
Continous emission observed since 02h30 UTC (10h30 Local) and still continuing.
Volcanic Cloud Height:
Best estimate of ash-cloud top is around 16454 FT (5142 M) above sea level, may be higher than what can be observed clearly. Source of height data: ground observer.
Other Volcanic Cloud Information:
Ash-cloud moving to West and Southwest.
Remarks:
Increasing in seismic activity (tremor).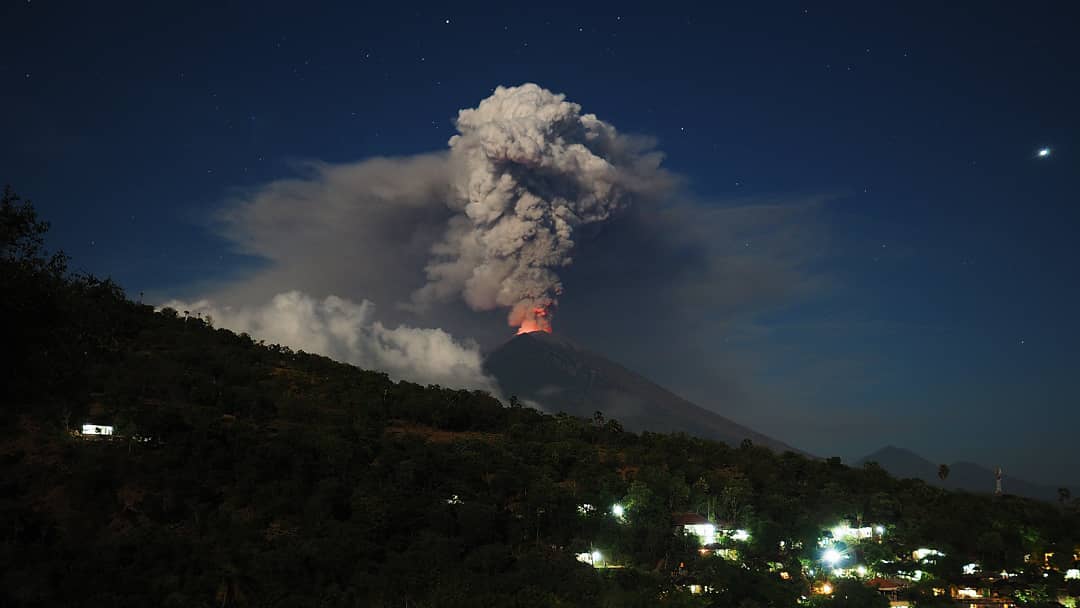 Ngurah Rai International Airport in Bali is assessing whether to temporarily halt operations following Mount Agung's latest eruption this week.
Airport authorities have issued a warning to airlines on the possibility of ash disrupting flights to and from the airport following the eruption, urging all airlines to remain cautious although the situation has yet to affect flight routes.
Mt. Agung emitted smoke 1,500 meters above its peak on Thursday, heading west. The increasing volcanic activity came after the highest mountain on the popular resort island erupted on Wednesday night.
« Mount Agung erupted but operations [at the airport] remain normal. We are trying to map all the routes," Ngurah Rai's communication and legal section head, Arie Ahsanurrohim, said in its notification to airlines on Thursday.
"[…] We [Airport Authority, state-owned airport operator PT Angkasa Pura I and the state-run air navigation company AirNav] are mapping which routes are safe based on our [ongoing] mitigation [scheme]," Arie said, adding that the airport might only halt operations if it is assessed that the eruption might put flights at risk.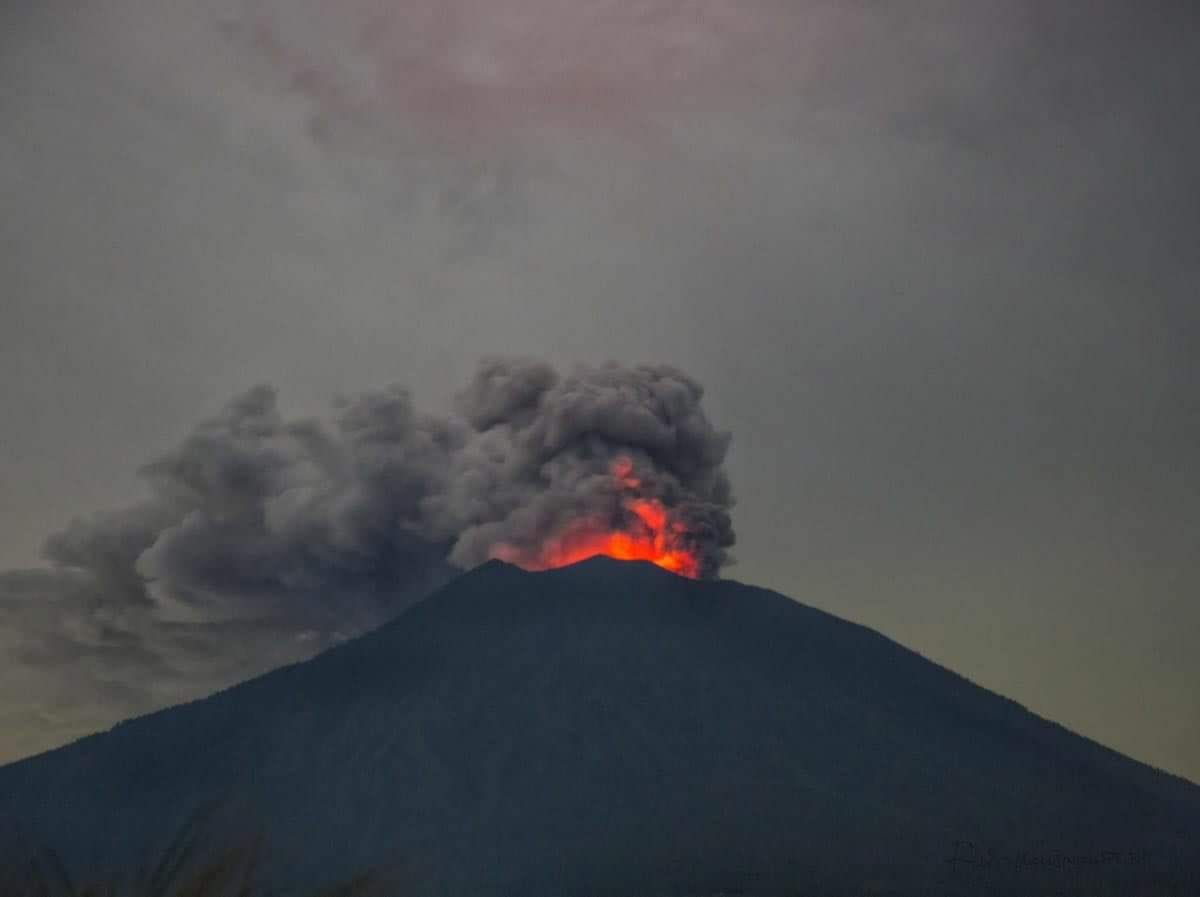 Monitoring data:
On June 27, 2018 at 22:21 WITA, he was visually observed a thick white gas column, in the morning, about 200 m above the peak. By 10:30 am, the intensity of gas emissions has increased and is accompanied by a small amount of ash. Emissions of gas and ash occur continuously at altitudes ranging from 1500 to 2000 m above the peak and are still ongoing. The main direction of ash dispersal is the west then turns to the southwest. This was confirmed by the PVMBG team who conducted field verifications, confirming light ash rains observed around the village of Puregai (7 km from the summit). So far (18:00 WITA), the activity of gas and ash emissions is still ongoing with a relatively constant altitude in the range of 1500-2000 m above the peak. A VONA code was shipped at 15:01 WITA with the color code Orange.
The seismic amplitude has increased rapidly in the last 12 hours. Earthquakes are dominated by low-frequency tremors that appear on the surface and gas and ash emissions. The earthquakes are approaching and form a continuous tremor since about 12:30 WITA.
The deformation has observed inflation since May 13, 2018 to date with an uprising of about 5 mm. This indicates the continued development of magma pressure beneath the Mount Agung building. So far, inflation at Mount Agung has not declined.
Geochemically, SO2 gases were measured for the last time with a flow of about 200 tonnes per day. This indicates the existence of magma movement from inside Mount Agung to the surface.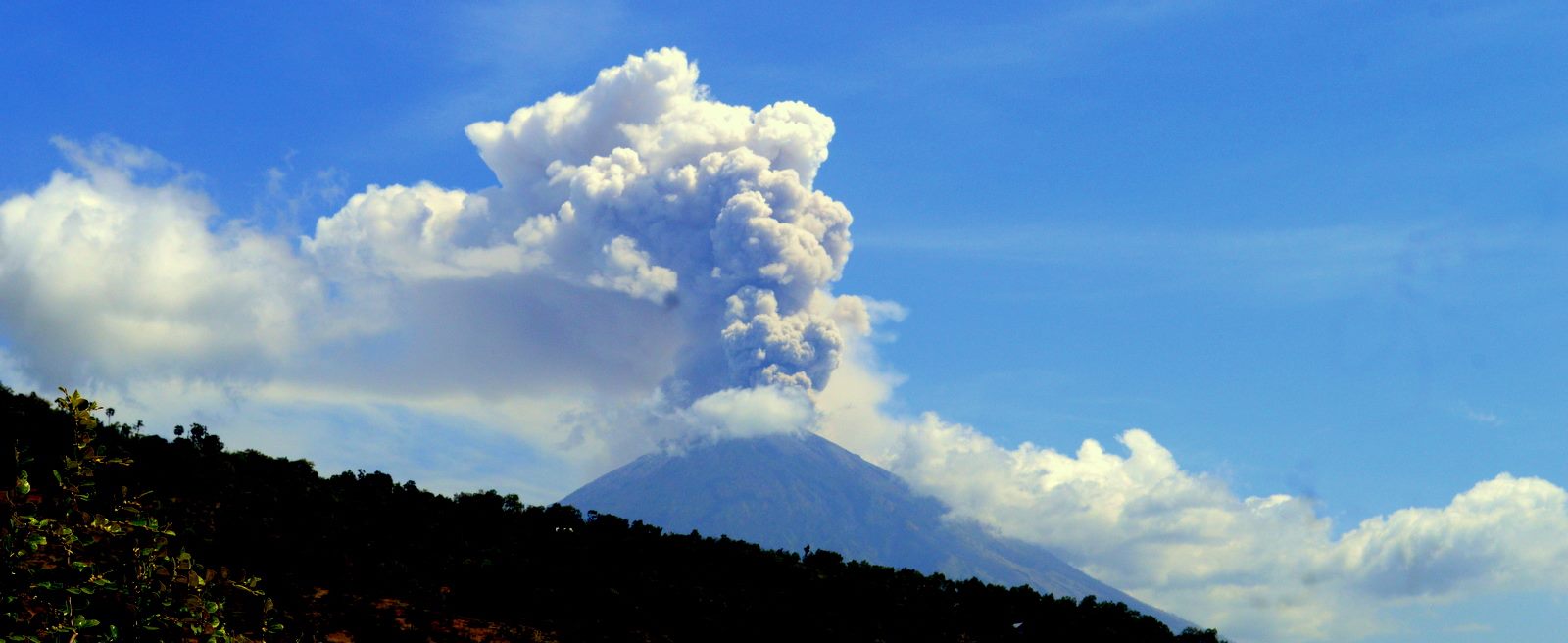 From the last satellite images of June 28, 2018, this morning, there were hot spots on the surface of the crater indicating the presence of hot material on the surface of the crater. This hot material is probably from the post-eruption laundering (shedding) recently released last night.
Continuous gas and ash emission phenomena are likely to be accompanied by fluid flow, supported by seismic signals (low frequency tremors), satellite images, and visual observations where gas and ash columns are usually white with relatively constant heights. Fluid flow that occurs other than gas and ash can also be a fresh lava flow to the surface. A low frequency tremor signal where the dominant frequency is relatively unchanged (in the 4 Hz range) indicates that the surface fluid flow occurs at a relatively constant rate. It can be considered that the current surface activity is still effusive.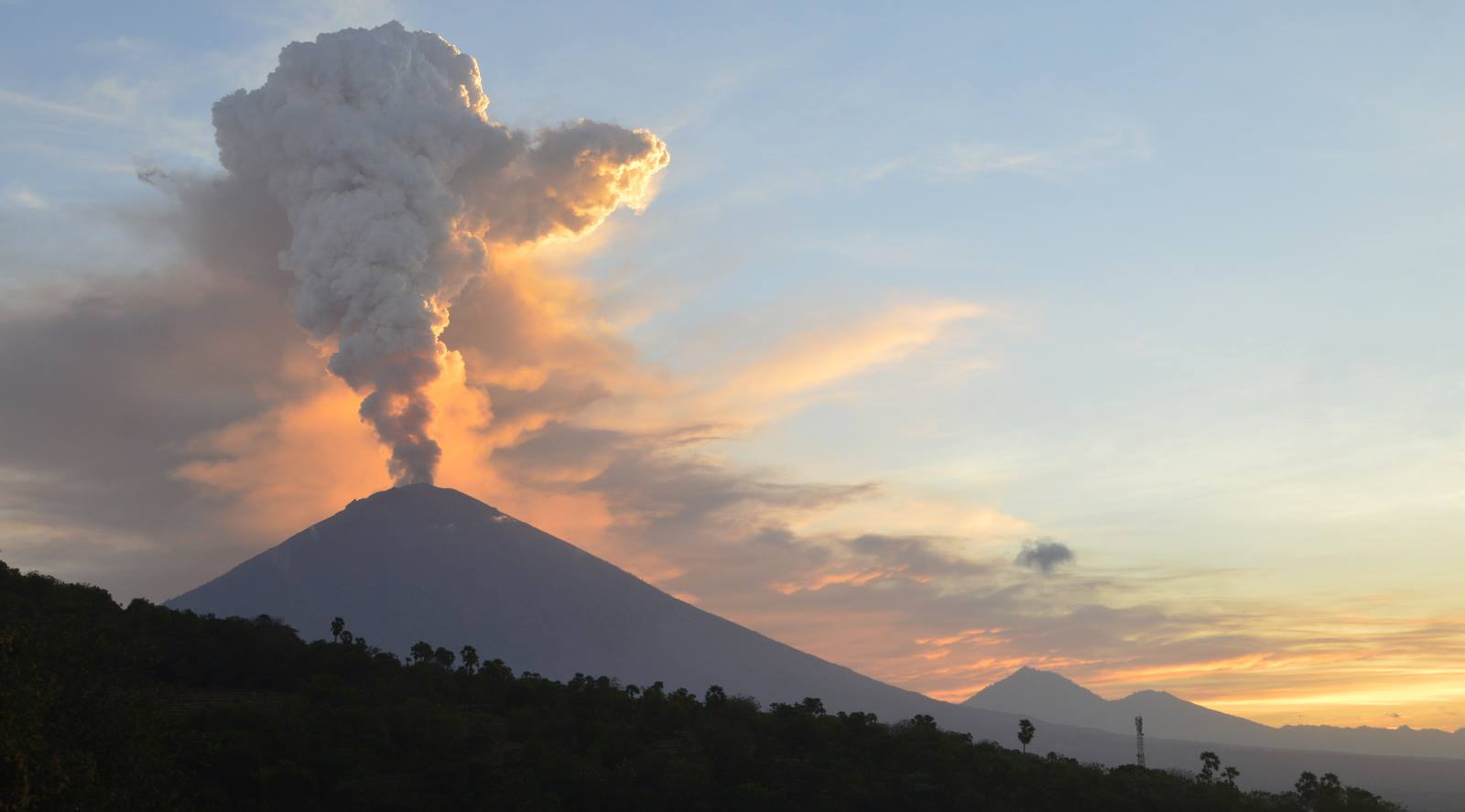 If the seismic signal changes, for example marked by the appearance of high frequency seismicity, changes in tremor frequency and / or a significant increase in amplitude, this may indicate the occurrence of blockages and eruptions explosive. However, if the activity of gas and ash emissions continues without a significant rate change, then there may be a new lava flow on the surface (increased lava volume) and / or emissions. of magmatic gas. The PVMBG continues to monitor the activities of Gunung Agung to assess its potential hazards over time. If there is a significant change, the status and / or recommendations on Gunung Agung's activity may be re-evaluated.
Source : Magma Indonésie, The Jakarta Post , PVMBG.
Photo : Rockintravel Xabi Naxwell , Sadrah Peranginangin , Daphné Degroot
Sierra Negra , Galapagos / Ecuador :
28 JUNE 2018. The area of influence of the Sierra Negra volcano, located on the Isabela Island of the Galapagos, is still on orange alert, decreed by the authorities due to the eruptive phase of the mountain.
The measure continues, despite the fact that the activity has already decreased, for which the authorities decided to return 50 evacuated people to their homes.
According to information from the Secretariat of Risk Management, the Provincial and Cantonal Emergency Operations Committees, headed by the President of the Governing Council of the Special Regime of the Galapagos, Lorena Tapia, and burgomasters, are in operation to guarantee population security.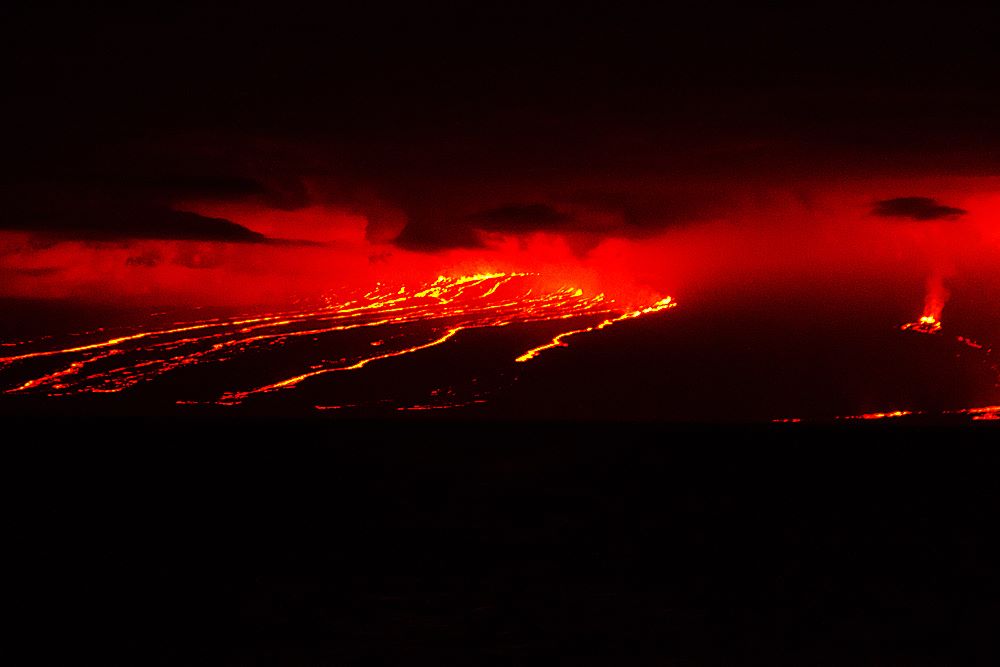 Meanwhile, the Galapagos National Park continues to operate, with the exception of sectors near the volcano and the entrance to El Cura area.
The Geophysical Institute warned about maintaining surveillance and reports before any significant change in Sierra Negra, which has one of the world ´s largest craters and woke up after 13 years asleep with a lava flow, which reached the sea.
Source : Plenglish.com
Photo : Carlos Romero
Sabancaya , Peru :
In recent days, the Campbell Scientific camera, installed by the Geophysical Institute of Peru (IGP) to monitor the eruptive activity of Sabancaya, recorded incandescent explosions in the early morning hours and the night of June 24 and 26 , respectively, a phenomenon that was observed sporadically during these 19 months of uninterrupted eruption.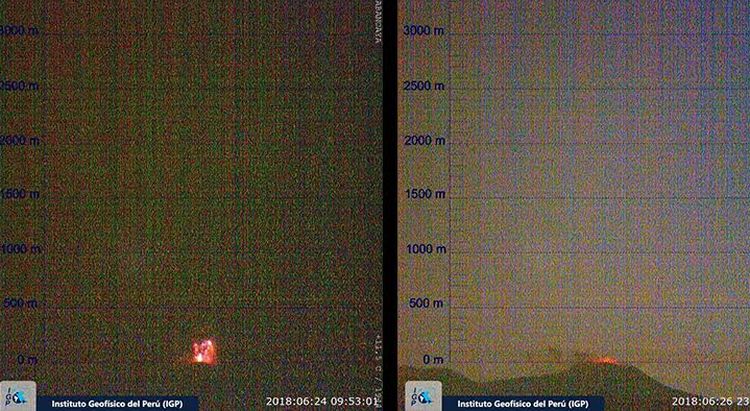 These visual manifestations correspond to explosions of moderate energy, as part of the continuous recording of temperature anomalies over the past week by the Mirova system. « Between June 21st and 27th, 11 anomalies were identified on the Sabancaya, with a maximum of 60 MW, which indicates that the magma continues to reach the volcano's crater and then produces explosions, » says Dr. Orlando Macedo, researcher in volcanology at IGP.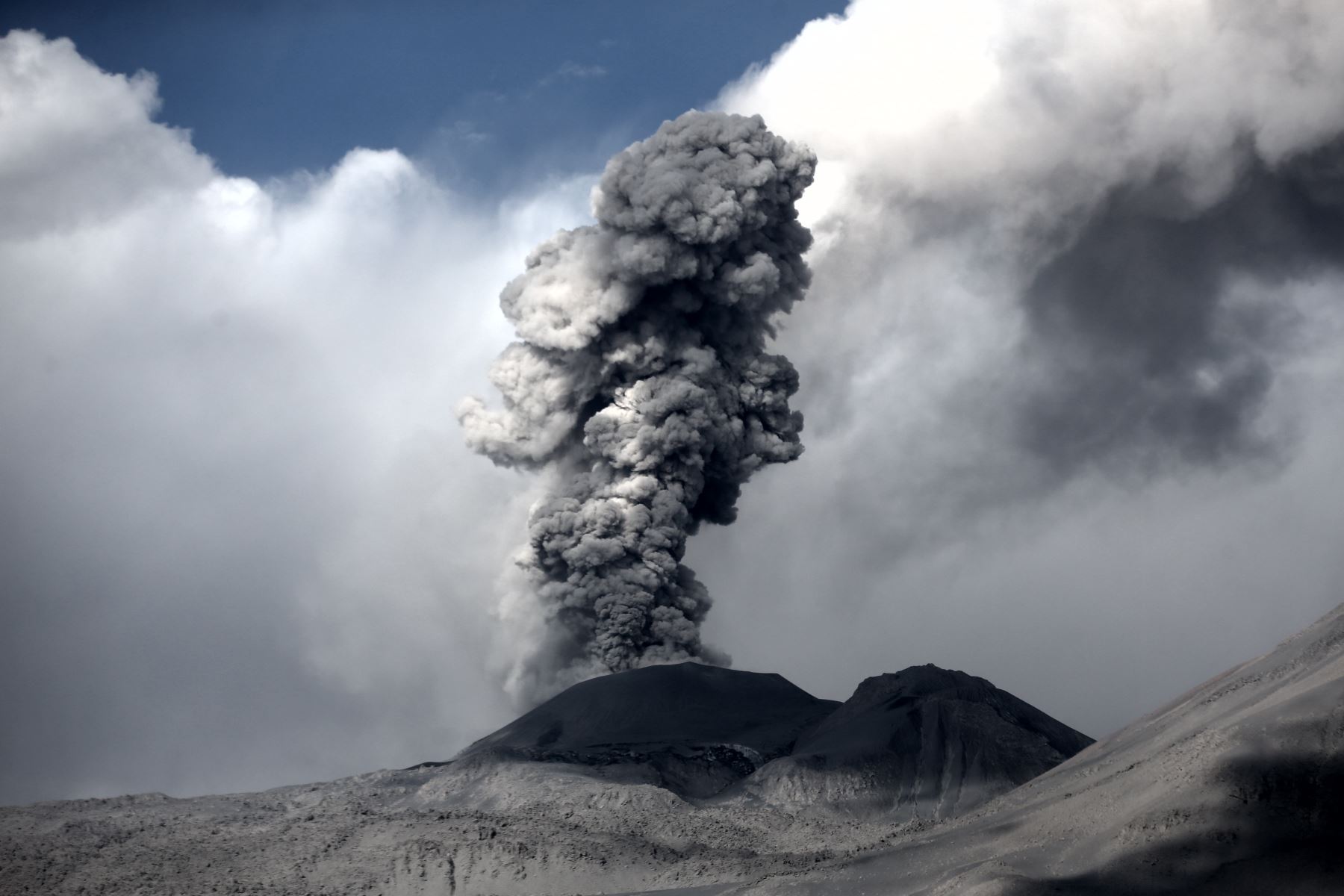 In turn, Dr. Macedo explained that Peruvian volcanoes have explosive characteristics, given the viscosity of the magma, and pointed out that, although this type of incandescence can be seen, it is highly unlikely that lava flows from the crater of Sabancaya, since the volume of magma rising through this volcano is very small. « Our volcanoes are very different from those in Hawaii, which emit very fluid lava and rare ashes, » he said.
It should be noted that so far in the eruption, there has not been a single day where there are no explosions accompanied by ash emissions. Currently, 29 explosions a day occur on the Sabancaya volcano, in an eruptive process considered to be of low magnitude.
Source : IGP
Photos : IGP , Martin Rietze.
Kilauea , Hawai :
Thursday, June 28, 2018, 10:57 AM HST (Thursday, June 28, 2018, 20:57 UTC)
19°25'16 » N 155°17'13 » W,
Summit Elevation 4091 ft (1247 m)
Current Volcano Alert Level: WARNING
Current Aviation Color Code: ORANGE
Kīlauea Volcano Lower East Rift Zone
The eruption in the lower East Rift Zone (LERZ) continues with no significant change during the past 24 hours.
Fountains from Fissure 8 spatter cone continue to supply lava to the open channel with intermittent small, short-lived overflows. These overflows rarely extend beyond the existing flow field. No active overflows were observed during this morning's helicopter overflight.The spatter cone is now about 55 m (180 ft) tall at its highest point, and fountains only occasionally rise above that point.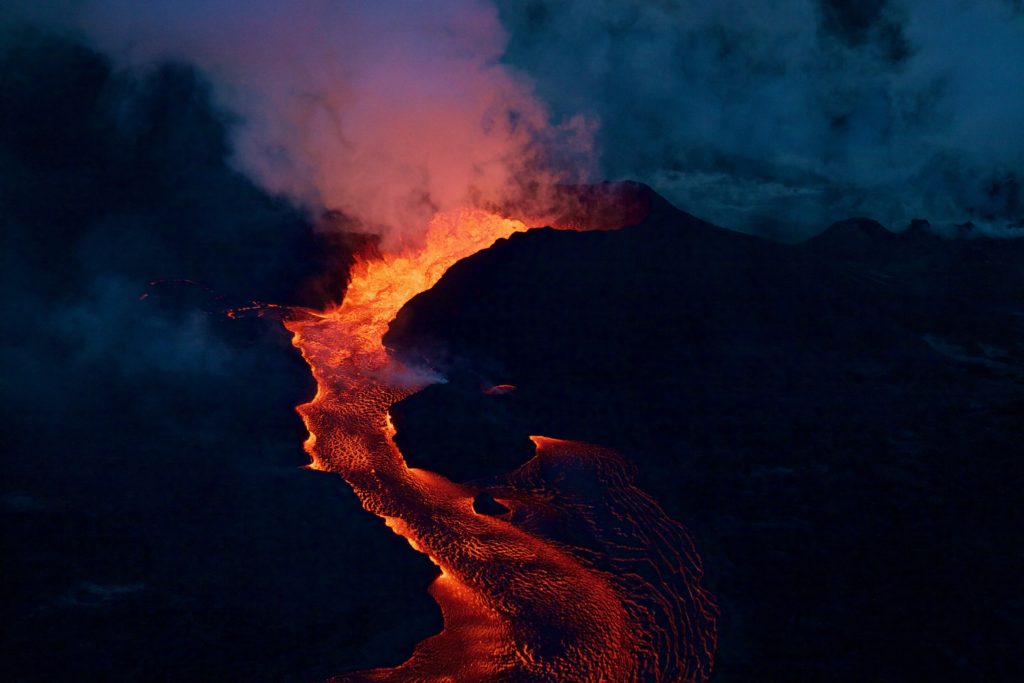 At the coast, the northern margin of the flow field is still oozing fresh lava at several points in the area of Kapoho Beach Lots. Lava was entering the sea over a broad area this morning primarily on the northern side of the entry area. As shown by yesterday's thermal map of the flow field, the lava channel has crusted over about 0.8 km (0.5 mi) inland of the ocean entry; lava is moving beneath the crust and into still-molten interior of earlier flows before it enters the sea.
Pele's hair and other lightweight volcanic glass fragments from the lava fountain at Fissure 8 continue to fall downwind of the fissure, dusting the ground within a few hundred meters (yards) of the vent. High winds may waft lighter particles to greater distances. Residents are urged to minimize exposure to these volcanic particles, which can cause skin and eye irritation similar to volcanic ash.
HVO field crews are on site tracking the fountains, lava flows, and spattering from Fissure 8 as conditions allow and are reporting information to Hawaii County Civil Defense. Observations are also collected on a daily basis from cracks in the area of Highway 130; no changes in temperature, crack width, or gas emissions have been noted for several days.
Volcanic gas emissions remain very high from Fissure 8 eruptions. Continuing trade wind conditions are expected to bring VOG to the southern and western parts of the Island of Hawaii.
Kīlauea Volcano Summit
At 04:49 a.m. HST, after approximately 26 hours of elevated seismicity, a collapse explosion occurred at the summit producing an ash-poor steam plume that rose about 1,000 ft above the ground surface (~5,000 ft above sea level) before drifting to the SW. The energy released by the event was equivalent to a magnitude 5.3 earthquake. Seismicity dropped abruptly from a high of 25-35 earthquakes per hour (many in the magnitude 2-3 range) prior to the collapse explosion down to 10 or fewer earthquakes per hour afterwards. Inward slumping of the rim and walls of Halemaʻumaʻu continues in response to ongoing subsidence at the summit.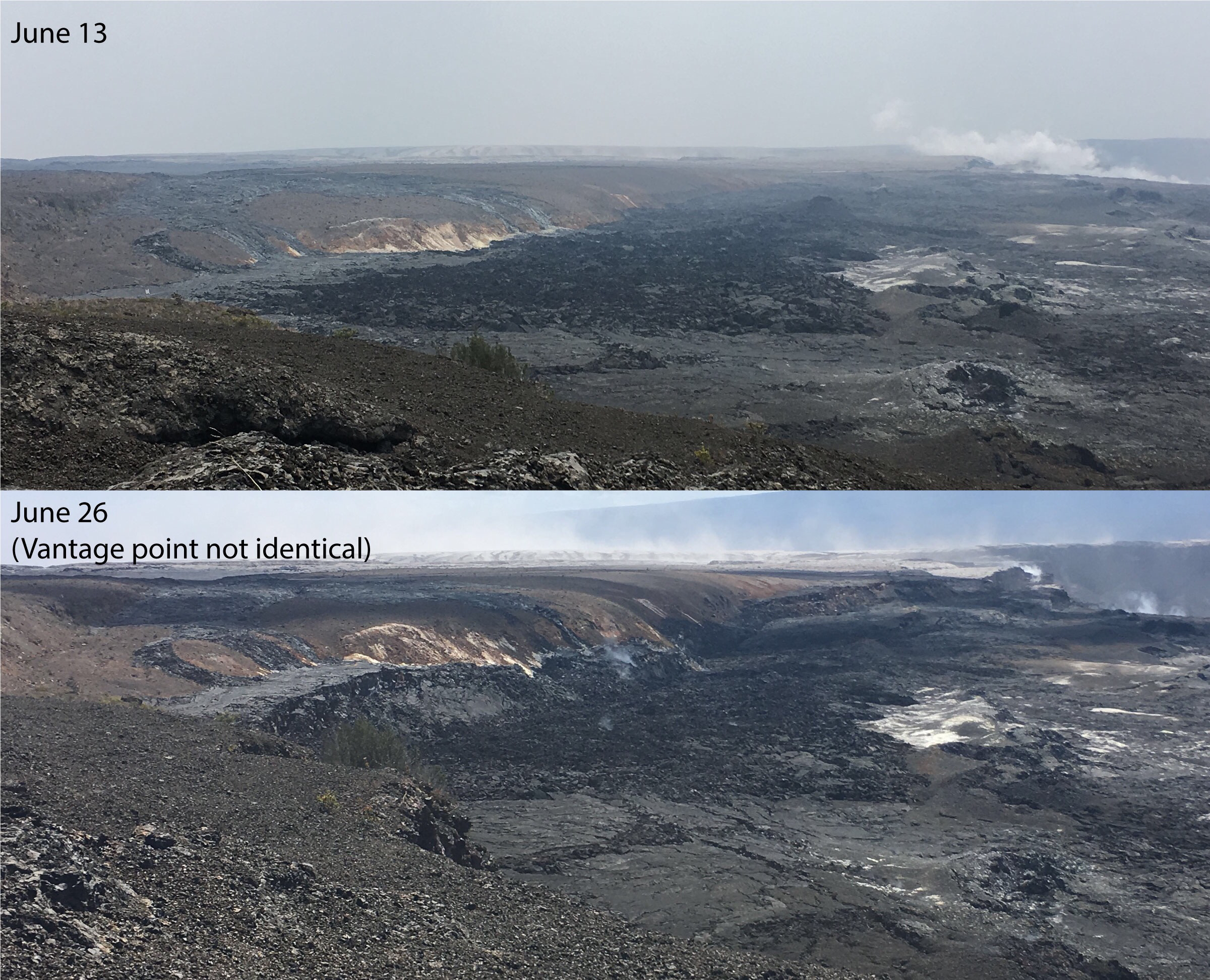 Comparison of photographs taken on June 13 and 26 from near Keanakāko'i Crater overlook in Hawai'i Volcanoes National Park shows a subsidence scarp that formed as the Kīlauea Crater floor subsided. Scientists estimate the dramatic dropping of the crater floor in this area occurred sometime between June 23 and 26. The view is to the west. Halema'uma'u crater is in upper right.
Sulfur dioxide emissions from the volcano's summit have dropped to levels that are about half those measured prior to the onset of the current episode of eruptive activity. This gas and minor amounts of ash are being transported downwind, with small bursts of ash and gas accompanying intermittent explosive activity.
Source : HVO
Photos : USGS.
Vidéo : Ikaika Marzo