February 27 , 2018. EN. Mayon , Sabancaya , Dukono , Fuego , Turrialba , Rincon de la Vieja .
February 27 , 2018.
Mayon , Philippines :
MAYON VOLCANO BULLETIN 27 February 2018 8:00 A.M.
Mayon's condition for the past 24 hours was characterized by weak lava fountaining, lava effusion and degassing from the summit crater. Lava fountaining events lasted two (2) minutes to one (1) hour and 17 minutes and generated fountains 150 meters tall and steam-laden plumes that rose to 100-600 meters from the summit before drifting west-northwest, northwest, and north-northeast. In the evening, lava effusion from the vent was observed to continue feeding lava flows that have maintained fronts at 3.3 kilometers, 4.5 kilometers and 900 meters on the Miisi, Bonga and Basud Gullies, respectively, from the summit crater. Seven (7) episodes of lava-collapse pyroclastic density currents (PDC) were visually observed between 6:06 AM and 1:36 PM yesterday on the Miisi, Basud and Bonga-Buyuan Gullies within 4 kilometers of the summit crater.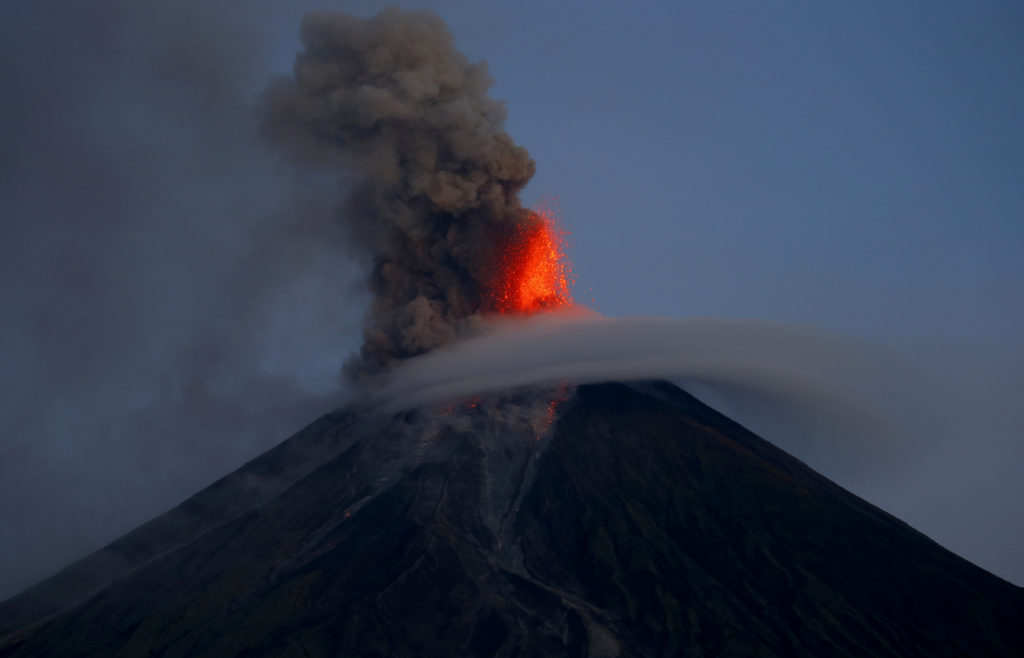 A total of one hundred twenty-eight (128) volcanic earthquakes, seventy-nine (79) of which correspond to lava fountaining events, and twelve (12) rockfall events were recorded by Mayon's seismic monitoring network. Sulfur dioxide (SO2) emission was measured at an average of 2,787 tonnes/day on 26 February 2018. Deflation of the lower slopes that began on 20 February is still being recorded by electronic tilt. Nonetheless, overall electronic tilt and continuous GPS data indicate that the edifice is still swollen or inflated relative to November and October 2017, consistent with campaign Precise Leveling data acquired last week.
Alert Level 4 still remains in effect over Mayon Volcano. The public is strongly advised to be vigilant and desist from entering the eight (8) kilometer-radius danger zone, and to be additionally vigilant against pyroclastic density currents, lahars and sediment-laden stream flows along channels draining the edifice. Civil aviation authorities must also advise pilots to avoid flying close to the volcano's summit as ash from any sudden eruption can be hazardous to aircraft.
DOST-PHIVOLCS maintains close monitoring of Mayon Volcano and any new development will be communicated to all concerned stakeholders.
Source : Phivolcs
Photo : Bullit Marquez ( Janvier 2018)
Sabancaya , Peru :
The explosive activity remains similar to the previous week, averaging 17 explosions a day. Events associated with fluid movements (long period type) and ash emission (Tremor type) continue to predominate. The earthquakes associated with the rise of the magma (hybrid type) have slightly increased in number. 
Eruptive columns of gas and ash reached a maximum height of 4500 m above the crater. The dispersion of these materials occurred within a radius of approximately 50 km, mainly in the northwestern, southwestern, southern and southeastern directions. 
Deformation monitoring shows intermittent changes. 
The volcanic gas (SO2) flux recorded on 25 February has a maximum value of 2092 tonnes / day, a value considered large. 
The MIROVA system recorded 1 thermal anomaly with a value of 1 MW VRP (Radiated Volcano Power).
In general, eruptive activity maintains moderate levels. Possible increase in activity in the following days.
Source : IGP
Dukono , Indonesia :
VOLCANO OBSERVATORY NOTICE FOR AVIATION – VONA.
Issued: February 26 , 2018.
Volcano: Dukono (268010)
Current Aviation Colour Code: ORANGE
Previous Aviation Colour Code: orange
Source: Dukono Volcano Observatory
Notice Number: 2018DUK24
Volcano Location: N 01 deg 41 min 35 sec E 127 deg 53 min 38 sec
Area: North Maluku, Indonesia
Summit Elevation: 3933 FT (1229 M)
Volcanic Activity Summary:
Eruption with volcanic ash cloud at 22h18 UTC (07h18 local).
Volcanic Cloud Height:
Best estimate of ash-cloud top is around 5853 FT (1829 M) above sea level, may be higher than what can be observed clearly. Source of height data: ground observer.
Other Volcanic Cloud Information:
Ash cloud moving to Southeast.
Remarks:
Eruption and ash emission is continuing.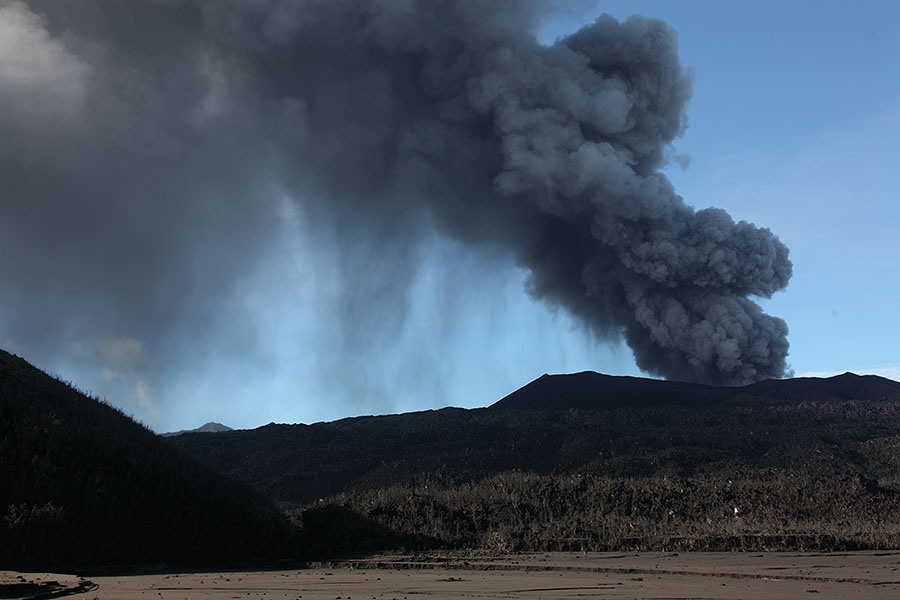 Activity Level at Level II (WASPADA). The Dukono (1229 m above sea level) has a continuous eruption.
Since yesterday until this morning visually the peak of the volcano can be observed until it is covered with fog. Explosions with ash emission are observed, white and gray, thick, with a height of 400 to 800 m above the peak, which disperse towards the East-Southeast.
According to the seismograph, dated February 26, 2018, it was recorded:
1 earthquake of eruption.
3 distant tectonic earthquakes.
Ash emissions associated with continuous trenches with an amplitude of 0.5 to 18 mm (dominant value of 4 mm).
Recommendation: The communities around G. Dukono and visitors / tourists should not have activity, climb and approach the crater Malupang Warirang within a radius of 2 km.
Source : Magma , VSI.
Photo : Photovolcanica
Fuego , Guatemala :
Type of activity: Vulcanian
Morphology: Composite Stratovolcan
Location: 14 ° 28'54˝ Latitude N; 90 ° 52'54˝ Longitude W.
Height: 3,763msnm
Weather Conditions: Partly Cloudy
Wind: North 5 km / h
Precipitation: 0.0 mm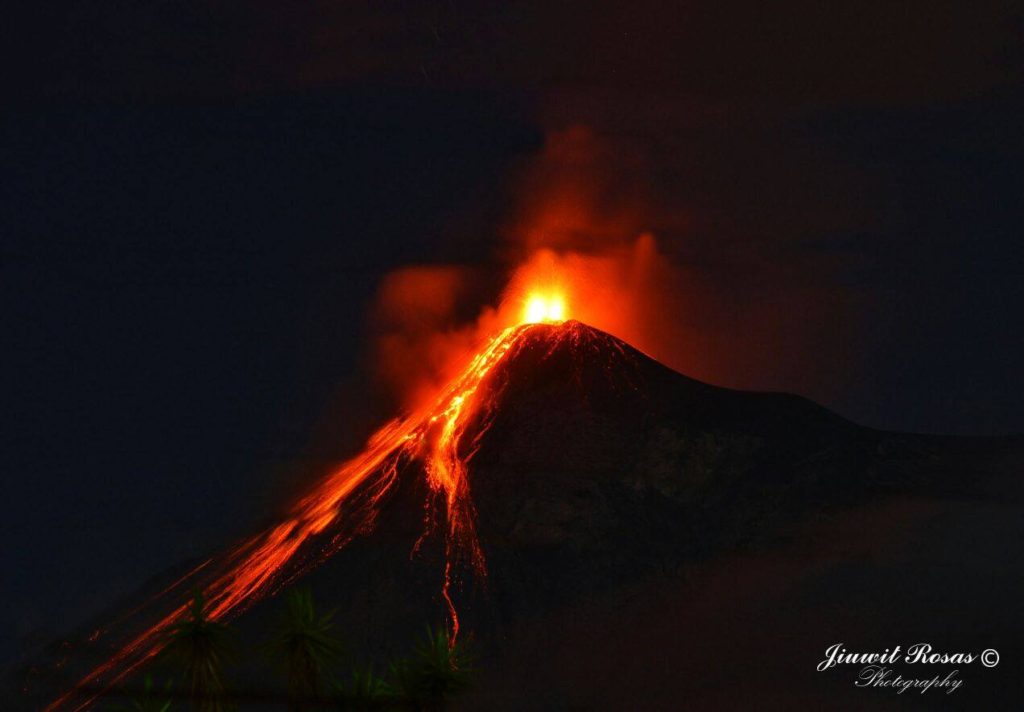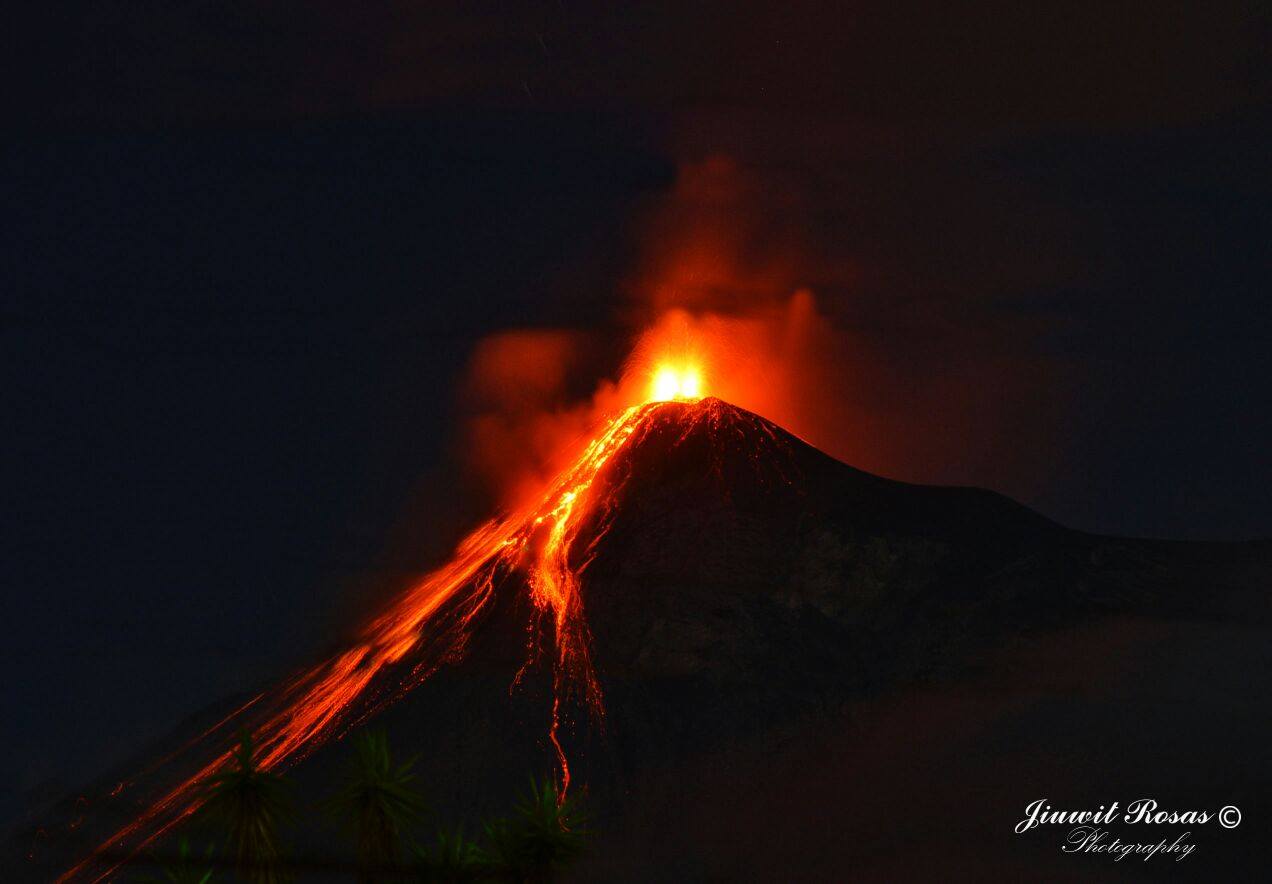 Activity:
Presence of white fumaroles at an approximate height of 4,400 m (14,435 feet), dispersing to the south, southwest and west. From 2 to 5 low to moderate explosions per hour have been reported, ejecting columns of gray ash at a height of approximately 4,500 to 4,800 meters (14,764 to 15,748 feet) dispersing to the south, southwest and west, for a distance of 10 to 15 kilometers. Low fallout and weak to moderate avalanches are reported on the crater contour. Fine ash falls are reported in the communities of Panimache I and II, Morelia, Santa Sofia, El Porvenir and Palo Verde Estate, among others located in this direction.
Source : Insivumeh
Photo : Giuwit Rosas
Turrialba , Rincon de la Vieja , Costa Rica :
Daily activity report for Turrialba and Rincón de la Vieja volcanoes:
February 26, 2018, Updated at 11:00 o'clock.
Turrialba Volcano: activity over the past 24 hours
The Turrialba volcano continues its permanent degassing. No ash emission was detected.
Seismic activity over the past 24 hours has been kept low with small isolated events.
At the time of this report, the winds at the summit of the volcano are directed mainly towards the west.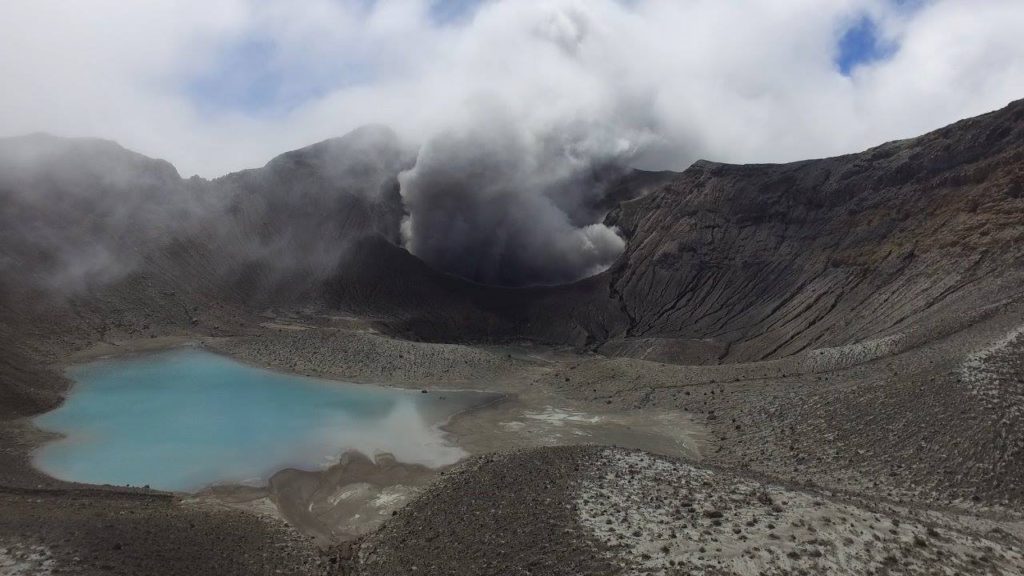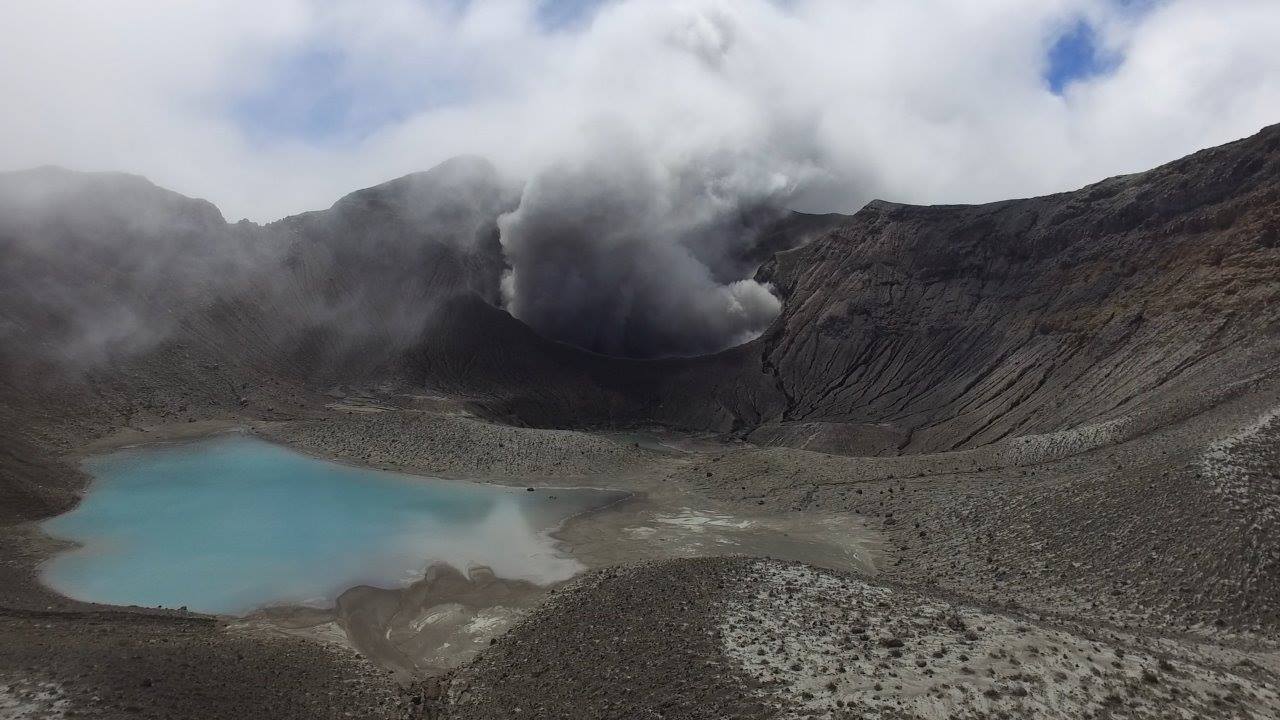 Rincón de la Vieja Volcano: activity over the last 24 hours
In the last 24 hours, no eruption was detected.
OVSICORI-UNA remains vigilant on seismic and volcanic activity.
Source : Ovsicori