February 16 , 2018. EN. Mayon , Mount Io , Galeras , Popocatepetl , Sinabung .
February 16 , 2018.
Mayon , Philippines :
MAYON VOLCANO BULLETIN 16 February 2018 08:00 A.M.
Mayon's activity in the past 24 hours was characterized by sporadic and weak lava fountaining, lava flow and degassing from the summit crater. Discrete episodes of lava fountaining that lasted eighteen (18) minutes to two hours and twenty-three (203) minutes were accompanied by rumbling and chugging sounds audible beyond 10 kilometers of the summit crater. Incandescent lava fountains 200 meters tall generated steam-laden plumes that rose to 400 meters from the summit before drifting southwest and west-southwest. Throughout the night, lava flows and consequent incandescent rockfalls were observed in the Miisi and Bonga-Buyuan channels. Effused volumes of incandescent lava flows have advanced to 3.3 kilometers, 4.5 kilometers and 900 meters down the Miisi, Bonga and Basud Gullies, respectively, from the summit crater. Pyroclastic density currents or PDCs have deposited to the 4.6, 4.5 and 4.2 kilometer reaches of the Miisi, Bonga and Basud Gullies, respectively.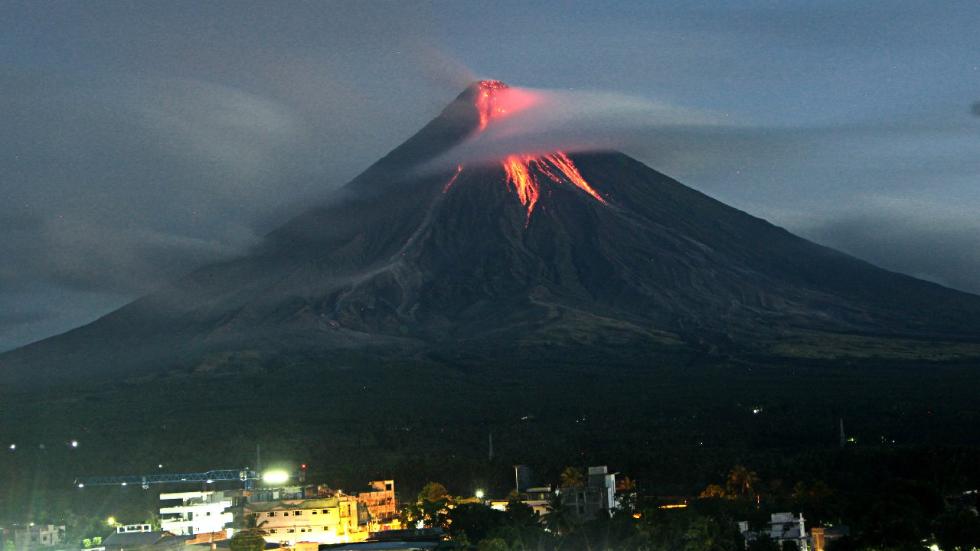 A total of fifty-four (54) volcanic earthquakes, most of which corresponded to lava fountaining events were recorded by Mayon's seismic monitoring network. Electronic tilt and continuous GPS still record sustained swelling or inflation of the edifice since November and October 2017, consistent with pressurization by magmatic intrusion.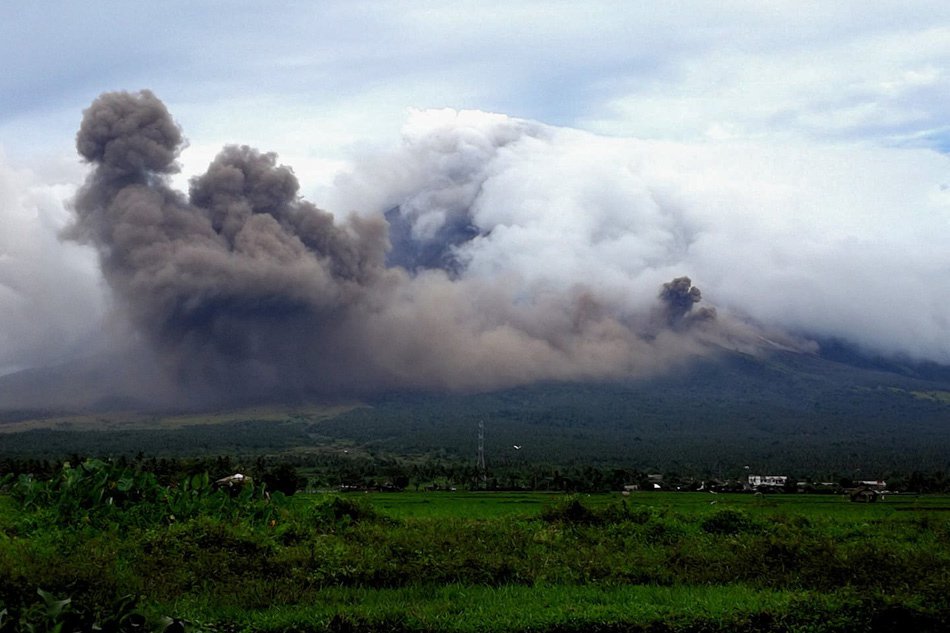 Alert Level 4 remains in effect over Mayon Volcano. The public is strongly advised to be vigilant and desist from entering the eight (8) kilometer-radius danger zone, and to be additionally vigilant against pyroclastic density currents, lahars and sediment-laden stream flows along channels draining the edifice. Civil aviation authorities must also advise pilots to avoid flying close to the volcano's summit as ash from any sudden eruption can be hazardous to aircraft.
DOST-PHIVOLCS maintains close monitoring of Mayon Volcano and any new development will be communicated to all concerned stakeholders.
Source : Phivolcs.
Photos : Ciriaco Santiago
Mont Io , Japan :
More volcanic activity observed at Mt. Io ,Japan.
Slightly increased volcanic activity has been reported at Mount Io in southwest Japan.
The Meteorological Agency says 2 low-frequency earthquakes occurred at the mountain on Thursday morning.
It said volcanic activity there is picking up slightly, and warned that the mountain may gush out volcanic gas or thermal water within 100 meters of its crater.
The volcano is in the Kirishima mountain range, which straddles the prefectures of Miyazaki and Kagoshima.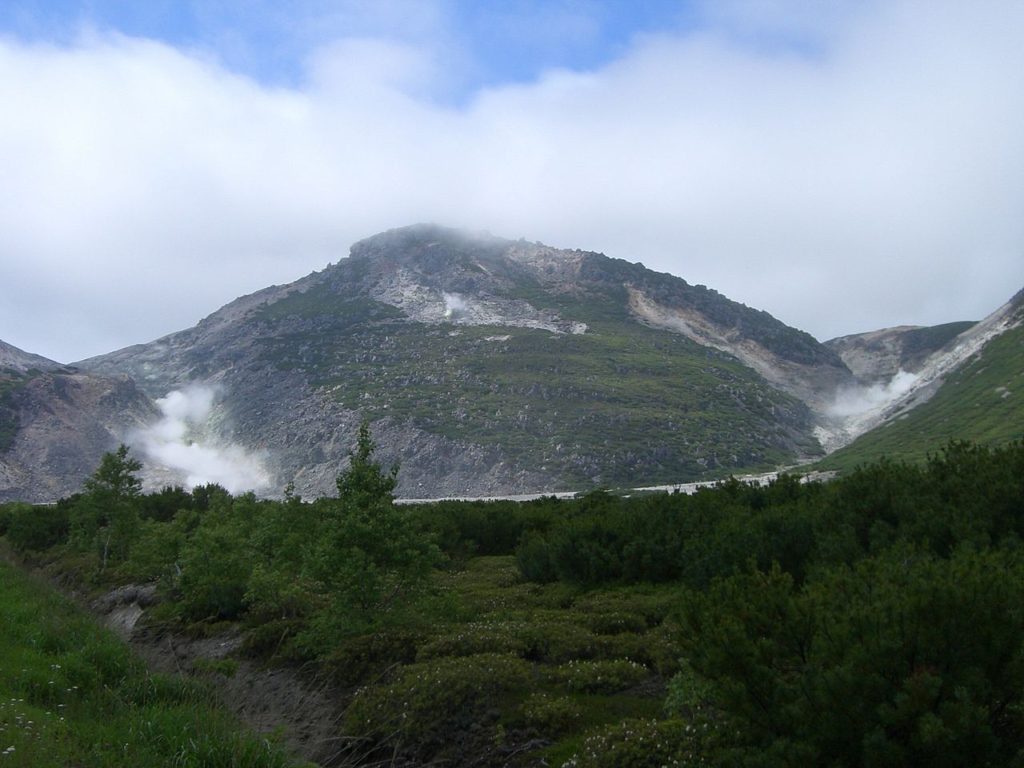 The agency maintained its alert level for the mountain at 1 on a scale up to 5.
GPS data suggest that magma has been building up deep underground in the area since last July. But the agency reported no change in ground movement data.
Local authorities are keeping restrictions on entry up to 300 meters from the volcano's crater.
Kirishimayama is a large group of more than 20 Quaternary volcanoes located north of Kagoshima Bay. The late-Pleistocene to Holocene dominantly andesitic group consists of stratovolcanoes, pyroclastic cones, maars, and underlying shield volcanoes located over an area of 20 x 30 km. The larger stratovolcanoes are scattered throughout the field, with the centrally located, 1700-m-high Karakunidake being the highest. Onamiike and Miike, the two largest maars, are located SW of Karakunidake and at its far eastern end, respectively. Holocene eruptions have been concentrated along an E-W line of vents from Miike to Ohachi, and at Shinmoedake to the NE. Frequent small-to-moderate explosive eruptions have been recorded since the 8th century.
Source : NHK jp. , GVP
Photo : Iou-zan
Galeras , Colombia :
Subject: Weekly activity bulletin of the Galeras volcano.
The level of activity of the volcano continues at the level:
YELLOW LEVEL ■ (III): CHANGES IN THE CONDUCT OF VOLCANIC ACTIVITY.
Following the activity of the GALERAS volcano, the COLOMBIAN GEOLOGICAL SERVICE informs that:
For the period 6 to 12 February 2018, low levels of seismicity are maintained. In total, 18 events associated with rock fracturing were recorded. Localized earthquakes had local amplitudes below M1.6 on the Richter scale and depths less than 14 km from the volcanic peak (reference level of 4200 meters above sea level).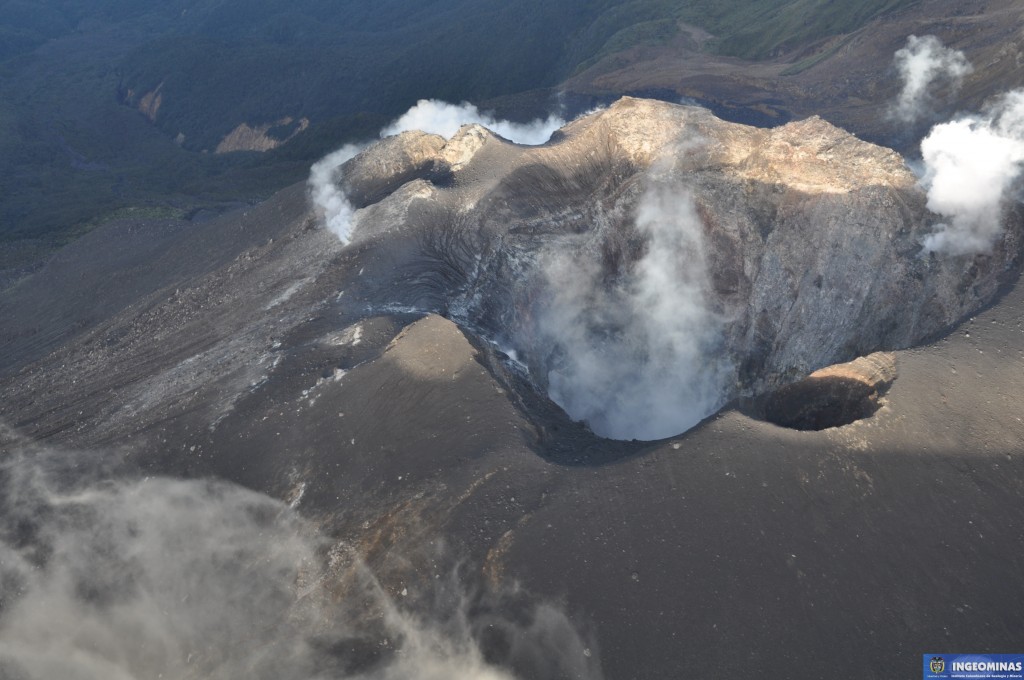 Throughout the week, it was possible to observe the volcanic peak with the various cameras of surveillance of the volcano, highlighting processes of gas emission, with columns of low pressure, low height, color white and a direction of dispersion variable according to the winds.
The COLOMBIAN GEOLOGICAL SERVICE is attentive to the evolution of the volcanic phenomenon and will continue to inform in a timely manner of the observed changes.
Source : SGC.
Popocatépetl , Mexico :
February 15, 11:00 (February 15, 17:00 GMT).
During the last 24 hours, by the monitoring systems of Popocatepetl, 34 low intensity exhalations, accompanied by steam, gases and sometimes very small amounts of ash have been identified. In addition, two volcano-tectonic events were recorded yesterday at 15:50 and today at 06:51 with amplitudes of M1,9 and M1,5, respectively, as well as 19 minutes of low amplitude tremor.
From this morning until the moment of this report, the volcano was observed with a slight emission of water vapor and gas in a west direction.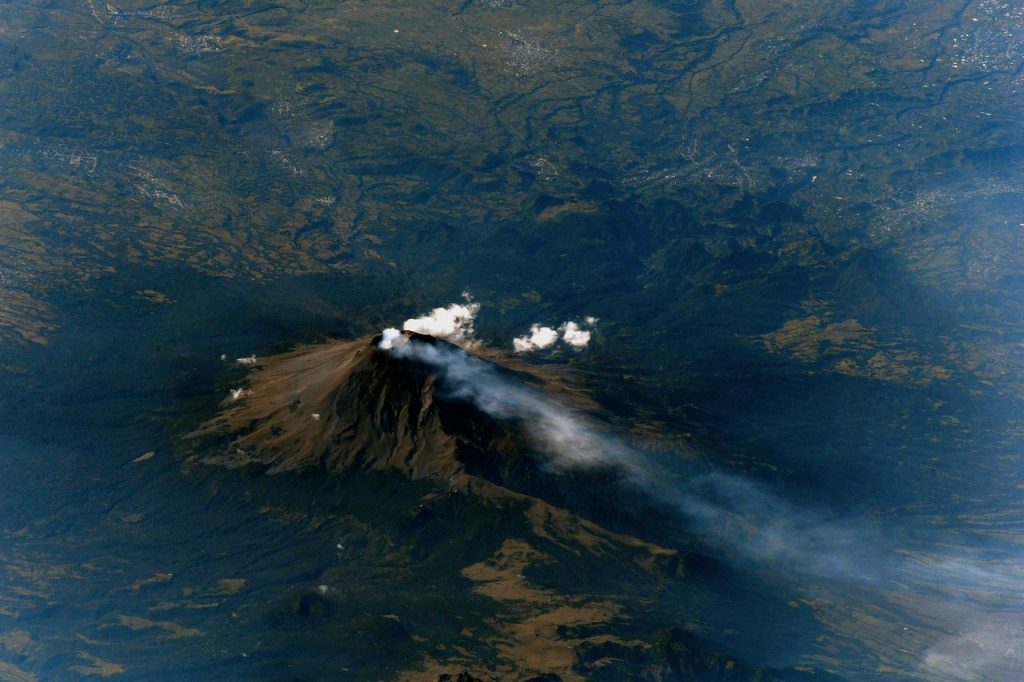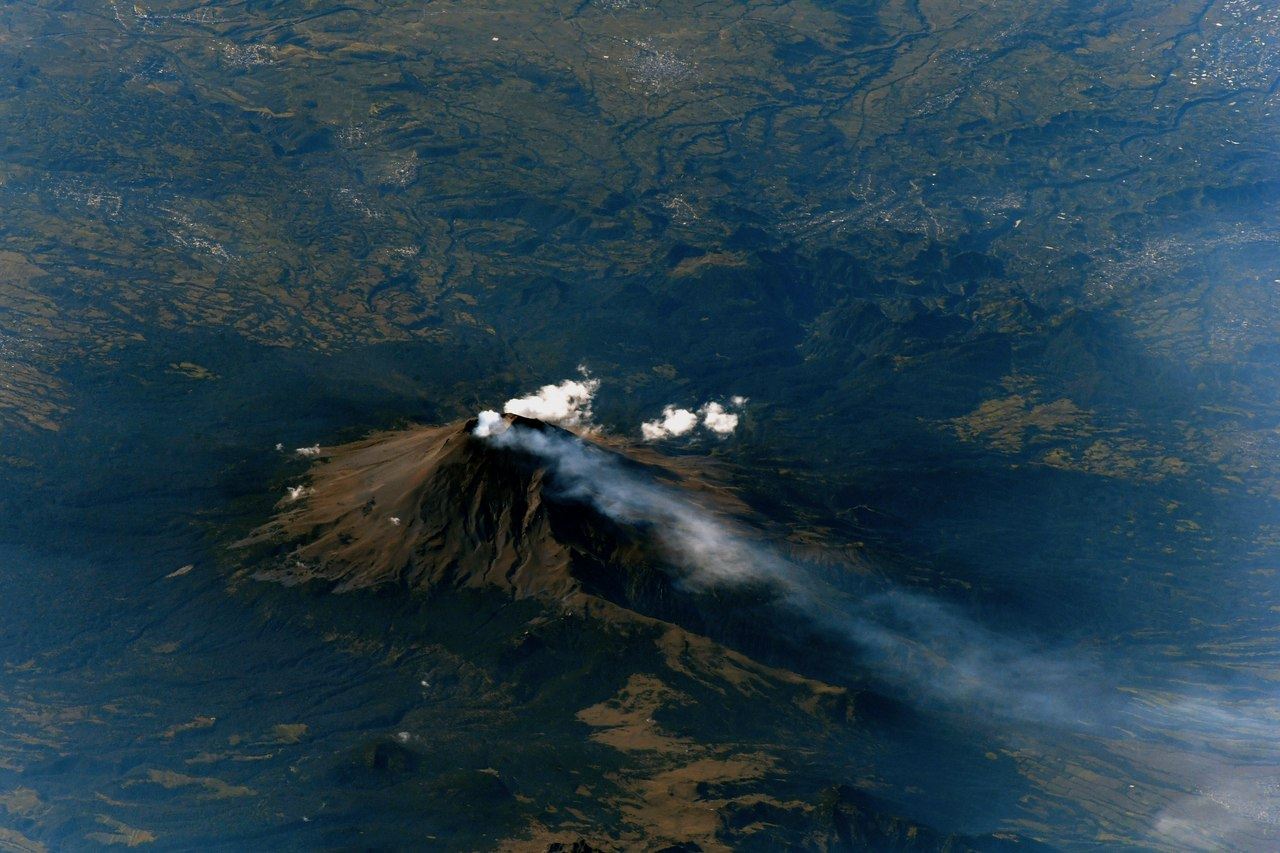 The other monitoring parameters remain unchanged.
CENAPRED asked not to approach the volcano and in particular the crater, because of the risk of falling of projectiles, and in the event of heavy rain, to stay far from the bottoms of ravines because of the danger of landslides and flows mud.
The Popocatepetl volcanic warning light is located at Amarillo Phase 2.
Source : Cenapred
Sinabung , Indonesia :
VOLCANO OBSERVATORY NOTICE FOR AVIATION – VONA.
Issued: February 15 , 2018.
Volcano: Sinabung (261080)
Current Aviation Colour Code: ORANGE
Previous Aviation Colour Code: orange
Source: Sinabung Volcano Observatory
Notice Number: 2018SIN88
Volcano Location: N 03 deg 10 min 12 sec E 98 deg 23 min 31 sec
Area: North Sumatra, Indonesia
Summit Elevation: 7872 FT (2460 M)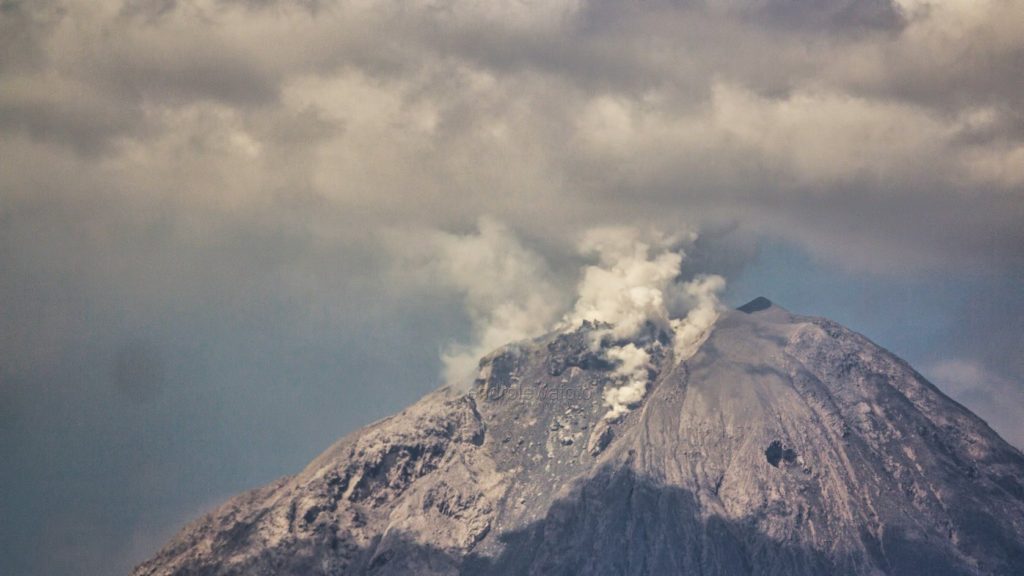 Volcanic Activity Summary:
Eruption with ash clouds at 13h00 UTC (20h00 local time). Eruption and ash emission is continuing.
Volcanic Cloud Height:
Best estimate of ash-cloud top is around 14272 FT (4460 M) above sea level, may be higher than what can be observed clearly. Source of height data: ground observer.
Other Volcanic Cloud Information:
Ash-cloud moving to south.
Remarks:
Seismic activity is characterized by the Deep Volcanic Earthquake, Low Frequency Earthquake, and Hybrid Earthquake.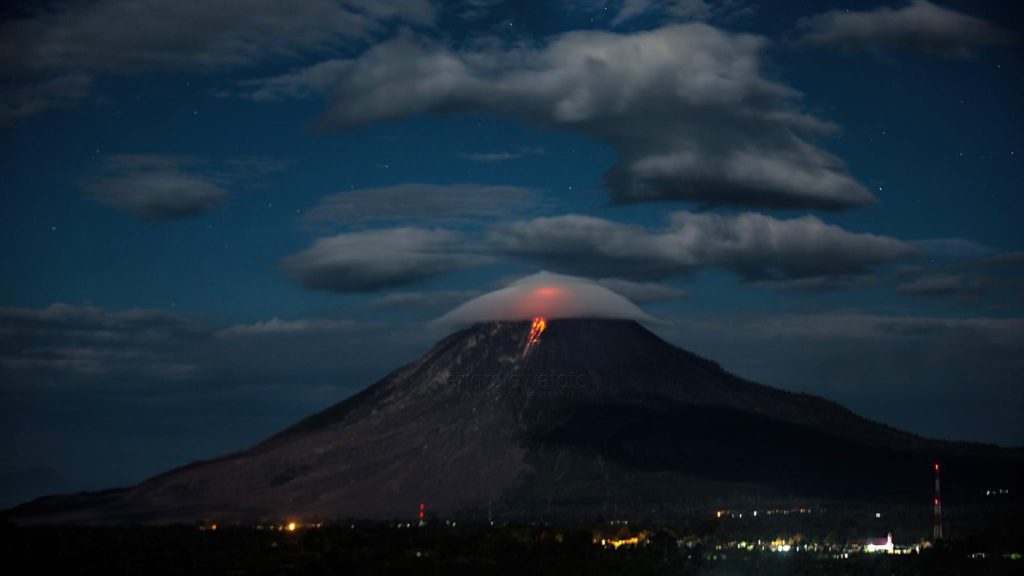 Activity Level of Level IV (AWAS). The Sinabung (2460 m altitude) has been erupting constantly since 2013. Since yesterday until this morning was often covered with fog. Crater smoke can be observed up to 200 m above the summit. 1 eruption earthquake was recorded with a column of gray ash observed up to 2000 m above the peak and hot avalanches were observed up to 700 m east and southeast . The wind blows from south to southwest and west.
Accordind to the recording of seismographs of February 15, 2018, it was recorded:
1 eruption earthquakes
16 avalanche earthquakes
14 low frequency earthquakes
2 earthquake emission.
Recommendations:
Communities / visitors should not do activities within 3 km of the summit, and by sector, 7 km to the South-South-East, 6 km East-South-East and 4 km to the South-East. km northeast.
The deposits formed a dam upstream on the Laborus River. People living in downstream river basins and around the Laborus River need to be vigilant because these dams can collapse at any time and no longer retain water volume, resulting in downstream lahars / floods .
Source : Magma , VSI.
Photos : Endro Lewa