February 12 , 2018. EN. Ebeko , Mayon , Pacaya , Sinabung , San Cristobal .
February 12 , 2018 .
Ebeko , Kamchatka :
50.69 N, 156.01 E;
Elevation 3792 ft (1156 m)
Aviation Colour Code is ORANGE
A moderate gas-steam with some amount of ash activity of the volcano continues. Ash explosions up to 16,400 ft (5 km) a.s.l. could occur at any time. Ongoing activity could affect low-flying aircraft and airport of Severo-Kurilsk.
A moderate explosive activity of the volcano continues. According to visual data by volcanologists from Severo-Kurilsk, explosions sent ash up to 2.4 km a.s.l. on 05-08 February; ashfalls were noting at Severo-Kurilsk on 08 February. Satellite data by KVERT showed the volcano was quiet or obscured by clouds.
Source : Kvert
Photo : Olga Tuma
Mayon , Philippines :
MAYON VOLCANO BULLETIN 12 February 2018 08:00 A.M.
Mayon's activity in the past 24 hours was characterized by sporadic and weak lava fountaining, lava flow and degassing from the summit crater. Discrete episodes of lava fountaining lasted four (4) to twenty (20) minutes. Incandescent lava fountains 150 meters tall generated steam-laden plumes that rose up to 400 meters from the summit before drifting northwest and west northwest. Throughout the night, lava flows and consequent incandescent rockfalls were observed in the Miisi and Bonga-Buyuan channels. Effused volumes of incandescent lava flows have advanced to 3.3 kilometers, 4.5 kilometers and 900 meters down the Miisi, Bonga and Basud Gullies, respectively, from the summit crater. Pyroclastic density currents or PDCs have deposited to the 4.6, 4.5 and 4.2 kilometer reaches of the Miisi, Bonga and Basud Gullies, respectively.
A total of ninety-two (92) volcanic earthquakes, most of which corresponded to lava fountaining events were recorded by Mayon's seismic monitoring network. Electronic tilt and continuous GPS still record sustained swelling or inflation of the edifice since November and October 2017, consistent with pressurization by magmatic intrusion.
Alert Level 4 remains in effect over Mayon Volcano. The public is strongly advised to be vigilant and desist from entering the eight (8) kilometer-radius danger zone, and to be additionally vigilant against pyroclastic density currents, lahars and sediment-laden stream flows along channels draining the edifice. Civil aviation authorities must also advise pilots to avoid flying close to the volcano's summit as ash from any sudden eruption can be hazardous to aircraft. DOST-PHIVOLCS maintains close monitoring of Mayon Volcano and any new development will be communicated to all concerned stakeholders.
Source : Phivolcs
Photos : Jonathan Cellona ( 25 Janvier 2018 )
Pacaya , Guatemala :
Type of activity: Strombolian
Morphology: Composite Stratovolcan
Location: 14 ° 22'50˝ Latitude N; 90 ° 36'00˝ Longitude W.
Height: 2,552msnm.
Weather conditions: Clear
Wind: North at 12 km / h
Precipitation: 0.0 mm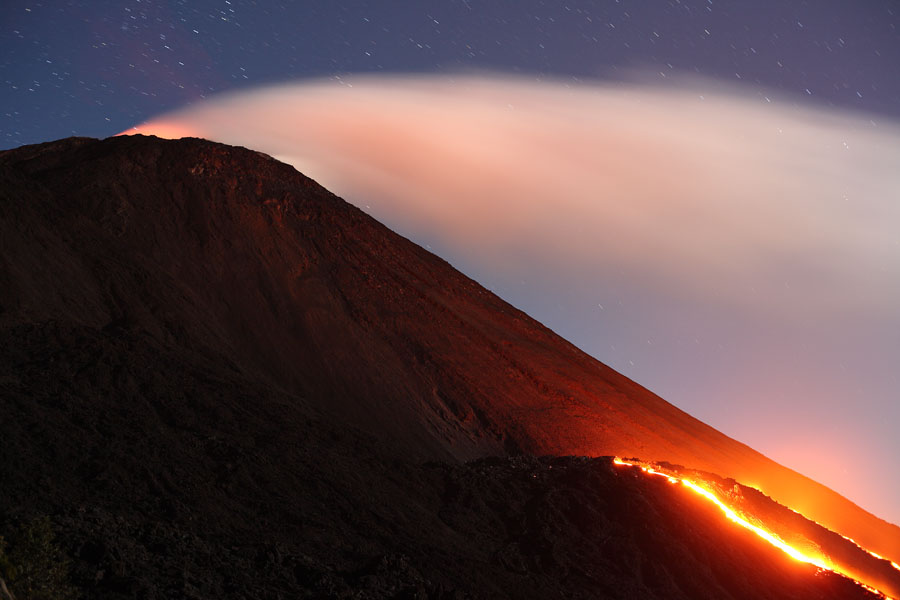 Activity:
Presence of white, moderate, degassing fumaroles at a height of 600 m, which are scattered to the southwest. Strombolian explosions are recorded which project incandescent materials 5 to 30 m high around the crater. The lava flow is about 150 m long and runs west and southwest. No sound is recorded.
Source : Insivumeh.
Sinabung , Indonesia :
Level IV Activity Level (AWAS). The Sinabung (2460 m altitude) has been erupting constantly since 2013. Since yesterday until this morning was often covered with fog. The smoke rising from the crater has not been observed. The wind is blowing moderately to the south. There were 3 eruptions with an altitude of 1000 to 1500 m above the summit and 10 avalanche events with a sliding distance of 500 m to the east and south-east.
According to the recording of seismographs of February 11, 2018, it was recorded:
3 eruption earthquakes
10 avalanche earthquakes
9 low frequency earthquakes
1 phase / hybrid earthquake.
1 local tectonic earthquake.
1 earthquake emission.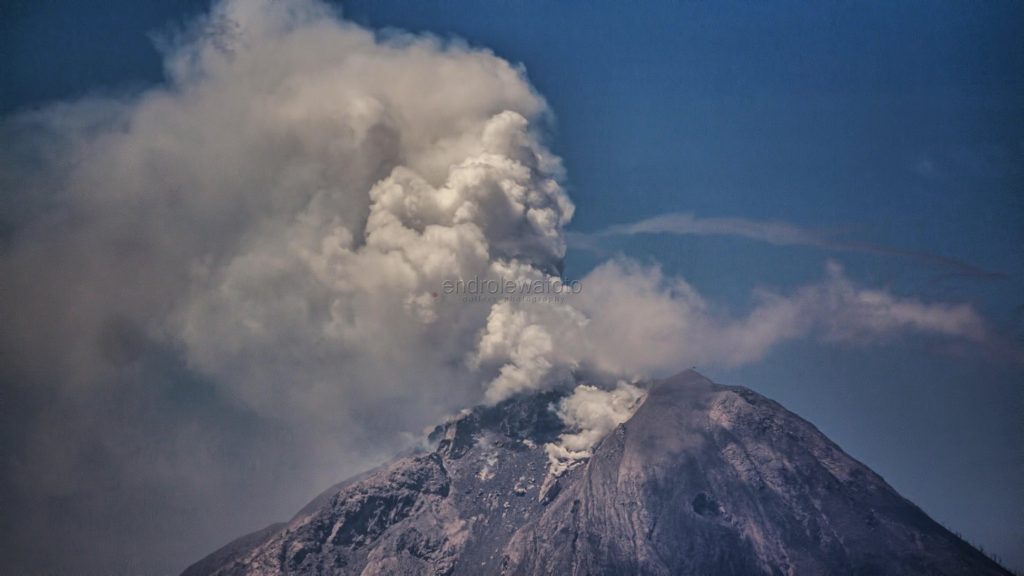 Recommendations:
Communities / visitors should not do activities within 3 km of the summit, and by sector, 7 km to the South-South-East, 6 km East-South-East and 4 km to the South-East. km northeast.
The deposits formed a dam upstream on the Laborus River. People living in downstream river basins and around the Laborus River need to be vigilant because these dams can collapse at any time and no longer retain water volume, resulting in downstream lahars / floods .
VOLCANO OBSERVATORY NOTICE FOR AVIATION – VONA.
Issued: February 11 , 2018.
Volcano: Sinabung (261080)
Current Aviation Colour Code: ORANGE
Previous Aviation Colour Code: orange
Source: Sinabung Volcano Observatory
Notice Number: 2018SIN86
Volcano Location: N 03 deg 10 min 12 sec E 98 deg 23 min 31 sec
Area: North Sumatra, Indonesia
Summit Elevation: 7872 FT (2460 M)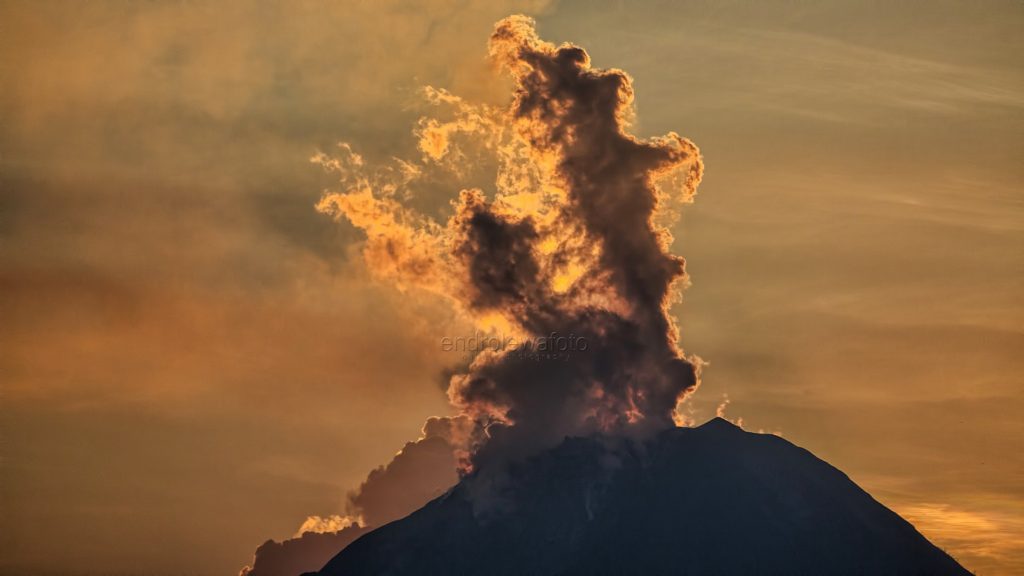 Volcanic Activity Summary:
Eruption with ash clouds at 15:17 UTC (22:17 local time) , February 11 , 2018. The eruption lasted for 80 seconds.
Volcanic Cloud Height:
Best estimate of ash-cloud top is around 12672 FT (3960 M) above sea level, may be higher than what can be observed clearly. Source of height data: ground observer.
Other Volcanic Cloud Information:
Ash cloud is moving to south
Remarks:
Seismic activity is characterized by the Deep Volcanic Earthquake, Low Frequency Earthquake, and Hybrid Earthquake.
Source : VSI , Magma.
Photos : Endro Lewa
San Cristobal , Nicaragua :
February 04 , 2018.
The highest volcano in Nicaragua, San Cristobal, returned to normal activity after showing an increase in its seismic tremor, which led the authorities to warn of a possible explosion of gas and ash, reported today. the Nicaraguan Institute of Territorial Studies (Ineter).
The San Cristobal, 1,745 meters above sea level, has seen hundreds of « microseisms » since last January and Saturday, its tremor has increased, the authorities have warned of a possible explosion of gas and ash.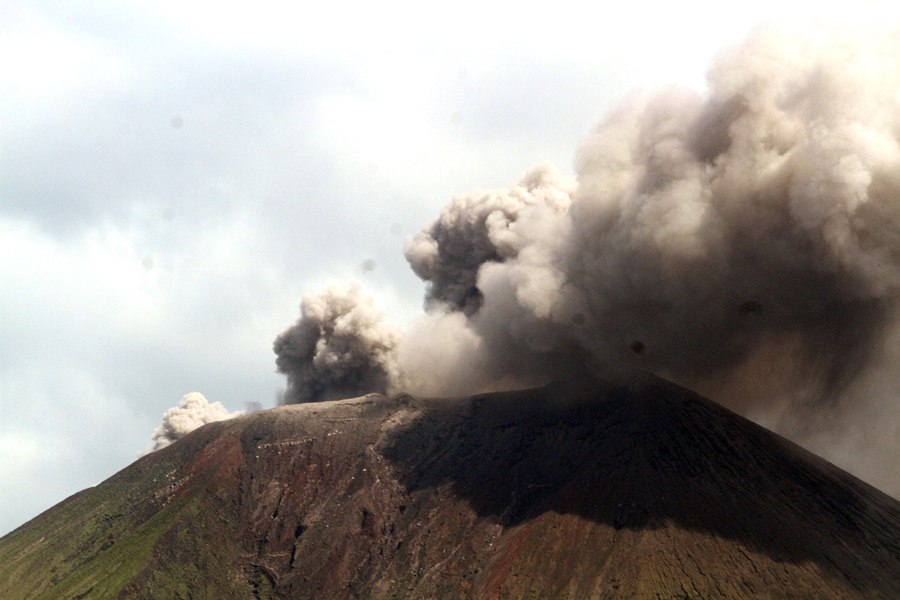 However, the Ineter reported Sunday, a decrease in seismic tremor, which is the telluric movement originating from a volcano following the agitation of magma or water.
It had been reported 110 earthquakes on the volcano.
Ineter also reported the real-time seismic amplitude reduction (RSAM), which measures the movements of the crater's internal walls.
Source : Ineter / El Nuevo Diario.