January 28 , 2018. EN. Kilauea , Mayon , Colima , Sinabung .
January 28 , 2018.
Kilauea , Hawai :
19°25'16 » N 155°17'13 » W,
Summit Elevation 4091 ft (1247 m)
Current Volcano Alert Level: WATCH
Current Aviation Color Code: ORANGE
Activity Summary:
No significant change. Kīlauea continues to erupt at its summit and from the Puʻu ʻŌʻō vent on its East Rift Zone. The level of the summit lava lake this morning is estimated from web cam views to be 30 m (98 ft) below the floor of Halemaʻumaʻu crater, but rose as high as 25 m (82 ft) overnight with the lake and spattering briefly visible from the visitor overlook. The episode 61g lava flow is producing scattered surface flow activity at the base of the pali, and in the upper flow field. Lava is not entering the ocean at this time, and active flows currently pose no threat to nearby communities.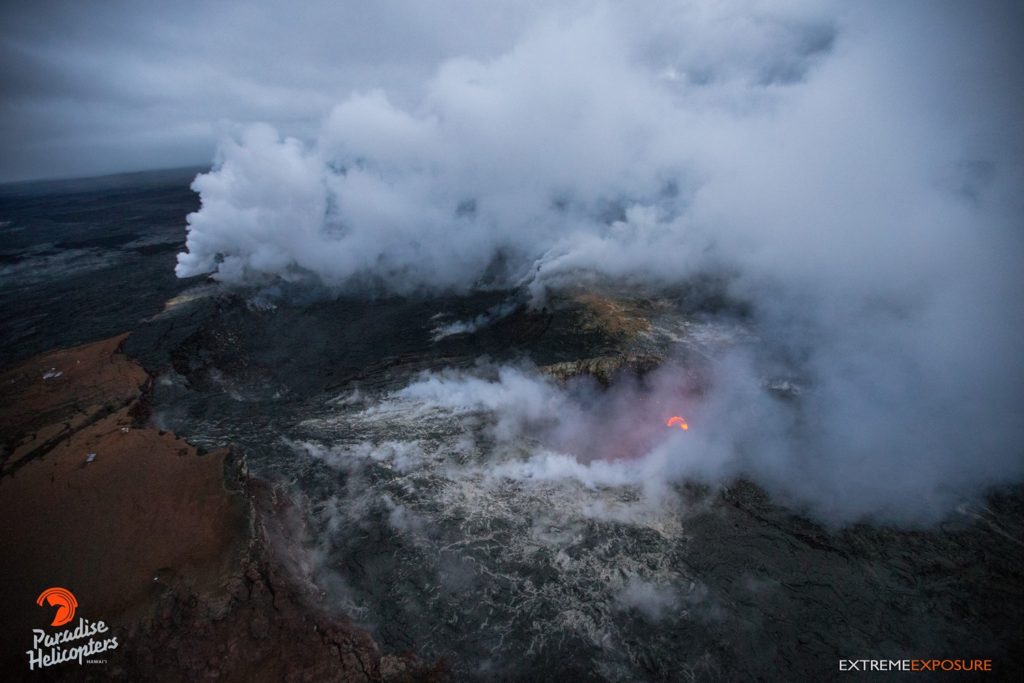 Pu'u 'O'o's lava lake bubbled in several spots, and emitted a glow that could be seen from high above, through the thick gas plumes rising from the crater's floor.
Summit Observations:
Summit tiltmeters recorded inflationary tilt over the past day, which turned over to a slight deflationary signal this morning. The level of the lava lake has rose during the past 24 hours and has now returned to yesterdays level, maintaining a normal pattern in surface crust motion. Sulfur dioxide emission rates remain high. Seismicity is at normal levels, with tremor fluctuations related to the vigor of lava lake spattering.
Puʻu ʻŌʻō Observations:
Tiltmeters at Puʻu ʻŌʻō recorded continued deflationary tilt over the past day. The sulfur dioxide emission rate from the East Rift Zone vents remains significantly lower than the summit emission rate. Weather obscured web cam views overnight.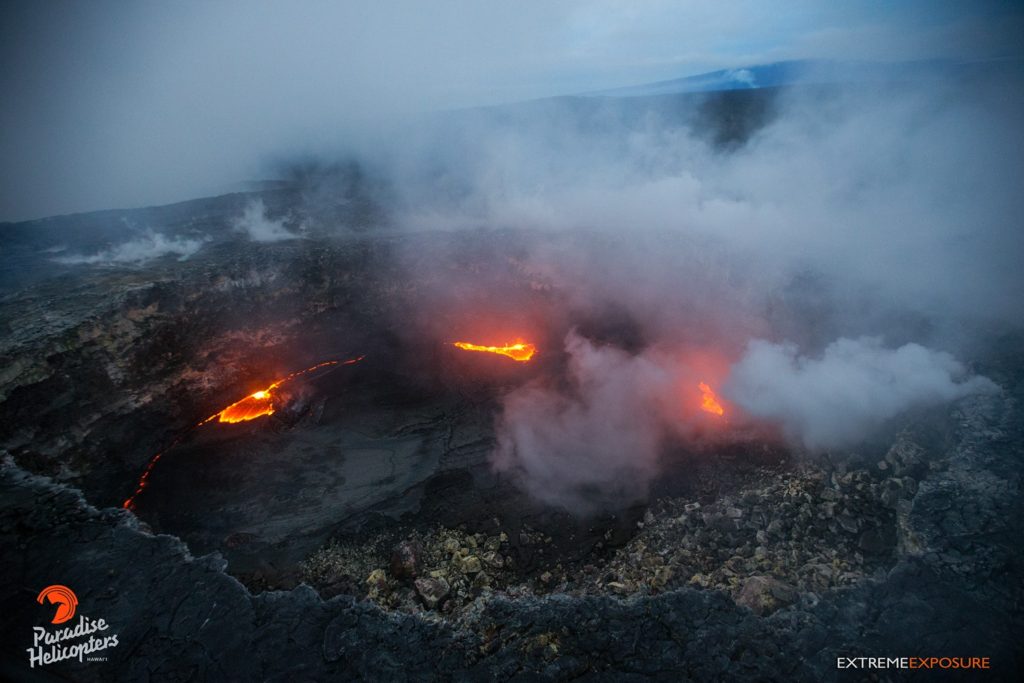 Pu'u 'O'o's lava lake was quite active, with bubbling and spattering occurring along its perimeter. A little weird formation had formed on the lake's surface… a slight growth-like area, just in front of the bubbling on the left.
Lava Flow Observations:
The episode 61g flow is still active, but no lava is flowing into the ocean. Based on web cam views, surface lava flow activity continues on the upper portion of the flow field near Puʻu ʻŌʻō , on the pali, and in scattered areas below the pali on the back of the coastal plain. These lava flows pose no threat to nearby communities at this time.
Source : HVO
Photos : Bruce Omori.
Mayon , Philippines :
MAYON VOLCANO BULLETIN 28 January 2018 08:00 AM
Between 06:22 PM yesterday to 01:40 AM this morning, two (2) episodes of sporadic lava fountaining from the summit crater lasting twenty-three (23) minutes and fifty-five (55) minutes occurred. The events fed lava flows on the Mi-isi and Bonga Gullies, sprayed near-vent lava spatter, and fed rockfall on the summit area. In between lava fountaining episodes, lava effusion continued to feed lava flows on the Bonga and Miisi Gullies. Heavy rainfall throughout the day generated sediment -laden streamflows in channels draining the volcano edifice.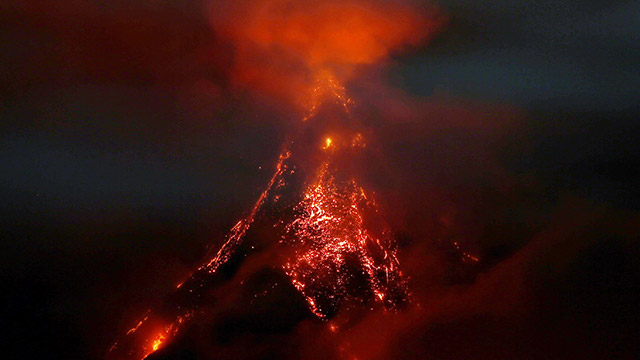 A total of four (4) volcanic earthquakes, seven (7) tremor events, two (2) of which correspond to the lava fountaining events, twenty-three (23) rockfall events were recorded by Mayon's seismic monitoring network. Rockfall events were generated by the collapsing lava front and margins of the advancing lava flow on the Bonga and Miisi Gullies. Currently, the Miisi and Bonga lava flows have maintained their advance to three (3) and 1.8 kilometers, respectively, from the summit crater. Sulfur dioxide gas emission was measured at an average of 1,916 tonnes/day on 25 January 2018. Electronic tilt and continuous GPS measurements indicate a sustained swelling or inflation of the edifice since November and October 2017, consistent with pressurization by magmatic intrusion.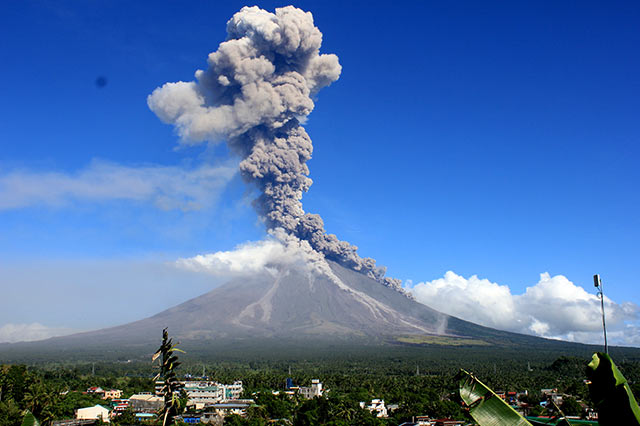 Alert Level 4 remains in effect over Mayon Volcano. The public is strongly advised to be vigilant and desist from entering the eight (8) kilometer-radius danger zone, and to be additionally vigilant against pyroclastic density currents, lahars and sediment-laden streamflows along channels draining the edifice. Civil aviation authorities must also advise pilots to avoid flying close to the volcano's summit as ash from any sudden eruption can be hazardous to aircraft.
DOST-PHIVOLCS maintains close monitoring of Mayon Volcano and any new development will be communicated to all concerned stakeholders.
Source : Phivolcs.
Colima , Mexico :
Mexico's Colima Volcano Displays Deeper Crater.
MEXICO CITY – The Colima volcano in western Mexico has been less active than usual in recent months, but the crater atop the mountain is deeper, authorities said Friday.
That assessment was based on observations during an overflight of the 3,600-meter (11,800-ft.) summit, the Jalisco state government said.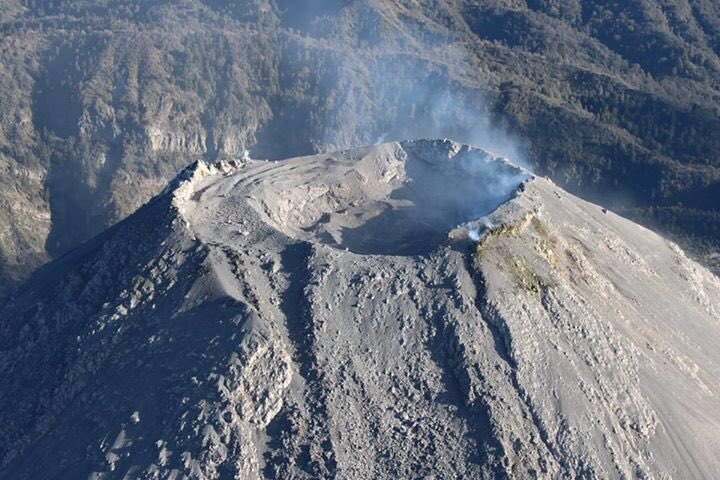 Destruction of the lava dome amid a series of continuous explosions in December 2016-January 2017 resulted in a terrace of ash on Colima's western slope and a crater.
Compared with the last aerial inspection, on Jan. 28, 2017, the ash terrace was around 4,000 sq. meters (43,000 sq. feet) smaller in terms of area.
In the last few months, volcanic activity has been drastically reduced compared with 2015, 2016 and 2017, officials said.
Source : laht.com .
Sinabung , Indonesia :
Niveau d'activité de niveau IV (AWAS). Le Sinabung (2460 m d'altitude) est en éruption constante depuis 2013 . Depuis hier jusqu'à ce matin était souvent couvert de brouillard. La fumée qui s'élève du cratère , pendant les périodes ou le volcan était découvert , a pu être observée s'élevant de 50 à 300 m au dessus du volcan , avec une pression faible , une couleur allant du blanc au gris et une intensité modérée. Le vent souffle modérément vers l'Est , le Sud – Est et l'Ouest.
Les évènements d'avalanches avaient des distances de glissement de 500 à 2500 m ont été notés sur les pentes Sud , Sud – Est et Est-Sud-Est .
Grâce à l'enregistrement des sismographes du 27 Janvier 2018 , il a été enregistré
6 tremblements de terre d'éruption
33 tremblements de terre d' avalanche
23 tremblements de terre basse fréquence
3 tremblements de terre peu profond.
2 séismes tectoniques lointains.
1 évènement de tremor non harmonique.
Recommandations:
Les communautés/ visiteurs ne doivent pas effectuer d' activités dans un rayon de 3 km autour du sommet, et par secteur , à 7 km vers le Sud-Sud-Est, à 6 km à l'Est-Sud-Est et à 4 km au Nord-Est.
Les dépôts ont formé un barrage en amont sur la rivière Laborus . Les personnes vivant dans des bassins fluviaux en aval , et autour de la rivière Laborus doivent maintenir une vigilance parce que ces barrages peuvent s'effondrer à tout moment et ne plus retenir le volume d'eau , avec pour résultat en aval des lahars / inondations.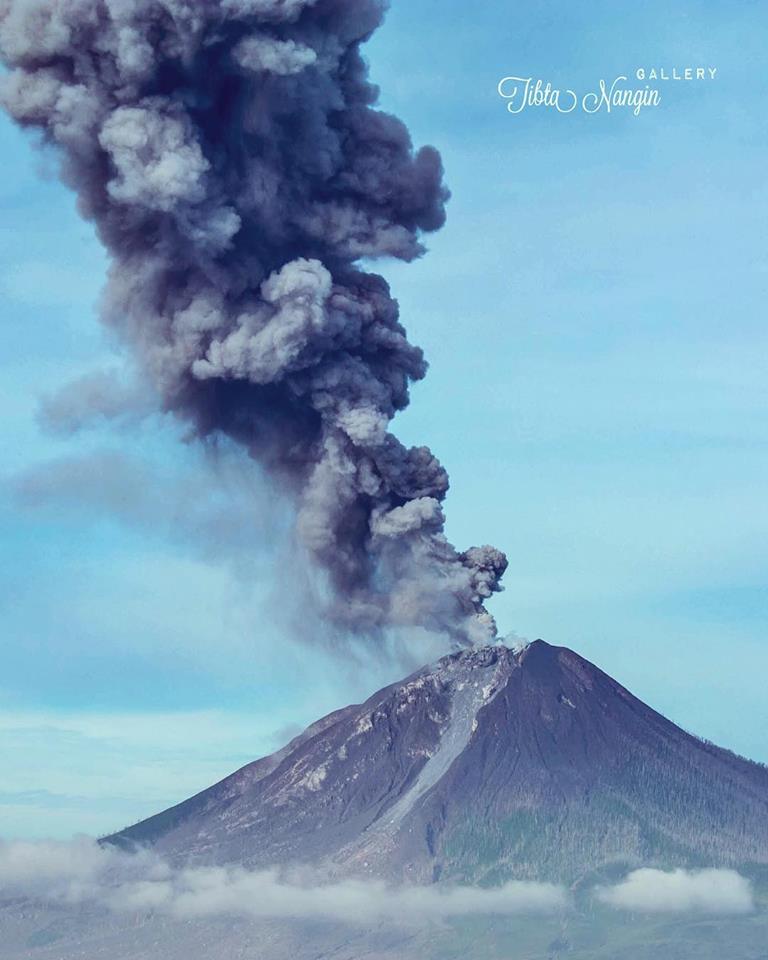 VOLCANO OBSERVATORY NOTICE FOR AVIATION – VONA.
Issued: January 27 , 2018.
Volcano: Sinabung (261080)
Current Aviation Colour Code: ORANGE
Previous Aviation Colour Code: orange
Source: Sinabung Volcano Observatory
Notice Number: 2018SIN70
Volcano Location: N 03 deg 10 min 12 sec E 98 deg 23 min 31 sec
Area: North Sumatra, Indonesia
Summit Elevation: 7872 FT (2460 M)
Volcanic Activity Summary:
Eruption with ash clouds at 14:29 UTC (21:29 local time). The eruption lasted for 240 seconds.
Volcanic Cloud Height:
Best estimate of ash-cloud top is around 11072 FT (3460 M) above sea level, may be higher than what can be observed clearly. Source of height data: ground observer.
Other Volcanic Cloud Information:
Ash cloud is moving to East – Southeast
Remarks:
Seismic activity is characterized by the Deep Volcanic Earthquake, Low Frequency Earthquake, and Hybrid Earthquake.
Source : VSI , Magma.
Photo : Tibta Nangin