January 16 , 2018. EN. Mayon , Kadovar / Biem , Sabancaya , Sinabung .
January 16 , 2018.
Mayon , Philippines :
MAYON VOLCANO BULLETIN 16 January 2018 8:00 A.M.
Quiet lava effusion from a new summit lava dome, lava flow down the Miisi and Bonga Gullies and lava collapse events characterized Mayon Volcano's eruptive activity in the past 24 hours. A total of nine (9) episodes of tremor, four (4) of which accompanied short-duration lava fountaining, and 75 lava collapse events, corresponding to rockfall along the front and margins of advancing lava and short pyroclastic flows downriver of Miisi Gully within the PDZ, were recorded by Mayon's seismic network. Collapse events and some degassing events at the summit crater generated ash that rose to two kilometers and fell on barangays of Camalig, Guinobatan and Polangui. Lava flow on the Miisi Gully has presently advanced to approximately two kilometers from the crater, while shorter volume lava flows have been emplaced on the upper slopes of the Bonga Gully.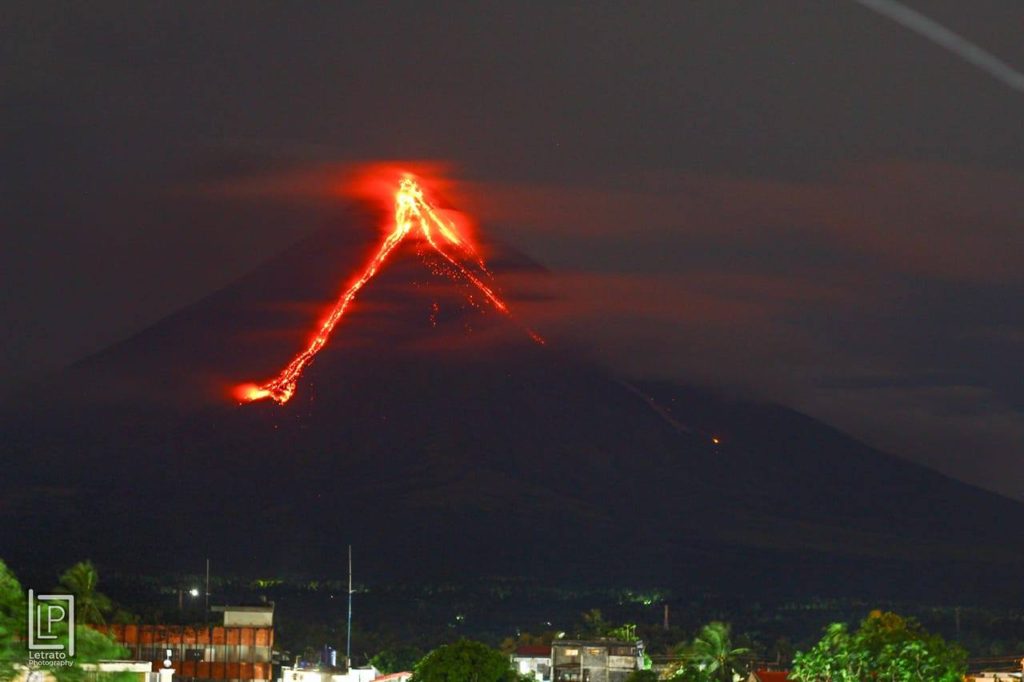 Alert Level 3 remains in effect over Mayon Volcano, which means that it is currently in a relatively high level of unrest as magma is at the crater and hazardous eruption is possible within weeks or even days. The public is strongly advised to be vigilant and desist from entering the six (6) kilometer-radius Permanent Danger Zone (PDZ) and the 7-km Extended Danger Zone (EDZ) on the southern flanks due to the danger of rockfalls, landslides and sudden explosions or dome collapse that may generate hazardous volcanic flows. Increased vigilance against pyroclastic density currents, lahars and sediment-laden streamflows along channels draining the edifice is also advised. Civil aviation authorities must also advise pilots to avoid flying close to the volcano's summit as ash from any sudden eruption can be hazardous to aircraft. Based on the seasonal wind pattern, ash fall events may most likely occur on the southwest side of the volcano.
DOST-PHIVOLCS maintains close monitoring of Mayon Volcano and any new development will be communicated to all concerned stakeholders.
Source : Phivolcs .
Photo : Joshua Eric Velasco Dandal
Kadovar / Biem , Papua New Guinea :
The department of mineral policy and geohazards management has confirmed that there is NO VOLCANIC ACTIVITY on Biem island.
The department etablished radio contact with the chief of Biem Island, who is on site yesterday evening. It can be now categorically stated that there has been no activity of any kind on that island, says the dept.
Kadovar however continues to product a steam plume of a few hundred meters.
This confirmation support the Rabaul Volcanological Observatory statement on Sunday , regarding the lack of volcanic activity on Biem.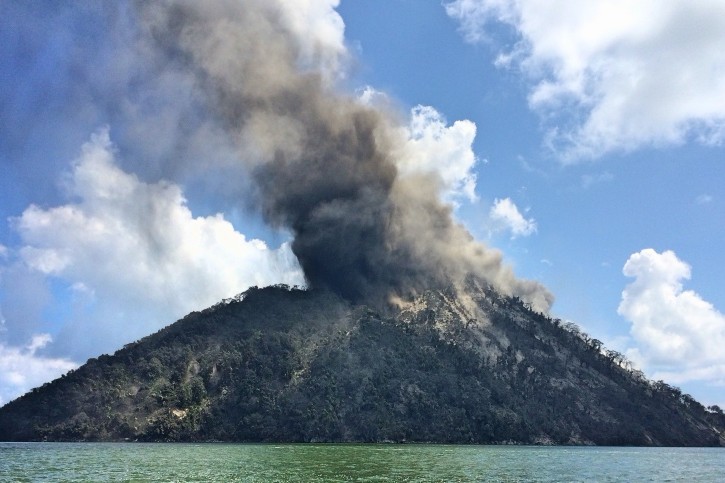 The reports of a 12 km high plume on Biem and Kadovar were probably thunderclouds.
Though , inhabitants reported tremors on the island , the RVO said these could be from the Kadovar eruption .
Futhermore , it clarified that pictures from Biem purportedly showing a sulphur plume in the water at the coast , are probably showing long standing thermal feature.
Source : Loop PNG .
Sabancaya , Peru :
The explosive activity did not show significant variations from the previous week, averaging 57 explosions per day. Events associated with Fluid Movement (Long Period Type) and Ash Emissions (Tremor) continue to dominate. Finally, earthquakes linked to the rise of the magma (type Hybrids) maintain low levels in number and energy. 
The eruptive columns of gas and ash remained similar compared to last week, reaching up to 2500 m above the crater. The dispersion of these materials occurred within a radius of about 50 km, mainly to the southwest and northwest.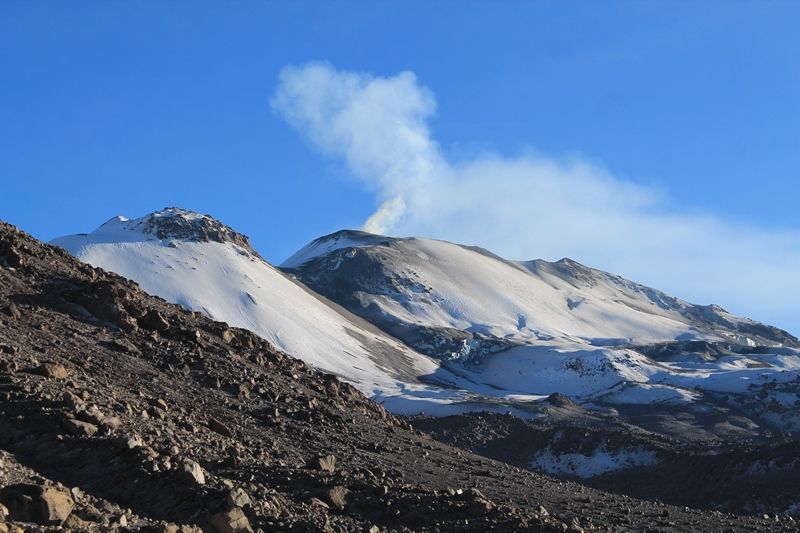 
Deformation monitoring at the GNSS station shows that the deformation curves maintain stable levels, without variations. 
The volcanic gas (SO2) flux recorded on 12 January has a maximum value of 2071 tonnes / day, a value considered large. 
3 thermal anomalies according to the Mirova system were recorded, with values between 1 MW and 21 MW VRP (Radiated Volcano Power)
In general, eruptive activity maintains moderate levels. No major changes are expected in the following days.
Source : IGP
Photo : Archive (2015)
Sinabung , Indonesia :
Activity Level of Level IV (AWAS). The Sinabung (2460 m altitude) since yesterday until this morning was often covered with fog. The smoke rising from the crater, during the periods when the volcano was discovered, could be observed rising 700 m above the volcano. The wind is blowing moderately to the south and west. Thanks to the recording of the seismographs of January 14, 2018, 6 eruption / emission events were recorded with ash columns that could not be observed due to the haze. Finally, 62 avalanche events with slip distances of 500 to 1000 m were recorded on the South, South – East and East slopes.
Recommendations:
Communities / visitors should not do activities within 3 km of the summit, and by sector, 7 km to the South-South-East, 6 km East-South-East and 4 km to the South-East. km northeast.
The deposits formed a dam upstream on the Laborus River. People living in downstream river basins and around the Laborus River need to be vigilant because these dams can collapse at any time and no longer retain water volume, resulting in downstream lahars / floods .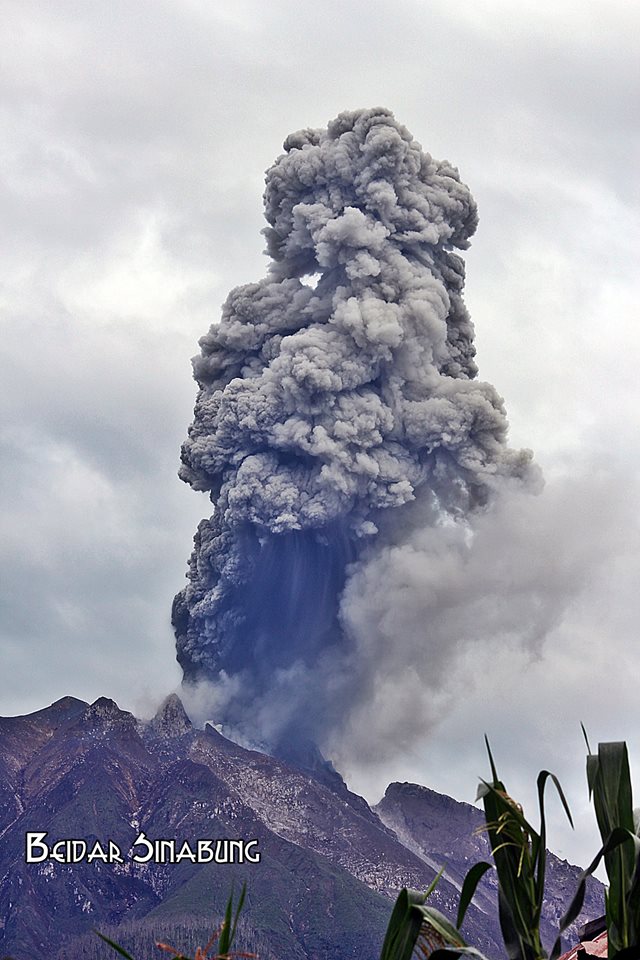 VOLCANO OBSERVATORY NOTICE FOR AVIATION – VONA.
Issued: January 16 , 2018 .
Volcano:Sinabung (261080)
Current Aviation Colour Code: ORANGE
Previous Aviation Colour Code: orange
Source: Sinabung Volcano Observatory
Notice Number: 2018SIN49
Volcano Location: N 03 deg 10 min 12 sec E 98 deg 23 min 31 sec
Area: North Sumatra, Indonesia
Summit Elevation: 7872 FT (2460 M)
Volcanic Activity Summary:
Hot clouds at 23h34 UTC (06h34 local time). The event lasted for 265 seconds.
Volcanic Cloud Height:
Ash cloud not visible.
Other Volcanic Cloud Information:
Ash cloud is moving to east-southeast
Remarks:
Seismic activity is characterized by deep volcanic events, Low Frequency and Hybrid events. Hot clouds is moving through the southeast slope of Sinabung volcano and reaches a distance of not identified.
Source : VSI , Magma .
Photo : Firdaus Surbakti /Beid