January 08 , 2018. EN. Copahue , Klyuchevskoy , Sinabung , Kadovar .
January 08 , 2018.
Copahue , Chile :
During this period, 510 seismic events were recorded, of which 149 were classified as volcano-tectonics (VT) associated with rock fracturing processes. Local magnitudes (Ml) were less than or equal to M3.9. The largest energy event was located 7.5 km east of the crater El Agrio, with a depth of 5.2 km. The event mentioned was accompanied by a seismic swarm that lasted approximately 5 hours, counting 107 events of lower magnitude. Similarly, 364 earthquakes associated with fluid dynamics within the volcano were recorded. Of these, 149 have been cataloged as long period type (LP) events with reduced displacement values of 16.2cm2. Finally, 212 earthquakes of very long period type (VLP) were recorded with maximum reduced displacement values of 13.1 cm2.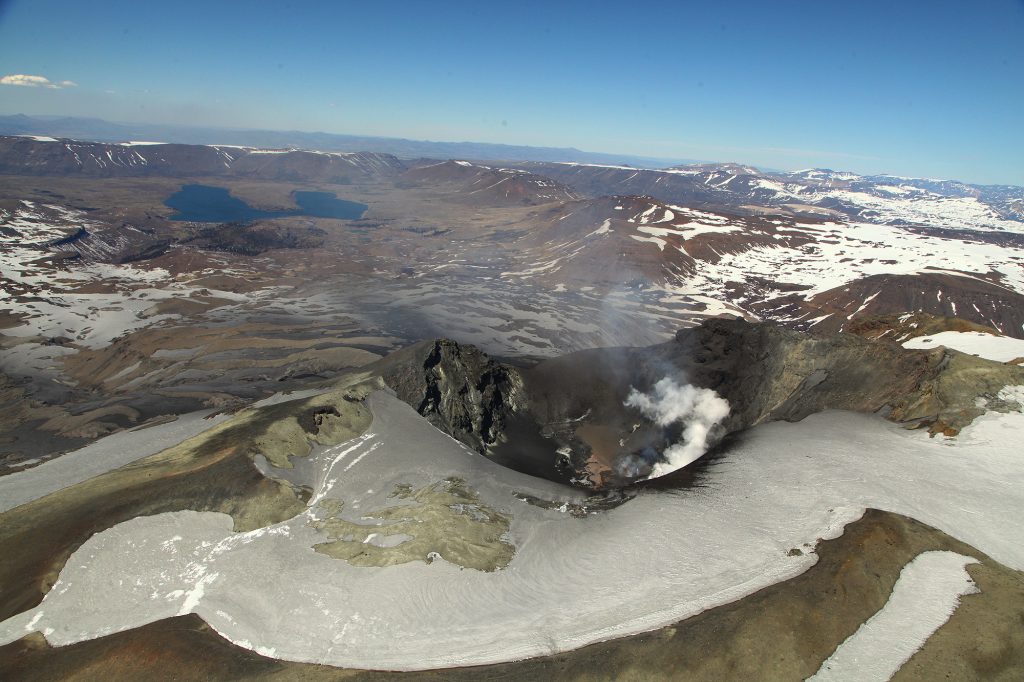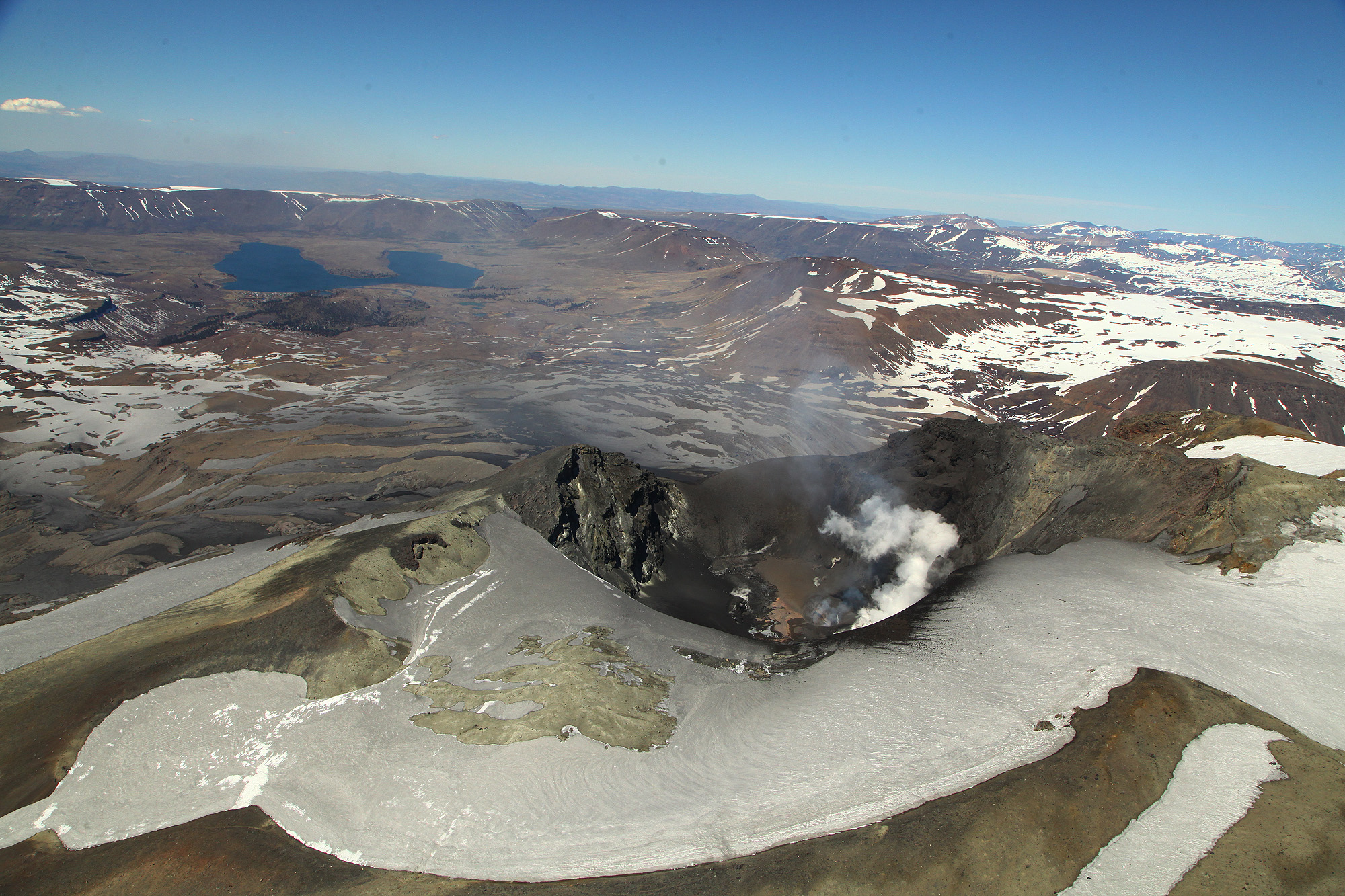 Throughout the period, a low-level constant tremor signal was recorded, with a maximum reduced displacement value of 1.6 cm2, mainly associated with gas flow and a sporadic form of particulate matter emission from from El Agrio crater.
IP cameras installed near the volcano recorded a constant degassing of the active crater (El Agrio), characterized by sporadic ash emissions with a maximum height of 1300 m. For a few days, during the night period, an incandescence was visualized when the weather conditions made it possible to observe the volcano.
According to data provided by two active GNSS stations installed on the volcanic building, no surface deformation due to changes in the internal dynamics of the volcano is observed.
The sulfur dioxide (SO2) emissions recorded by the Differential Absorption Spectrometry Equipment (DOAS), Melizzas station, located 5 km East-North-East (ENE) of the active crater have an average value for the period of 877 ± 566 t / day, and a maximum daily value of 2239 t / day reported on December 30th. S02 emissions are in base levels for this volcano.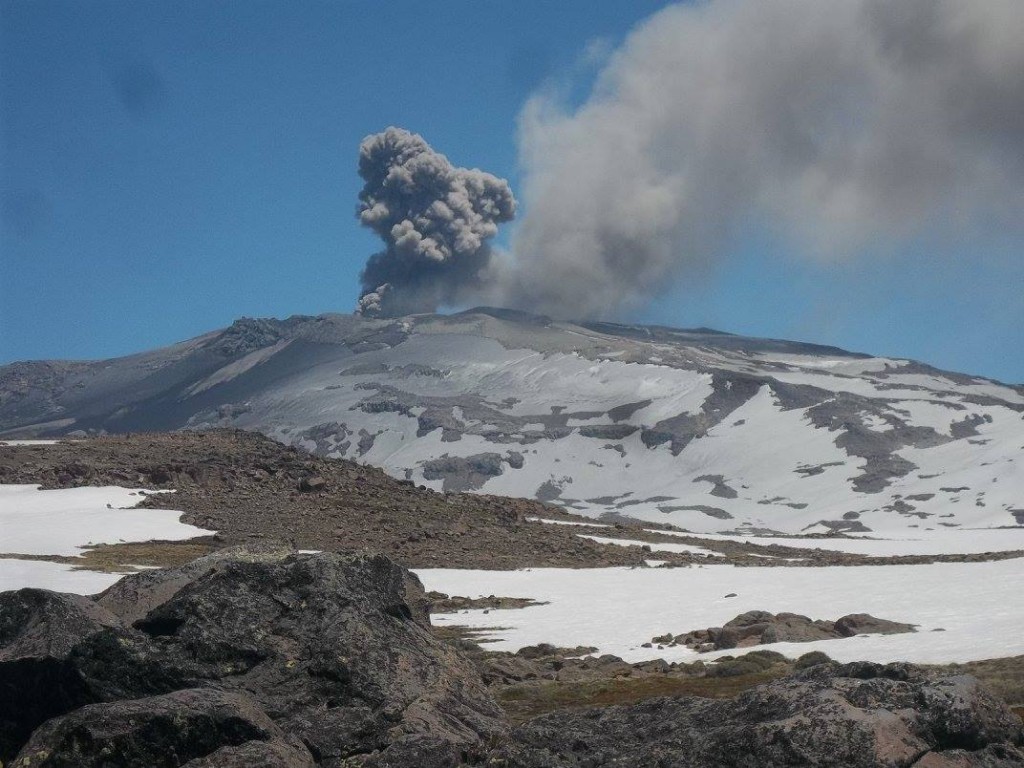 -No sulfur dioxide (SO 2) emissions to the atmosphere in the volcano area have been reported, according to data published by the Ozone Monitoring Instrument (OMI) Sulfur Dioxide Group (http: //so2.gsfc.nasa.gov/) and the National Environmental Satellite Information and Data Service (NESDIS) (http://satepsanoine.nesdis.noaa.gov).
-No thermal warning has been reported on the volcano, according to data processed by infrared observation means of volcanic activity (Mirova) (http://www.mirovaweb.it/) and in near real time by temporal thermal monitoring of global hot spots (MODVOLC) (http://modis.higp.hawaii.edu/).
The seismic energy levels and the tendency of the volcanic structure to deform represent a scenario that remains within the base level of this volcano. The recording of a VLP seismic activity suggests the action of a magma body at relatively low levels, which interacts with the hydrothermal system, generating current activity and surface glow. Although this scenario can evolve towards a higher energy, the system remains in a state of equilibrium.
For all this, the Copahue volcano remains at:
GREEN LEVEL: Active volcano with stable behavior – No immediate risk – Time for possible eruption: MONTH / YEARS.
Observation: It is recommended to apply precautionary access restrictions in an area close to the crater with a radius of 1000 meters.
Source : Sernageomin
Klyuchevskoy , Kamchatka :
VOLCANO OBSERVATORY NOTICE FOR AVIATION (VONA).
Issued: January 08 , 2018.
Volcano:Klyuchevskoy (CAVW #300260)
Current aviation colour code:ORANGE
Previous aviation colour code:orange
Source:KVERT
Notice Number:2018-11
Volcano Location:N 56 deg 3 min E 160 deg 38 min
Area:Kamchatka, Russia
Summit Elevation:15580 ft (4750 m)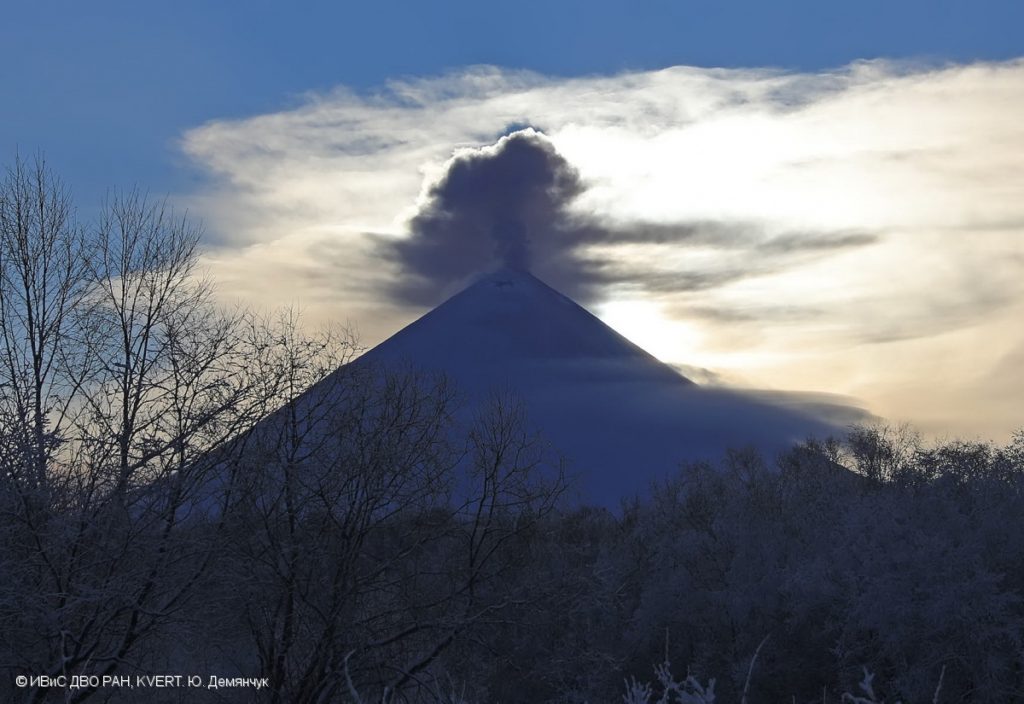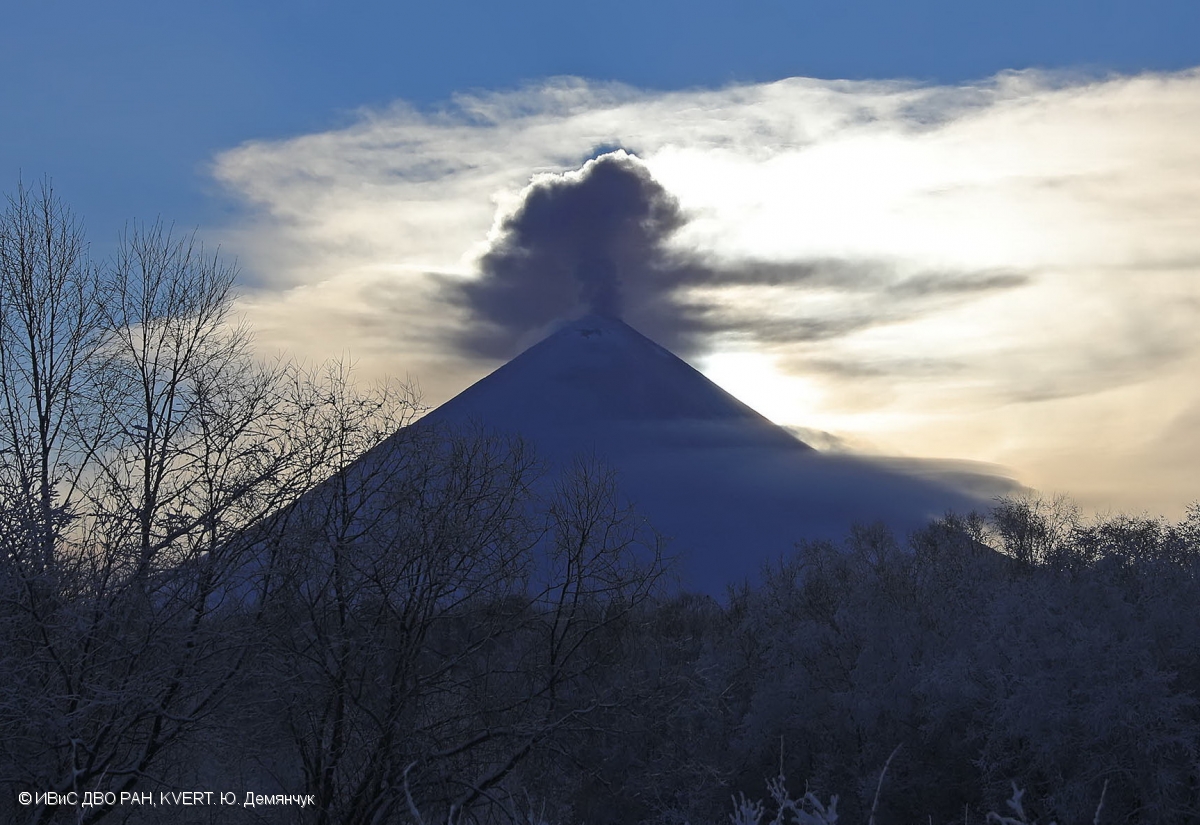 A gas-steam with some amount of ash activity of Klyuchevskoy volcano on 06 January, 2018.

Volcanic Activity Summary:
A moderate eruptive activity of the volcano continues. A gas-steam plume containing some amount of ash drifted for about 90 km to the north from the volcano.
A moderate eruptive activity of the volcano continues. Ongoing activity could affect low-flying aircraft.
Volcanic cloud height:
16400-18040 ft (5000-5500 m) AMSL Time and method of ash plume/cloud height determination: 20180108/0530Z – Video data
Other volcanic cloud information:
Distance of ash plume/cloud of the volcano: 56 mi (90 km)
Direction of drift of ash plume/cloud of the volcano: N / azimuth 358 deg
Time and method of ash plume/cloud determination: 20180108/0114Z – Suomi NPP
Source : Kvert.
Photo : Yu. Demyanchuk, IVS FEB RAS, KVERT , 6/1/2018 .
Sinabung , Indonesia :
Level IV Activity Level (AWAS). The Sinabung (2460 m altitude) since yesterday until this morning was often covered with fog. The smoke rising from the crater, during the periods when the volcano was discovered, could be observed rising from 50 to 1000 m above the volcano. The wind is blowing moderately to the South, Southeast and East. Thanks to the recording of the seismographs, 2 eruption / emission events were recorded with ash columns rising at altitudes of 1200 m above the ridges. Finally, 52 avalanche events with slip distances of 500 to 1000 m were recorded on the south and southeast slopes.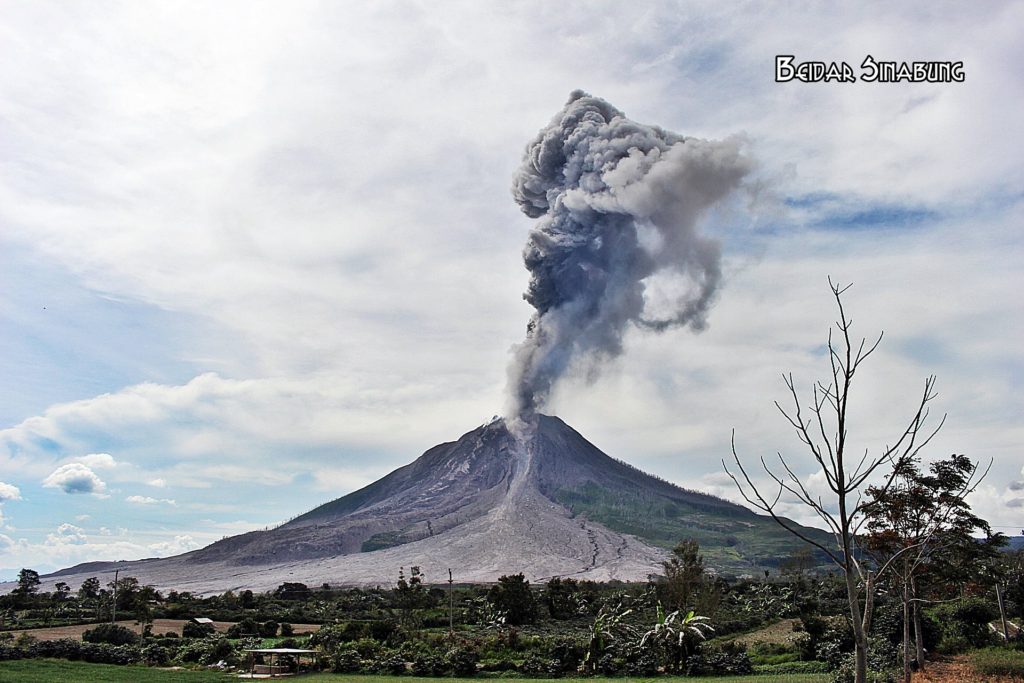 Recommendations:
Communities / visitors should not do activities within 3 km of the summit, and by sector, 7 km to the South-South-East, 6 km East-South-East and 4 km to the South-East. km northeast.
The deposits formed a dam upstream on the Laborus River. People living in downstream river basins and around the Laborus River need to be vigilant because these dams can collapse at any time and no longer retain water volume, resulting in downstream lahars / floods .
VOLCANO OBSERVATORY NOTICE FOR AVIATION – VONA.
Issued: January 08 , 2018.
Volcano: Sinabung (261080)
Current Aviation Colour Code: ORANGE
Previous Aviation Colour Code: orange
Source: Sinabung Volcano Observatory
Notice Number: 2018SIN24
Volcano Location: N 03 deg 10 min 12 sec E 98 deg 23 min 31 sec
Area: North Sumatra, Indonesia
Summit Elevation: 7872 FT (2460 M)
Volcanic Activity Summary:
Eruption with ash clouds at 05:27 UTC (12:27 local time). The eruption lasted for 193 seconds.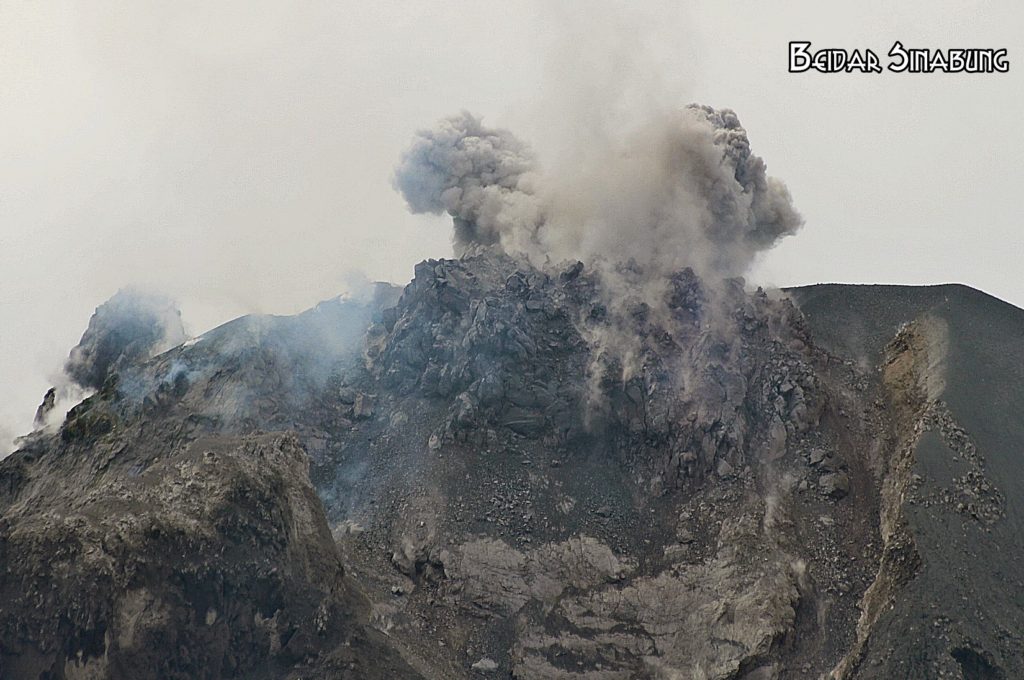 Volcanic Cloud Height:
Best estimate of ash-cloud top is around 12672 FT (3960 M) above sea level, may be higher than what can be observed clearly. Source of height data: ground observer.
Other Volcanic Cloud Information:
Ash cloud is moving to east-north
Remarks:
Seismic activity is characterized by the Deep Volcanic Earthquake, Low Frequency Earthquake, and Hybrid Earthquake.
Source : VSI , Magma .
Photos : 06/01/2018 , Firdaus Surbakti / Beidar Sinabung.
Kadovar Island , Papua New Guinea :
The current volcanic activity has impacted the entire surface area of Kadovar Island , in Septik Province.
Thankfully , 591 locals have been evacuated to Blurp Blurp Island in the North, witout any reports of casualties.
The Rabaul vocanic observatory has reported that Kadovar continues to erupt with ash and stream still being emitted.
Satellite based observations of the eruption indicate that there have been no significant SO2 ( Sulfur dioxide) emissions to date , states RVO.
« Also no significant thermal anomalies have been detected ( may be masked by fumes). These observations would seem to indicate that at present , new magma has not breached the surface or is contact with the atmosphere via cracks. The activity we are seeing is the disruption of old materials , or a cracking of the carapace.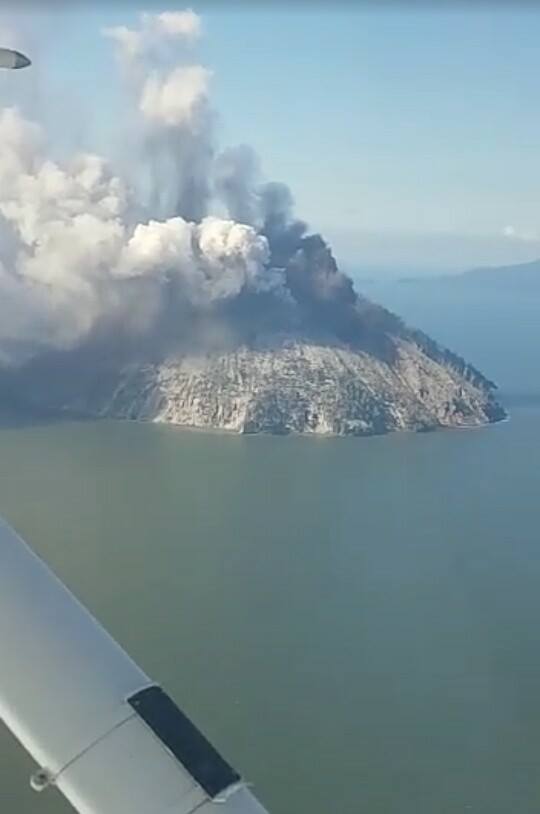 » There is still a chance that magma migration to the surface may stall. However , if rising magma breaches the surface , volcanic activity may increase.
Kadovar is a volcanic island located about 24 km offshore from the Northern coast of mainland PNG, in East Septik Province , and about 21km West of Barn volcano.
Believe to dormant , for decades, the volcano erupted on Friday , January 5.
The island itself is only the top of a 1000 m hight volcanic cone , rising from a 600-700m deep seabed, explain the RVO.
The actual base of the cone is buried under and unknown thickness of sediments introduced to the area by the Septik River.
Source : Loop PNG , RVO.
Photo : Samaritan Aviation.