January 06 , 2018. EN. Kilauea , Great Sitkin , Sinabung , Reventador , Kadovar .
January 06 , 2018.
Kilauea , Hawai :
19°25'16 » N 155°17'13 » W,
Summit Elevation 4091 ft (1247 m)
Current Volcano Alert Level: WATCH
Current Aviation Color Code: ORANGE
Activity Summary:
No significant change. Lava is not entering the ocean at this time. Kīlauea continues to erupt at its summit and from the Puʻu ʻŌʻō vent on its East Rift Zone. The episode 61g lava flow is producing scattered surface flow activity. Active lava flows pose no threat to nearby communities at this time. This morning, the surface of the lava lake at the Kīlauea summit was 34.5 m (113 ft) below the floor of Halemaʻumaʻu. There have been no significant changes in ground deformation, seismicity, or gas release across the volcano.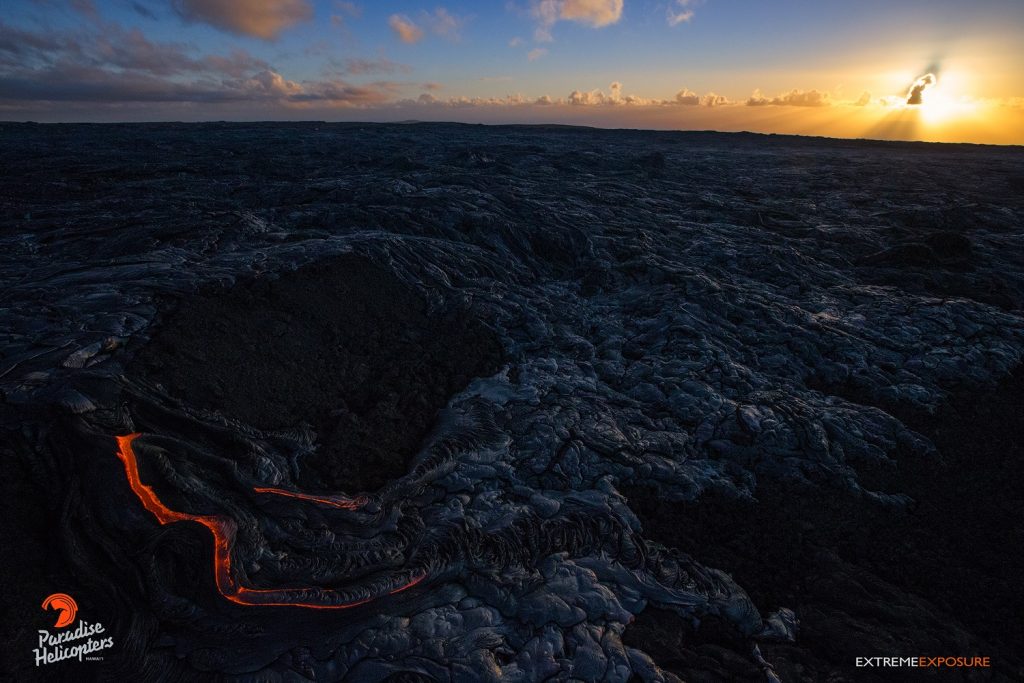 Summit Observations:
The lava lake surface rose over the past day; this morning, it was 34.5 m (113 ft) below the floor of Halemaʻumaʻu. Summit tiltmeters began recording deflationary tilt around midnight. Sulfur dioxide emission rates remain high. Seismicity is at normal levels, with tremor fluctuations related to lava lake spattering.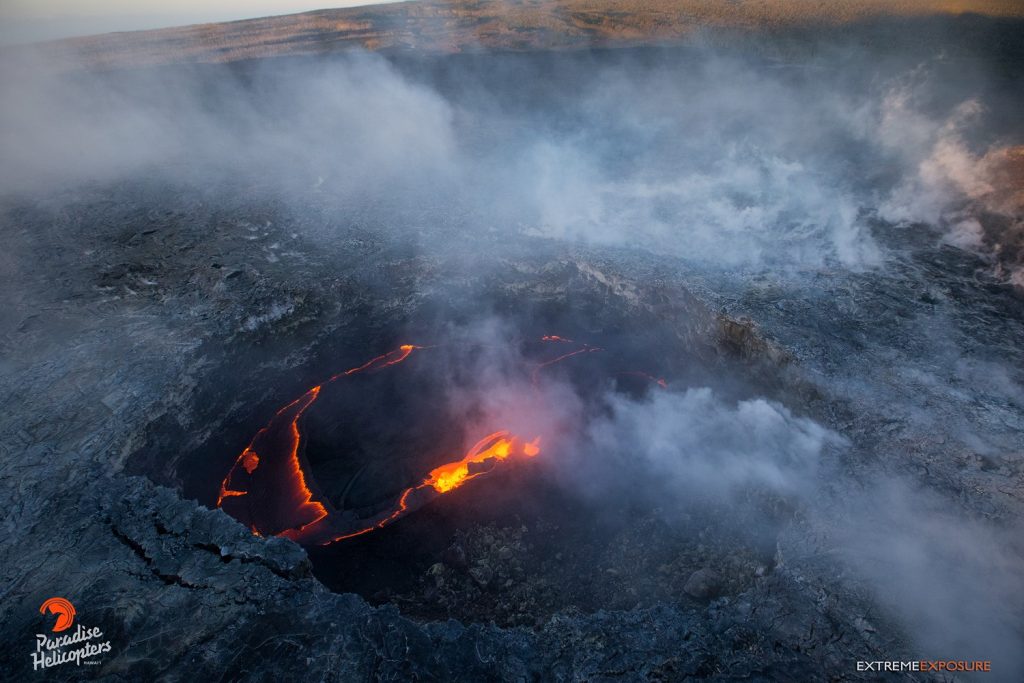 Puʻu ʻŌʻō Observations:
No significant changes are evident at Puʻu ʻŌʻō. The sulfur dioxide emission rate from the East Rift Zone vents has been steady over the past several months and remains significantly lower than the summit emission rate.
Lava Flow Observations:
The episode 61g flow is still active, but no lava is flowing into the ocean. Surface lava flow activity persists on the upper portion of the flow field, on the pali, and in scattered areas along the coastal plain. These lava flows pose no threat to nearby communities at this time.
Source : HVO
Photos : Bruce Omori
Great Sitkin , Alaska :
52°4'35 » N 176°6'39 » W,
Summit Elevation 5709 ft (1740 m)
Current Volcano Alert Level: ADVISORY
Current Aviation Color Code: YELLOW
Low-level unrest at Great Sitkin volcano continues. An increased number of small earthquakes was evident as early as late July 2016, and since then the level of seismic activity has fluctuated at low levels but exhibited a gradual overall increase most notable since June 2017. Seismic activity decreased over the past month, and continued at a low rate over the past week. These types of fluctuations in the number and size of volcanic earthquakes are typical during periods of unrest, and do not mean that unrest has ended. No volcanic activity was observed in satellite data over the past week, though most images were obscured by weather clouds.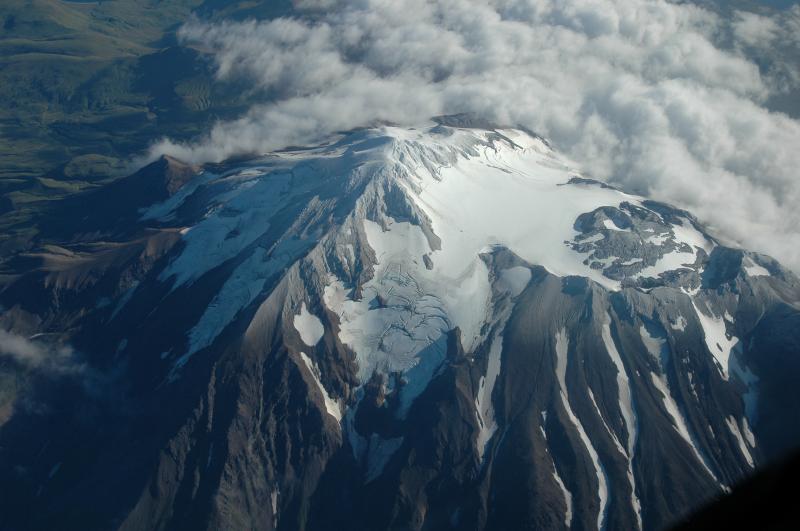 Great Sitkin volcano is monitored with a local real-time seismic network, which will typically allow AVO to detect changes in unrest that may lead to an explosive eruption. Rapid detection of an ash-producing eruption would be accomplished using a combination of seismic, infrasound, lightning, and satellite data.
Source : AVO
Photo : Mees, Burke , 8 Septembre 2011 12:00 AM
Sinabung , Indonesia :
Level IV Activity Level (AWAS). The Sinabung (2460 m altitude) since yesterday until this morning was often covered with fog. The smoke rising from the crater, during the periods when the volcano was discovered, could be observed rising from 50 to 400 m above the volcano. The wind is moderately blowing towards the Southeast, Northeast and East. Thanks to the recording of the seismographs, 4 eruption / emission events were recorded with columns of ash columns rising at altitudes of 1500 to 2500 m above the ridges. Finally, 39 avalanche events with slip distances of 1000 m were recorded on the south – east and east slopes.
Recommendations:
Communities / visitors should not do activities within 3 km of the summit, and by sector, 7 km to the South-South-East, 6 km East-South-East and 4 km to the South-East. km northeast.
The deposits formed a dam upstream on the Laborus River. People living in downstream river basins and around the Laborus River need to be vigilant because these dams can collapse at any time and no longer retain water volume, resulting in downstream lahars / floods .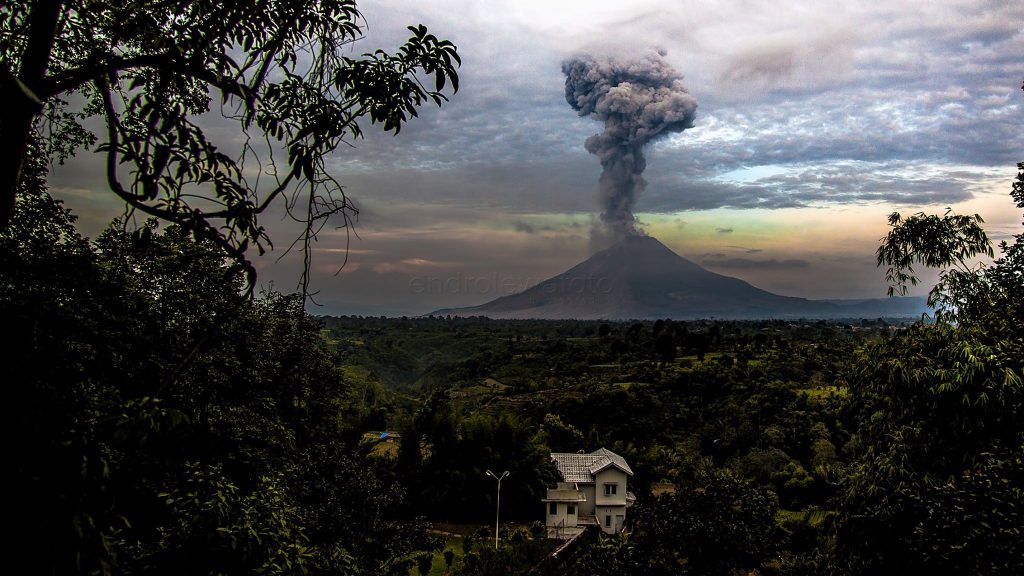 VOLCANO OBSERVATORY NOTICE FOR AVIATION – VONA.
Issued: January 06 , 2018
Volcano: Sinabung (261080)
Current Aviation Colour Code: ORANGE
Previous Aviation Colour Code: orange
Source: Sinabung Volcano Observatory
Notice Number: 2018SIN18
Volcano Location: N 03 deg 10 min 12 sec E 98 deg 23 min 31 sec
Area: North Sumatra, Indonesia
Summit Elevation: 7872 FT (2460 M)
Volcanic Activity Summary:
Eruption with ash clouds at 03h19 UTC (10h19 local time). The eruption lasted for 101 seconds.
Volcanic Cloud Height:
Best estimate of ash-cloud top is around 12672 FT (3960 M) above sea level, may be higher than what can be observed clearly. Source of height data: ground observer.
Other Volcanic Cloud Information:
Ash cloud is moving to East-southeast
Remarks:
Seismic activity is characterized by the Deep Volcanic Earthquake, Low Frequency Earthquake, and Hybrid Earthquake.
Source : VSI , Magma.
Photo : Endro Lewa , 12/06/2017.
Reventador , Ecuador :
DAILY REVENTADOR VOLCANO STATUS REPORT N ° 2018-5
FRIDAY, JANUARY 5, 2018.
Institute of Geophysics of Information – EPN
Surface activity level: High. Trend: No change
Activity Level Internal: High. Internal trend: No change
Seismicity (events): From January 4, 2018, 11:00 to January 05, 2018, 11:00
Long period type (LP): 35
Explosions (EXP): 21
Transmission Tremor (TE): 1 T
Harmonic Tremors (TA): 11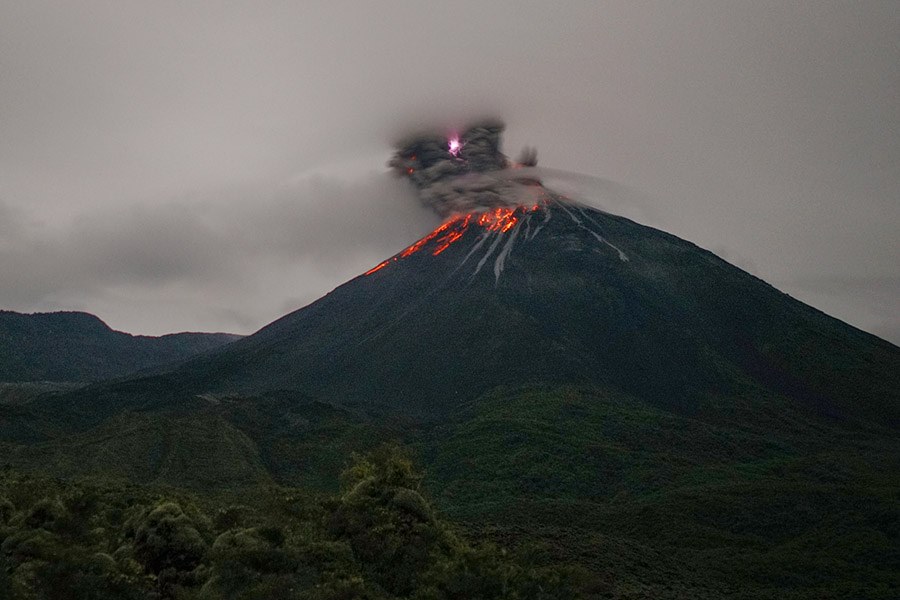 Rains / lahars: From morning to the end of this report there is moderate rain with no news.
Emission / ash columns: Since yesterday afternoon until today, several emissions of steam and ash have been observed, which exceeded 600 meters above the crater level, the direction of these emissions oscillating between West and North.
Other monitoring parameters: No change.
Observations:
At night, during one of the explosions, incandescent materials were observed, rolling on the southern flank, up to 200 meters under the summit.
Alert level: Orange
Source : IGEPN
Photo : Martin Rietze .
Kadovar , Papua New Guinea :
Two boats were sent from Kopar village in Angoram district to help evacuate the 500 people living on the island of Kadovar.
This follows the eruption of the volcano that took place 16 hours ago. The authorities say that for the moment, thick clouds can be seen on the island. These clouds become black and increase in an alarming proportion.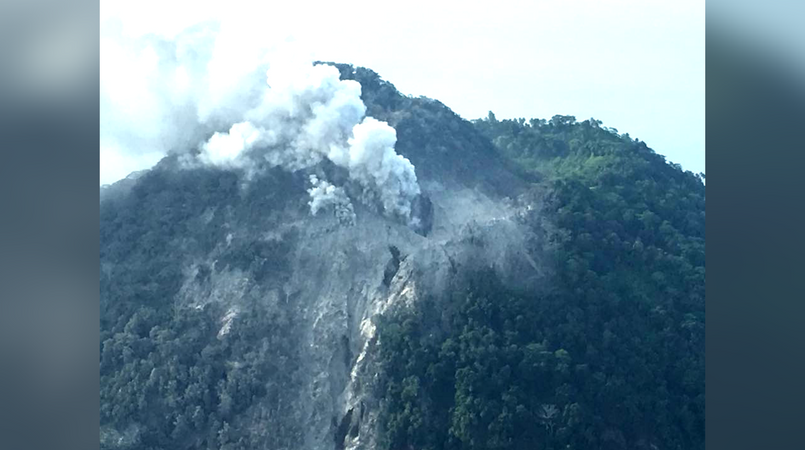 The 2-km-wide island of Kadovar is the emergent summit of a Bismarck Sea stratovolcano of Holocene age. Kadovar is part of the Schouten Islands, and lies off the coast of New Guinea, about 25 km N of the mouth of the Sepik River. The village of Gewai is perched on the crater rim. A 365-m-high lava dome forming the high point of the andesitic volcano fills an arcuate landslide scarp that is open to the south, and submarine debris-avalanche deposits occur in that direction. Thick lava flows with columnar jointing forms low cliffs along the coast. The youthful island lacks fringing or offshore reefs. No certain historical eruptions are known; the latest activity was a period of heightened thermal phenomena in 1976.
Source : Looppng , GVP.
Photo : Samaritan aviation