January 03 , 2018. EN. Piton de la Fournaise , Klyuchevskoy , Yellowstone, Agung , Galeras.
January 03 , 2018.
Piton de la Fournaise , La Réunion :
Monthly bulletin of Tuesday, January 2nd, 2018
Seismicity:
In December 2017, the OVPF recorded in total:
• 20 superficial volcano-tectonic earthquakes (0 to 2 km deep) beneath the summit craters;
• 2 deep earthquakes (> 2 km deep);
• 298 collapses (in the Crater Dolomieu, at the level of the Enclos Fouqué ramparts as well as at the eruptive site of July / August 2017);
• 44 local earthquakes (under the island, Piton des Neiges side);
• 4 regional earthquakes (in the Indian Ocean area).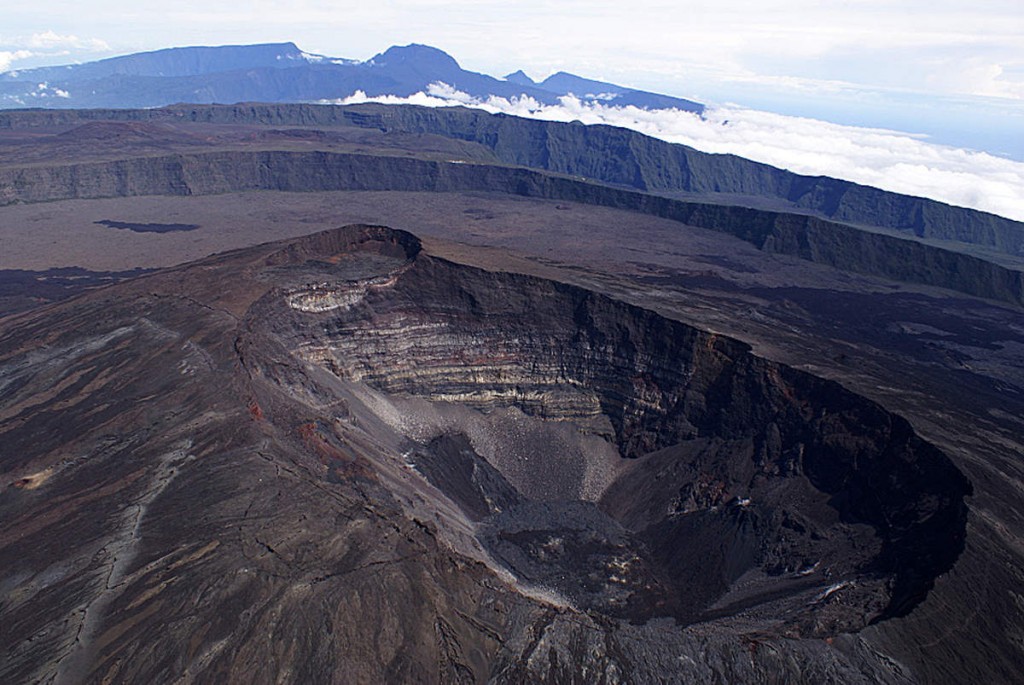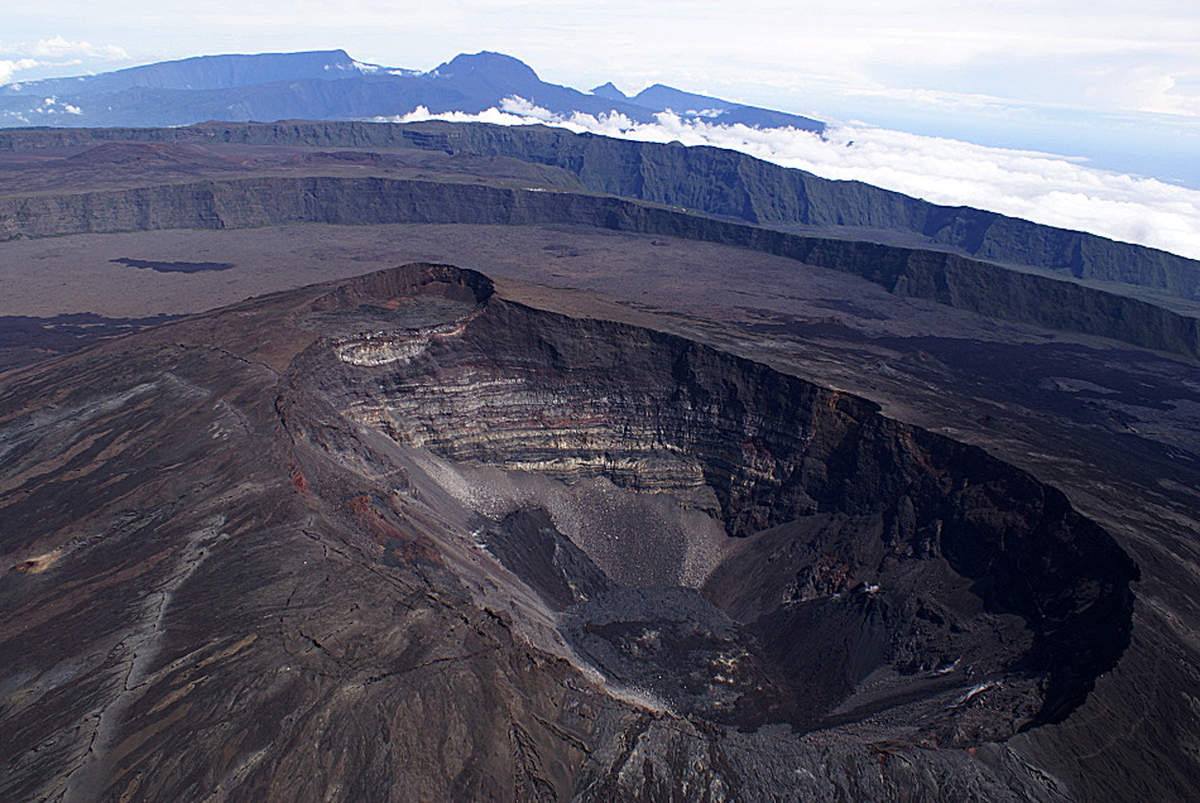 Deformation:
During the month of December 2017, GPS stations at the summit did not record any particular signals. On the other hand, the far-field GPS stations continued to record slow, steady inflation as a result of a deep source being pressured.
Geochemistry of gases:
Gas geochemistry side, no major change in December compared to November 2017 with
– CO2 concentrations in the soil at the level of the volcano deposit: intermediate to high concentrations.
– Top emissions from the Piton de la Fournaise: persistence of low concentrations of H2S and sometimes SO2 in the air at the top of the volcano.
Source : OVPF
Klyuchevskoy , Kamchatka :
VOLCANO OBSERVATORY NOTICE FOR AVIATION (VONA).
Issued: January 03 , 2018
Volcano:Klyuchevskoy (CAVW #300260)
Current aviation colour code:ORANGE
Previous aviation colour code:orange
Source:KVERT
Notice Number:2018-02
Volcano Location:N 56 deg 3 min E 160 deg 38 min
Area:Kamchatka, Russia
Summit Elevation:15580 ft (4750 m)
Volcanic Activity Summary:
Activity of the volcano continues. Ash plume drift for about 90 km to the east from the volcano.
A moderate eruptive activity of the volcano continues. Ongoing activity could affect low-flying aircraft.
Volcanic cloud height:
19680 ft (6000 m) AMSL Time and method of ash plume/cloud height determination: 20180103/0506Z – NOAA 19 (4m5)
Other volcanic cloud information:
Distance of ash plume/cloud of the volcano: 56 mi (90 km)
Direction of drift of ash plume/cloud of the volcano: E / azimuth 96 deg
Time and method of ash plume/cloud determination: 20180103/0506Z – NOAA 19 (4m5)
Source : Kvert
Photo : Yu. Demyanchuk, IVS FEB RAS, KVERT, 1/6/2017
Yellowstone , United States :
44°25'48 » N 110°40'12 » W,
Summit Elevation 9203 ft (2805 m)
Current Volcano Alert Level: NORMAL
Current Aviation Color Code: GREEN
Recent work
On January 1, the Yellowstone Volcano Observatory (YVO) released the inaugural issue of « Yellowstone Caldera Chronicles »—a new weekly article that will discuss various aspects of Yellowstone's geology, history, and recent activity. The first edition reviews the noteworthy events of 2017, giving special attention to the Maple Creek earthquake swarm—the second largest swarm ever recorded in the Park! This and subsequent Yellowstone Caldera Chronicles articles are posted to the YVO website . Tune in every Monday for a new story about the largest volcanic system in the world!
Seismicity
During December 2017, the University of Utah Seismograph Stations, responsible for the operation and analysis of the Yellowstone Seismic Network, located 86 earthquakes in the Yellowstone National Park (YNP) region. The largest earthquake, a magnitude 2.3 event, occurred on December 18 at 4:44 PM MST and was located about 22 miles east-northeast of Lake, WY, which is an area of long-term persistent seismicity.
December seismicity included a small swarm of 18 earthquakes on December 4–5 near Mt. Holmes, YNP. The largest swarm earthquake, which was located about 15 miles south-southwest of Mammoth, WY, had a magnitude of 1.7 and occurred on December 5 at 3:03 AM MST.
Yellowstone earthquake activity is at normal levels compared with typical background activity observed over the last few years.
Ground deformation
During December, the character of ground deformation at YNP changed. Uplift of the Norris Geyser Basin area, which had been ongoing since late 2015, abruptly switched to subsidence at the beginning of the month and now totals about 2 cm at the closest GPS station (designated NRWY). This subsidence rate is similar to that which occurred in April-May 2014, when Norris uplift also abruptly switched to subsidence. Unlike the 2014 case, however, the current change in deformation has not been accompanied by any anomalous earthquake activity. Some GPS stations in the caldera can sense the Norris subsidence, but the overall character of caldera deformation has not changed—slow subsidence there continues. Similar changes in patterns of deformation in the Yellowstone region have occurred previously and appear to indicate variations in the accumulation and migration of subsurface fluids—especially water.
The Yellowstone Volcano Observatory (YVO) provides long-term monitoring of volcanic and earthquake activity in the Yellowstone National Park region. Yellowstone is the site of the largest and most diverse collection of natural thermal features in the world and the first National Park. YVO is one of the five USGS Volcano Observatories that monitor volcanoes within the United States for science and public safety.
Source : YVO
Agung , Indonesia :
On the basis of the results of the visual and instrumental data analysis and considering the potential threats of danger, on November 27, 2017 at 06:00, the status of G. Agung was raised from Level III (SIAGA) to Level IV (AWAS) . Since yesterday and until today visually the volcano is usually covered with fog. White, thick, medium pressure gray ash is about 200 to 500 mm above the summit and tilts to the west. At night, the glow of the incandescent lava is not observed.
The records of the seismographs dated 02 January 2018 noted:
2 shallow volcanic earthquakes (VB)
13 deep volcanic earthquakes (VA)
19 earthquakes emission.
4 local tectonic earthquakes (TL) including one felt on the North Slope.
A continuous tremor with an amplitude of 1 to 8 mm and a dominant value of 2 mm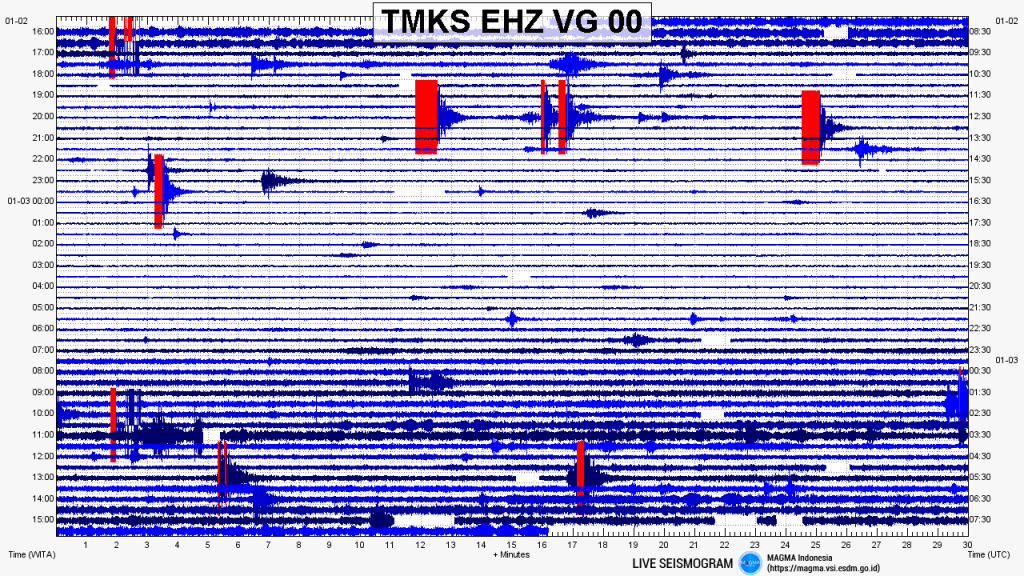 As of January 3, 2018 (00:00 to 18:00) it has been registered:
4 emission earthquakes
3 shallow volcanic earthquakes (VB)
1 deep volcanic earthquakes (VA)
1 local tectonic earthquake (TL)
A continuous tremor with an amplitude of 1 to 2 mm and a dominant value of 1 mm.
Recommendations:
Communities around G. Agung and mountaineers / visitors / tourists must not climb, climb or do any activity in the danger zone around the G. Agung crater area and in all areas within 8 km from the crater of G. Agung. With a sectoral extension to the North-East and South-East-South-South-West up to 10 km from the crater of G. Agung. The estimated area risks are dynamic and continuously assessed and can be modified at any time based on the most recent observational data from G. Agung.
Level IV (AWAS) is only valid for a radius of 8 to 10 km as mentioned above. Outside the activity area, everything can work like NORMAL and always SAFE.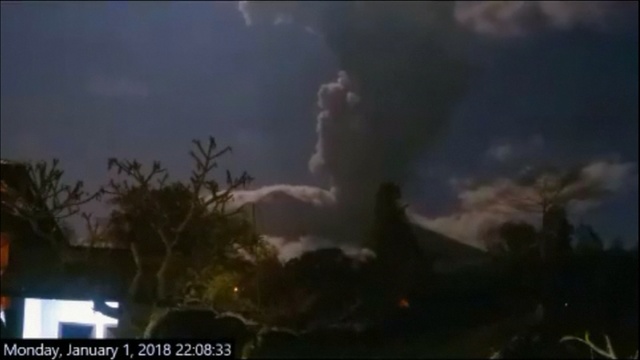 VOLCANO OBSERVATORY NOTICE FOR AVIATION – VONA.
Issued: January 03 , 2018
Volcano: Agung (264020)
Current Aviation Colour Code: ORANGE
Previous Aviation Colour Code: unassigned
Source: Agung Volcano Observatory
Notice Number: 2018AGU01
Volcano Location: S 08 deg 20 min 31 sec E 115 deg 30 min 29 sec
Area: Bali, Indonesia
Summit Elevation: 10054 FT (3142 M)
Volcanic Activity Summary:
Eruption with volcanic ash cloud at 03h02 UTC ( 11h02 local). Eruption and ash emission is not continuing
Volcanic Cloud Height:
Best estimate of ash-cloud top is around 14854 FT (4642 M) above sea level, may be higher than what can be observed clearly. Source of height data: ground observer.
Other Volcanic Cloud Information:
Ash-cloud moving to southwest and south
Remarks:
Seismic activity is characterized by low Frequency earthquakes and tremor
Source : VSI , Magma .
Galeras , Colombia :
Subject: Weekly activity bulletin of the Galeras volcano.
The level of activity of the volcano continues at the level:
YELLOW LEVEL ■ (III): CHANGES IN THE CONDUCT OF VOLCANIC ACTIVITY.
On the activity of the GALERAS volcano, the COLOMBIAN GEOLOGICAL SERVICE informs that:
For the period from December 26, 2017 to January 1, 2018, low levels of seismic activity are maintained, both in terms of occurrence and released energy, with the predominance of events associated with the fracturing of solid materials within the volcanic building, scattered around the active cone, with depths less than 11 km from the summit of the volcanic peak (reference level 4200 m) and a local magnitude less than M1.3 degree on the Richter scale.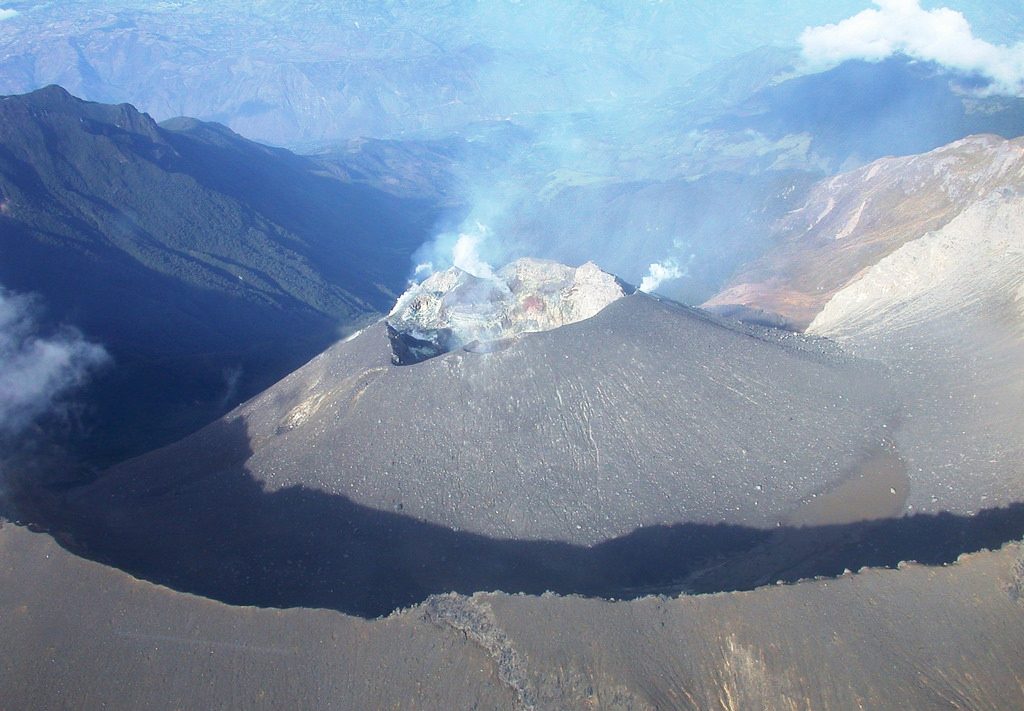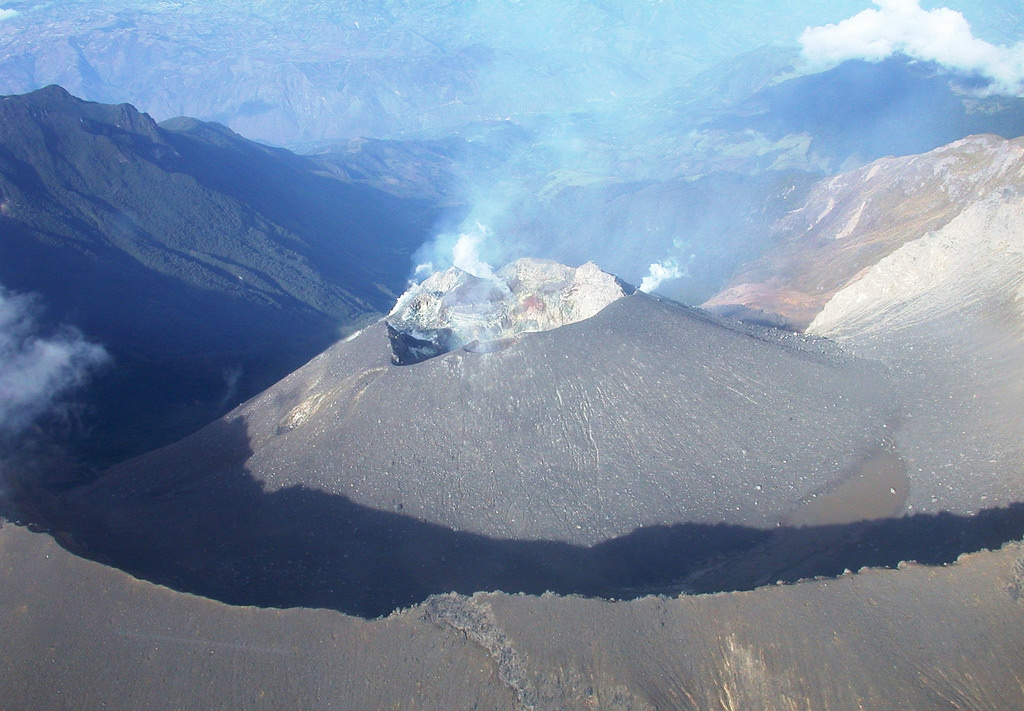 Sensors that detect the volcano's sulfur dioxide emissions recorded values considered to be low for the Galeras. Each day, for the period evaluated, it was possible to observe the volcanic gas emissions from various regions of the active cone, characterized by a low exit pressure, a white color, of variable direction, according to the prevailing wind regime in the area. .
The COLOMBIAN GEOLOGICAL SERVICE is attentive to the evolution of the volcanic phenomenon and will continue to inform in a timely manner of the observed changes.
Source : SGC