December 26 , 2017. EN. Sheveluch , Sinabung , Mauna Loa , Pacaya .
December 26 , 2017.
Sheveluch , Kamchatka :
VOLCANO OBSERVATORY NOTICE FOR AVIATION (VONA).
Issued: December 26 , 2017 .
Volcano:Sheveluch (CAVW #300270)
Current aviation colour code:ORANGE
Previous aviation colour code:orange
Source:KVERT
Notice Number:2017-274
Volcano Location:N 56 deg 38 min E 161 deg 18 min
Area:Kamchatka, Russia
Summit Elevation:10768.24 ft (3283 m), the dome elevation ~8200 ft (2500 m)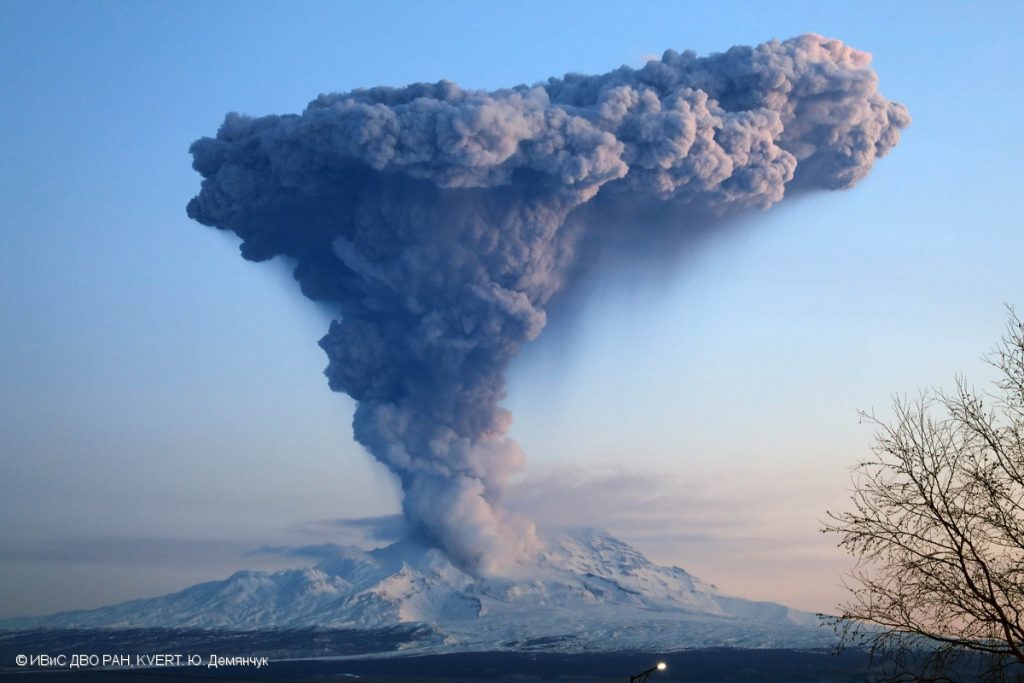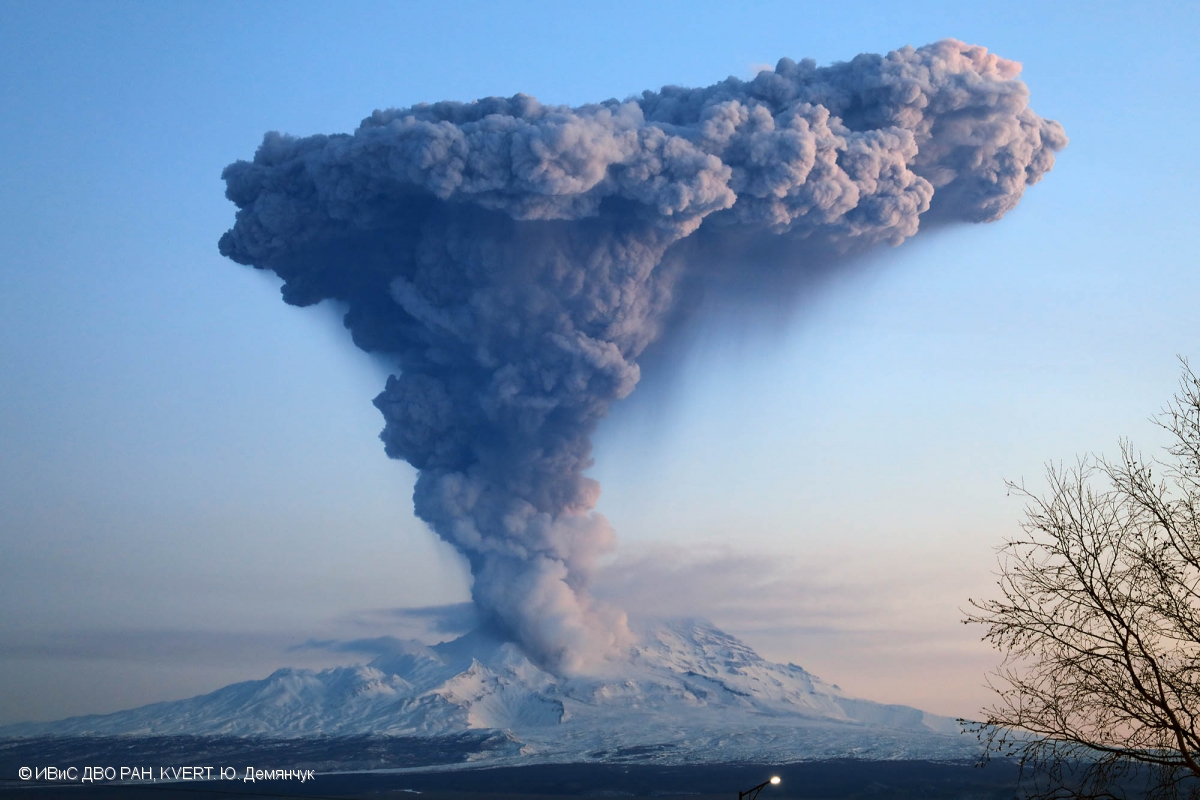 Volcanic Activity Summary:
Probably ash plume drift for about 53 km to the north-east from the volcano. Clouds obscured the volcano.
A moderate eruptive activity of the volcano continues. Ash explosions up to 32,800-49,200 ft (10-15 km) a.s.l. could occur at any time. Ongoing activity could affect international and low-flying aircraft.
Volcanic cloud height:
22960-26240 ft (7000-8000 m) AMSL Time and method of ash plume/cloud height determination: 20171226/0210Z – Himawari-8
Other volcanic cloud information:
Distance of ash plume/cloud of the volcano: 32 mi (52 km)
Direction of drift of ash plume/cloud of the volcano: NE / azimuth 45 deg
Time and method of ash plume/cloud determination: 20171226/0210Z – Himawari-8
Source : Kvert
Photo : Yu. Demyanchuk. IVS FEB RAS, KVERT , 4/12/2017
Sinabung , Indonesia :
VOLCANO OBSERVATORY NOTICE FOR AVIATION – VONA.
Issued: December 26 , 2017
Volcano: Sinabung (261080)
Current Aviation Colour Code: ORANGE
Previous Aviation Colour Code: orange
Source: Sinabung Volcano Observatory
Notice Number: 2017SIN688
Volcano Location: N 03 deg 10 min 12 sec E 98 deg 23 min 31 sec
Area: North Sumatra, Indonesia
Summit Elevation: 7872 FT (2460 M)
Volcanic Activity Summary:
Eruption with ash clouds at 04:37 UTC (11:37 local time). The eruption lasted for 452 seconds.
Volcanic Cloud Height:
Ash cloud not visible.
Other Volcanic Cloud Information:
Ash cloud is moving to east-southeast, cloud height not detected
Remarks:
Seismic activity is characterized by the Deep Volcanic Earthquake, Low Frequency Earthquake, and Hybrid Earthquake. Hot could avalanches is observed through the East-Southeast slope and reaches a distance of 2500 meters from the summit.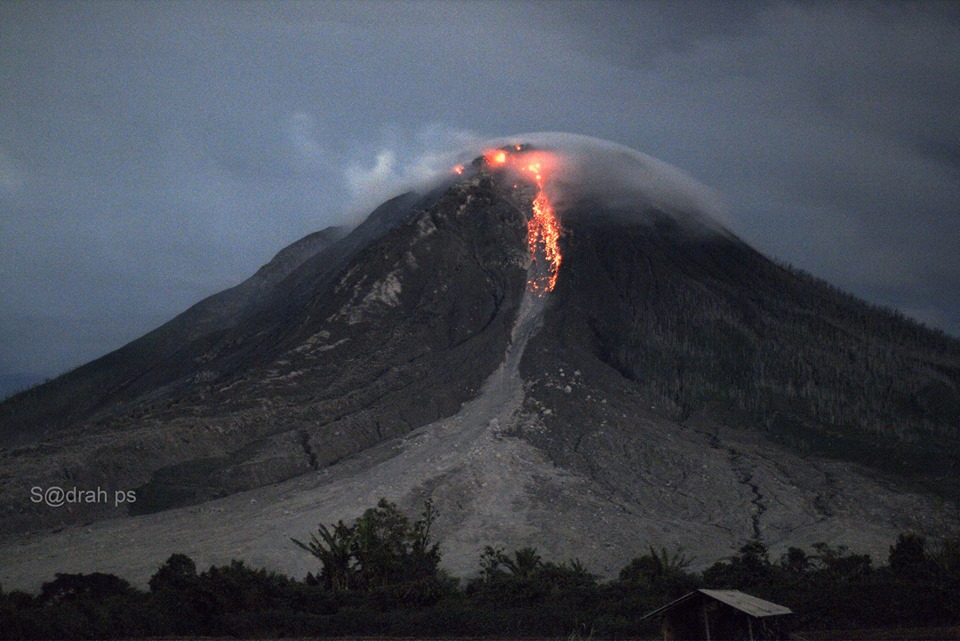 Level IV Activity Level (AWAS). The Sinabung (2460 m altitude) since yesterday until this morning was often covered with fog. The smoke rising from the crater could not be observed. The wind is blowing moderately to the East Southeast. Thanks to the recording of the seismographs it was recorded 2 eruption events, 40 events of descent of hot clouds. Rainfall / lahars vibrations were observed for 79 minutes.
Communities / visitors should not do activities within 3 km of the summit, and by sector, 7 km to the South-South-East, 6 km East-South-East and 4 km to the South-East. km northeast.
The deposits formed a dam upstream on the Laborus River. People living in downstream river basins and around the Laborus River need to be vigilant because these dams can collapse at any time and no longer retain water volume, resulting in downstream lahars / floods .
Source : VSi , Magma .
Photo : Sadrah Peranginangin (08/12/2017)
Mauna Loa , Hawai :
19°28'30 » N 155°36'29 » W,
Summit Elevation 13681 ft (4170 m)
Current Volcano Alert Level: ADVISORY
Current Aviation Color Code: YELLOW
Activity Summary:
Mauna Loa Volcano is not erupting. Rates of deformation and seismicity have decreased towards long-term background levels. Similar decreases have occurred in the past during the ongoing period of unrest that started in 2014; it is unknown if these low rates will persist or if they will pick up again in the near future.
Observations:
Small-magnitude earthquakes continue to occur beneath the volcano. Shallow seismicity was concentrated beneath the summit caldera and upper Southwest Rift Zone at depths less than 5 km (3 miles). Additional deeper seismicity (5-20 km or 3-12 miles) was scattered beneath the southeast flank of the volcano.
Global Positioning System (GPS) and Interferometric Synthetic Aperture Radar (InSAR) measurements continue to show deformation related to inflation of a magma reservoir beneath the summit and upper Southwest Rift Zone.
No significant changes in volcanic gas emissions were measured.
Source : HVO
Pacaya , Guatemala :
Type of activity: Strombolian.
Morphology: Composite Stratovolcan
Location: 14 ° 22'50˝ Latitude N; 90 ° 36'00˝ Longitude W.
Height: 2,552msnm.
Weather Conditions: Partly Cloudy
Wind: North at 22 km / h
Rain: 0 mm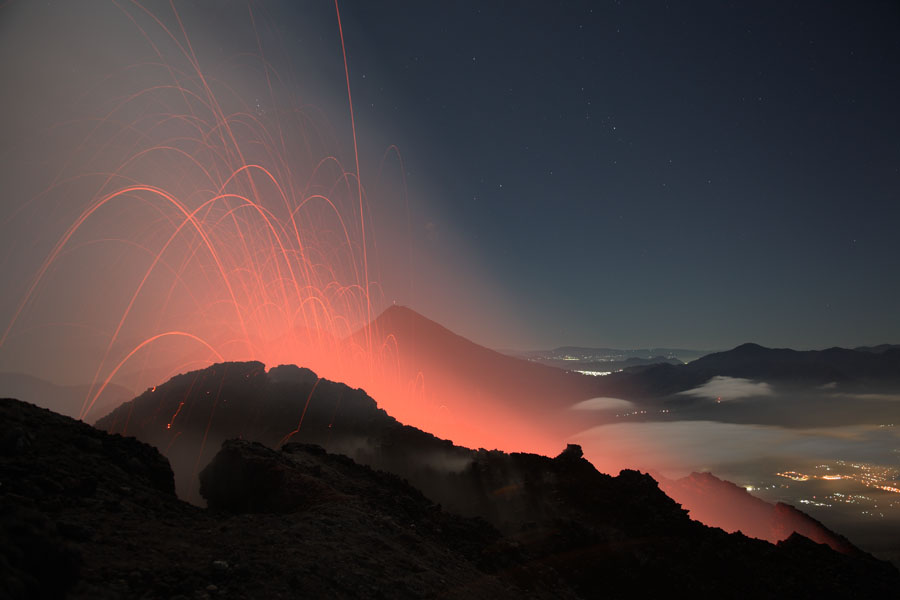 Activity:
White degassing fumaroles are observed at low altitude and are dispersed to the southwest. Strombolian explosions occur, which reach 25 to 50 meters above sea level. In the night and early in the morning we observe a glowing reflection in the crater.
Source : Insivumeh