December 25 , 2017. EN. Agung , Fuego , Kanlaon , Popocatepetl .
December 25 , 2017.
MERRY CHRISTMAS TO EVERYONE
Agung , Indonesia:
On the basis of the results of the visual and instrumental data analysis and considering the potential threats of danger, on November 27, 2017 at 06:00, the status of G. Agung was raised from Level III (SIAGA) to Level IV (AWAS) . Since yesterday and until today visually the volcano is usually covered with fog. Gray ash – white, thick, medium pressure – reaches a height of about 500 to 1000 mm above the summit and slopes to the east. Eruption / emission at 10:05 yesterday, with thick gray smoke at 2500m above the volcano. At night, the glow of incandescent lava is observed.
Seismograph records as of December 24, 2017 have noted:
7 shallow volcanic earthquakes (VB)
7 deep volcanic earthquakes (VA)
27 earthquakes emission.
1 eruption earthquakes
1 distant tectonic earthquakes (TJ)
A continuous tremor with an amplitude of 1 to 4 mm and a dominant value of 1 mm.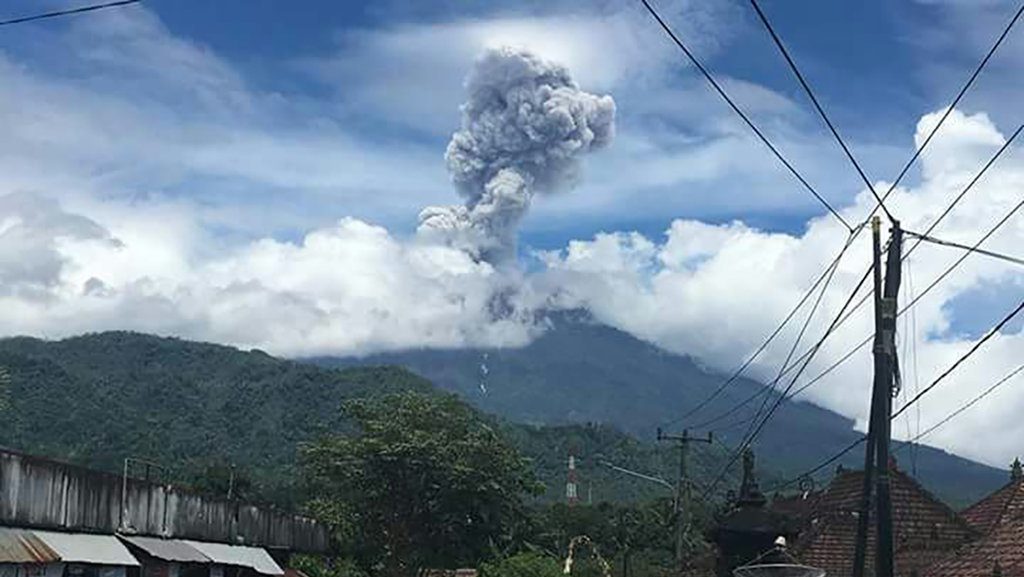 As of December 25, 2017 (00:00 to 18:00) it has been registered:
4 emission earthquakes
1 deep volcanic earthquakes (VA)
1 distant tectonic earthquakes (TJ)
1 shallow volcanic earthquake (VB)
A continuous tremor with an amplitude of 1 to 2 mm and a dominant value of 1 mm.
Recommendations:
Communities around G. Agung and mountaineers / visitors / tourists must not climb, climb or do any activity in the danger zone around the G. Agung crater area and in all areas within 8 km from the crater of G. Agung. With a sectoral extension to the North-East and South-East-South-South-West up to 10 km from the crater of G. Agung. The estimated area risks are dynamic and continuously assessed and can be modified at any time based on the most recent observational data from G. Agung.
Level IV (AWAS) is only valid for a radius of 8 to 10 km as mentioned above. Outside the activity area, everything can work like NORMAL and always SAFE.
Source : VSI
Fuego , Guatemala :
Type of activity: Vulcanian
Morphology: Composite stratovolcan
Location: 14 ° 28'54˝ Latitude N; 90 ° 52'54˝ Longitude W.
Height: 3,763msnm.
Weather Conditions: Partly Cloudy
Wind: North East 13 km / h
Precipitation: 0.0 mm.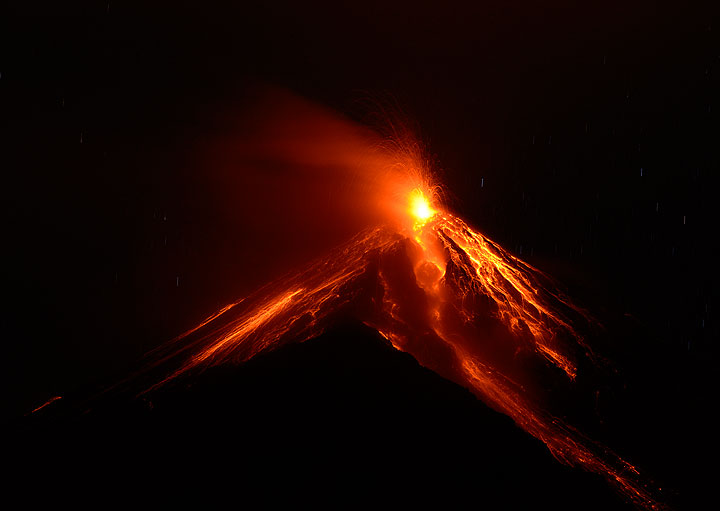 Activity: A weak white plume is observed at a height of 4,500 m (14,764 feet) scattered to the southwest. 22 explosions have been reported, 5 with weak, 12 moderate and five strong characteristics, producing gray ash plumes that reach a height of about 4,500 to 4,700 meters (14,764 to 15,420 feet) and move 10 to 20 km to West-South-West The explosions are accompanied by moderate rumblings, with a low shock wave causing vibrations in the roofs and windows of houses near the volcano. An incandescence at a height of 300 meters above the crater, creates weak to moderate avalanches on the contour of the crater, at distances reaching the edge of the vegetation. Fine ash falls in the Panimaché I and II communities, Morelia, Sainte-Sofia, Sangre de Cristo, Finca Palo Verde and the municipality of San Pedro Yepocapa, among others, are reported.
Source : Insivumeh
Kanlaon , Philippines :
KANLAON VOLCANO BULLETIN 25 December 2017 8:00 A.M.
Kanlaon Volcano's seismic monitoring network recorded seven hundred seventy six (776) volcanic earthquakes, seven hundred seventy one (771) of which are microearthquakes, during the past 24 hours. Degassing at the active vents could not be observed due to thick clouds covering the summit. Ground deformation data from continuous GPS measurements indicate slight inflation of the edifice since December 2015. Sulfur dioxide (SO2) emission was measured at an average of 432 tonnes/day on 20 December 2017.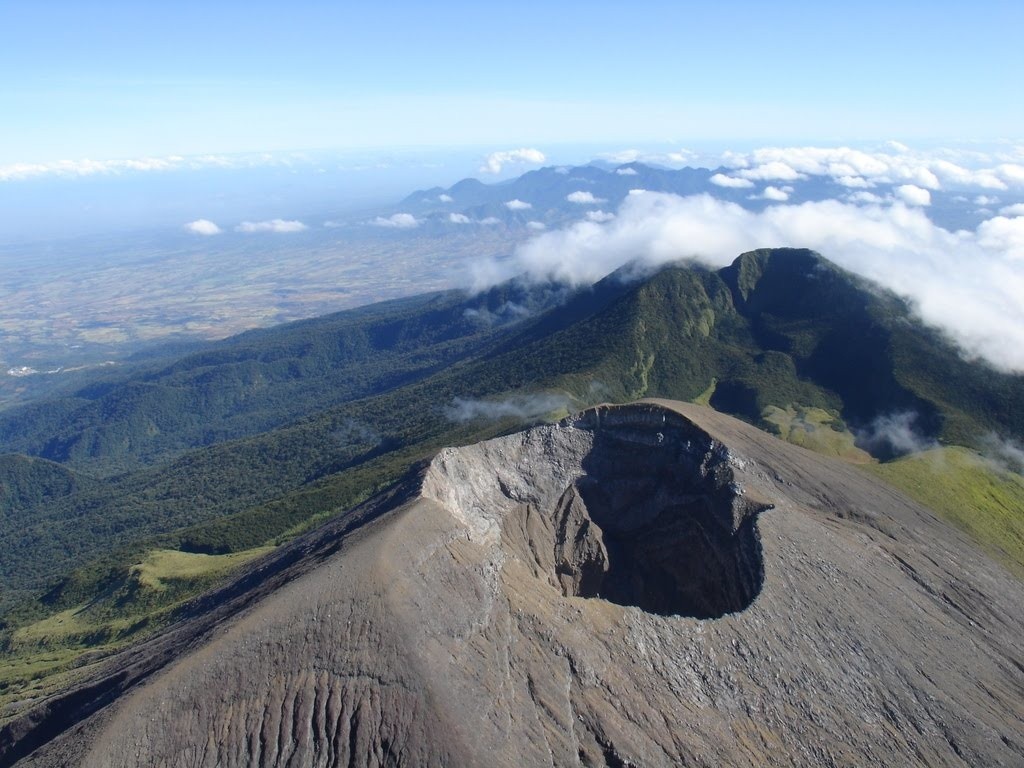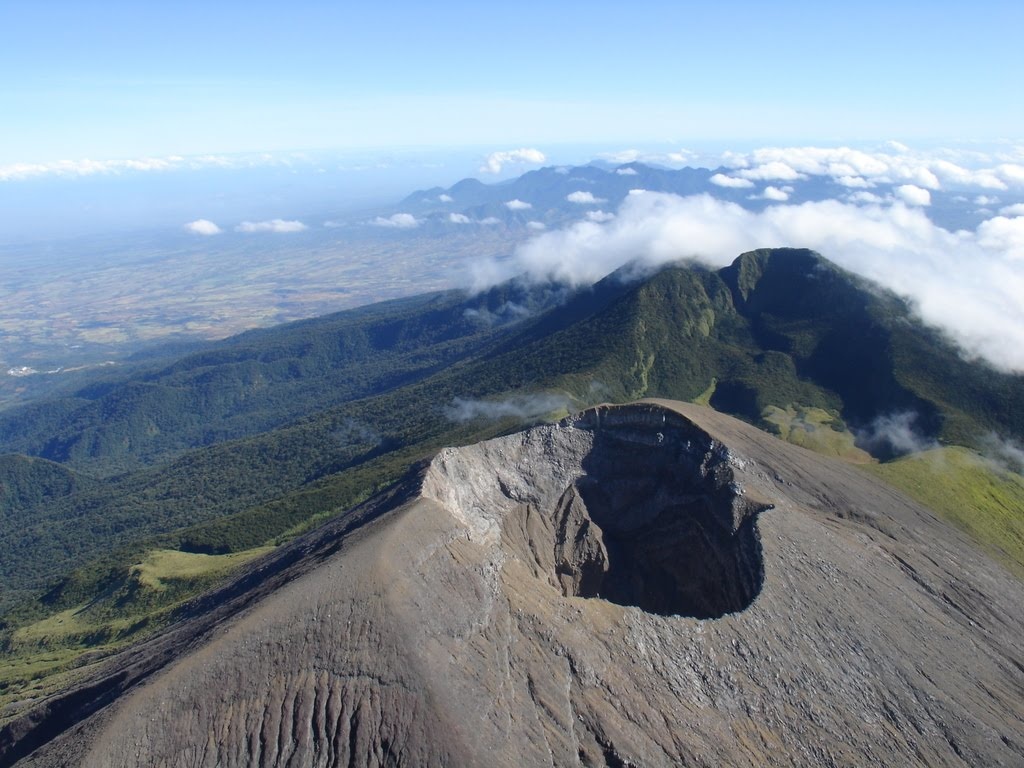 Alert Level 2 status prevails over Kanlaon Volcano, which means that the volcano is undergoing a moderate level of unrest. There is probable intrusion of magma at depth which may or may not lead to a magmatic eruption. The local government units and the public are strictly reminded that entry into the 4-kilometer radius Permanent Danger Zone (PDZ) is strictly prohibited due to the further possibilities of sudden and hazardous steam-driven or phreatic eruptions. Civil aviation authorities must also advise pilots to avoid flying close to the volcano's summit as ejecta from any sudden phreatic eruption can be hazardous to aircraft. DOST-PHIVOLCS is closely monitoring Kanlaon Volcano's activity and any new development will be relayed to all concerned.
Source : Phivolcs
Popocatepetl , Mexico :
CENAPRED monitoring report on the Popocatepetl volcano on December 24
The Popocatepetl Volcanic Alert Traffic Light is in Phase 2 Yellow. The CENAPRED urges NOT TO APPROACH the volcano and especially the crater, because of the danger that the fall of ballistic fragments implies.
The monitoring of the Popocatépetl Volcano is carried out continuously 24 hours a day. Any change in activity will be reported in a timely manner.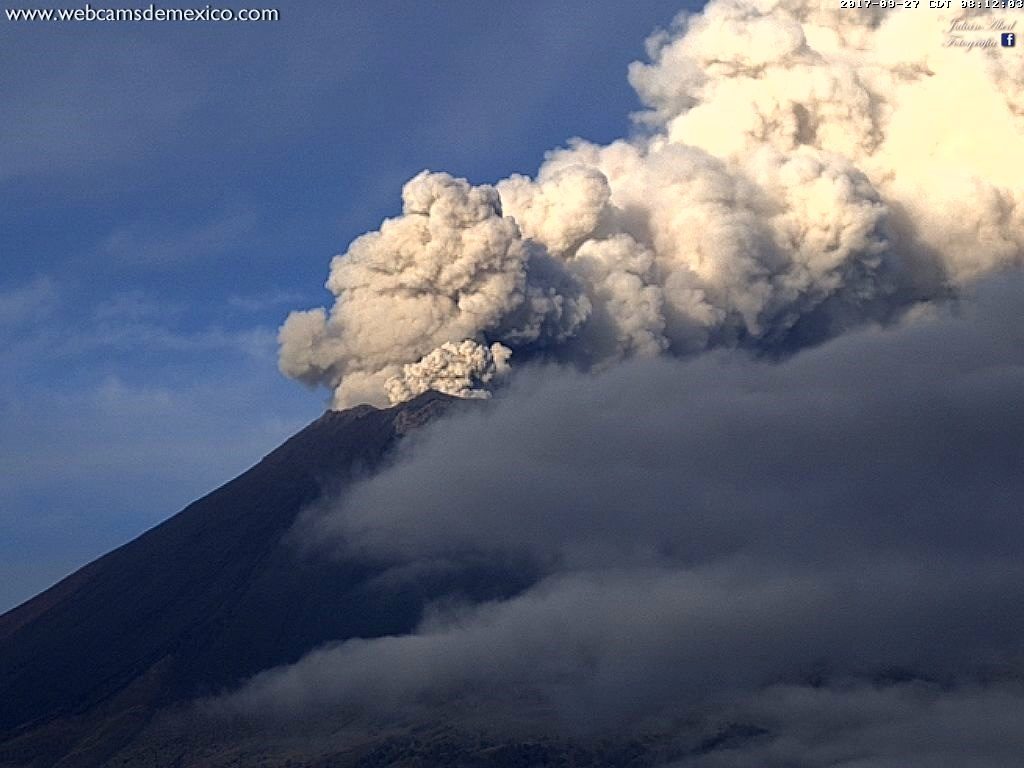 In the last 24 hours, through the monitoring systems of the Popocatépetl volcano, 341 low intensity exhalations were identified, with water vapor, gas and light amounts of ash. In addition, during the afternoon of yesterday and tomorrow today there were intermittent episodes of tremor, accounting for a total of 156 minutes. At 18:29 yesterday, a volcanotectonic event was recorded.
During the night it was possible to observe incandescent instants over the crater. At the time of this report, there is a slight emission of water vapor and other gases that the wind disperses to the northwest.
Source : Cenapred .
Photo : webcamdemexico ( 27/09/2017)