December 24 , 2017 . EN. Agung , Karymsky , Cerro Machin , Sierra Negra ( Galapagos).
December 24 , 2017 .
Agung , Indonesia :
VOLCANO OBSERVATORY NOTICE FOR AVIATION – VONA.
Issued: December 24 , 2017.
Volcano: Agung (264020)
Current Aviation Colour Code: ORANGE
Previous Aviation Colour Code: orange
Source: Agung Volcano Observatory
Notice Number: 2017AGU25
Volcano Location: S 08 deg 20 min 31 sec E 115 deg 30 min 29 sec
Area: Bali, Indonesia
Summit Elevation: 10054 FT (3142 M)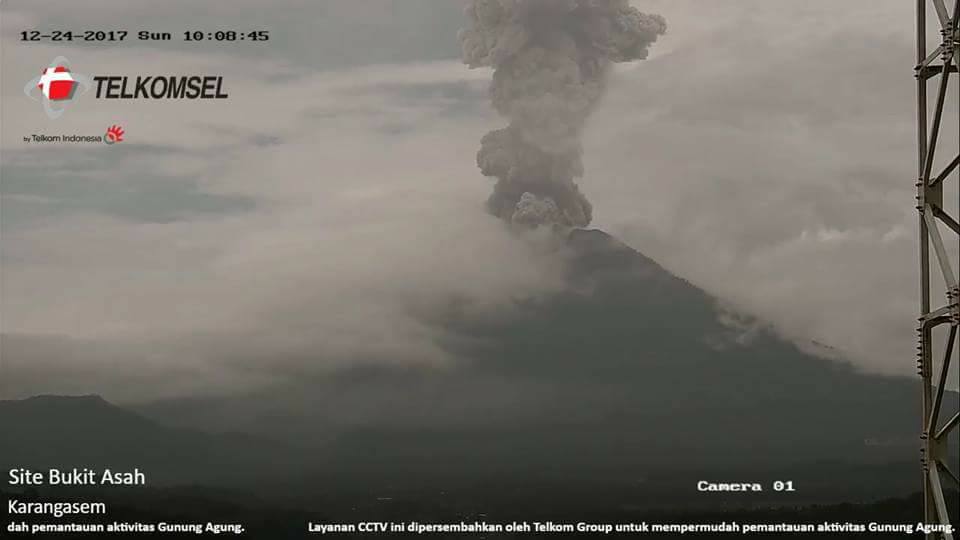 Volcanic Activity Summary:
Eruption with volcanic ash cloud at 0205 UTC ( 1005 local). Eruption and ash emission is not continuing
Volcanic Cloud Height:
Best estimate of ash-cloud top is around 18054 FT (5642 M) above sea level, may be higher than what can be observed clearly. Source of height data: ground observer.
Other Volcanic Cloud Information:
Ash-cloud moving to northeast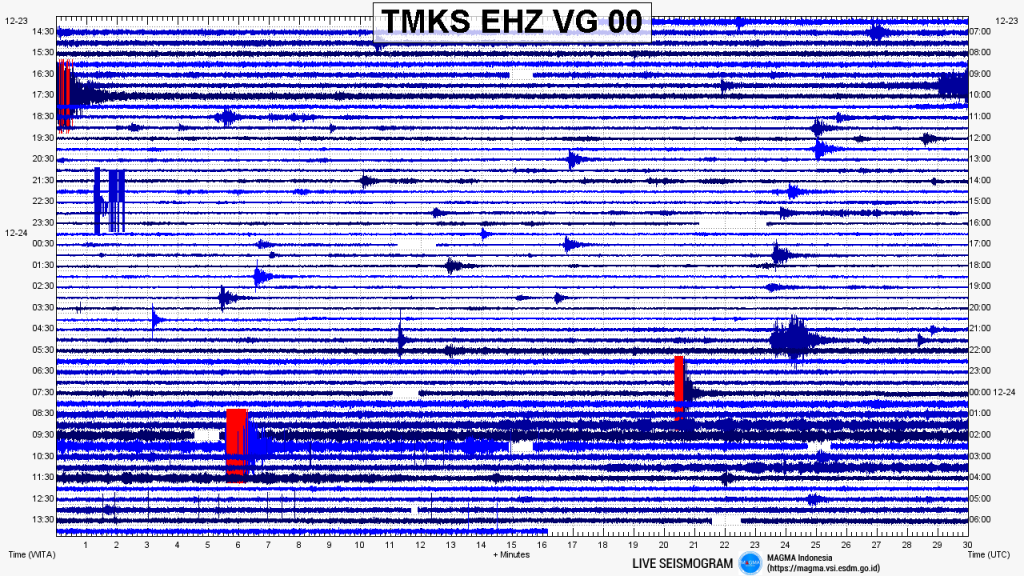 Remarks:
Seismic activity is characterized by low Frequency earthquakes and tremor.
JAKARTA, BALIPOST.com : New eruption of Mount Agung on Sunday (24/12) at 22:05. Eruption accompanied by a thick gray smoke with a high column of ash about 2,500 meters above the summit crater that moves to the northeast.
Quoted from magma.vsi.esdm.go.id, the rash occurred for about 10 minutes.
A day earlier, Mount Agung was also erupting with thick gray smoke up to about 2500 meters inclined to the northeast. Rains of ash accompanied by fine sand occurred on the slopes of Mount Agung, as in Tulamben, Kubu.
The volcanic activity of Gunung Agung is still high. The PVMBG to date still establishes the activity status of Mount Agung at AWAS (level 4).
The activity status is valid from 27/11/2017 until now. This alert status only applies to a radius of 8-10 kilometers around the summit of Mount Agung crater. This means that people are forbidden to do any activity within 8 to 10 kilometers around the top of the crater.
Linked to this eruption, BNPB chief of information and public relations, Sutopo Purwo Nugroho said that outside this area, normal activities can work and be always safe. There is no harmful impact of both eruptions.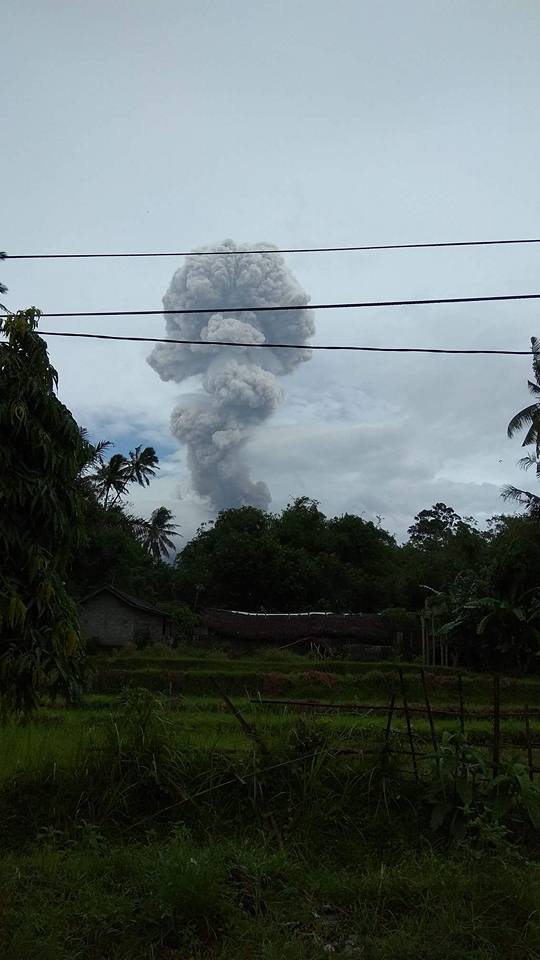 Gusti Ngurah Rai International Airport in Denpasar and Lombok International Airport operate normally and safely. During the rainy season until April 2018, the wind direction in Bali will be dominant in the East – Southeast and the Gusti Ngurah Rai International Airport in Denpasar will be safe.
Meanwhile, the number of preventive evacuations from Mount Agung recorded 71,045 people in 239 safe havens. The distribution of these refugees is 42,928 in Karangasem, 11,441 in Klungkung, 9938 in Buleleng, 977 in Bangli Regency, 3,502 in Gianyar, 205 in Jembrana District, 730 in Tabanan, 590 in regency of Badung, and 734 people in the city of Denpasar. The management of basic needs for refugees will continue to be supported by the government, which also helps the business community, ONG , volunteers and communities.
Sources : Magma , Vsi , Balipost.
Karymsky , Kamchatka :
VOLCANO OBSERVATORY NOTICE FOR AVIATION (VONA).
Issued: December 24 , 2017
Volcano:Karymsky (CAVW #300130)
Current aviation colour code:YELLOW
Previous aviation colour code:orange
Source:KVERT
Notice Number:2017-273
Volcano Location:N 54 deg 2 min E 159 deg 26 min
Area:Kamchatka, Russia
Summit Elevation:4874.08 ft (1486 m)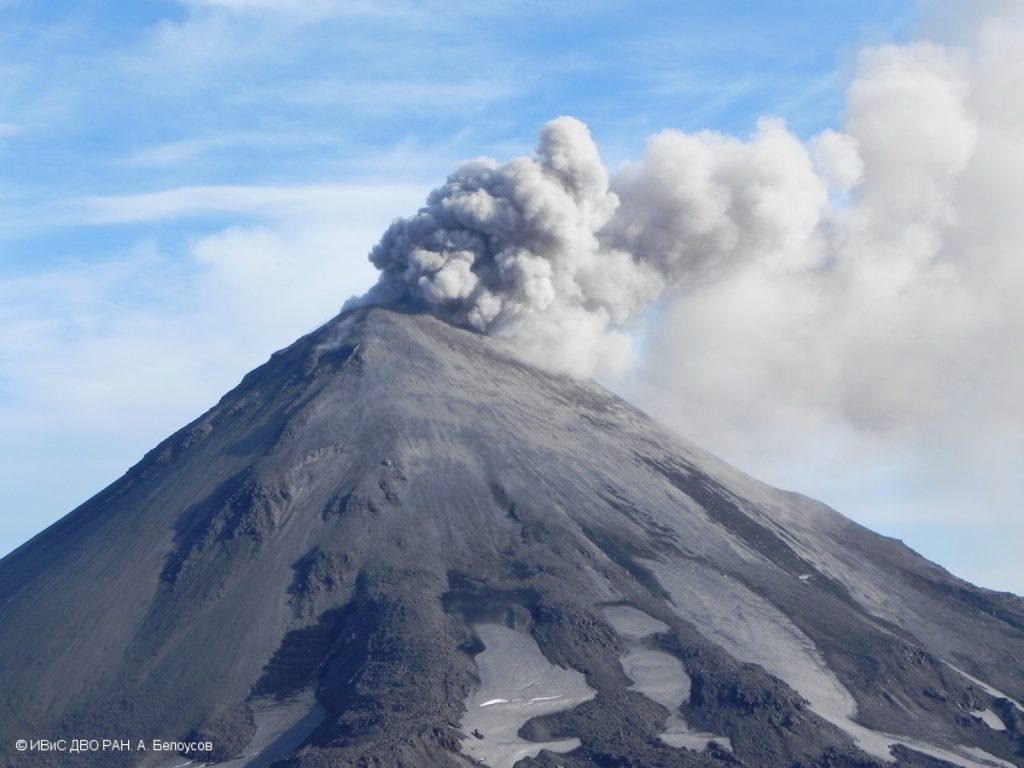 Explosive activity of Karymsky volcano on 18 July, 2017.
Volcanic Activity Summary:
A moderate gas-steam activity of the volcano continues. Satellite data by KVERT showed the volcano was quiet or obscured by clouds from 14 December, 2017. KVERT continues to monitor Karymsky volcano.
A moderate gas-steam activity of the volcano continues. A danger of ash explosions up to 16,400-23,000 ft (5-7 km) a.s.l. is remains. Ongoing activity could affect low-flying aircraft.
Volcanic cloud height:
NO ASH CLOUD PRODUSED
Other volcanic cloud information:
NO ASH CLOUD PRODUSED
Source : Kvert
Photo : A. Belousov, IVS FEB RAS , Date: 18/7/2017 .
Cerro Machin , Colombia :
Subject: Cerro Machín Volcano Activity Bulletin.
The level of activity continues at the level: Yellow activity level or (III): changes in the behavior of volcanic activity.
With regard to monitoring the activity of the Cerro Machín volcano, the COLOMBIAN GEOLOGICAL SERVICE informs that:
During the last week, the recording of the seismic activity related to the fracturing of the rocks that make up the volcano continued. This type of seismicity showed a slight increase in the number of earthquakes and released seismic energy compared to the previous week.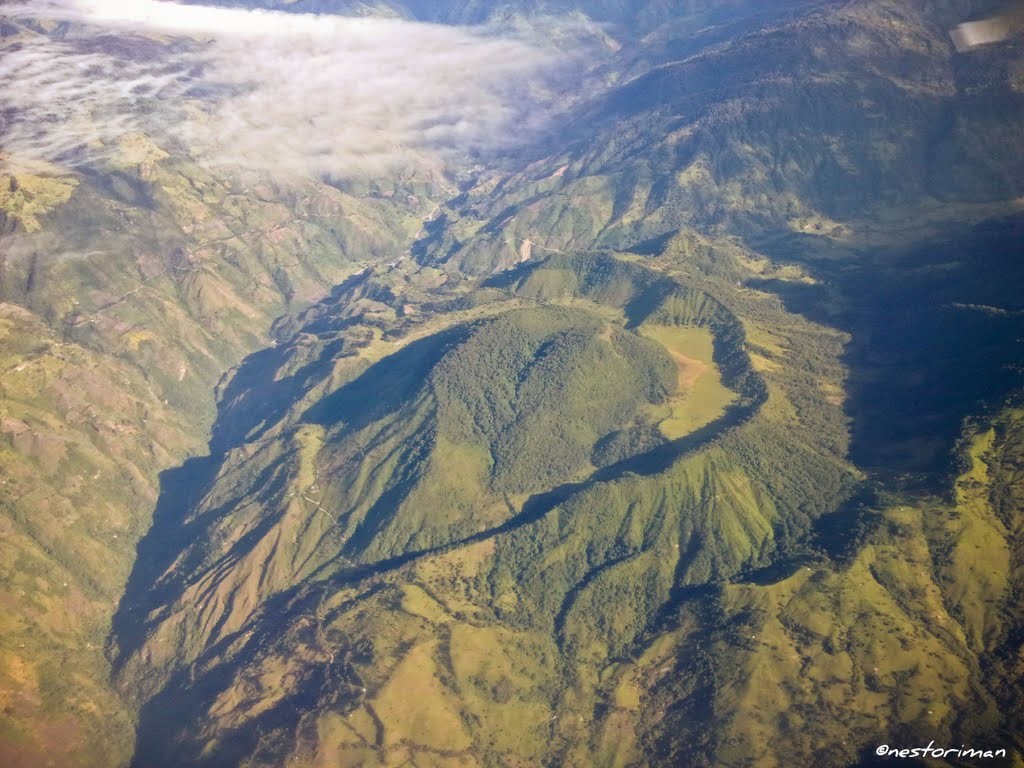 The seismic activity was located southwest of the main dome, between 2.2 and 3.7 km deep. The maximum magnitude recorded was 1.1 ML (Local Magnitude), corresponding to the earthquake recorded on 14 December at 07:28 (local time), located 0.8 km southwest of the main dome, 3.7 km deep . The other monitored parameters did not show any significant changes.
The COLOMBIAN GEOLOGICAL SERVICE is attentive to the evolution of the volcanic phenomenon and will continue to inform in a timely manner of the changes that may occur.
Source : SGC
Photo : Nestoriman
Sierra Negra , Galápagos , Ecuador :
Summary:
The Sierra Negra volcano, located on Isabela Island (Galápagos) has maintained in recent months a gradual increase in seismic activity and a continuous lifting of the soil of its caldera. In recent days, earthquakes have been detected with local amplitudes of up to 3.3 ML, some reported as felt near the caldera and with epicentres near the caldera. This anomalous activity is interpreted as being related to an intrusion of magma inside the volcano, at relatively low depths (a few kilometers) under the volcano.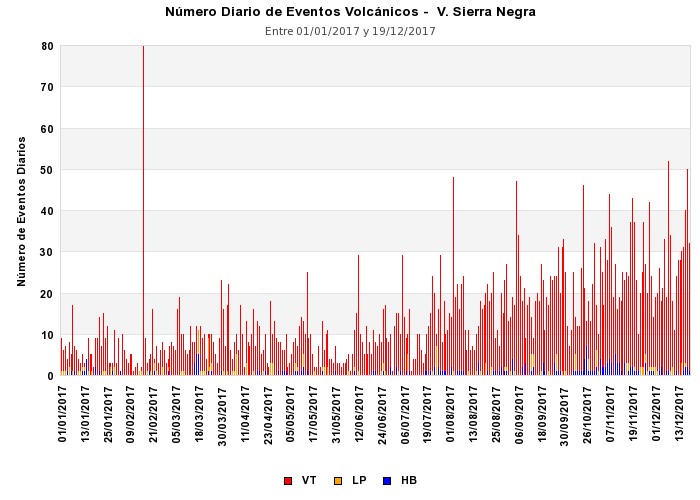 RECENT SEISMIC ACTIVITY
In recent weeks, the increase in seismic activity on the Sierra Negra volcano continues, reaching even more than 50 daily seismic events in recent days (Figure 1). Since December 1st, 564 earthquakes have been detected, most of which have been considered as VT type earthquakes (related to fracturing of rock bodies). From these earthquakes, a total of 152 events were located. The occurrence of three earthquakes of magnitude between 2.9 and 3.3 ML between December 15 and 18 of this year is highlighted. Many of these earthquakes were felt by the population in the upper part of the volcano, as happened on December 18 at 17:09 and on December 19 at 16:31 and 17:13 (Galapagos local time), according to the report. Oscar Carvajal from Isabela's Technical Operational Department, Galápagos National Park.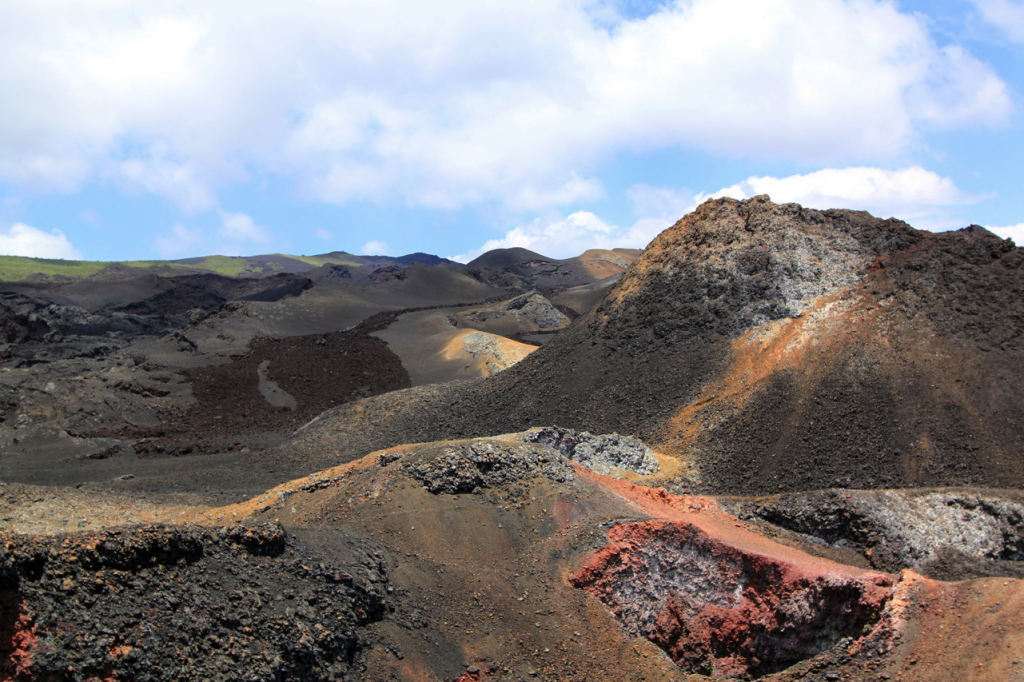 GEODESIC INFORMATION
The Galapagos ground surface deformation maps were made using the satellite radar interferometry (InSAR) method by researchers at the School of Atmospheric and Marine Sciences at the University of Miami (RSMAS), and showed a rapid inflation of the Sierra Negra volcano caldera soil. During the last year, the rate of recovery was 70 cm / year, one of the highest recorded on active volcanoes in the world.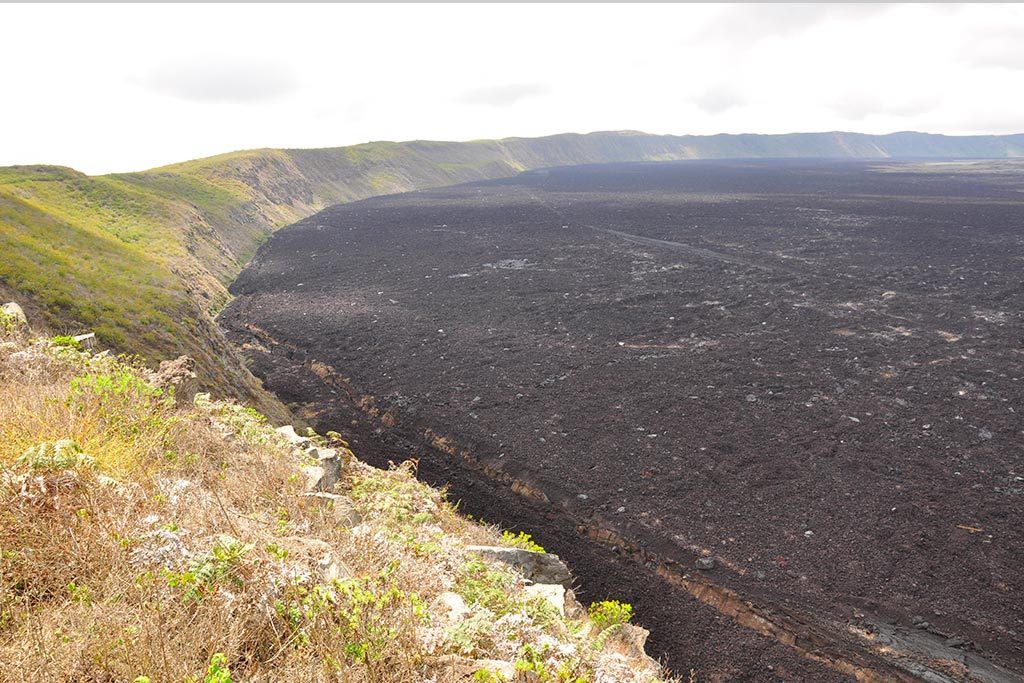 CONCLUSIONS
Given the eruptive history of the Sierra Negra volcano, it can be be considered that this volcano exhibits eruptions statistically in a range between 11.4 years. Its last event was in 2005. The last historical eruptions were located in the region of Chico volcano and on the North-North-East edge of the caldera and did not affect the populated areas of Isabela.
The number of seismic events shows a steady increase in 2017, especially since July of this year. These were located under the vicinity of the volcano caldera. The earthquake of greatest magnitude during the last month had a magnitude of M3.3, and occurred on December 15th. It has been reported as felt by the people near the volcano.
The observed rise (inflation) in the caldera floor is very high and has reached a higher level than it was before the 2005 eruption.
Source : IGEPN