December 14 , 2017. EN . Agung , Cleveland , Aira ( Sakurajima) , Nevado Del Huila , Santiaguito .
December 14 , 2017.
Agung , Indonesia :
Visual observations of G. Agung from PGA Agung Station in Rendang show a decline since October 20, 2017 with smoke from the crater's lips that rises to 50-500 meters. Since October 20, 2017 earthquakes recorded by seismographs have continued to decline in number, especially the kind of shallow volcanic earthquakes (VB) and local tectonic earthquakes (TL). The pattern of seismic energy changes for the Gunung Agung crisis period also indicates a slowdown and even an accelerated slowing down which tends to lead to the relaxation phase. The visual control using drones carried out on October 29, 2017 shows a gas emission activity inside the crater with a relative decrease in intensity compared to the results of the surveillance. ASTER TIR satellite imagery also indicates a decrease in the heat zone in Mount Agung crater.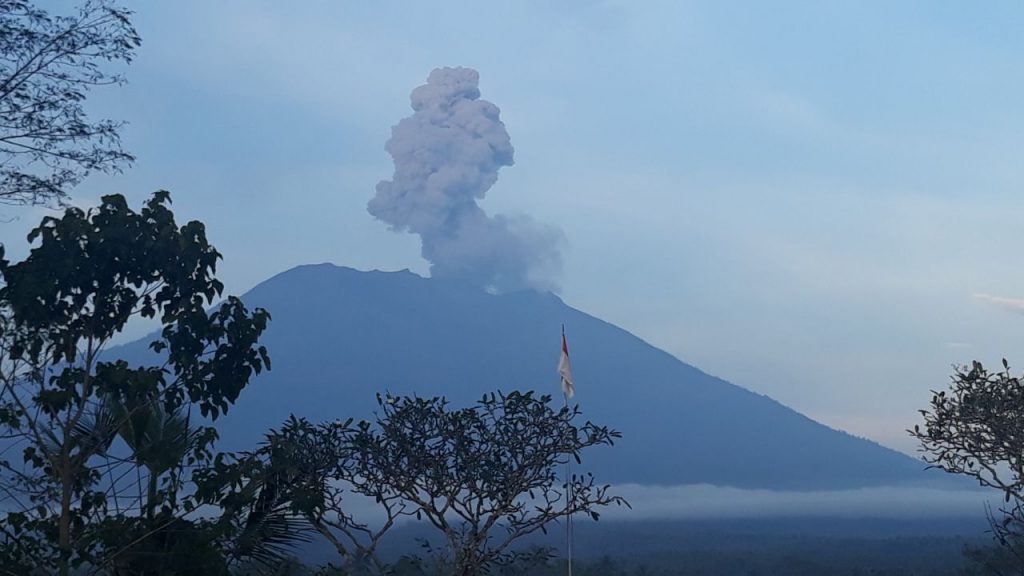 On the basis of the results of the visual and instrumental data analysis and considering the potential threats of danger, on November 27, 2017 at 06:00, the status of G. Agung was raised from Level III (SIAGA) to Level IV (AWAS) . Since yesterday and until today visually the volcano is clearly visible until the appearance of the mist. Eruptions as well as gray, white, thick, medium pressure ash puffs reach a height of about 500 to 2000 m above the summit and slope westward and eastward. At night, the glow of the incandescent lava in the crater of the volcano is observed.
Seismograph records as of December 13, 2017 have noted:
10 shallow volcanic earthquakes (VB)
7 deep volcanic earthquakes (VA)
5 local tectonic earthquakes.
No earthquakes of eruption.
14 events of type Low Frequency.
41 earthquakes emission.
No harmonic tremor.
A continuous tremor with an amplitude of 1 to 2 mm and a dominant value of 1 mm.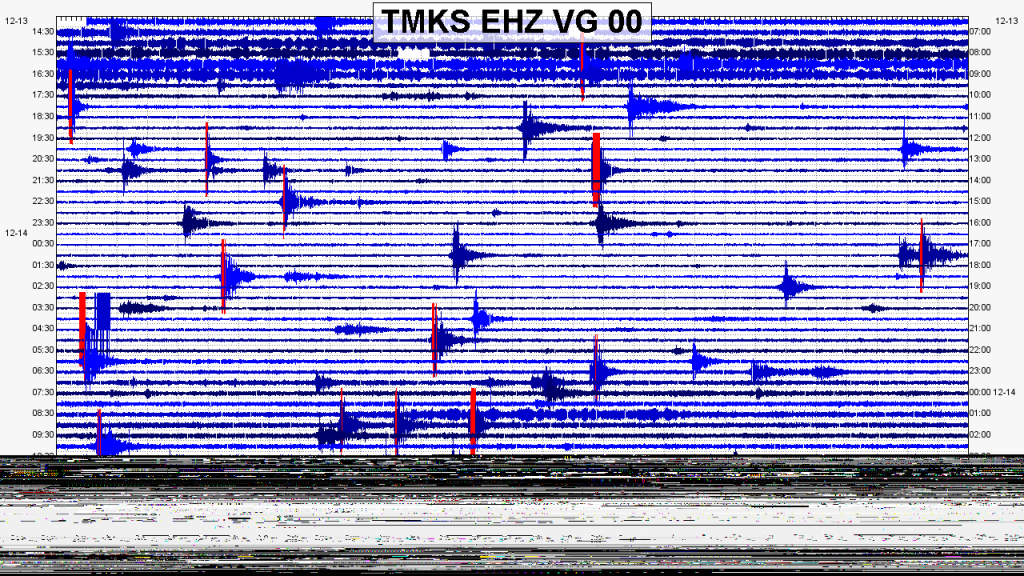 As of December 14, 2017 (00:00 to 18:00) it has been registered:
7 emission earthquakes
No earthquakes of eruption.
No low frequency earthquakes
1 shallow volcanic earthquake (VB)
No deep volcanic earthquakes (VA)
No local tectonic earthquakes.
No harmonic tremor.
A continuous tremor with an amplitude of 1 to 2 mm and a dominant value of 1 mm.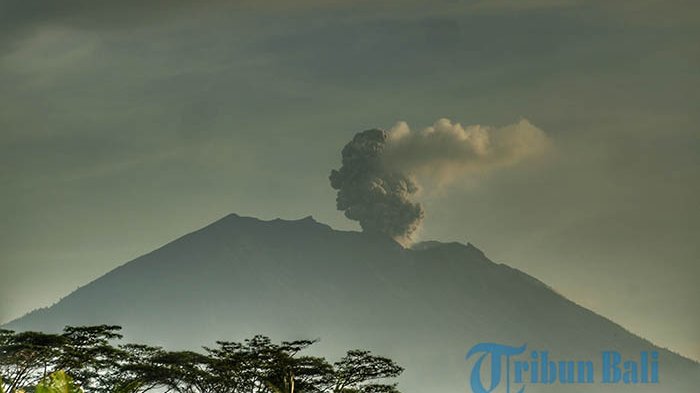 Recommendations:
Communities around G. Agung and mountaineers / visitors / tourists must not climb, climb or do any activity in the danger zone around the G. Agung crater area and in all areas within 8 km from the crater of G. Agung. With a sectoral extension to the North-East and South-East-South-South-West up to 10 km from the crater of G. Agung. The estimated area risks are dynamic and continuously assessed and can be modified at any time based on the most recent observational data from G. Agung.
The Geological Agency, through the PVMBG and the Observation Post, continue to monitor volcanic activity and are still in coordination with the Satlak District and the Karangasem BPBDs for Disaster Management.
Source : VSI , Magma .
Cleveland , Alaska :
VOLCANO OBSERVATORY NOTICE FOR AVIATION (VONA) .
Issued: December 13 , 2017.
Volcano:Cleveland (VNUM #311240)
Current Color Code:ORANGE
Previous Color Code:YELLOW
Source:Alaska Volcano Observatory
Volcano Location:N 52 deg 49 min W 169 deg 56 min
Area:Aleutians
Summit Elevation:5676 ft (1730 m)
Volcanic Activity Summary:
An explosion was detected at Cleveland Volcano in seismic and infrasound data this morning 04:20 AKST (13:20 UTC). The explosion produced an eruption cloud that was observed in satellite data to an altitude of up to 20,000 ft asl and moving to the east. AVO is raising the color code for Cleveland to Aviation Color Code ORANGE and Alert Level WATCH.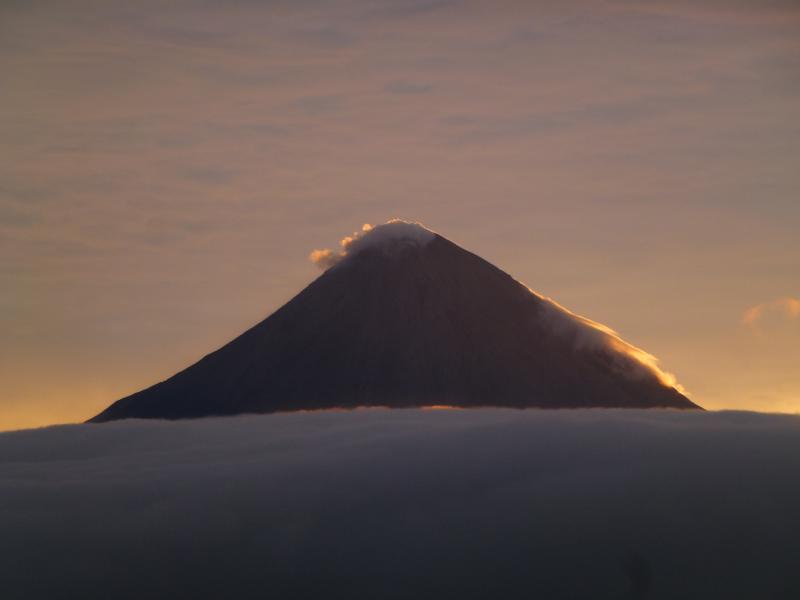 No new activity has been observed at Cleveland Volcano since the explosion at 04:20 AKST (13:20 UTC) this morning. The eruption this morning produced a detached cloud that was observed in satellite data with an altitude up to 20,000 ft and moving to the east. This cloud appears to have dissipated and is no longer visible in satellite data.
Volcanic cloud height:
Small cloud detected. NWS eruption SIGMET issued to 20,000 ft asl.
Other volcanic cloud information:
Cloud moving to the east.
Remarks:
The National Weather Service Alaska Aviation Weather Unit has issued an eruption SIGMET warning for aviation up to 20,000 ft above sea level. This may be revised as new information becomes available.
Cleveland volcano is not monitored with a full real-time seismic network and this inhibits AVO's ability to detect unrest that may lead to future activity. We are able to detect explosive activity using infrasound and limited seismic instruments on the island.
Source : AVO
Photo : Lyons, John , 3 Aout 2014
Aira ( Sakurajima) , Kyushu , Japan :
31.593°N, 130.657°E
Elevation 1117 m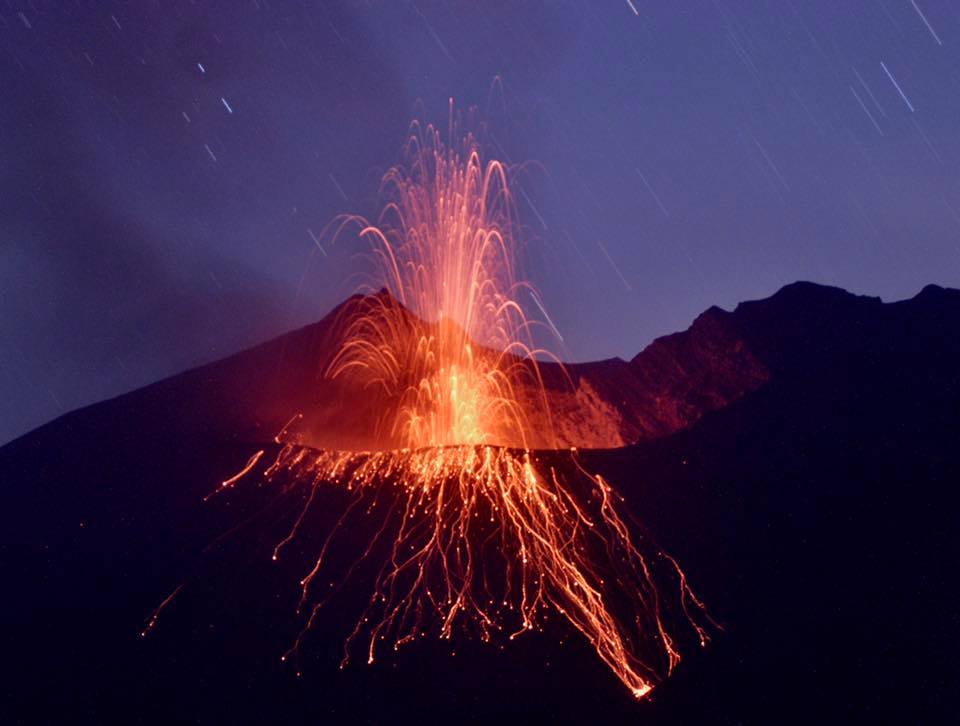 JMA reported that an explosion at Showa Crater (at Aira Caldera's Sakurajima volcano) occurred at 1845 on 4 December and generated an ash plume that rose 1.4 km above the crater rim. Very small events occurred at Minamidake Crater during 7 and 9-10 December, and at Showa Crater on 10 December. The Alert Level remained at 3 (on a 5-level scale).
Source: Agence météorologique japonaise (JMA) , GVP.
Photo : K. Arima.
Nevado Del Huila , Colombia :
Subject: Weekly Bulletin of the activity of the Nevado del Huila volcano.
The level of activity of the volcano continues at the level:
Level of activity yellow or (III): changes in the behavior of volcanic activity.
From the analysis and evaluation of the information obtained by the surveillance network of the Nevado del Huila volcano, during the week between 5 and 11 December 2017, the Colombian Geological Service – Volcanological Observatory of Popayán reports that:
• During the evaluated period, 209 seismic events were recorded, 153 of which were related to rock fracturing processes (type VT) and 56 to fluid dynamics in volcanic canals. Of these, 52 were classified as long-period type events (LP type), three (3) as low-amplitude Tremor pulses (TR type) and one (1) hybrid event, which were associated with as in the transit of fluids (type HB).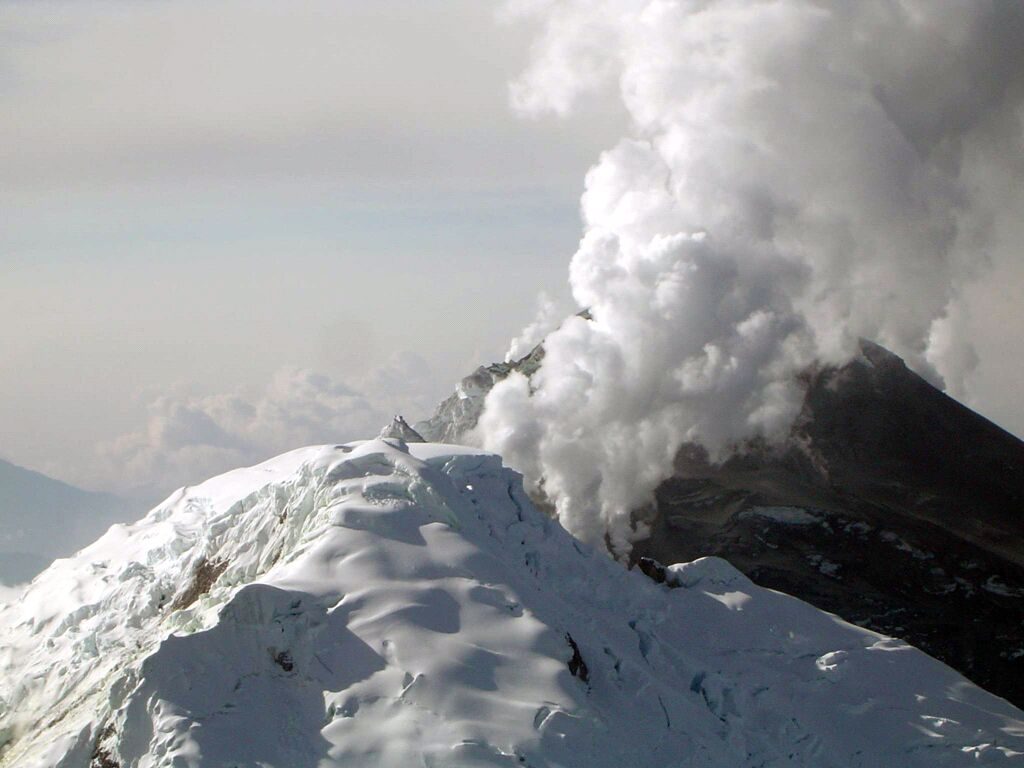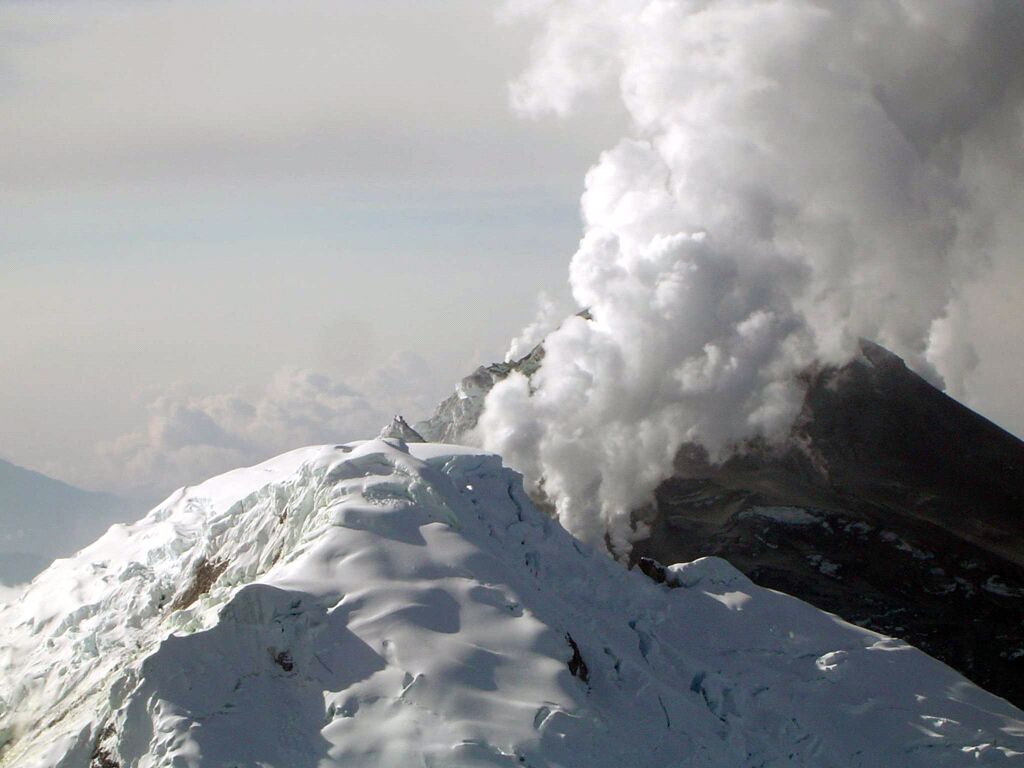 • From the images obtained during the week through the webcams of Tafxnú, Maravillas and La Palma, he was able to appreciate the degassing of the volcanic system, which was characterized by white columns emitted by the top of the volcano.
• Monitoring sensors for soil deformation, magnetic fields and infrasonic waves have not recorded any significant variations.
Therefore, it is concluded that during the evaluated period, the volcano continued to exhibit stable behavior.
The Colombian Geological Survey is attentive to the evolution of the volcanic phenomenon and will inform in a timely manner of any changes that may occur.
Source : SGC
Santiaguito , Guatemala :
Type of activity: Pelean
Morphology: Complex of dacitics domes
Geographical location: 14 ° 44 '33˝ Latitude N; 91 ° 34'13˝ Longitude W.
Height: 2,500msnm.
Weather conditions: Clear
Wind: East 10 km / h
Rainfall: 0.0 mm.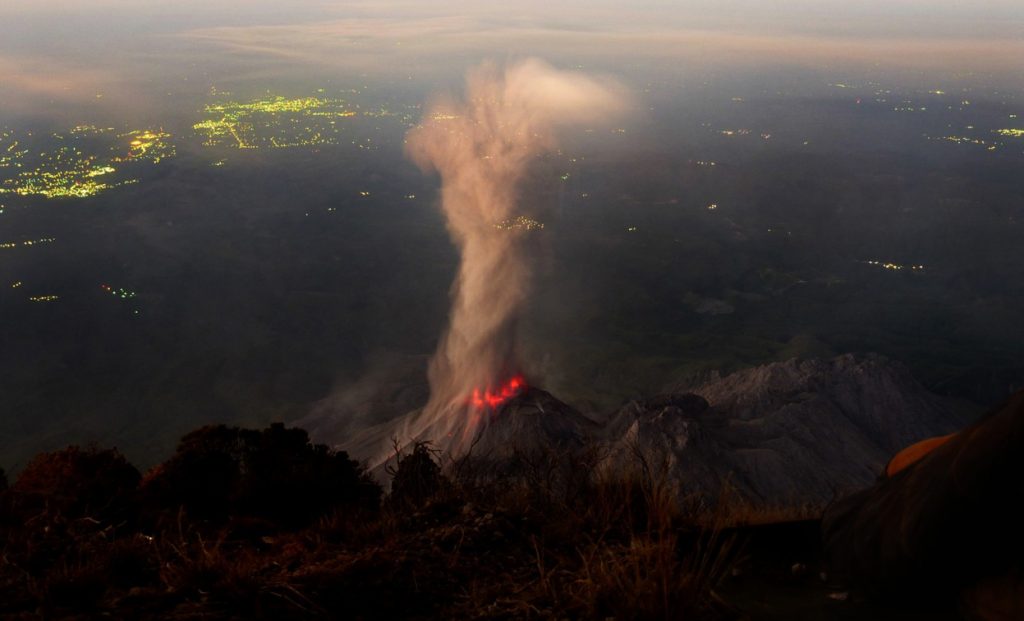 Activity:
The active dome maintains abundant white degassing and is at an approximate height of 2,900 masl (9,515 ft) dispersed in the southwest direction. The STG3 seismic station records weak explosions at night and early morning hours, generating gray columns at an approximate height of 3,200 meters (10,499 feet), moving southwest. Weak and moderate avalanches in the southeast dome.
Source : Insivumeh