December 10 , 2017. EN. Agung , Kanlaon , Vanua Lava ( Suretamatai) , Popocatepetl .
December 10 , 2017.
Agung , Indonesia :
On the basis of the results of the visual and instrumental data analysis and considering the potential threats of danger, on November 27, 2017 at 06:00, the status of G. Agung was raised from Level III (SIAGA) to Level IV (AWAS) . Since yesterday and until today visually the volcano is clearly visible until the appearance of the mist. A thick gray-white, medium-pressure ash column reaches a height of about 500 to 2000 m above the summit and slopes westward. At night, the glow of the incandescent lava in the crater of the volcano is observed. That day, there were 8 explosive / ash emissions, the height of the ash columns was 2000 m above the summit.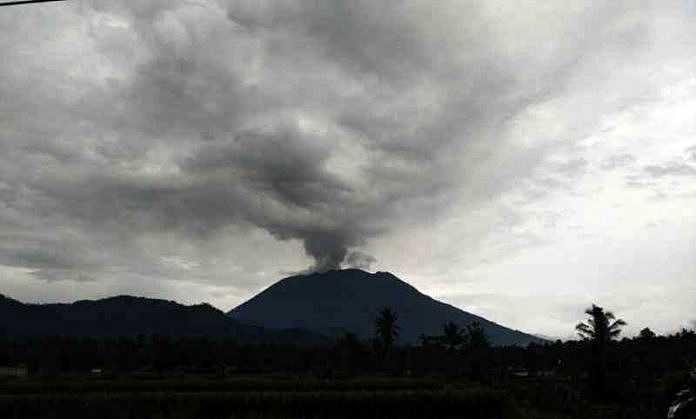 Seismograph records on December 09, 2017 have noted:
6 7 shallow volcanic volcanism (VB)
5 deep volcanic earthquakes (VA)
1 local tectonic earthquakes.
8 eruption earthquake.
35 Low Frequency events.
32 earthquakes of emission.
No harmonic tremor.
A continuous tremor with an amplitude of 1 to 5 mm and a dominant value of 1 mm.
As of December 10, 2017 (00:00 to 18:00) it has been registered:
10 emission earthquakes
1 earthquake of eruption.
4 low frequency earthquakes.
4 shallow volcanic earthquake (VB)
No deep volcanic earthquakes (VA)
No local tectonic earthquakes.
A continuous tremor with an amplitude of 1 to 8 mm and a dominant value of 1 mm.
Recommendations:
Communities around G. Agung and mountaineers / visitors / tourists must not climb, climb or do any activity in the danger zone around the G. Agung crater area and in all areas within 8 km from the crater of G. Agung. With a sectoral extension to the North-East and South-East-South-South-West up to 10 km from the crater of G. Agung. The estimated area risks are dynamic and continuously assessed and can be modified at any time based on the most recent observational data from G. Agung.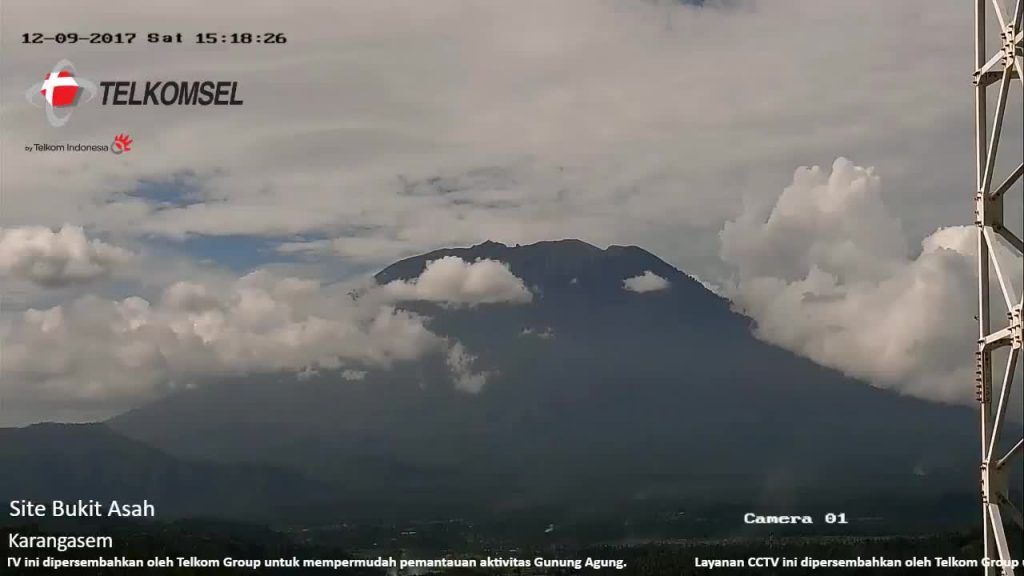 SINGARAJA, BALIPOST.com – Most hamlets in Tembok village, Tejakula subdistrict, began Saturday (9/12) to be exposed to the volcanic ash falls of Gunung Agung. The fallout from the ashes was of low intensity and was noted by residents living on the Singaraja – Amlapura roadside.
In addition to being on the roof of houses and plants, this dust clings to clothing when people travel out of the house.
According to residents, the characteristic of volcanic dust is certainly not known with certainty. From their observations it has been mentioned that ash is like fine sand with a dark gray color. Following this, masks were distributed to residents and some Gunung Agung refugees who occupy public facilities in the village. About 200 masks were distributed.
In addition to the appearance of numerous eruptions, the emission from the crater of white smoke also continues to occur. During the last six hours, there were three explosions with an amplitude of 4 to 25 mm, duration 65 to 135 seconds. Low frequency earthquakes also occurred five times.
Source : VSI , MAgma. Balipost.
Kanlaon, Philippines :
KANLAON VOLCANO BULLETIN 10 December 2017 08:00 A.M.
Kanlaon Volcano's seismic monitoring network recorded three (3) volcanic earthquakes during the past 24 hours. At 09:47 AM yesterday, a low-energy phreatic (steam-driven) eruption occurred and was recorded as an explosion-type earthquake that lasted approximately ten (10) minutes. The event ejected dark ash and voluminous steam 3-4 kilometers above the summit vent and was accompanied by rumbling sound heard as far away as La Castellana, Negros Occidental. Thin ashfall was experienced in Sitio Guintubdan, Brgy. Ara-al, La Carlota City, Brgy. Sag-ang, La Castellana and Brgy. Ilihan, Bago City, Negros Occidental. Degassing at the summit was observed to have began at 06:34 AM and was detectable as continuous low-energy tremor during periods when the summit was not visible. Ground deformation data from continuous GPS measurements indicate slight inflation of the edifice since December 2015.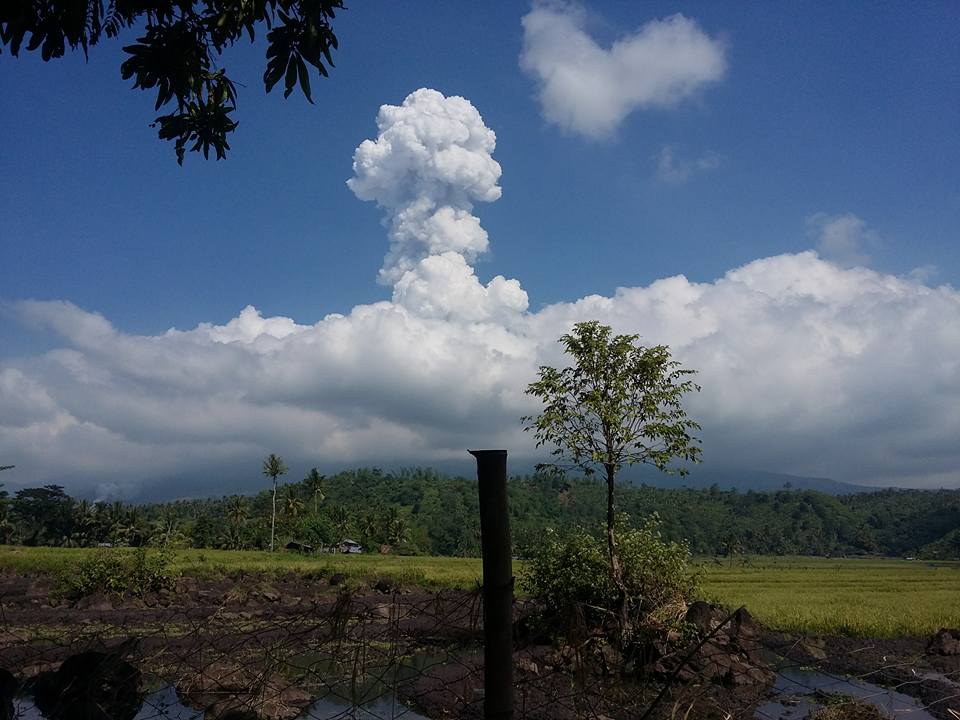 Alert Level 2 status prevails over Kanlaon Volcano, which means that the volcano is undergoing a moderate level of unrest. There is probable intrusion of magma at depth which may or may not lead to a magmatic eruption. The local government units and the public are strictly reminded that entry into the 4-kilometer radius Permanent Danger Zone (PDZ) is strictly prohibited due to the further possibilities of sudden and hazardous steam-driven or phreatic eruptions. Civil aviation authorities must also advise pilots to avoid flying close to the volcano's summit as ejecta from any sudden phreatic eruption can be hazardous to aircraft. DOST-PHIVOLCS is closely monitoring Kanlaon Volcano's activity and any new development will be relayed to all concerned.
Source : Phivolcs
Photo : Frezil Lubay , via Sherine France.
Vanua Lava , Vanuatu :
VANUA LAVA VOLCANO ALERT BULLETIN No11 issued by the Vanuatu Meteorology and Geohazards Department (VMGD) on 8th December 2017 at 13:34PM :
Volcano activity at Vanua Lava is continuing at the level of unrest state. Its Alert Level remains at Level 1. Danger is restricted to visitors approaching the active cone and the Sulfur River.
Latest observation confirm that the activity consists of ongoing volcanic steam which content high concentration of volcanic gas. The local population and visitors can smelt the volcanic gas while approaching the volcanic area.
Alert Level for Vanua Lava volcano was at Level 1 since 27th May 2016. Current observations are consistent with the Alert Level 1 activity. Level 1 indicates 'Signs of unrest'; there is signs of unrest and possible danger near eruptive vent;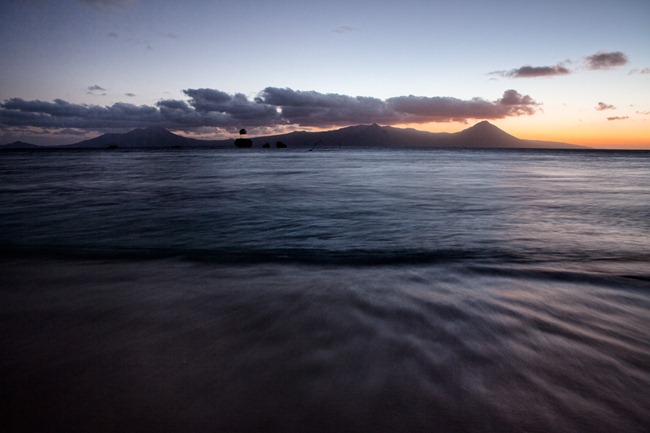 Vanua Lava volcano is one of the active volcano in Vanuatu and in contrast to other large volcanoes in the country, it does not contain a youthful summit caldera. A chain of small stratovolcanoes, oriented along a NNE-SSW line, gives the low-angle volcano an irregular profile. Historically, this volcan had low infrequent activity except in XIX century with 3 moderate manifestations and in XX century with 2 events.
This is another reminder to all tourism agencies, visitors, local authorities, and people from Vanua Lava Island and general public to must not approach the volcanic cone and the sulfur river. In this area volcanic gases is generally be present.
The Vanuatu Meteorology and Geohazards Department will closely monitor this volcano activity. More information will be provided accordingly when necessary.
Source : Geohazard Vanuatu.
Photo : mitchellktravelphoto.wordpress.com.
Popocatepetl , Mexico :
Update of December 09, 11:00 am (December 09, 17:00 GMT).
During the last 24 hours, thanks to the monitoring systems of the Popocatepetl volcano, 128 exhalations of low intensities accompanied by a continuous and low emission of water vapor and gas have been identified.
Update of December 09, 5:50 pm (December 09, 23:50 GMT).
At 17:03 h an explosion with a moderate ash content and a 2.5 km emission column height was recorded, which winds dispersed to the northeast. It is to be expected that the ashes fall back into the localities of this sector. At the time of the update, there is a constant emission of water vapor, gas and small amounts of ash. This type of activity is considered in the scenarios of the yellow phase 2 volcanic alert level.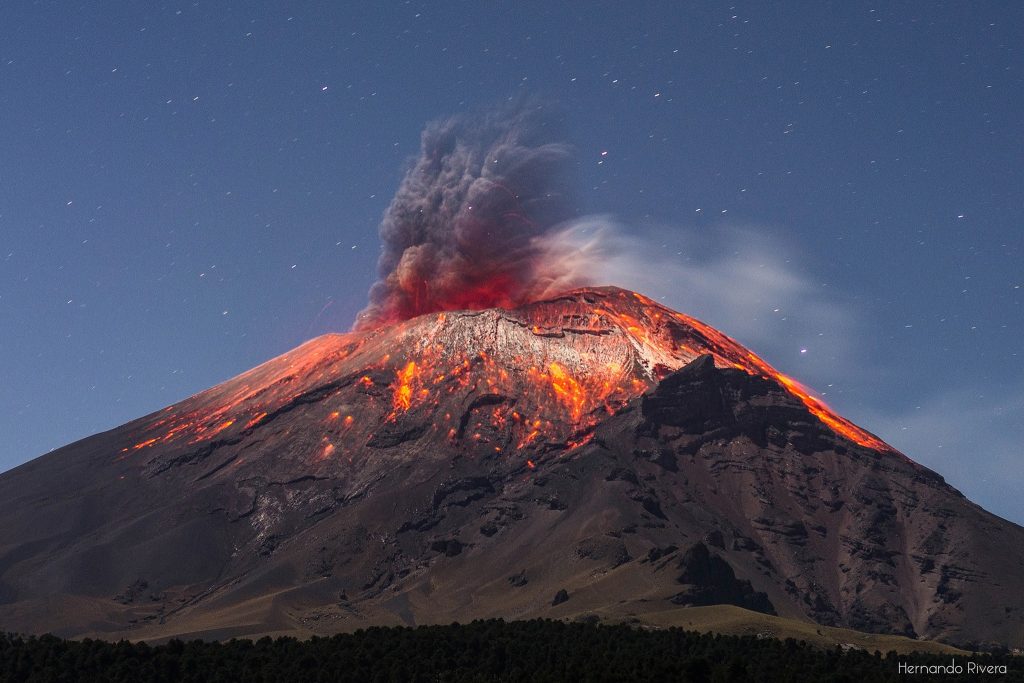 Update of December 09, 22:00 (December 10, 4:00 GMT).
At 20:39 h began to record an episode of strombolian activity with expulsion of incandescent fragments on the high slopes of the volcanic cone and ash emissions that the wind disperses to the east. It is to be expected that the ashes fall back into the localities of this sector. At the time of this update, a constant emission of water vapor, gas and ash is observed. This type of activity is considered in the scenarios of the yellow phase 2 volcanic alert level.
CENAPRED asked not to approach the volcano and in particular the crater, because of the risk of projectiles falling and in case of heavy rain to stay far from the bottom of the ravines because of the danger of landslides and mudslides.
Source : Cenapred .
Photo : Hernando Rivera