December 07 , 2017. EN . Agung , Nevados de Chillan , Shishaldin , Ambae .
Décember 07 , 2017.
Agung , Indonesia :
On the basis of the visual and instrumental data analysis and taking into account the potential threats of danger, on November 27, 2017 at 06:00, G. Agung returned from Level III (SIAGA) status to Level IV (AWAS). Since yesterday and until today visually the volcano is clearly visible until the coming of the mist. The smoke emitted from the crater is of low pressure, white / greyish, which reaches an altitude of approximately 1000 to 2000 m above the peak and which inclines towards the West, the Southwest and the East. At night, there is no visible glow of the incandescent lava in the crater of the volcano, because it is covered with fog and rain. This day, there is no explosive eruption. A strong tremor was recorded at 14:46, for 20 minutes, at 14:41 for 18 minutes and 16:26 for 24 minutes.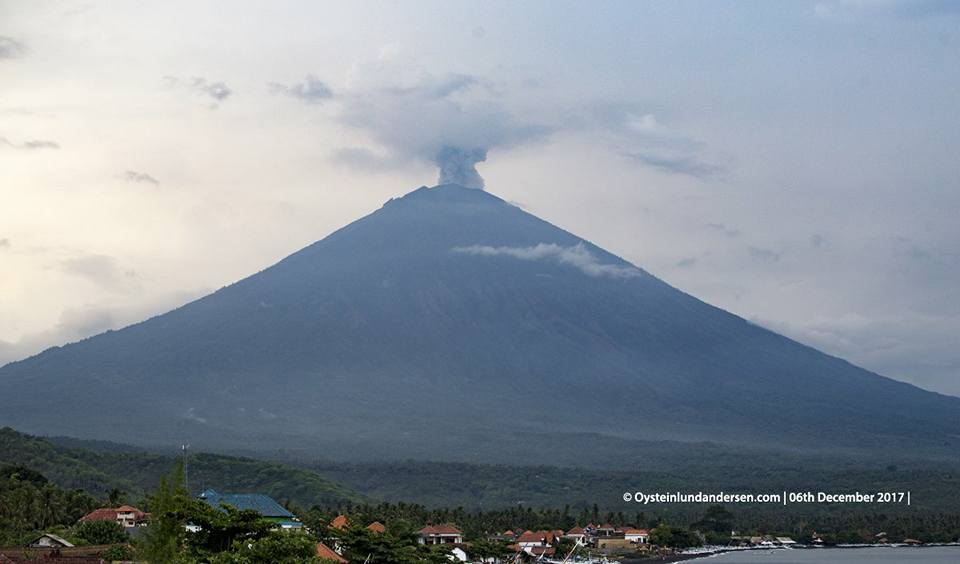 Seismograph records as of December 06, 2017 have noted:
11 shallow volcanic earthquakes (VB)
13 deep volcanic earthquakes (VA)
1 local tectonic earthquake (felt).
No earthquakes of explosive eruption.
36 low frequency earthquakes.
1 harmonic tremor.
A continuous tremor with an amplitude of 1 to 24 mm and a dominant value of 1 mm.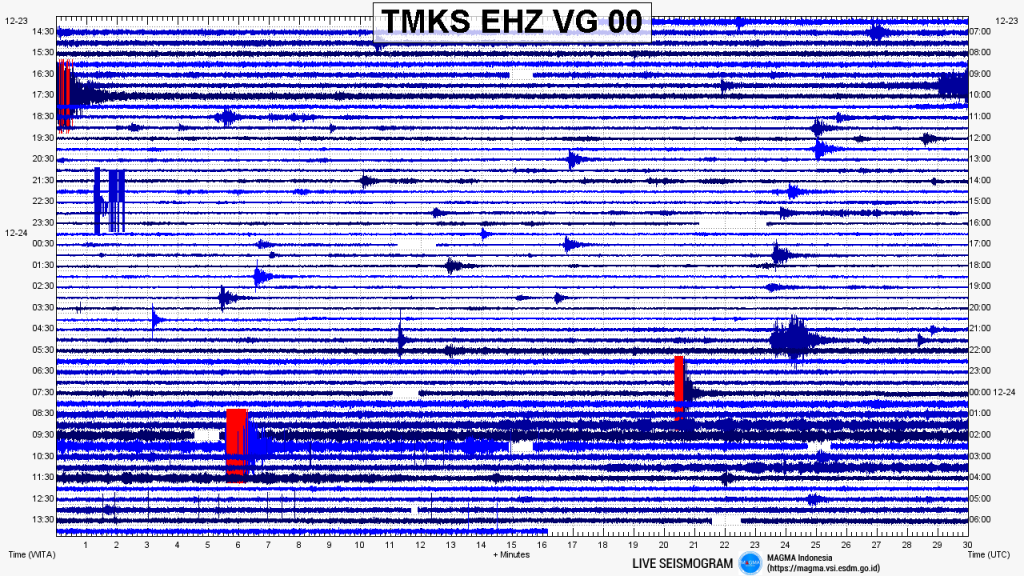 As of December 7th 2017 (from 00h00 to 18h00) it has been registered:
No emission earthquake
12 Low frequency earthquakes.
5 shallow volcanic earthquakes (VB)
4 deep volcanic earthquakes (VA)
No local tectonic earthquakes ..
A continuous tremor with an amplitude of 1 to 20 mm and a dominant value of 1 mm.
Recommendations:
The communities around G. Agung and mountaineers / visitors / tourists should not climb, climb or work in the danger zone of the G. Agung crater and in all areas within 8 km. around the crater of G. Agung. A sectoral extension has been added to the Northeast and South-East-South-South-West up to 10 km from the crater of G. Agung. The estimated area risks are dynamic and continuously assessed and can be modified at any time based on the most recent observational data from G. Agung.
Source : VSI
Photo : Oystein Lund Andersen ( 06/12)
Nevados de Chillan , Chile:
During this period, 1068 seismic events, of which eighty were classified as volcano-tectonic events (VT), processes related to the fracturing of rigid materials, with maximum local magnitudes (ML) of 2.6 were recorded. The strongest earthquake was 2.0 km south-southwest (SSO) of the active crater at a depth of 8.48 km.
Similarly, nine hundred eighty-eight earthquakes associated with fluid dynamics were recorded on the volcano. Of these, 984 were classified as Long Period Type (LP) events, with a maximum displacement value (DRC) of 13.4 cm2. In addition, a tremor event (TR) was recorded with a reduced offset value of more than 2 cm2 as well as five earthquakes with « Tornillo » (TO) characteristics, with a maximum reduced displacement value of 3 cm2.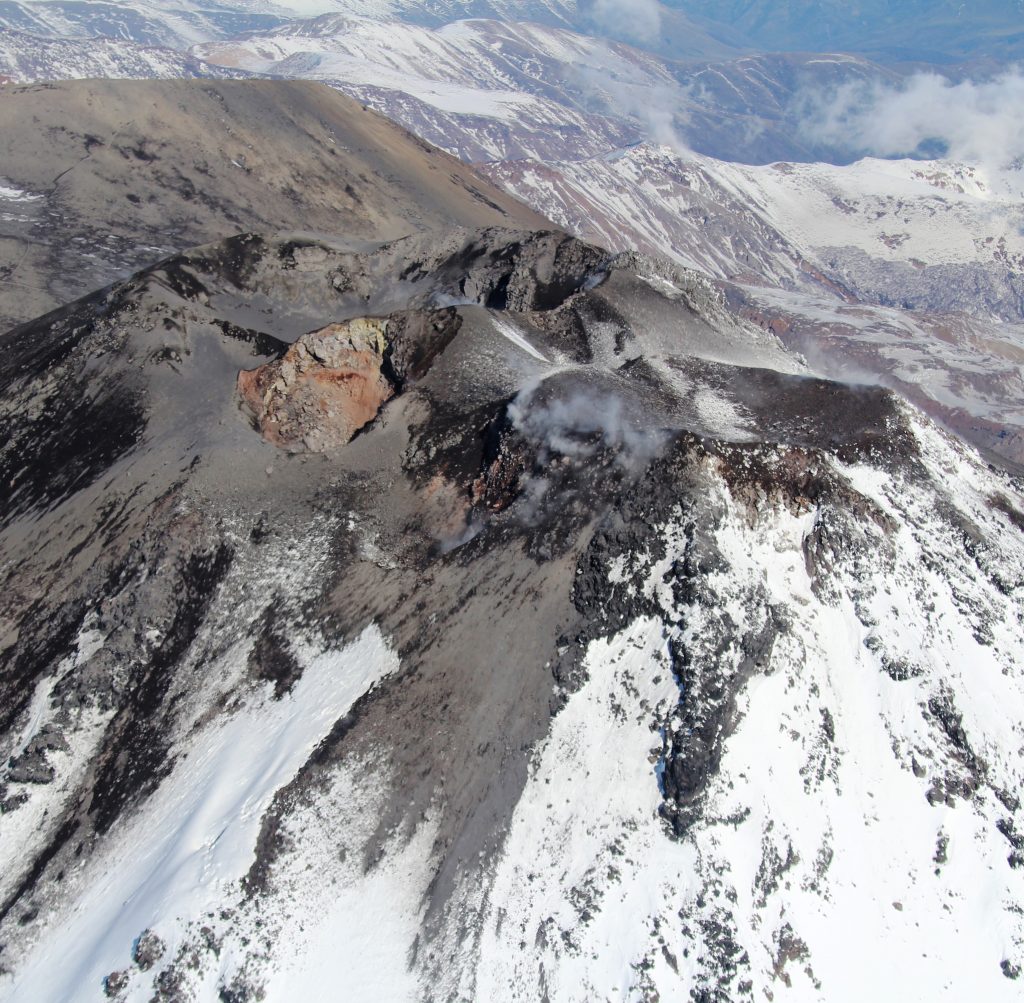 The images obtained by the cameras installed near the volcanic complex showed mainly fumaroles of emissions associated with the steam rising from craters currently active, with a maximum average column height of 100 m from the crater level.
According to the data provided by the GNSS stations which are in service on the volcano, the deformations attributable to the internal activity of the volcano are not observed. The data provided by the inclinometer stations show stable positions during the last period.
No sulfur dioxide (SO 2) emissions in the volcanic complex sector have been reported, according to data published by the ozone monitoring instrument, Sulfur Dioxide Group (IMO) (http://so2 .gsfc.nasa.gov /) and the National Environmental Satellite Information and Data Service (NESDIS) (http://satepsanoine.nesdis.noaa.gov).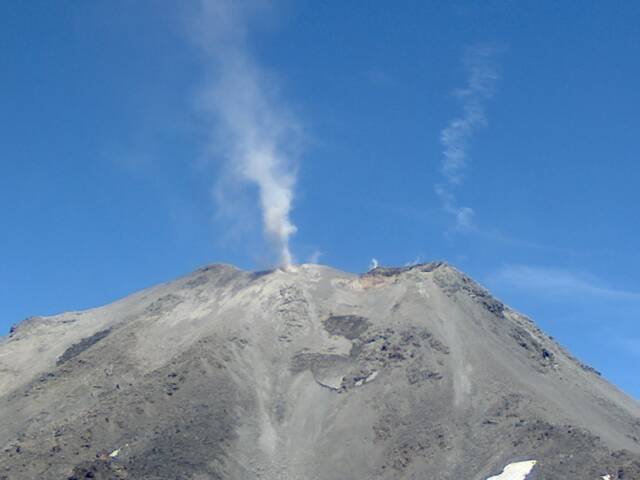 No thermal warnings were reported in the volcanic complex zone, based on data processed by the Infrared Middle Observation of Volcanic Activity (Mirova) (http://www.mirovaweb.it/).
During the second half of November no explosion was recorded in the area of ​​active craters, with discontinuous gas emissions with low power output and a whitish coloration, suggesting a high percentage of steam. water. However, a large number of surface seismic activity events persist, mainly related to fluid activities, suggesting the dynamics of a surface hydrothermal system destabilized by an underlying magma body. As a result of the above, in the current scenario it is possible that an explosive activity such as that recorded in previous months is generated again.
Due to the above, the Volcanic Technical Alert is maintained at:
YELLOW LEVEL: Changes in the behavior of volcanic activity – Probable time for an eruption: WEEKS / MONTH.
Observation: It is recommended to apply precautionary access restrictions in an area close to the crater with a radius of 3 kilometers.
Source : Sernageomin
Shishaldin , Alaska :
VOLCANO OBSERVATORY NOTICE FOR AVIATION (VONA) .
Issued: December 6 , 2017
Volcano:Shishaldin (VNUM #311360)
Current Color Code:YELLOW
Previous Color Code:GREEN
Source:Alaska Volcano Observatory
Volcano Location:N 54 deg 45 min W 163 deg 58 min
Area:Aleutians
Summit Elevation:9373 ft (2857 m)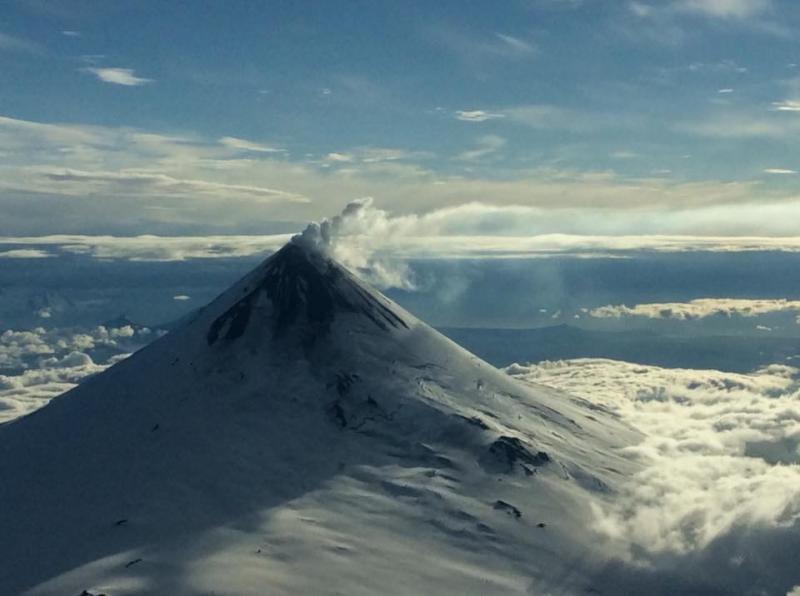 Volcanic Activity Summary:
The Alaska Volcano Observatory is raising the Aviation Color Code to YELLOW and the Alert Level to ADVISORY at Shishaldin Volcano based on increased seismic and infrasound activity over the past few weeks.
Seismic activity remains elevated and continuous infrasound (air pressure) waves were detected for more than 10 hours on instruments located in Sand Point (~230 km or 140 miles to the east). Satellite and web camera views of the volcano were obscured by clouds this morning but vigorous steam emission were observed yesterday afternoon during periods of clear weather.
These observations represent a departure from normal background activity at Shishaldin, but do not necessarily indicate that an eruption will occur.
Shishaldin is monitored by local seismic and infrasound sensors, satellite data, a web camera, a telemetered geodetic network, and distant infrasound networks.
Remarks:
Shishaldin volcano, located near the center of Unimak Island in the eastern Aleutian Islands, is a spectacular symmetric cone with a base diameter of approximately 16 km (10 mi). A 200-m-wide (660 ft) funnel-shaped summit crater typically emits a steam plume and occasional small amounts of ash. Shishaldin is one of the most active volcanoes in the Aleutian volcanic arc, with at least 54 episodes of unrest including over 24 confirmed eruptions since 1775. Most eruptions are relatively small, although the April-May 1999 event generated an ash column that reached 45,000 ft above sea level.
Source : AVO
Photo : Wetzel, Tarek ( 07/2016 )
Ambae , Vanuatu :
AMBAE VOLCANO ALERT BULLETIN No16 issued by the Vanuatu Meteorology and Geohazards Department (VMGD) on 7th December 2017 at 10:14AM :
Eruptive activity at Ambae has dropped to the level of minor eruption . Its Alert Level is lowered from Level 3 to Level 2.
The volcanic eruption at Ambae confined inside the Lake Voui become stable. New scientific analyses confirm that the activity is currently drop. As a consequence, the Volcanic Alert Level is lowered to Level 2.
The restricted area of risk is now limited within 2 km from the active vent in Lake Voui.
Observations done on 22nd to 29th November 2017 confirm that the eruptive activity occurred in September until end November 2017 is dropped. Explosions are less frequent and volcanic cloud emitted are white colour, means only steam. These observations and the analysis of seismic data confirms that the volcano activity has dropped to the major unrest state. The volcano activity consist of ongoing emission of steam cloud and/or volcanic gas. The local population and visitors can smelt the volcanic gas while approaching the volcanic area.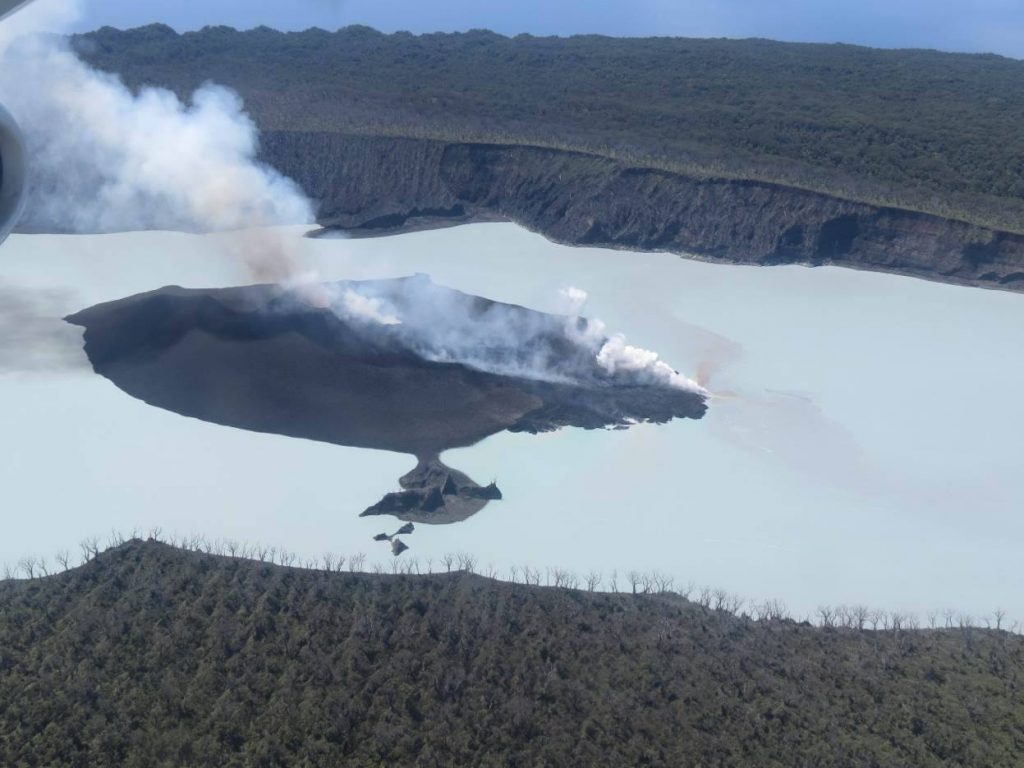 The eruption at Ambae started in September, when the Volcanic Alert Level was raised to Level 3. The style of eruption has changed around 22 September when Geohazards staff observed lava (molten rock) at the surface for the first time. This was a significant change and raised the level of uncertainty about the development of the eruption. The volcanic Alert Level was also raised at that time to Level 4. With more observations and the analysis of seismic, gas, thermal and deformation data by scientists from the Geohazards Division of the Vanuatu Meteorology and Geohazard Department (VMGD) and the international counterpart, it is confirmed that the volcano has settled in a more stable state of activity, therefore the Alert Level was dropped to Level 3 on 6th October 2017. The current observations are consistent with the Alert Level 2 activity.
Ambae volcano is a very large volcano and is frequently active. In the recorded history, there have been many eruptions, every 10-50 years over the past 150 years. All have been from the summit craters, except one recorded in 1670's when a lava flow occurred in the Ndui Ndui area. The current eruption is focused in the summit crater and there are no indications of activity elsewhere on Ambae Island.
Advaes to all tourism agencies, local autorities, people of Ambae and the general public not to access the Danger Zone which is about 2 km radius from the eruptive vent. In this area volcanic gases are expected and maybe abundant.
Source : Geohazard Vanuatu