November 24 , 2017. EN . Popocatépetl , Sinabung , Ebeko , Öræfajökull .
November 24 , 2017.
Popocatépetl , Mexico :
Activity Bulletin of November 23, 11:00 am (November 23, 17:00 GMT).
In the last 24 hours, through monitoring systems of the Popocatepetl volcano, 188 low intensity exhalations accompanied by water vapor and gas have been identified. In addition, 1 explosion was recorded yesterday at 11h20.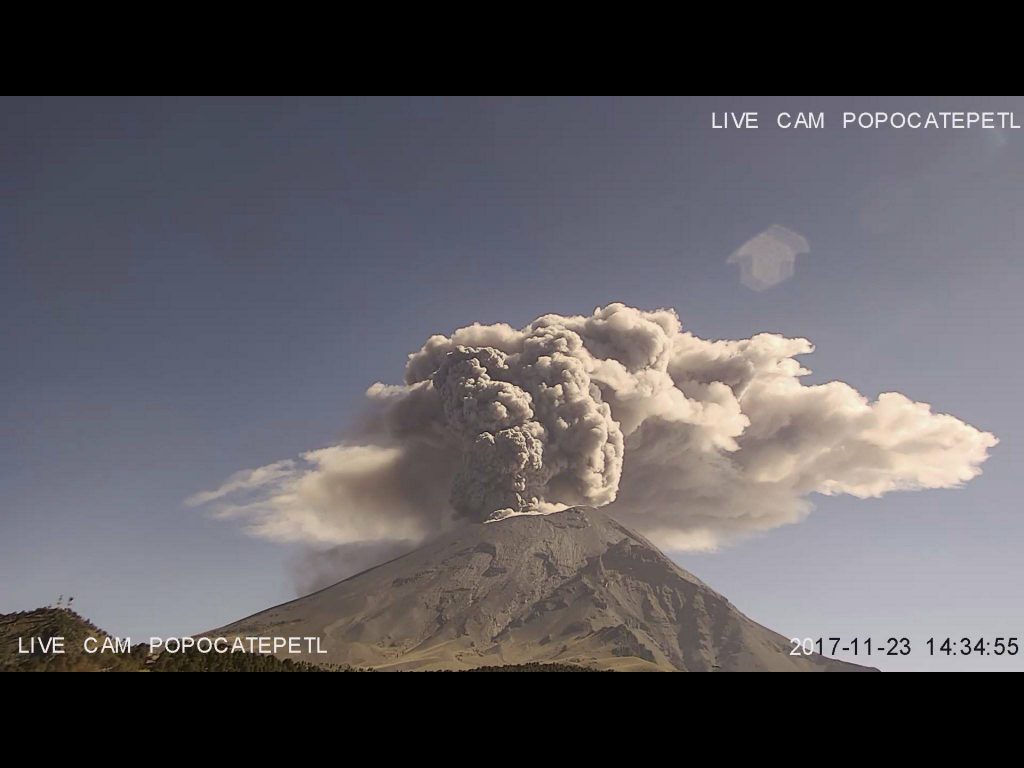 During this period, a volcano-tectonic earthquake was also detected yesterday at 20:57 h with an amplitude of M2,2. Similarly, 127 minutes of harmonic tremor of low amplitude were recorded.
Update of November 23, 14:50 (November 23, 20:50 GMT).
From 14:13, a continuous emission of ashes began, dispersing in the direction South-South-East, which prevails for the moment. The emission reaches a height of 2km. Ash falls are expected in the South-South-East sector. Popocatepetl Volcano Alert Level Remains Yellow Phase 2.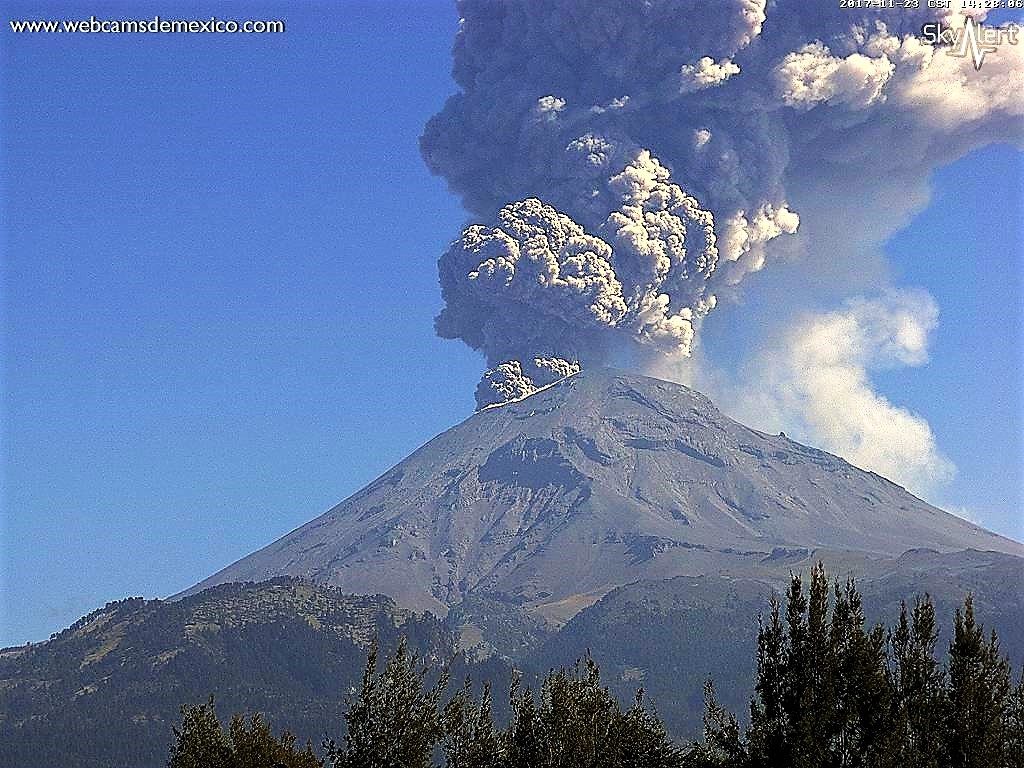 CENAPRED asked not to approach the volcano and in particular the crater, because of the risk of falling of projectiles, and in case of heavy rain, to remain far from the bottom of the ravines because of the danger of landslides and flows mud.
The volcanic alert level of Popocatepetl is located at Amarillo Phase 2.
Source : Cenapred .
Sinabung , Indonesia :
Level of Activity at Level 4 (AWAS). The Sinabung (2460 m altitude) from yesterday to this morning, was seen clearly, partially but generally covered by fog. The smoke emitted from the crater is not observed. The wind blows from south to southwest. Thanks to the seismographs, it was recorded 1 eruption / emission. Visually, the height of the column of ash can not be observed because the mountain is covered with fog. There were also recorded 46 landslides with a sliding distance of 500 to 1500 m, to the east, south-east and south.
recommendations:
Communities / visitors should not do activities within 3 km of the summit, and by sector, 7 km south-southeast, 6 km east-southeast and 4 km to North-east.
Deposits have formed a dam upstream on the Laborus River, people living in downstream river basins need to maintain vigilance because these dams can collapse at any time, creating downstream lahars / floods.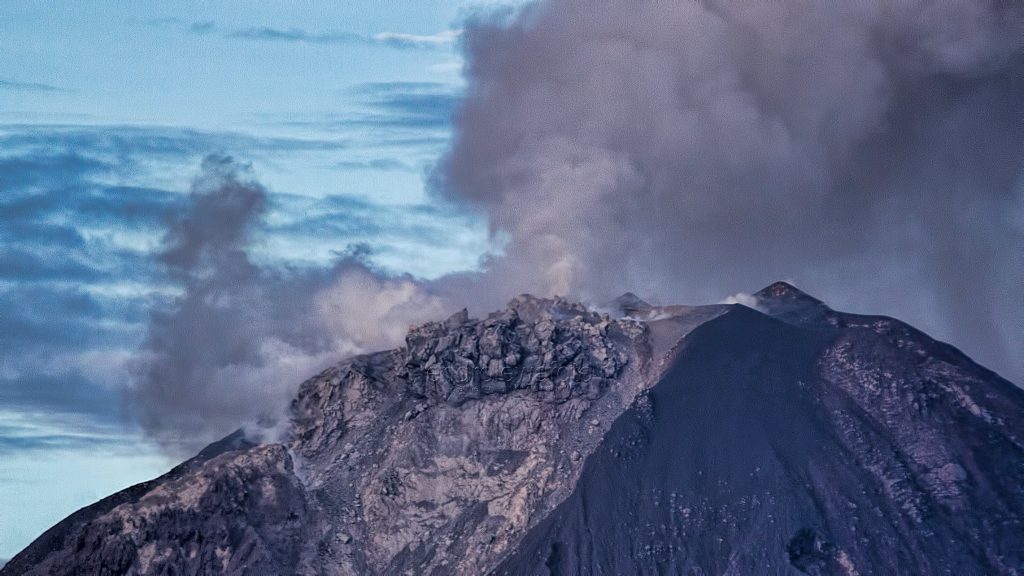 VOLCANO OBSERVATORY NOTICE FOR AVIATION – VONA.
Issued: November 24 , 2017.
Volcano: Sinabung (261080)
Current Aviation Colour Code: ORANGE
Previous Aviation Colour Code: orange
Source: Sinabung Volcano Observatory
Notice Number: 2017SIN631
Volcano Location: N 03 deg 10 min 12 sec E 98 deg 23 min 31 sec
Area: North Sumatra, Indonesia
Summit Elevation: 7872 FT (2460 M)
Volcanic Activity Summary:
Eruption with ash clouds at 01:57 UTC (08:57 local time). The eruption is still continouing
Volcanic Cloud Height:
Best estimate of ash-cloud top is around 14272 FT (4460 M) above sea level, may be higher than what can be observed clearly. Source of height data: ground observer.
Other Volcanic Cloud Information:
Ash cloud is moving to south-southwest.
Remarks:
Seismic activity is characterized by the Deep Volcanic Earthquake, Low Frequency Earthquake, and Hybrid Earthquake.
Source : VSI / Magma.
Photo : Endro Lewa
Ebeko , Kamchatka :
50.69 N, 156.01 E;
Elevation 3792 ft (1156 m)
Aviation Colour Code is ORANGE
A moderate gas-steam with some amount of ash activity of the volcano continues. Ash explosions up to 16,400 ft (5 km) a.s.l. could occur at any time. Ongoing activity could affect low-flying aircraft and airport of Severo-Kurilsk.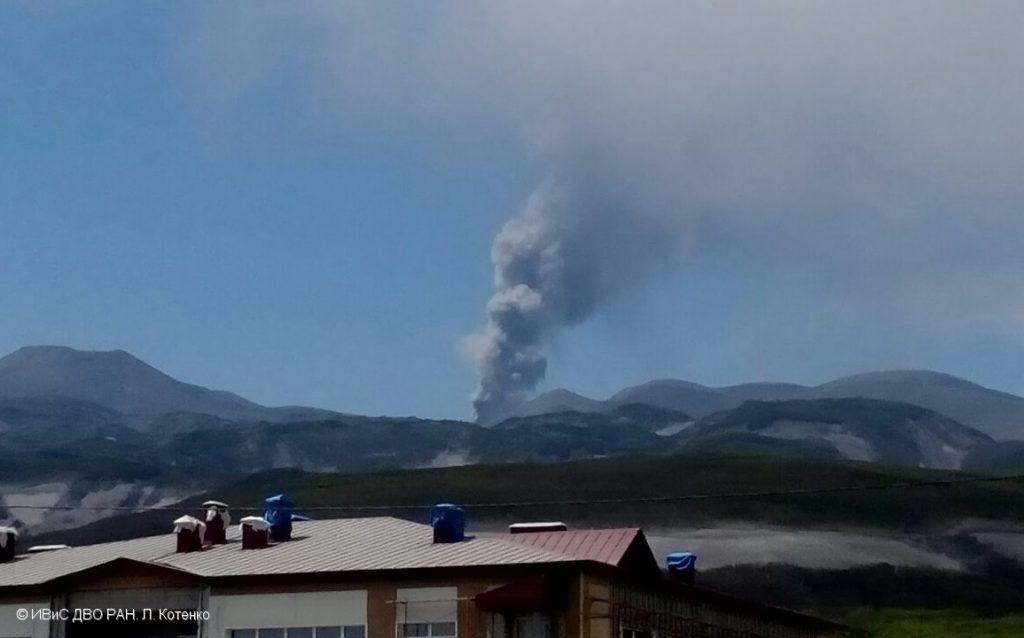 A moderate explosive activity of the volcano continues. According to visual data by volcanologists from Severo-Kurilsk, explosions sent ash up to 2.0 km a.s.l. on 17-18 and 20-21 November, the volcano was obscured by clouds in the other days of week. An ashfall was noting at Severo-Kurilsk on 22 November. Satellite data by KVERT showed the volcano was quiet or obscured by clouds.
Source : Kvert
Photo : L. Kotenko, IVS FEB RAS
Öræfajökull , Iceland :
Öræfajökull volcano: Emergency evacuation plan presented today .
22 NOVEMBER 2017. An emergency evacuation plan will be issued today in case of an eruption in Öræfajökull. According to project manager Rögnvaldur Ólafsson at the Iceland Civil Protection unit, police is currently visiting farms in South Iceland to present the evacuation plan.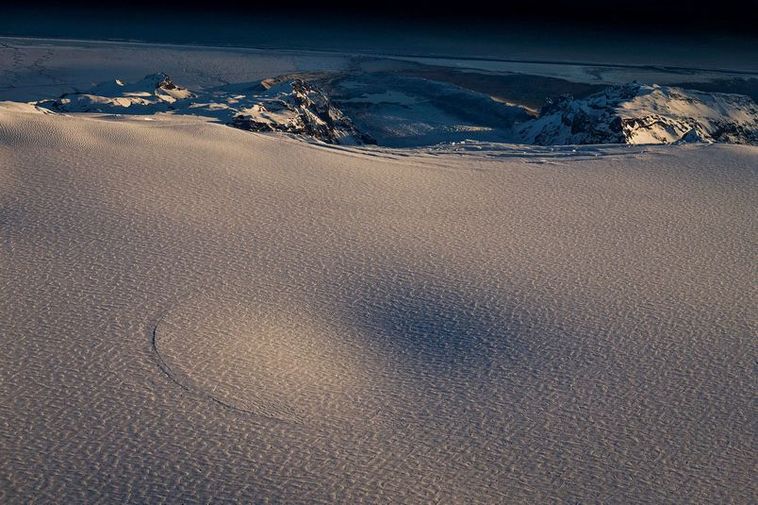 « This is being done in the unlikely event that an eruption will occur without warning, » he says speaking to mbl.is where floods from the glacier melting in the eruption would destroy farms and farmland.
He adds that their Plan A is to evacuate the area fully before anything happens, if it does
Source : icelandmonitor.mbl.is