November 21 , 2017. EN. Sabancaya , Etna , Santiaguito , Sinabung .
November 21 , 2017.
Sabancaya , Peru :
The number of explosions increased during this week, averaging 82 explosions a day. The predominance of earthquakes related to the movement of fluids (Long Period type) continues, followed by events associated with the emission of ash (Tremor). Events that indicate the rise of magma (type Hybrids) continue to be low in number and energy. 
The eruptive columns of gas and ash remained similar to the previous week, reaching a maximum height of about 4000 m above the crater. The dispersion of these materials occurred within a radius of approximately 40 km, mainly in the North, North-West and North-East directions.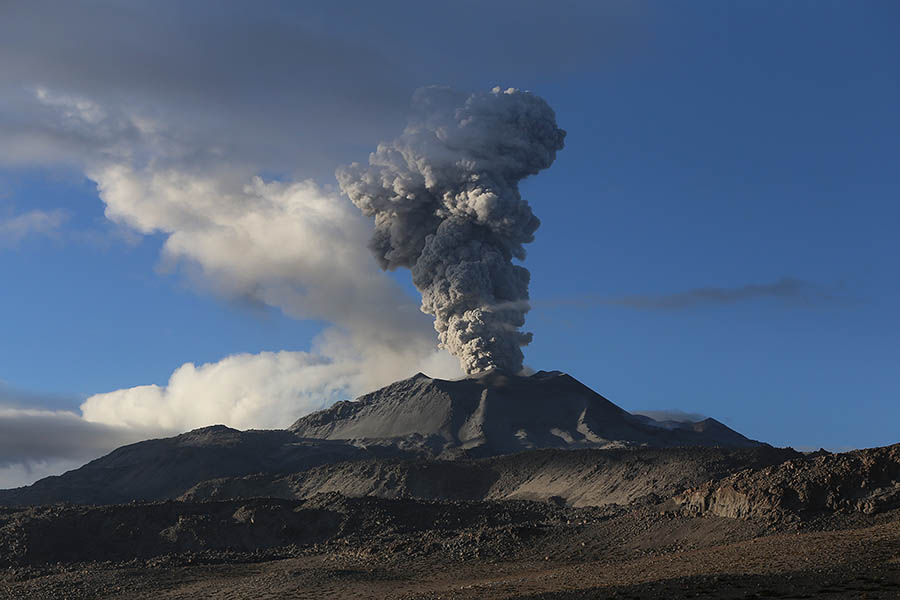 
Deformation monitoring in the SNSE GNSS station over the last week has not recorded changes in deformation, and maintains a horizontal trend. The volcanic gas flow (SO2) recorded on November 13, has a maximum value of 3103 tons / day, a value considered large. 
There were 8 thermal anomalies recorded according to the MIROVA system, with values ​​between 1 MW and 56 MW VRP (Irradiated Volcano Power).
The eruptive activity shows a slight increase compared to the previous week and it is possible that this behavior will continue in the days to come.
Source : IGP
Etna , Sicily :
During the past five months, the activity at Etna has been characterized by the usual degassing from the summit craters, and weak, sporadic emissions of ash from the « saddle cone » of the New Southeast Crater (NSEC).
Degassing occurred mainly from the 7 August 2016 vent on the east rim of the Voragine crater (VOR), and the western inner pit of the Bocca Nuova (BN), the latter of which has also been affected by further subsidence. During the month of October 2017, the sound of high-pressure degassing could periodically be heard from the interior of that vent, which at times were accompanied by weak ash emissions. At the Northeast Crater (NEC), as in previous month fumarolic activity occurred from various areas on the inner crater walls, and the crater itself remains completely obstructed.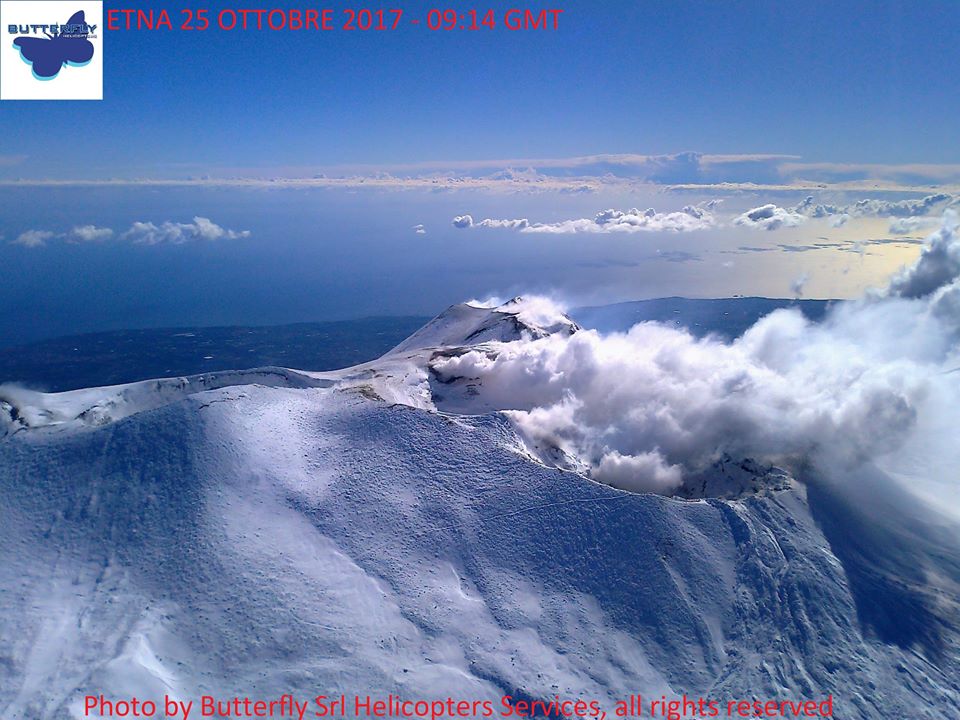 Since 20 September 2017, sporadic emissions of ash have resumed at the « saddle cone » of the NSEC, at intervals that varied from a few hours to more than a week. These explosions were in a few cases accompanied by the ejection of incandescent pyroclastics, which generated anomalies in the images of the thermal surveillance cameras at Nicolosi (ENT) and on the Montagnola (EMOT). Furthermore, during most nights since a few weeks, weak, fluctuating glows have been observed within the easternmost vent of the NSEC, which had opened on 25 November 2015.
Source : INGV
Photo : Joseph Nasi
Santiaguito , Guatemala :
Activity type: Peléan
Morphology: Complex of dacitic domes
Geographical location: 14 ° 44 '33 ˝ Latitude N; 91 ° 34'13˝ Longitude W.
Height: 2,500msnm.
Atmospheric conditions: Cloudy
Wind: East at 5 km / h
Precipitation: 0.0 mm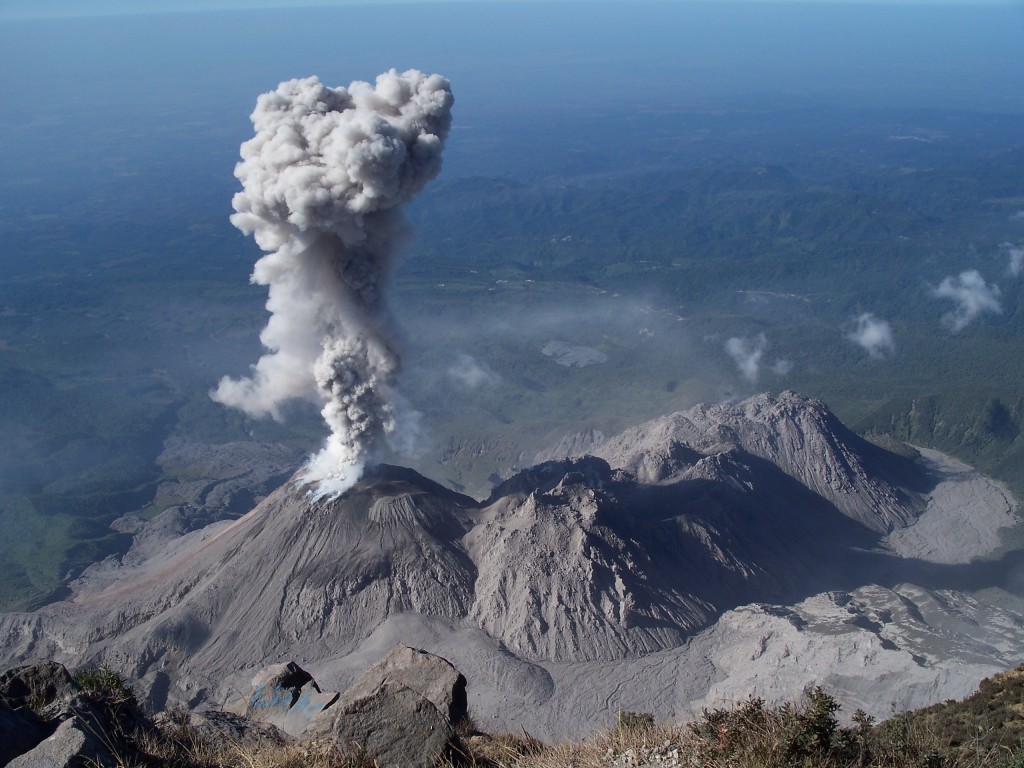 Activity:
Presence of a white degassing at 2900 m of altitude which disperses towards the South-East. The station records 15 low to moderate explosions that emit white ash columns at 3100-3300 m (10170-10825 ft), which have a southwesterly direction of dispersion. There are some weak to moderate avalanches on the Southeast Dome with short trips.
Source : Insivumeh
Sinabung , Indonesia :
Level of Activity : Level 4 (AWAS). The Sinabung (2460 m altitude) since yesterday until this morning, was visually observed clearly, partially but generally covered with fog. The smoke rising from the crater is not observed. The wind blows from south to southwest. Thanks to the recording of the seismographs, it was noted 3 eruptions / emissions. Visually, the height of the ash column reached 3200 m. The eruptions are not accompanied by hot clouds. 39 landslides were recorded with a slip distance of 1000 to 1500m to the east, south-east and south.
Recommendations:
Communities / visitors must avoid activities within a radius of 3 km around the summit, and sectorally 7 km South-South-East, 6 km East-South-East and 4 km East-North. East .
The ash deposits have formed a dam upstream on the Laborus River and people living in downstream river basins need to be vigilant because these dams can collapse at any time and cause lahars / floods.
VOLCANO OBSERVATORY NOTICE FOR AVIATION – VONA.
Issued: November 21 , 2017
Volcano: Sinabung (261080)
Current Aviation Colour Code:ORANGE
Previous Aviation Colour Code: orange
Source: Sinabung Volcano Observatory
Notice Number: 2017SIN621
Volcano Location: N 03 deg 10 min 12 sec E 98 deg 23 min 31 sec
Area: North Sumatra, Indonesia
Summit Elevation: 7872 FT (2460 M)
Volcanic Activity Summary:
Eruption with ash clouds at 01:53 UTC (08:53 local time). Eruption and ash emission is continuing.
Volcanic Cloud Height:
Best estimate of ash-cloud top is around 14272 FT (4460 M) above sea level, may be higher than what can be observed clearly. Source of height data: ground observer.
Other Volcanic Cloud Information:
Ash-cloud moving to east-northeast
Remarks:
Seismic activity is characterized by the Deep Volcanic Earthquake, Low Frequency Earthquake, and Hybrid Earthquake.
Source : VSI / Magma.
Photo : Endro Lewa