November 14 , 2017. Sabancaya , Pacaya , Bulusan , Sinabung , Katmai .
November 14 , 2017.
Sabancaya , Peru :
Explosive activity during this week has increased in number and energy, averaging 66 explosions a day. The activity of Tremor (ash emissions) recorded an average duration of one hour per day. The predominance of earthquakes related to fluid movements (Long Period type) continues. Events that indicate the rise of magma (type Hybrids) continue to be low in number and energy. 
The eruptive columns of gas and ash remained similar to those of the previous week, reaching a maximum height of about 4000 m above the crater. The dispersion of these materials occurred within a radius of approximately 50 km, mainly in the North-West, South-East and East directions.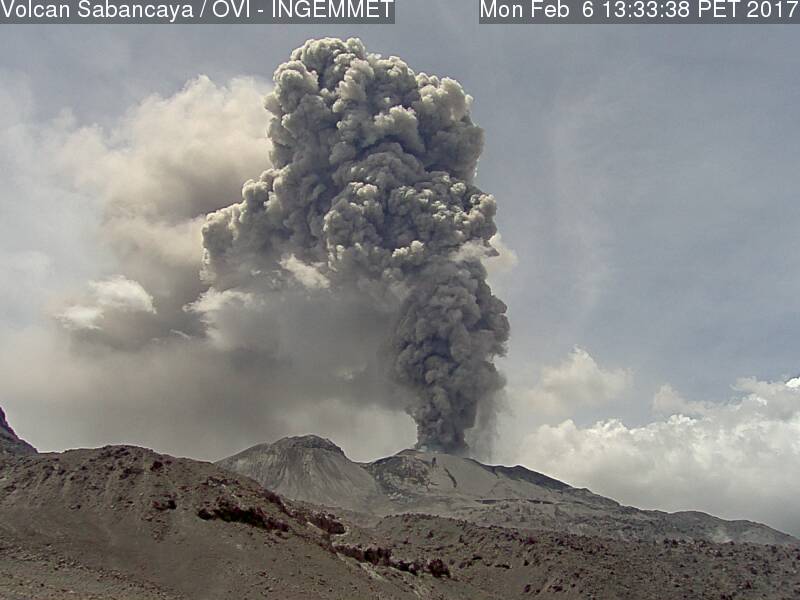 
Deformation monitoring at the SBSS GNSS station over the past week has seen a slight positive change in deformation, synonymous with inflation. The volcanic gas (SO2) flow recorded on November 8 a maximum value of 2763 tons / day, a value considered high. 
Six thermal anomalies were recorded according to the MIROVA system, with values ​​between 1 MW and 48 MW VRP (Irradiated Volcano Power).
Eruptive activity increased compared to the previous week. It is possible that this behavior will continue in the next few days.
Source : IGP
Photo : Archive ingemmet
Pacaya , Guatemala :
Type of activity: Strombolienne
Morphology: Composite Stratovolcan
Location: 14 ° 22'50˝ Latitude N; 90 ° 36'00˝ Longitude W.
Height: 2,552msnm.
Weather Conditions: Partly Cloudy
Wind: North
Precipitation: 0.0 mm.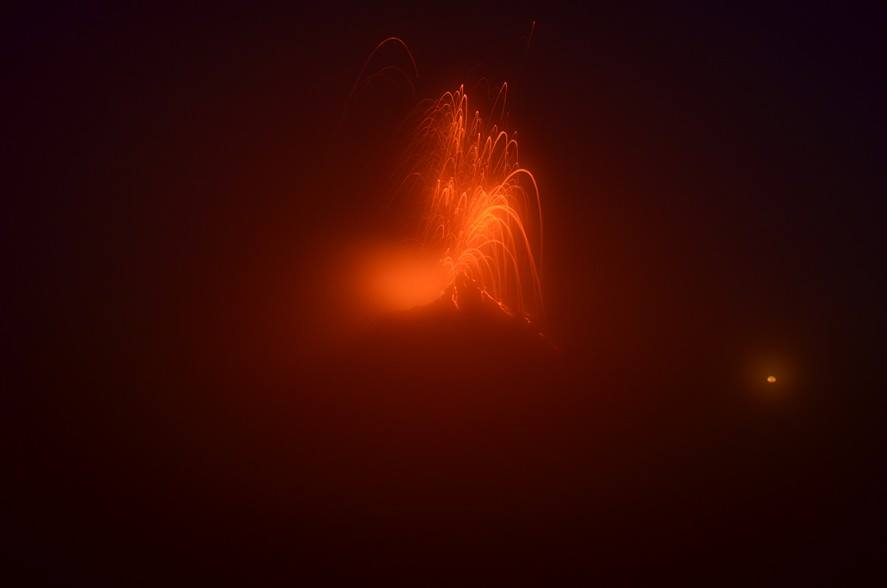 Activity:
Moderate degassing smoke of white and sometimes blue color at low altitude above the crater dispersing to the south. There are slight rumblings. Strombolian-type explosions reach an approximate height of 25 meters above the crater.
Source : Insivumeh
Photo : Nath Duverlie ( LAVE)
Bulusan , Philippines :
BULUSAN VOLCANO BULLETIN 14 November 2017 8:00 A.M.
Bulusan Volcano's seismic monitoring network recorded three (3) volcanic earthquakes during the past 24 hours. Degassing at the active vents could not be observed due to thick clouds covering the summit. Sulfur dioxide (SO2) emission was measured at an average of 87 tonnes/day on October 26, 2017. Precise leveling data obtained on August 23 to September 1, 2017 indicated inflationary changes relative to June 2017. Continuous GPS measurements also indicate inflationary trend since July 2016. Alert Level 1 (abnormal) status remains in effect over Bulusan Volcano, which means that it is currently in a state of unrest probably driven by hydrothermal processes that could generate steam driven or phreatic eruptions.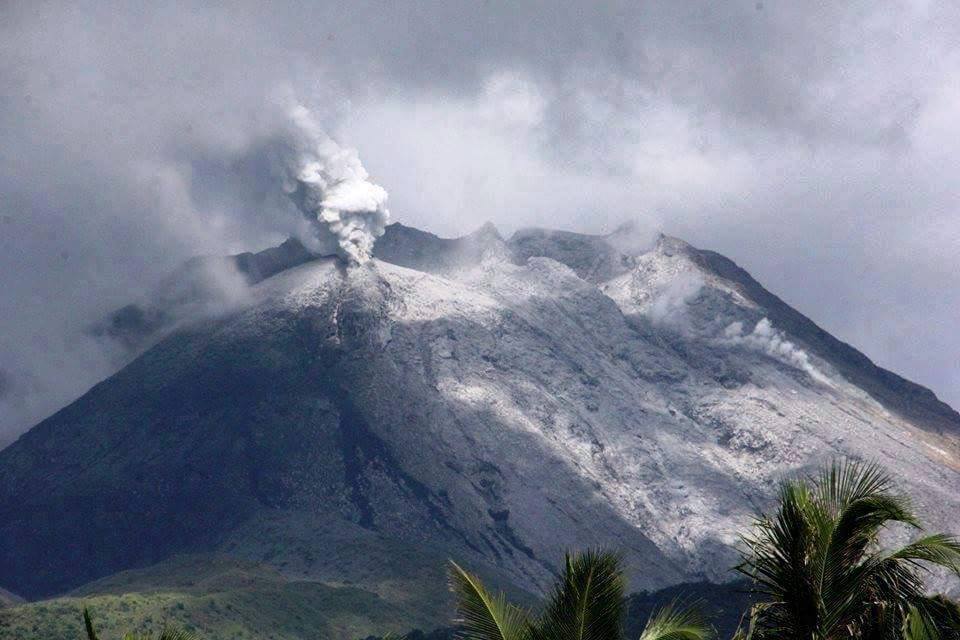 Local government units and the public are reminded that entry into the 4-kilometer radius Permanent Danger Zone (PDZ) is strictly prohibited and that vigilance in the Extended Danger Zone (EDZ) must be exercised due to the increased possibilities of sudden and hazardous phreatic eruptions. Civil aviation authorities must also advise pilots to avoid flying close to the volcano's summit as ash from any sudden phreatic eruption can be hazardous to aircraft. Furthermore, people living within valleys and along river/stream channels especially on the southeast, southwest and northwest sector of the edifice should be vigilant against sediment-laden stream flows and lahars in the event of heavy and prolonged rainfall. DOST-PHIVOLCS is closely monitoring Bulusan Volcano's condition and any new development will be communicated to all concerned stakeholders.
Source : Phivolcs.
Sinabung , Indonesia :
Level IV Activity Level (AWAS). The Sinabung (2460 m altitude) since yesterday until this morning was visually observed clear until the appearance of the mist. The wind is oriented to the east and south-east. By the seismographs, it was recorded 2 eruptions / emissions. Visually, the maximum height of the ash column was 2500 m. The eruption was not accompanied by a hot cloud. 58 earthquakes with a sliding distance of 1000 to 1500m were also recorded to the East and South.
Recommendations:
Communities / visitors should not engage in activities within 3 km of the summit, and sectorally 7 km South-South-East, 6 km South-East and 4 km East-North. . -East .
Considering that dams have been created upstream of the Laborus River, residents living downstream around the watersheds must be vigilant as these dams may degrade, resulting in lahars / floods downstream.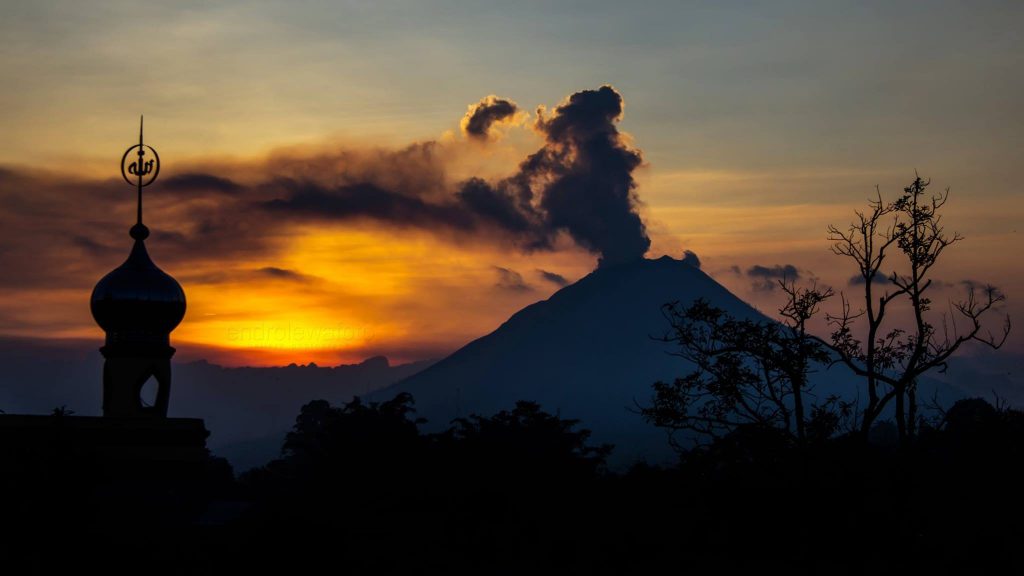 VOLCANO OBSERVATORY NOTICE FOR AVIATION – VONA.
Issued: 20171114/0751Z
Volcano: Sinabung (261080)
Current Aviation Colour Code: ORANGE
Previous Aviation Colour Code: orange
Source: Sinabung Volcano Observatory
Notice Number: 2017SIN604
Volcano Location: N 03 deg 10 min 12 sec E 98 deg 23 min 31 sec
Area: North Sumatra, Indonesia
Summit Elevation: 7872 FT (2460 M)
Volcanic Activity Summary:
Eruption with volcanic ash clouds at 07:45 UTC (14:45 local time). The eruption lasted for 173 seconds
Volcanic Cloud Height:
Best estimate of ash-cloud top is around 10432 FT (3260 M) above sea level, may be higher than what can be observed clearly. Source of height data: ground observer.
Other Volcanic Cloud Information:
Ash clouds is moving to south-southwest
Remarks:
seismic activity is characterized by deep volcanic events, Low Frequency and Hybrid events.
Source : VSI / Magma .
Photo : Endro Lewa
Katmai , Alaska :
58°16'44 » N 154°57'12 » W,
Summit Elevation 6716 ft (2047 m)
Current Volcano Alert Level: NORMAL
Current Aviation Color Code: GREEN
Strong northwest winds in the vicinity of Katmai and the Valley of Ten Thousand Smokes have picked up loose volcanic ash erupted during the 1912 Novarupta-Katmai eruption and carried it to the southeast today. As seen in satellite images from this morning, the resulting resuspended ash cloud extends approximately 120 km (72 miles) over Shelikof Strait and Kodiak Island at an altitude of up to 3 km (1.8 miles).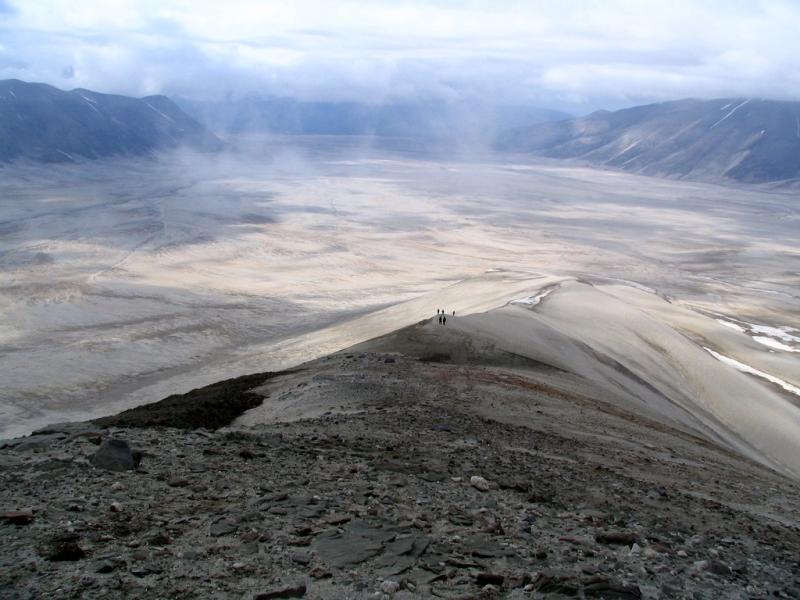 The valley of the 10000 fumes seen from Blaked Mountain
This phenomenon is not the result of recent volcanic activity and occurs during times of high winds and dry snow-free conditions in the Katmai area and other young volcanic areas of Alaska. No eruption is in progress. All of the volcanoes of the Katmai area (Snowy, Griggs, Katmai, Novarupta, Trident, Mageik, Martin) remain at color code GREEN.
Resuspended volcanic ash should be considered hazardous and could be damaging to aircraft and health.
Source : AVO
Photo : Tilman, M. R. ( juin 2007)