November 11 , 2017 . EN. Popocatepetl , Katmai , Mauna Loa , Kilauea .
November 11 2017 .
Popocatepetl , Mexico :
November 10, 11:00 am (November 10, 17:00 GMT)
In the last 24 hours, according to the seismic monitoring systems of the Popocatépetl volcano, 432 low intensity exhalations have been identified, accompanied by water vapor, gas and light amounts of ash. Today there were three explosions, the first and most important occurred at 07:34, which generated a column of 3 km altitude, with a moderate ash content, oriented to the southwest. In addition, a volcano-tectonic earthquake was recorded yesterday at 10:23 am with a magnitude of M1.8.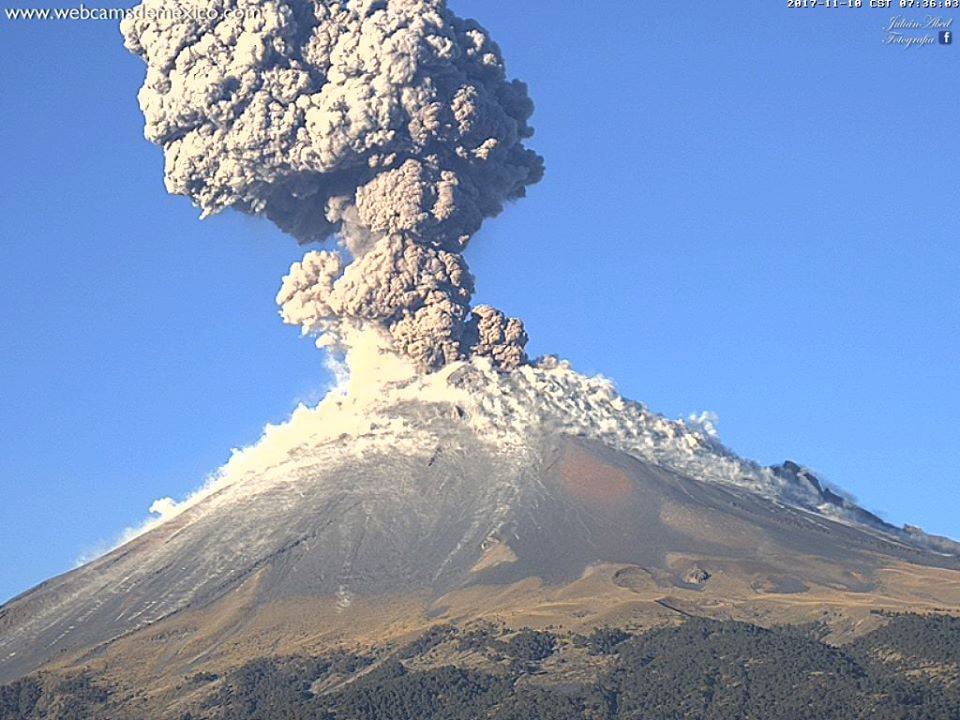 During the night, a slight incandescence was observed on the crater which increased at the time of some of the exhalations.
From this morning until the moment of this report, there has been a continuous emission of steam and gas.
The other monitoring parameters remain unchanged.
CENAPRED asked not to approach the volcano and in particular the crater, because of the risk of falling shards and projectiles and in case of heavy rain to stay away from the bottoms of the ravines because of the danger of landslides and of mudslides.
The Popocatepetl volcanic alert signaling semaphore is located at Amarillo Phase 2.
Source : Cenapred .
Katmai , Alaska :
58°16'44 » N 154°57'12 » W,
Summit Elevation 6716 ft (2047 m)
Current Volcano Alert Level: NORMAL
Current Aviation Color Code: GREEN
Strong northwest winds in the vicinity of Katmai and the Valley of Ten Thousand Smokes have picked up loose volcanic ash erupted during the 1912 Novarupta-Katmai eruption and carried it to the southeast today. As seen in a satellite image from this afternoon, the resulting resuspended ash cloud extends over Shelikof Strait and Kodiak Island.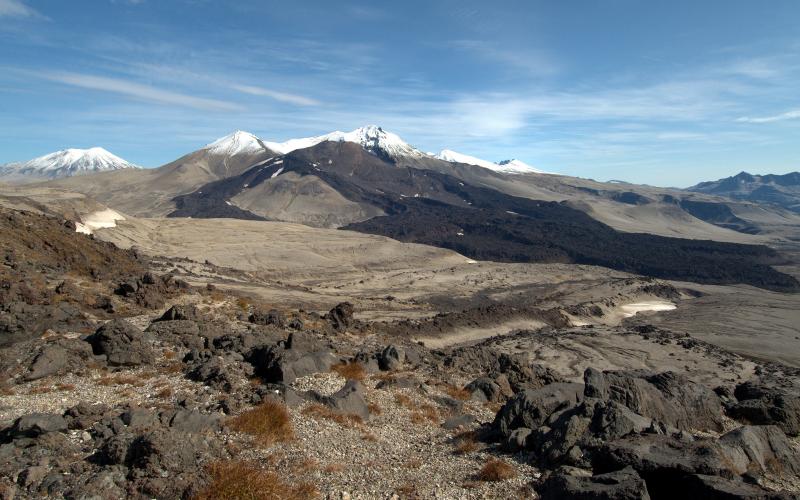 Mt Griggs on the left, Mt. Trident on the right as seen from Katmai Pass, Katmai National Park and Preserve. Prominent dark lava flows are from Trident's 1953 – 1974 eruption.
This phenomenon is not the result of recent volcanic activity and occurs during times of high winds and dry snow-free conditions in the Katmai area and other young volcanic areas of Alaska. No eruption is in progress. All of the volcanoes of the Katmai area (Snowy, Griggs, Katmai, Novarupta, Trident, Mageik, Martin) remain at color code GREEN.
Resuspended volcanic ash should be considered hazardous and could be damaging to aircraft and health.
Source : AVO
Photo : 4 septembre 2009 , Read, Cyrus.
Mauna Loa , Hawai :
19°28'30 » N 155°36'29 » W,
Summit Elevation 13681 ft (4170 m)
Current Volcano Alert Level: ADVISORY
Current Aviation Color Code: YELLOW
Activity Summary:
Mauna Loa Volcano is not erupting. Rates of deformation and seismicity have not changed significantly in the past week and persist above long-term background levels.
Observations:
Small-magnitude earthquakes have been occurring primarily beneath the summit caldera and upper Southwest Rift Zone. These were mostly at shallow depths of less than 5 km (3 mi).
Global Positioning System (GPS) and satellite radar (InSAR) measurements continue to show deformation consistent with inflation of a magma reservoir beneath the summit caldera and upper Southwest Rift Zone.
No significant changes in volcanic gas emissions or summit fumarole temperature were measured.
Source : HVO.
Kilauea , Hawai :
19°25'16 » N 155°17'13 » W,
Summit Elevation 4091 ft (1247 m)
Current Volcano Alert Level: WATCH
Current Aviation Color Code: ORANGE
Activity Summary:
Kīlauea Volcano continues to erupt at its summit and from the Puʻu ʻŌʻō vent on its East Rift Zone. The episode 61g lava flow is still producing scattered surface flow activity, but has not entered the ocean in the past 24 hours. These flows pose no threat to nearby communities at this time. This morning, the height of the lava lake at Kīlauea's summit was measured at 34 m (112 ft) below the rim of Overlook crater. There have been no significant changes in ground deformation or seismicity rates across the volcano.

The lava pond in the west pit of Pu'u 'Ō'ō remains active. While at Pu'u 'Ō'ō making observations, HVO geologists witnessed a small rockfall from the western wall (center right of photo where spattering is occurring). The rockfall briefly disturbed the pond surface and produced spattering for several minutes. Rockfalls into the lava pond are fairly common because the unstable west pit rim and walls have many loose altered rocks, overhung ledges, and cracks (example at left center).

Summit Observations:
Slight deflationary tilt was recorded by summit tiltmeters over the past day, with little change in the lava lake level. This morning, the lake level was measured at 34 m (112 ft) below the rim of Overlook crater. Sulfur dioxide gas emission rates continue to be high. Seismicity rates were at normal, background levels, with tremor fluctuations related to lava lake spattering.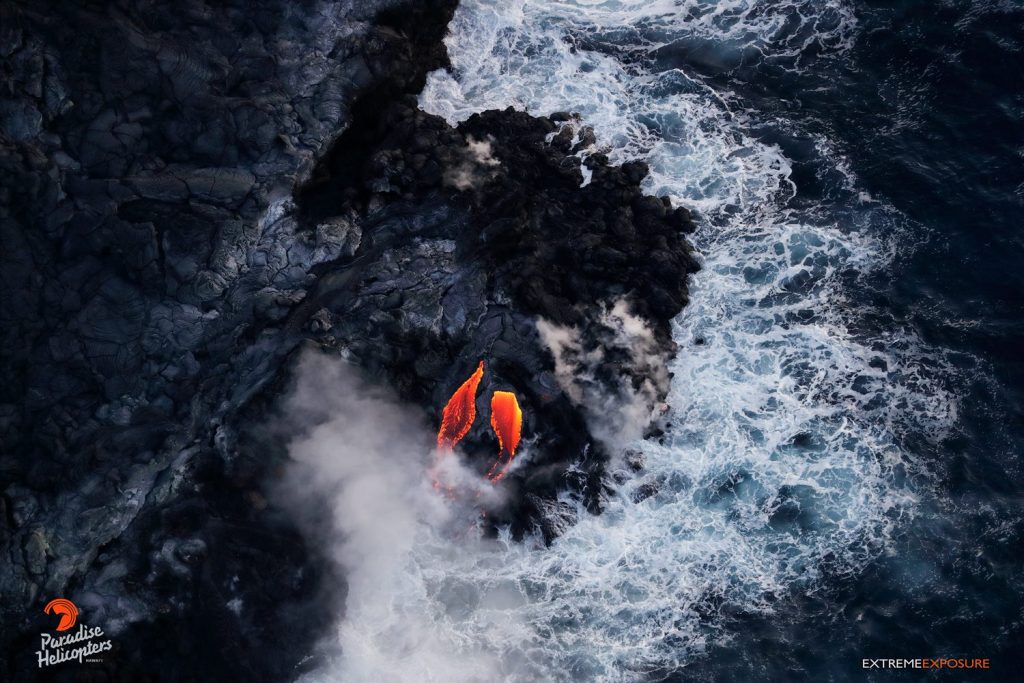 Puʻu ʻŌʻō Observations:
In the past day, seismic activity has continued at normal, background rates. The tiltmeter on Puʻu ʻŌʻō cone showed no significant change over the past day. Webcams showed persistent glow from a small lava pond on the west side of the crater overnight. The sulfur dioxide emission rates from the East Rift Zone vents have been steady over the past several months, and remain significantly lower than the summit emissions.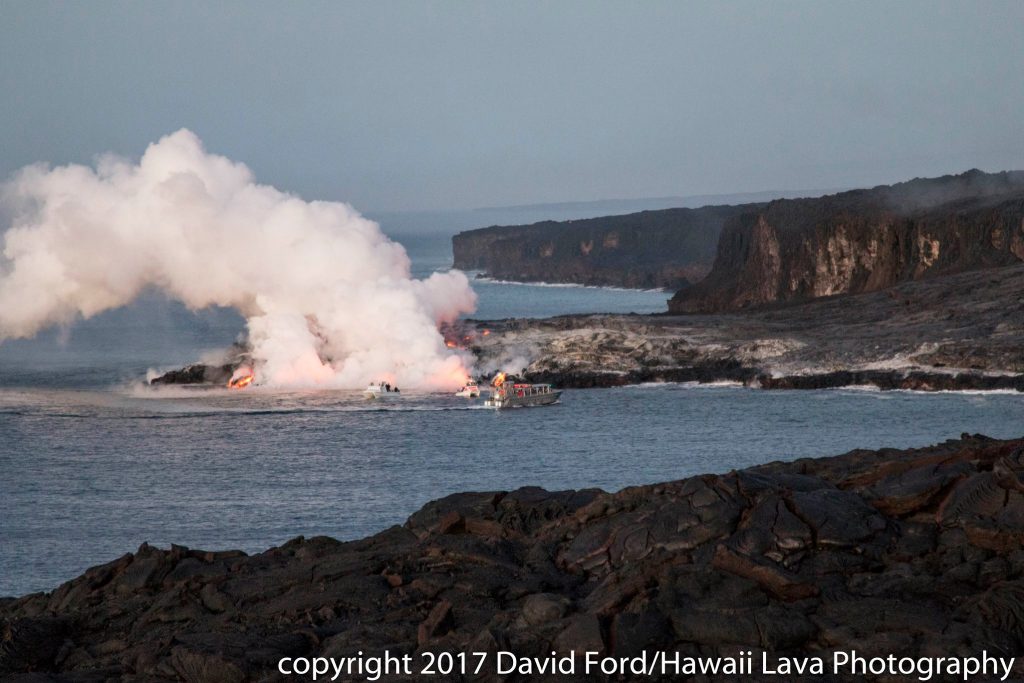 Lava Flow Observations:
The episode 61g flows do not pose a threat to nearby communities at this time. Lava from the episode 61g flow continues to flow down the from the vent towards Kamokuna delta. Webcam views indicate that scattered breakouts remain active above the pali and on the coastal plain. At Kamokuna delta, lava has not entered the sea for the past 24 hours and no plume has been produced. A small, short-lived breakout of lava 350 meters inland from the delta was reported by the National Park Service yesterday.
Source : HVO
Photos : HVO , Bruce Omori , David Ford.