September 30 , 2017. EN.  Agung , Rincon de la Vieja , Kilauea , Dukono.
September 30 , 2017.
 
Agung , Indonésia :
VOLCANO OBSERVATORY NOTICE FOR AVIATION – VONA.
Posted:   September 29 , 2017
Volcan: Agung (264020)
Current color code of aviation: ORANGE
Previous color code of aviation: orange
Source: Agung Volcano Observatory
Notice number: 2017AGU10
Location of the Volcano: S 08 deg. 20 min. 31 sec E 115 deg 30 min 29 sec
Area: Bali, Indonesia
Summit: 10054 FT (3142 M)
Summary of volcanic activity:
The low pressure white plume, probably dominated by water vapor, is observed in continuous emission from the main crater at 12:45 UTC (07:45 Central Time of Indonesia)
Altitude of the volcanic cloud: ash cloud not visible.
Other information about the volcanic cloud:
The plume is observed continuously from the main crater and reaches an altitude of about 100 m and moves westward
Notes:
Based on our visual and instrumental observation, the Agung volcano exhibits increased disorders with an increased likelihood of eruption.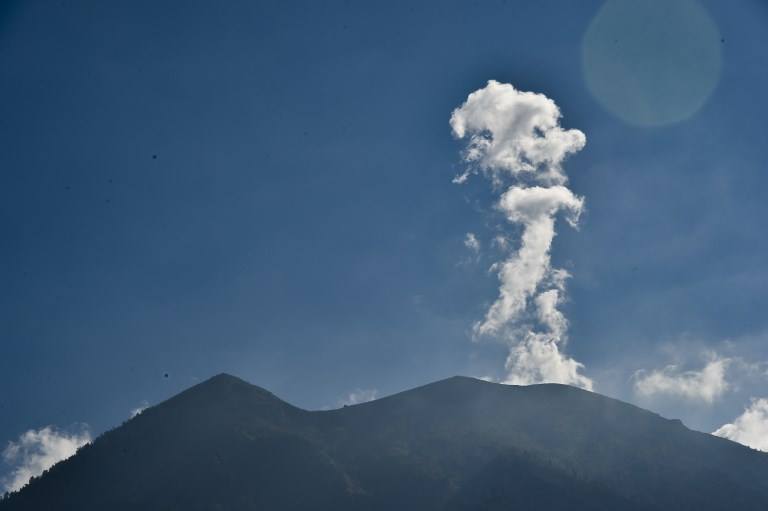 Bali's Mt. Agung belches steam and sulfur, fissure vent observed at crater –
29 SEPTEMBER 2017. Mount Agung has been demonstrating increasingly restless behavior. White steam clouds containing sulfurous fumes have been observed shooting up from the Bali volcano with more intensity. Fears of an eruption are heightened as a fissure vent has also been spotted at the volcano's crater.
Agung, 75 kilometers (47 miles) from the resort hub of Kuta, has been shaking since August and threatening to erupt for the first time since 1963–a potential blow to the island's lucrative tourism industry, though the governor is still asking travelers to keep on coming. Tremors have been frequent (amounting to hundreds daily) and a 4.2 and 4.3 earthquake were recorded near the volcano this week.
The head of the Volcanology and Geological Disaster Mitigation Center (PVMBG), Gede Suantika, confirmed that there is a fissure vent, or crack at the crater of Agung. The fracturing is an indicator that the volcano will likely soon erupt, says Suantika. "It's possible that the lava flow will come from there," he said on Friday.
"This morning the steam billowed from the crater like the smoke that comes out of a factory chimney. "Since the sulfurous fumes are out, the possibility of an eruption is getting more real." The PVMBG director also took the time to remind everyone that Mt. Agung is still at a level IV, critical alert level since being upgraded one week ago.
"In the past, the white steam could not be seen from a distance, it could only be seen from the crater. But now it can be seen from further away, so it means that the gas pressure is bigger," he said. PVMBG spokesperson Devi Kemil also confirmed that satellite images show a tear, or vent in the crater of Mt. Agung.
"In the middle, there is a small tear and there is smoke coming out of it," Kemil said. "But liquid lava has not yet come out." While magma has not yet been observed as coming to the surface, the presence of a fissure vent is often signal it's likely on the way, says Kemil.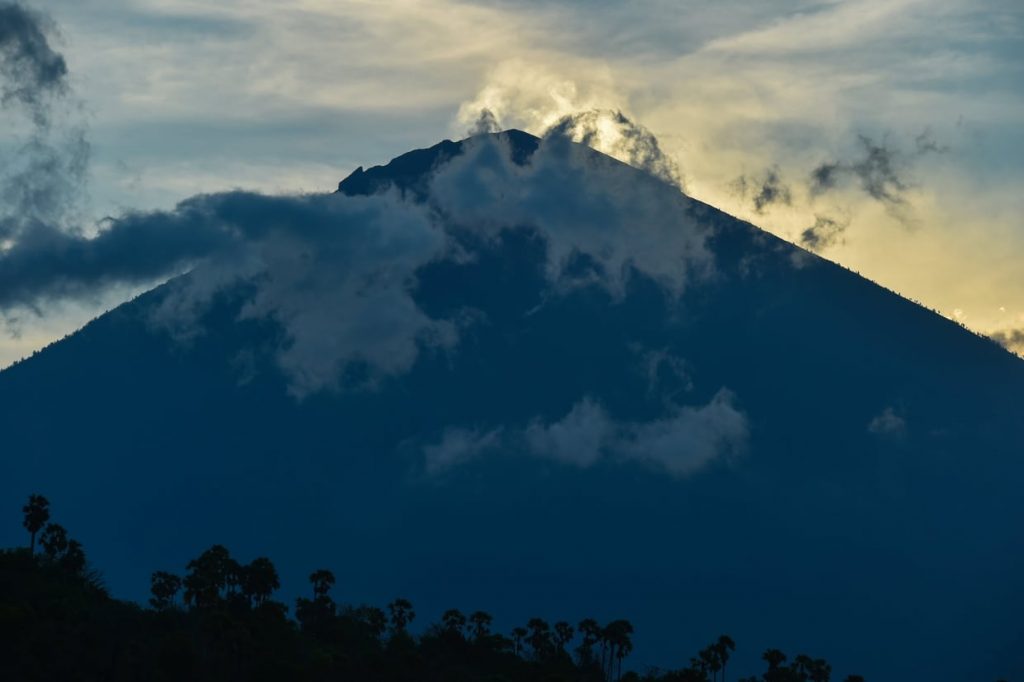 Satellite imagery also indicates that the volcano is becoming hotter and hotter: new steam emissions and thermal areas had been detected, according to the center. But the spokesperson was quick to add that we still cannot know for sure if the volcano will erupt. The head volcanologist at PVMBG, Kasbani, echoed this uncertainty.
"At this moment, the probability of an eruption is higher than the probability of no eruption; however, the probability may change," he said. The number of evacuees has topped 144,000, according to officials. Around 62,000 people lived in the danger zone before the evacuations, according to Indonesia's disaster mitigation agency, but residents just outside the area have also left out of fear.
If Agung erupts, it's predicted that the volcano would hit the immediate surrounding area hard, taking quite a toll on existing infrastructure like roads, bridges, crops, and water supply.
The airport is currently at an orange alert level—the status was upgraded on Tuesday. Plans have been made to divert arrivals to 10 other airports in Indonesia should the airport's status get upgraded to red, forcing the closure of Ngurah Rai International.
Source :  VSI , COCONUTS BALI
Rincon de la Vieja , Costa Rica :
The volcano Rincón de la Vieja recorded a major eruption this Friday morning, according to the Volcanological and Seismological Observatory of Costa Rica.
It was a steam eruption with a 1,000 meter high column and flows that descended south of the volcano to Upala.
The National University explained that this eruption occurred by « a violent heating of the lake existing in the crater of the volcano », which led to the expulsion of hot water and steam.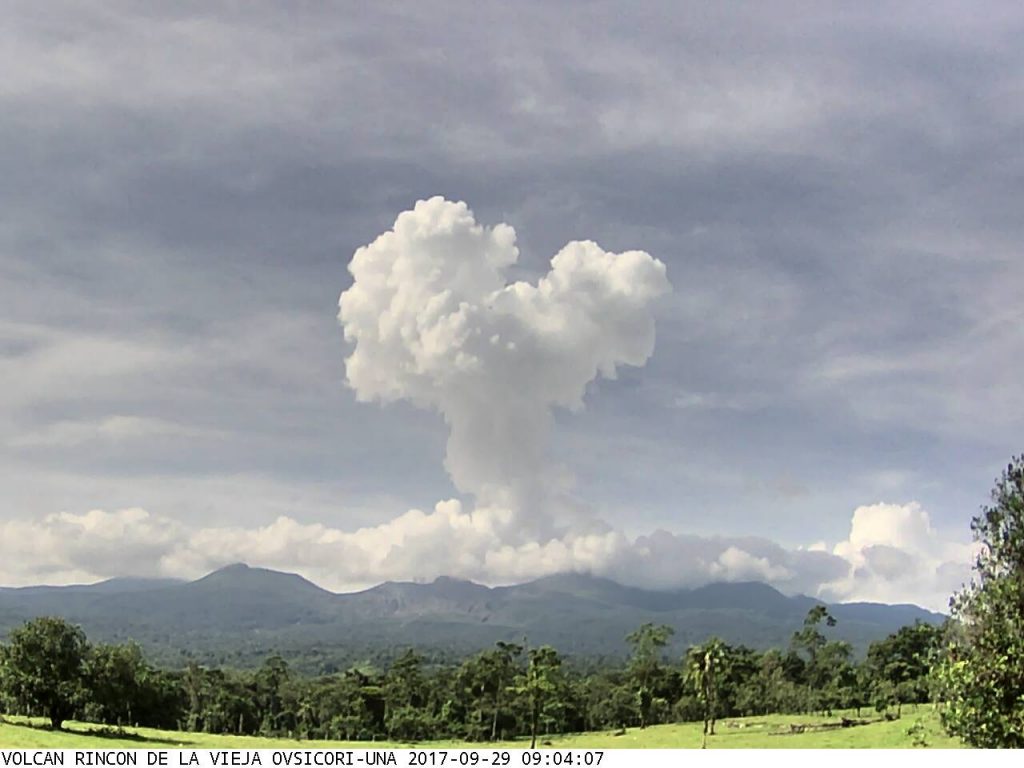 Activity Report of the Rincón de la Vieja Volcano , 2017-09-29
On 29 09 2017 at 08:58 local time, there was an eruption on the volcano Rincón de la Vieja, with a column rising 1000 meters above the crater and 2916 m.s.m. (meters above sea level) (9564.48 ft).
Duration of activity: 1 minute.
Ash fall reported in: No ash falls reported
Sulfur odor reported in: No reported sulfur odor
Comments: Small vapor eruption (hydrothermal explosion) with flows that descend towards the North (Upala).
Source : Ovsicori
Kilauea , Hawaï :
19°25'16 » N 155°17'13 » W,
Summit Elevation 4091 ft (1247 m)
Current Volcano Alert Level: WATCH
Current Aviation Color Code: ORANGE
Activity Summary:
There have been no significant changes in the eruptions at Kīlauea Volcano. Activity continues at the summit and from the Puʻu ʻŌʻō vent on the East Rift Zone. The episode 61g lava flow continues to enter the ocean at Kamokuna. Surface flow activity persists on the upper portion of the flow field, on the pali, and in scattered areas of the coastal plain. These lava flows pose no threat to nearby communities at this time. Typical rates of ground deformation, seismicity, and gas release continue across the volcano.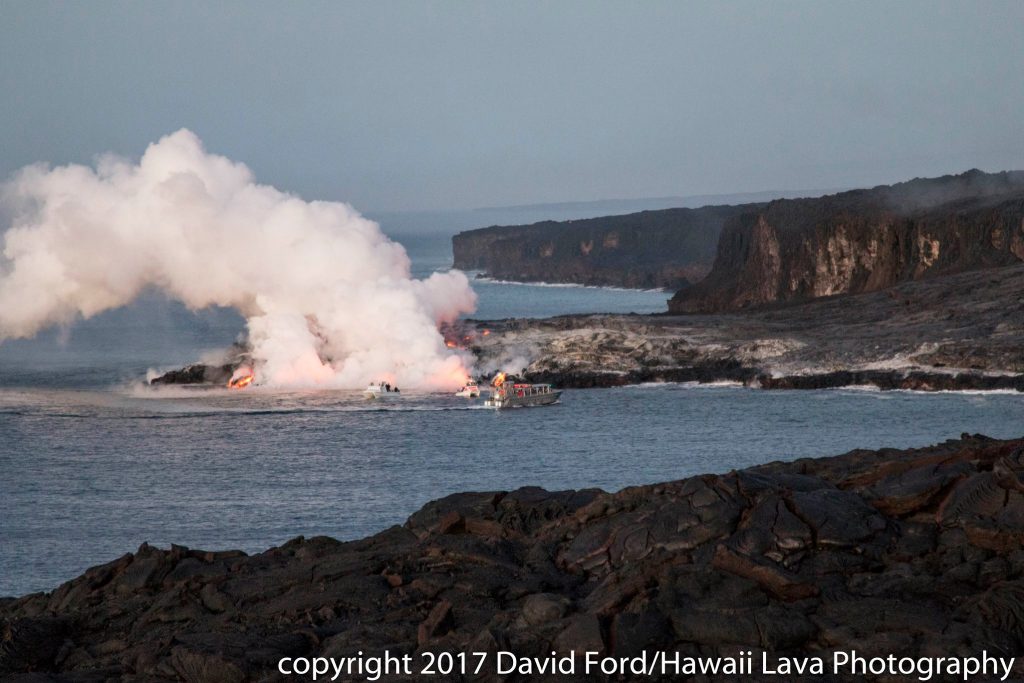 Summit Observations:
Summit tiltmeters recorded no significant change in ground tilt over the past day. Similar to the past several days, the lava lake surface was measured at about 35 m (112 ft) below the rim of the Overlook crater this morning. Webcam views of the lava lake can be found at this webpage: http://hvo.wr.usgs.gov/cams/region_kism.php. Seismicity is within normal, background rates with tremor fluctuations associated with lava lake spattering. Over the past week, daily average summit sulfur dioxide emission rates ranged between approximately 3,600 and 6,500 metric tons/day. This is within the range of values typically measured during variable pond conditions.
Puʻu ʻŌʻō Observations:
Webcam images over the past 24 hours show persistent glow at long-term sources within the crater and from a small lava pond on the west side of the crater. There were no significant changes in seismicity or ground tilt over the past 24 hours. The sulfur dioxide emission rate from the East Rift Zone vents has been steady over the past several months, and was most recently measured at 270 metric tons/day.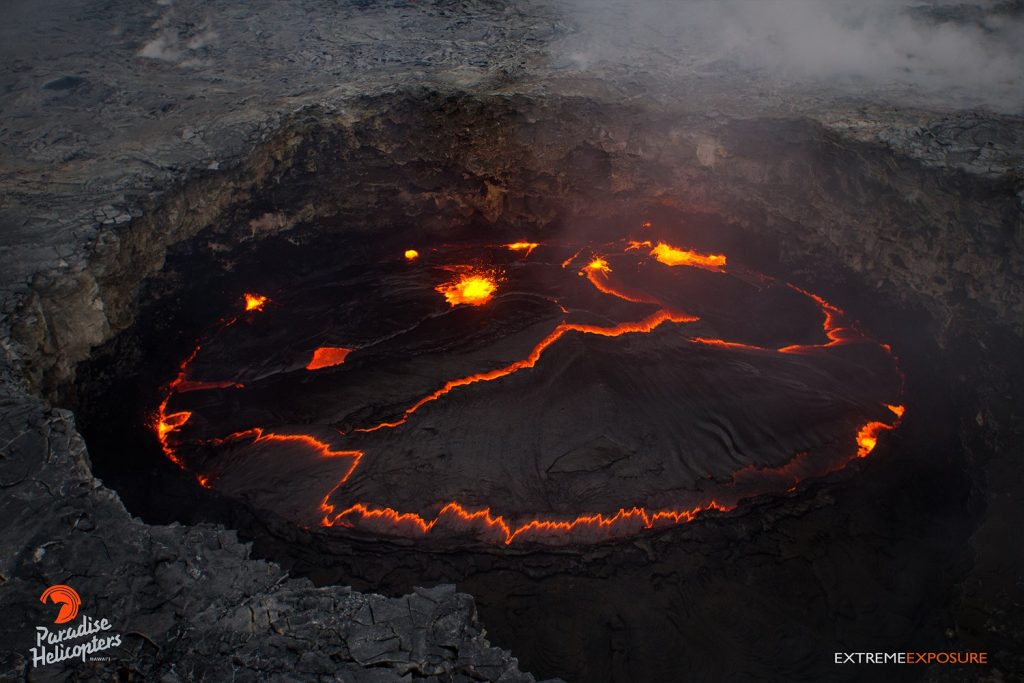 Lava Flow Observations:
The episode 61g flow is still active and entering the ocean at Kamokuna. Webcam images show that surface lava flow activity persists on the upper portion of the flow field, on the pali, and in scattered areas of the coastal plain. None of these flows poses a threat to nearby communities at this time. Early in the week, active lava flows and a small collapse were observed on the lava delta.
Source : HVO
Photos : Bruce Omori , David Ford .
Dukono , Indonésia :
Level of activity : level 2 (WASPADA). The Dukono (1229 m altitude) presents a continuous eruption. From yesterday until this morning, the volcano was clearly visible until it was foggy. As a result of the seismograph recording, there were 62 eruptions / emissions and a column of gray volcanic ash with a height of 700-800 m above the peak inclined to the west.
recommendations:
Communities around G. Dukono and visitors / tourists should avoid activities, climbing and approaching the Malupang Warirang Crater within a radius of 2 km.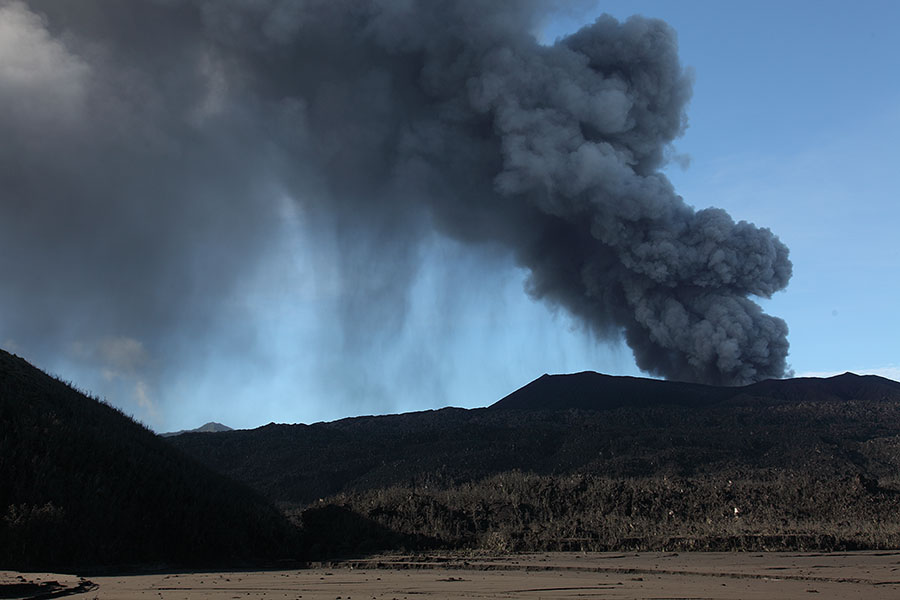 VOLCANO OBSERVATORY NOTICE FOR AVIATION – VONA
Issued : 20170927/2258Z
Volcano : Dukono (268010)
Current Aviation Colour Code : ORANGE
Previous Aviation Colour Code : orange
Source : Dukono Volcano Observatory
Notice Number : 2017DUK269
Volcano Location : N 01 deg 41 min 35 sec E 127 deg 53 min 38 sec
Area : North Maluku, Indonesia
Summit Elevation : 3933 FT (1229 M)
Volcanic Activity Summary :
Eruption with volcanic ash cloud at 22h50 UTC (07h50 local).
Volcanic Cloud Height :
Best estimate of ash-cloud top is around 6493 FT (2029 M) above sea level, may be higher than what can be observed clearly. Source of height data: ground observer.
Other Volcanic Cloud Information :
Ash cloud moving to Southwest.
Remarks :
Eruption and ash emission is continuing.
Source : VSI , Magma .