August 30 , 2017. EN. Sinabung , Kanlaon , Nevado del Huila , Piton de la Fournaise .
August 30 , 2017.
 
Sinabung , Indonesia :
VOLCANO OBSERVATORY NOTICE FOR AVIATION – VONA
Issued : 20170830/0546Z
Volcano : Sinabung (261080)
Current Aviation Colour Code : ORANGE
Previous Aviation Colour Code : orange
Source : Sinabung Volcano Observatory
Notice Number :2017SIN518
Volcano Location : N 03 deg 10 min 12 sec E 98 deg 23 min 31 sec
Area : North Sumatra, Indonesia
Summit Elevation : 7872 FT (2460 M)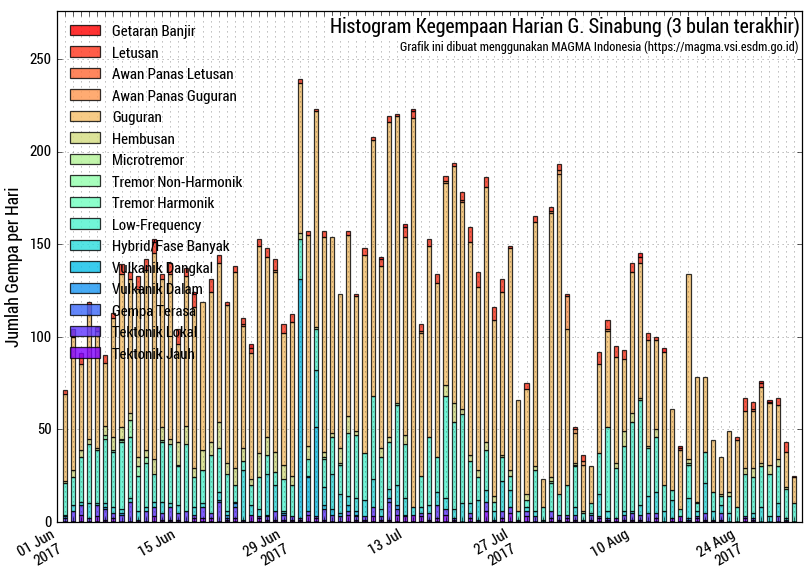 Volcanic Activity Summary :
Eruption with ash clouds at 05:21 UTC (12:21 local time). The eruption lasted for 231 seconds
Volcanic Cloud Height :
Best estimate of ash-cloud top is around 12672 FT (3960 M) above sea level, may be higher than what can be observed clearly. Source of height data: ground observer.
Other Volcanic Cloud Information :
Ash cloud is moving to south-southeast
Remarks :
Seismic activity is characterized by the Deep Volcanic Earthquake, Low Frequency Earthquake, and Hybrid Earthquake. Rock avalanche (Incandescent lava) is not identified
Conclusion:
G.Sinabung's level of activity remains at Level IV (Awas)
Recommendation:
Community and visitors / tourists should not operate within a radius of 3 km around the summit, 7 km in the South – East sector, 6 km in the East – South – East sector, and At a distance of 4 km in the north-east sector of Sinabung. And the people who live near the rivers that spill from Sinabung must remain vigilant about the potential dangers of lahars.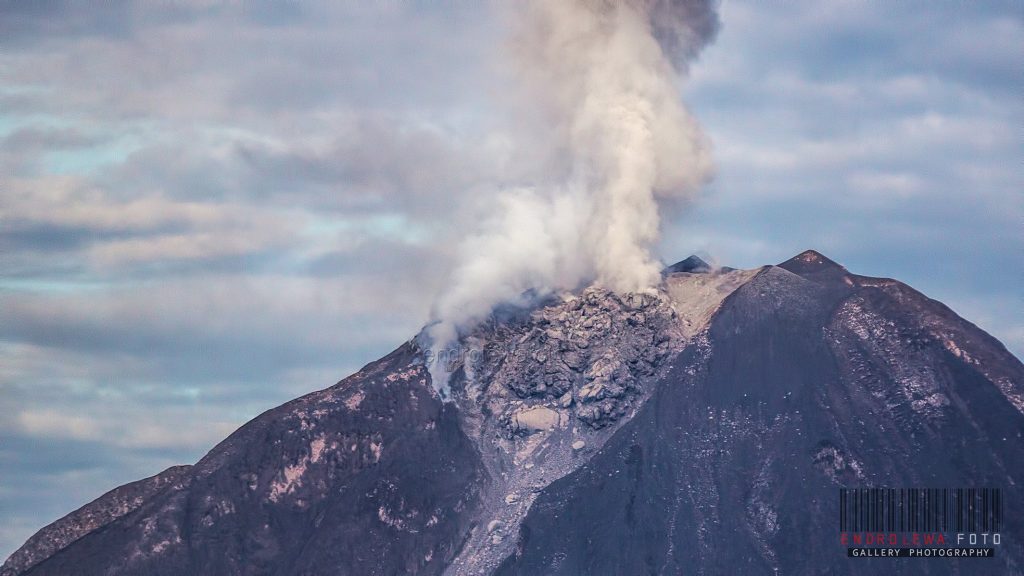 The materials formed a dam upstream on the Laborus River. People who live and move around the watershed downstream must maintain vigilance because these dams can collapse at any time, resulting in downstream lahar / flooding. BPBDs Tanah Karo will immediately disaster or flood threat for people who live and move downstream along and around the Laborus River.
Source : VSI
Photo : Endro Lewa .
Kanlaon, Philippines :
KANLAON VOLCANO BULLETIN 30 August 2017 08:00 A.M.
Kanlaon Volcano's seismic monitoring network recorded three (3) volcanic earthquakes during the past 24 hours. No degassing activity was observed during times when the summit crater was visible. Ground deformation data from continuous GPS measurements indicate inflation of the edifice since December 2015. Emission of sulfur dioxide (SO2) was not detected last August 15, 2017 survey.

Alert Level 1 status prevails over Kanlaon Volcano, which means that it is at an abnormal condition and has entered a period of unrest. The local government units and the public are strictly reminded that entry into the 4-kilometer radius Permanent Danger Zone (PDZ) is strictly prohibited due to possibilities of sudden and hazardous steam-driven or phreatic eruptions. Civil aviation authorities must also advise pilots to avoid flying close to the volcano's summit as ejecta from any sudden phreatic eruption can be hazardous to aircraft. DOST-PHIVOLCS is closely monitoring Kanlaon Volcano's activity and any new development will be relayed to all concerned.
Source : Phivolcs.
Nevado del Huila , Colombia :
Subject: Weekly activity bulletin of the volcano Nevado del Huila
The level of activity of the volcano continues at:
Activity level yellow or (III): evolution of the behavior of volcanic activity.
Based on the analysis and evaluation of the information obtained by the surveillance network of the Nevado del Huila volcano during the week of 23 to 29 August 2017, the COLOMBIAN GEOLOGICAL SERVICE – Volcanological and Seismological Observatory of Popayán informs that :
 During the period under review, 190 seismic events were recorded, of which 120 were related to rock fracturing (VT type) and 70 with fluid dynamics within volcanic ducts. Of these, 69 were classified as long-term events (type LP) and one (1) as a small volcanic tremor pulse (type TR).

 In the images obtained during the week by the Tafxnú, Maravillas and La Palma webcams, there was high cloudiness in the area and the low degassing levels of the volcanic system were evident.
 Sensors for monitoring the deformation of soils, magnetic fields and infrasound waves did not show significant variations.
Therefore, it is concluded that during the period assessed, the volcano continued to exhibit stable behavior.
The Colombian Geological Survey continues to monitor the evolution of the volcanic phenomenon and will provide timely information on any changes that may occur.
Source : SGC
Piton de la Fournaise , la Réunion :
Activity bulletin of Tuesday, August 29, 2017 at 15:45 (Local time).
Following the stopping of the eruption on August 28, 2017 (03:00 local time), a seismicity is still observed under the southeastern region of the Enclos Fouqué. Thus 11 earthquakes have been recorded in the past 36 hours.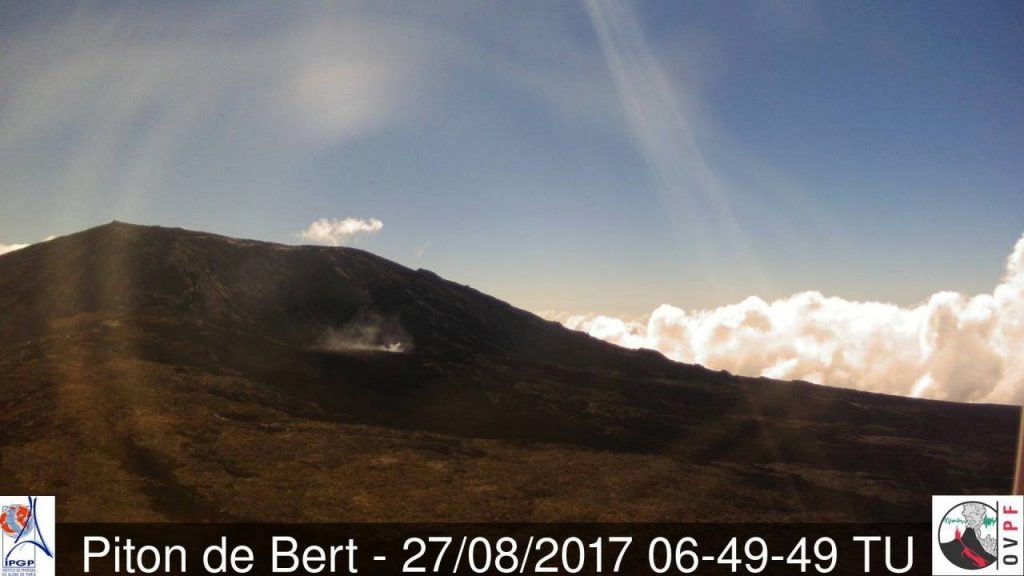 At the same time, the concentrations of CO2 in the soil at the level of the Volcanic Gap remain high, at values equivalent to those recorded on July 14th.
The deformations show no significant tendency.
Given these observations, no hypothesis is put forward as to the evolution of the situation (resumption of an activity or not).
Source : OVPF