August 22 , 2017. EN. Piton de la Fournaise , Dukono , Sabancaya , Mauna Loa , Villarica .
August 22 , 2017.
 
Piton de la Fournaise , La Réunion :
Activity report on Monday 21 August 2017 at 15:00 (Local time).
The eruption that began on July 14 at 00:50 local time continues. The volcanic tremor (indicator of the surface eruptive intensity), found for 48 hours a stable and very low level.

Figure 1: Evolution of RSAM (volcanic tremor and eruption intensity indicator) between 00:00 (20h UTC) on July 14th and 15h00 (11h00 UTC) on August 21st on the seismic station of RVL, located on the flank South of the volcano. (OVPF / IPGP).
– No volcano-tectonic earthquake was recorded under the summit craters during yesterday's day.
– The trend towards a halt in inflation (swelling) observed over the last few days is now confirmed. Deflation (deflation) seems even to begin. This trend will be confirmed in the next few days.
– The geochemical measurements carried out in the field confirm the global decrease in fluxes (lava, projections and gases) observed since 12 August.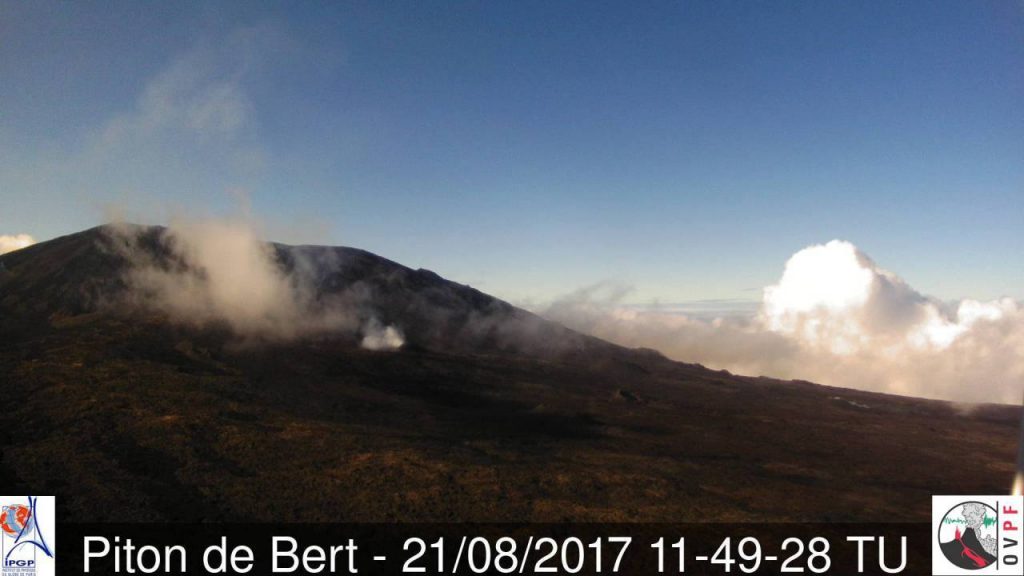 The often unfavorable weather conditions, as well as the observed decrease in flows, have not made it possible to make reliable estimates of the flow of lava by the use of satellites.
Source : OVPF
Dukono , Indonesia :
At level II activity level (WASPADA), the Dukono (1229 m altitude) is experiencing a continuous eruption. From yesterday until this morning, the volcano is clearly visible and sometimes foggy. Gray / white, thick, continuous, low pressure eruption columns were observed. They averaged 200 to 400 m and dispersed to the east. The largest series of emissions occurred up to 94 times. There was no observed ash fall on the Dukono Post.
Conclusion:
The level of activity is level II (Waspada).
Recommendations:
Communities around G. Dukono and visitors / tourists should not move, climb and approach the Malupang Warirang Crater within a radius of 2 km. Given the eruption with volcanic ash that occurs periodically and the dispersion of ash that follows the wind direction and speed, the ash drop zone is not fixed, it is recommended that communities around the G Dukono always have a mask to cover the nose / mouth if needed to avoid the threat of volcanic ash on the respiratory system.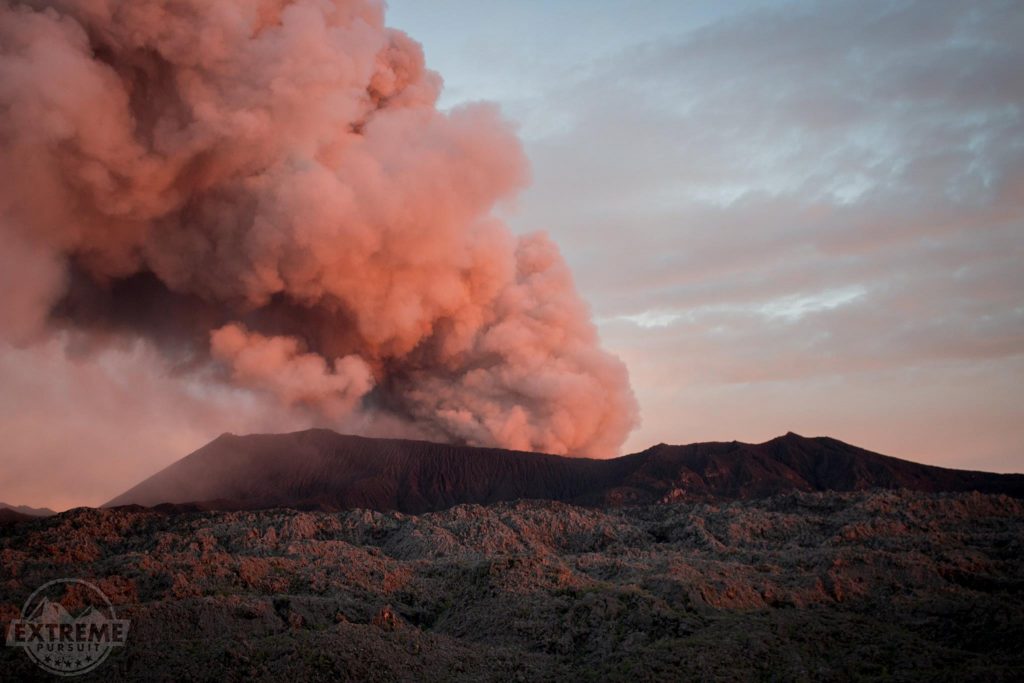 Volcano Observing Notice for Aviation (VONA):
Last published: 21 August 2017 / 0043Z
Current color code of aviation: ORANGE
Summary of volcanic activity:
Eruption with cloud of volcanic ash at 23h41 UTC (08h41 local).
Altitude of the volcanic cloud:
The best estimate of the top of the ash cloud is about 5533 FT (1729 M) above sea level, may be higher than can be clearly seen. Source of height data: ground observer.
Other information about the volcanic cloud:
The ash cloud moves eastward.
Remarks:
Eruptions and ash emissions continue.
Source : VSI , Magma.
Photo : Extreme Pursuit Expedition / extreme-pursuit.com
Sabancaya , Peru :
The explosive activity averaged 41 explosions per day, a value similar to that recorded in the previous report, with maximum displacement values ​​of 97 cm2. The predominant seismic activity (long-term earthquakes) is related to fluid movements. Earthquakes indicating an increase in magmatic material (Hybrids) are recorded in smaller numbers. In addition, a significant tremor activity associated with ash emissions was observed. The eruptive gas and ash columns decreased slightly from the previous week, reaching a height of about 3400 m above the crater, later dispersing in a radius greater than 30 km, mainly in a south- East.
In general, volcanic activity remains moderate. This type of behavior can continue over the next few days.

Since August 16, a team of professionals from the Geophysical Institute of Peru has carried out measurements of spontaneous potential (PE) around the Sabancaya volcano, as part of a multi-institutional study carried out jointly with Ingemmet, University of Reunion (France), which aims to know the extent, shape and behavior of the hydrothermal system of the Ampato-Sabancaya volcanic complex and the Hualca-Hualca volcano.
The geophysical measurements of the spontaneous potential, as explained by Dr. Orlando Macedo, director of the PGI Arequipa head office, make it possible to delimit the hydrothermal and hydrogeological zone under active volcanoes. Another advantage of this method is that it is possible to identify possible changes in groundwater undergoing volcanic disturbances under buildings as a result of magmatic intrusions. « This is what we did successfully on the Ubinas volcano and we saw the beginning of an explosive stage in October 2016, » he explains.
Source : Sernageomin
Mauna Loa , Hawaii :
19°28'30 » N 155°36'29 » W,
Summit Elevation 13681 ft (4170 m)
Current Volcano Alert Level: ADVISORY
Current Aviation Color Code: YELLOW
Activity Summary:
Mauna Loa Volcano is not erupting. Rates of deformation and seismicity have not changed significantly in the past week, and continue to be above long-term background levels.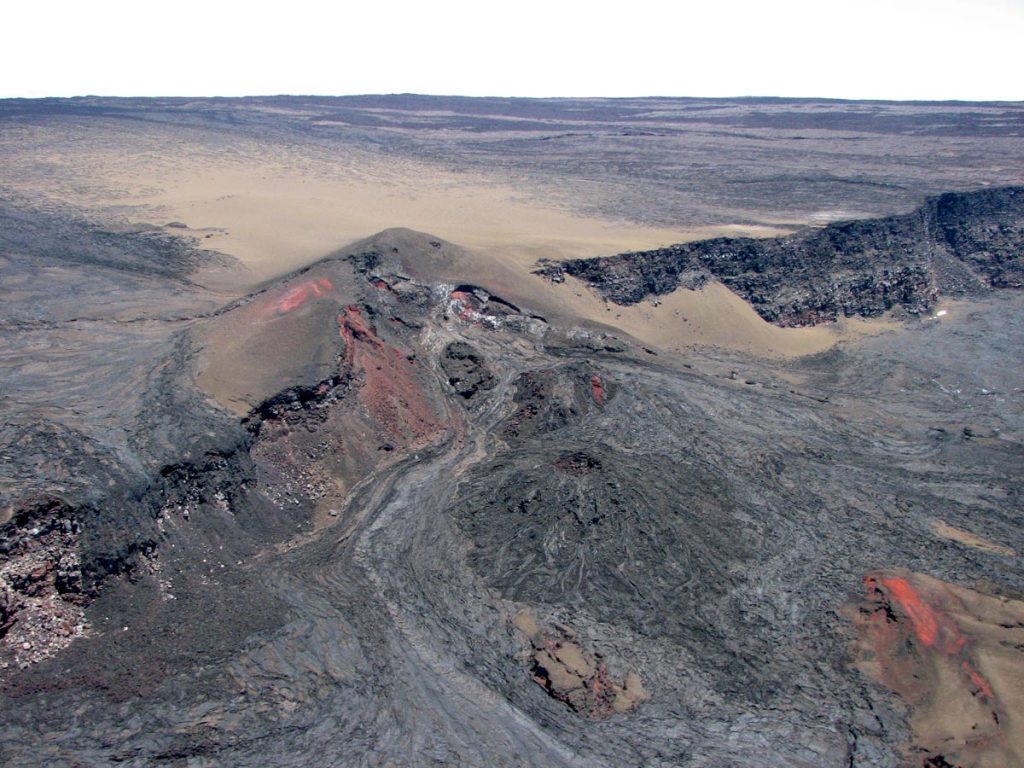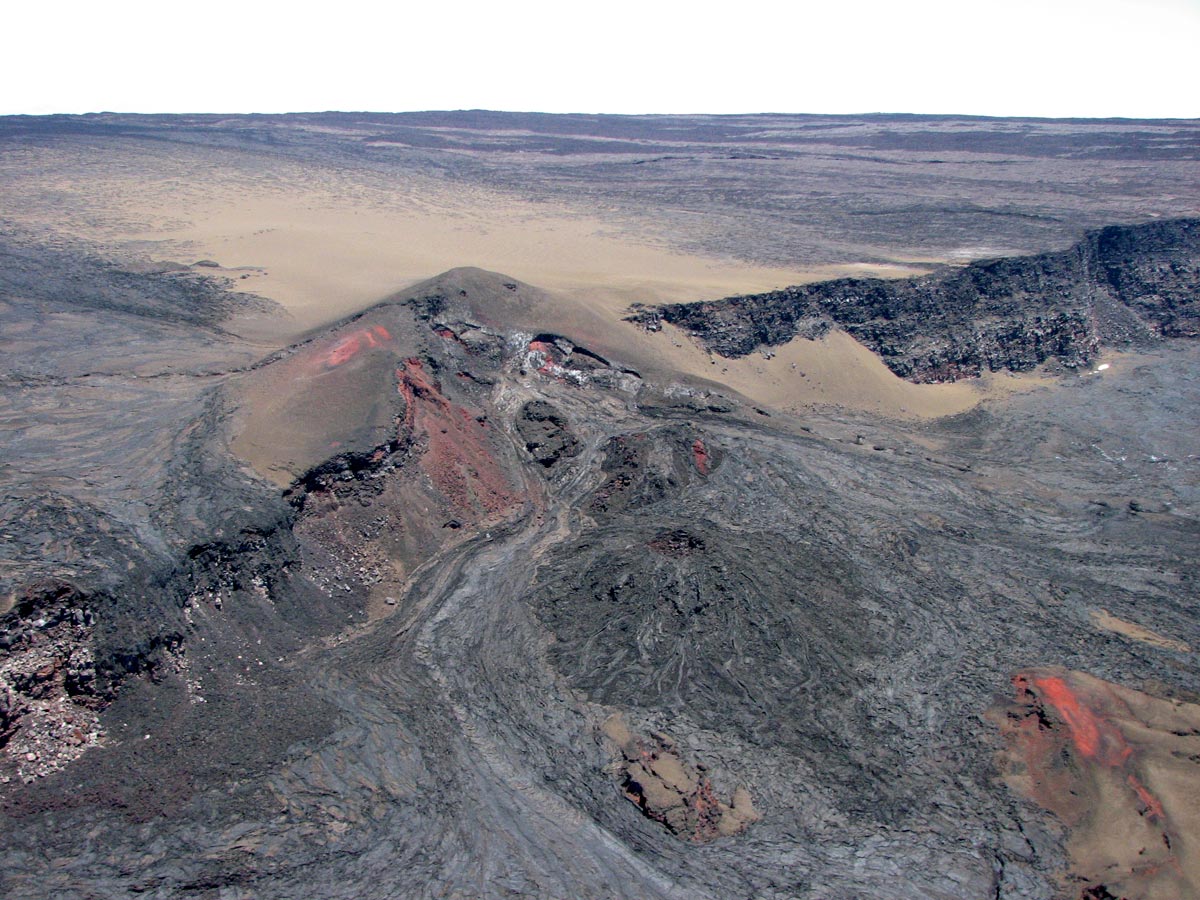 Observations:
Small-magnitude earthquakes continue to occur beneath the volcano. During the past week, these were primarily beneath the caldera and upper Southwest Rift Zone, at depths less than 5 km (3 miles), and included magnitude 3.0 and magnitude 3.1 earthquakes at 2.2 and 2.7 km (1.4 and 1.7 miles) depth, respectively, beneath the upper Southwest Rift Zone on the morning of August 8th.
Global Positioning System (GPS) and satellite radar (InSAR) measurements continue to show deformation related to inflation of a magma reservoir beneath the summit caldera and upper Southwest Rift Zone.
No significant changes in volcanic gas emissions or summit fumarole temperature were measured.
Source : HVO
Villarica , Chile :
Summary of the volcanic activity of July 2017.
As indicated in our special issue of June [http://www.povi.cl/files/POVI_01_Junio_01_Julio_2017.pdf], the deep earthquake of 23 June under the volcano has subsequently generated a change in the behavior of the Villarrica, as shown in the attached pictures.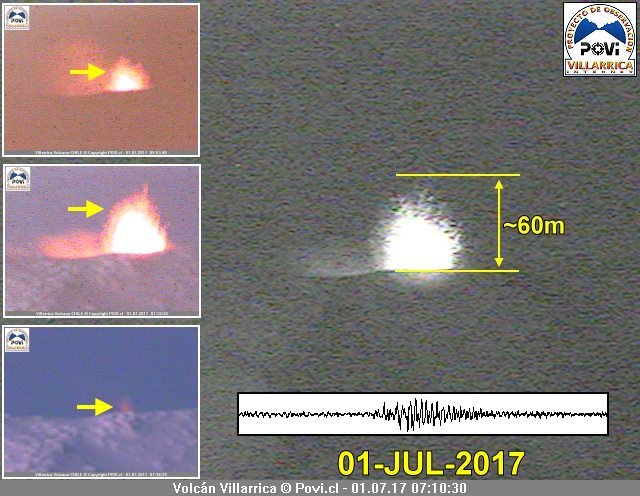 On 1 July, at 03:39, 05:41, 05:53 and 07:10 h. Our cameras recorded a ballistic ejection at tens of meters in height (composite image of July 1st).
On 7 July, an increase in long-lived (LP) seismic signals, corresponding to a more vigorous expulsion of lava fragments (July 7 image) was observed.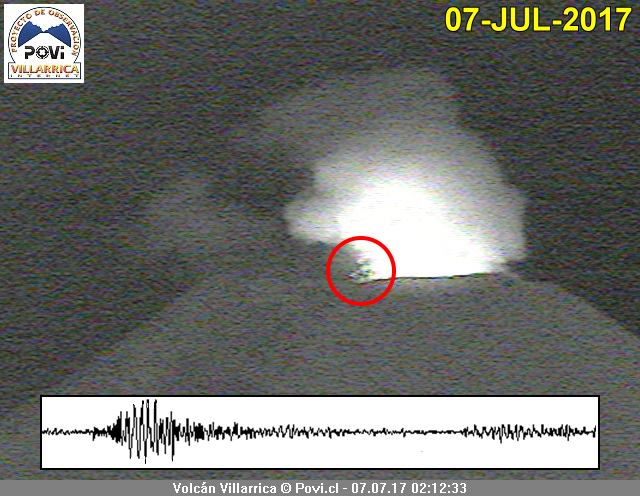 During the repeated reconnaissance of the crater on 1, 7, 10, 11 and 25 July, he was photographed (16 photos, 2 videos) of the ashes and lapillis at the crater edges.
In a view of July 30, an agglomeration of projections, some up to 7 meters long, on the inner edge of the western crater was observed, as shown in the 3rd image.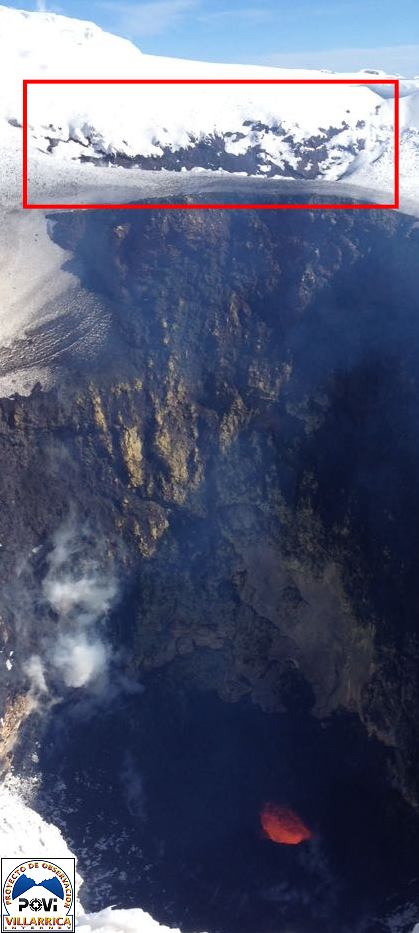 On the same day, our seismograph recorded the longest-lived (LP) seismic signal of the month.
The next monthly summary will be published in mid-September.
Source : POVI / Werner Keller.