August 17 , 2017. EN. Piton de la Fournaise , Klyuvchevskoy , Popocatepetl , Ibu .
August 17 , 2017.
Piton de la Fournaise , La Réunion :
Activity Report for Wednesday, August 16, 2017 at 3:00 pm (local time).
The eruption that began on July 14 at 00:50 local time continues. The volcanic tremor (indicator of surface eruptive intensity), increased rapidly in early last night. Then, since the beginning of the day (00h local), it oscillates with a periodicity of about 4 minutes.
Figure 1: Evolution of RSAM (volcanic and volcanic eruption indicator) between 00:00 (20h UTC) on July 14th and 15h00 (11h00 UTC) on August 16th on the seismic station of RVL, located on the flank South of the volcano. (OVPF / IPGP)
– No volcano-tectonic earthquake was recorded under the summit craters during yesterday's day.
– The slight inflation (swelling) of the entire terminal cone of the volcano observed so far (<1 cm since the beginning of the eruption) seems to decrease.
Despite unfavorable weather conditions, the camera in place at Piton de Bert allowed to associate these changes in the level of the volcanic tremor with changes in surface activity: ephemeral fountains of lavas could be observed both at the level of the eruptive cone than from the eastern end of the flow essentially at the beginning of the night.
The presence of clouds, unfortunately, did not make it possible to carry out the estimates on the flow by the use of satellites.
Source : OVPF
Photo : François Martel Asselin.
Klyuchevskoy , Kamtchatka :
VOLCANO OBSERVATORY NOTICE FOR AVIATION (VONA).
Issued: August 17 , 2017.
Volcano: Klyuchevskoy (CAVW #300260)
Current Aviation Color Code: ORANGE
Previous Aviation Color Code: orange
Source: KVERT
Notice Number: 2017-204
Volcano Location: N 56 deg 3 min E 160 deg 38 min
Area: Kamchatka, Russia
Summit Elevation: 15580 ft (4750 m)
Volcanic Activity Summary:
Explosions sent ash up to 5.5-6 km a.s.l., and ash plume continues to drift to the north-west from the volcano.
Eruptive activity of the volcano continues. Ash explosions up to 26,200-32,800 ft (8-10 km) a.s.l. could occur at any time. Ongoing activity could affect international and low-flying aircraft.
Volcanic cloud height: 18040-19680 ft (5500-6000 m) AMSL
Time and method of ash plume/cloud height determination: 20170817/0150Z – Video data
Other volcanic cloud information:
Distance of ash plume/cloud of the volcano: 196 mi (315 km)
Direction of drift of ash plume/cloud of the volcano: WNW / azimuth 286 deg
Time and method of ash plume/cloud determination: 20170817/0120Z – Himawari-8
Duration of explosion: ~ 600 minutes
Source : Kvert
Photo : I. Borisov. IVS FEB RAS
Popocatepetl , Mexico :
19.023°N, 98.622°W
Elevation 5426 m
Each day during 9-13 and 15 August , the CENAPRED reported 97-355 and steam and gas emissions from Popocatépetl; the daily count increased to 702 on 14 June. Crater incandescence was visible on some nights. A small explosion at 0815 on 14 August produced a plume with low ash content that rose 500 m above the crater rim and drifted SW. Explosions at 17h59 and 18h05 generated ash plumes that rose 0.8 and 1.5 km, respectively, and drifted W. On 15 August an explosion produced an ash plume that rose 1 km and drifted WNW. The Alert Level remained at Yellow, Phase Two.
16 August, 10:45 a.m. (16 August, 15.45 GMT)
During the last 24 hours, 501 low-intensity exhalations were identified by the Popocatepetl volcano monitoring system, accompanied by emissions of gas and water vapor. There were also two volcano – tectonic earthquakes yesterday afternoon at 16:47 and 17:22 with a magnitude of M3.5 and M2.1, respectively.

At the time of this report, there is no visibility of the volcano, due to the cloudy conditions in the area; However, in the early morning hours, the continuous emission of volcanic gases north-westerly was observed.
The Popocatepetl volcanic warning semaphore is located in Amarillo Phase 2.
Source : GVP , CENAPRED
Photo : history.com /Ulises Ruiz/epa/Corbis
Ibu , Halmahera , Indonesia :
1.488°N, 127.63°E
Elevation 1325 m
Based on PVMBG observations, the Darwin VAAC reported that on 15 August an ash plume from Ibu rose to an altitude of 1.8 km (6,000 ft) a.s.l. and drifted N.
Volcano Observatory Notice for Aviation (VONA):
Last Issued: August 15 , 2017.
Current Aviation Color Code: ORANGE
Volcanic Activity Summary:
Eruption produced dark grey volcanic ash cloud at 01h16 UTC (10h16 local).
Volcanic Cloud Height:
Best estimate of ash-cloud top is around 5840 FT (1825 M) above sea level, may be higher than what can be observed clearly. Source of height data: ground observer.
Other Volcanic Cloud Information: Ash cloud moving to north.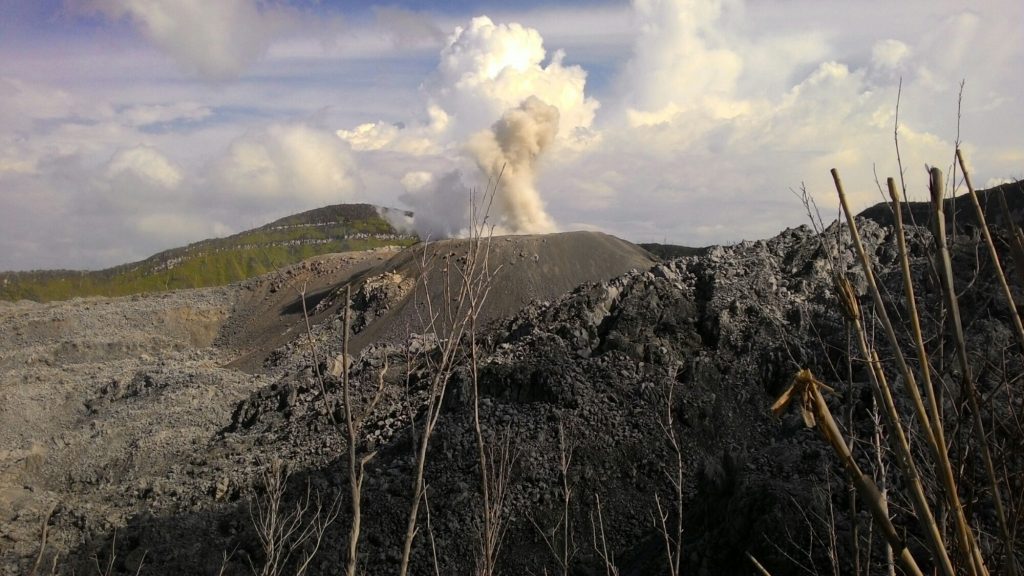 Conclusion:
The level of activity of G. Ibu is at Level II (Waspada)
Recommendations:
Communities around G. IBU and visitors / tourists should not move within a radius of 2.0 km around the crater, with a sectoral expansion to 3.5 km towards the crater opening in the northern part of the active crater of the G. IBU.
Source: Darwin Volcanic Ash Advisory Center (VAAC), Magma , GVP
Photo : J Massolo