August 15 , 2017. EN. Piton de la Fournaise , Tupungatito , Sabancaya , Bogoslof .
August 15 , 2017.
Piton de la Fournaise , La Réunion :
Activity report on Monday, August 14, 2017 at 3:00 pm (local time).
The eruption which began on July 14 at 00:50 local time continues and celebrates its one month of activity today. The volcanic tremor (indicator of surface eruptive intensity), after experiencing a phase of slight increase, has been stable for 48 hours (Figure 1).
Figure 1: Evolution of RSAM (volcanic tremor and eruption intensity indicator) between 00:00 (20h UTC) on 14th July and 15h00 (11h00 UTC) on 14th August on the RVL seismic station, located on the flank South of the volcano (© OVPF / IPGP)
– No volcano-tectonic earthquake was recorded under the summit craters during yesterday.
– The slight inflation (swelling) of the entire terminal cone of the volcano is always observed (<1 cm since the beginning of the eruption).
Despite the bad weather conditions of the weekend, some observations were made on site yesterday afternoon by OVPF employees. No more projections were observed even if gas puffs were heard and were visible in the form of flares. Further downstream, about 2 km from the eruptive mouth, about 400 m from the Crater Gros Bénard and 500 m from the Mare de Lave, flows of the pahoehoe type were observed. The presence of clouds, this WE and today, unfortunately did not make it possible to carry out the estimates on the flow by the use of satellites.
Source : OVPF
Photo : C. Lesport ( 19/07)
Tupungatito , Chile :
Special report on volcanic activity (REAV).
Metropolitana Region August 14, 2017 08:30 (local time).
The National Geological and Mining Service (SERNAGEOMIN) describes the following information obtained by the monitoring teams of the National Volcanic Monitoring Network, processed and analyzed at the South Andes Volcano Observatory:
Today, on Monday, August 14, 2017, at 7:08 local time (10:08 GMT), monitoring stations near the Tupungatito recorded one (1) earthquake associated with rock fracturing (volcano – tectonics) with a local magnitude equal to M3.7, and located 6.8 km to the west (O) of the main crater.
The location obtained was as follows:
Original time: 10: 08 h (GMT -3)
Latitude: 33 ° 22'57.00 « South
Longitude: 69 ° 53'57.00 « West
Depth: 8.9 km
Magnitude: 3.7 (ML)
NOTES:
At the time of publication of this report, 24 smaller replicas were recorded. There is no information from the authorities or the community in general on perceptions in neighboring areas.
The alert level remains at the green level.
Special report on volcanic activity (REAV)
Metropolitan Area August 14, 2017 11:40 am (local time)
Today, on Monday, August 14, 2017, from 07:08 local time (10:08 GMT), monitoring stations near Tupungatito continued to record seismic activity west of the volcano crater (see REAV 10 August, 2017 08:30 HL), with epicentres similar to those recorded as of August 7. Since the last report was released today at 8:30 am, this process continues with earthquakes of similar characteristics to those previously reported, for a total of 160 events. The occurrence of an earthquake of local magnitude equal to M4.5 is distinguished, located 8.4 km to the west with a depth of 5.2 km, then another of local magnitude equal to M3.7, Located 6.5 km and 8.8 km deep in the West, and one last with a local size equal to M3.7, located 6.6 km to the west and 8.3 km in depth, underlining the same location trend for all seismicity.
The location obtained for the highest energy event was as follows:
TIME OF ORIGIN: 08:51 h (GMT -3)
LATITUDE: 33 ° 23 '0.60 « South
LENGTH: 69 ° 54'59 .40 « West
DEPTH: 5,2 km
LOCAL MAGNITUDE: 4.5 (ML)
NOTES:
The appearance of this seismic process suggests that it is related to tectonic structures very close to the Tupungatito volcano area, due to the characteristics observed both in the seismic registers and in the locations. It is important to note that there is a strong possibility that this process will continue with the development of a seismicity of different energies and over a period of time. At the time of publication of this report, a tectonic seismicity of the volcano, of variable size, is recorded.
The volcanic technical warning remains at the green level.
The Sernageomin will continue with on-line monitoring and provide timely information on possible changes in volcanic activity in the region.
Source : Sernageomin
Photos : eXpuestofilms , Zu den Bildern , Wikipedia.
Sabancaya , Peru :
During the last week, an average of 49 explosions / day (less than the value recorded in the previous report) occurred, with reduced displacement values up to 186 cm2. The predominant seismic activity is related to fluid movements (Long-term earthquakes). Events that indicate the rise of magmatic material (Hybrids) and ash emissions (Tremor) are recorded in smaller numbers.
The eruptive columns of gas and ash decreased from the previous week, reaching a height of about 3200 m above the crater, dispersing within a radius of more than 40 km, mainly east and north -East.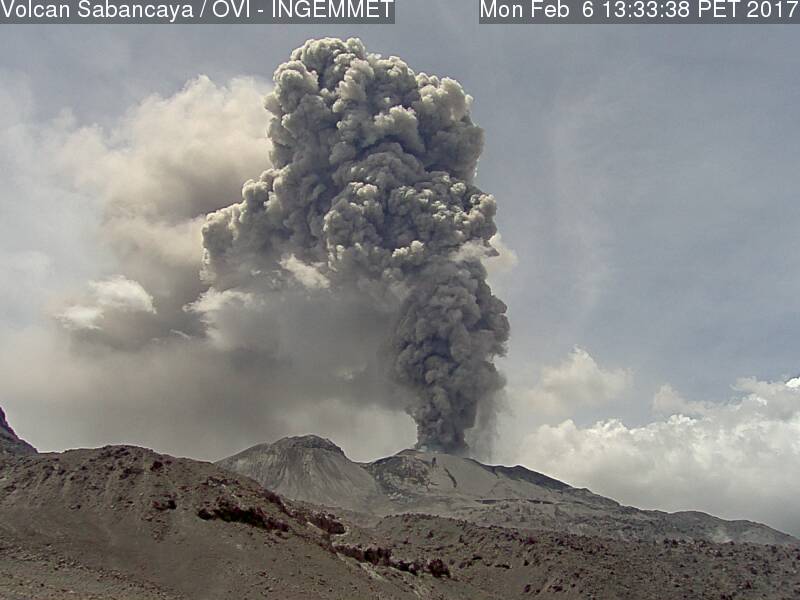 During this period, the GPS station located to the Southeast of the volcano recorded a slight deformation with a negative trend.
The volcanic gas (SO2) flow was recorded on August 8 with a maximum value of 912 tonnes / day, considered to be a moderate value.
Twelve thermal anomalies were recorded according to the MIROVA system, with values between 1 MW and 52 MW of VRP (Radiant Volcanic Energy).
In general, eruptive activity is maintained at moderate levels. This type of behavior can continue over the next few days.
Source : IGP
Photo : Archive 2017
Bogoslof , Alaska :
53°55'38 » N 168°2'4″ W,
Summit Elevation 492 ft (150 m)
Current Volcano Alert Level: WATCH
Current Aviation Color Code: ORANGE
Two short pulses of tremor, one at 16:53 UTC lasting 5 minutes and one at 17:13 UTC lasting three minutes, were observed from Bogolsof Volcano in seismic data this morning. Seismicity returned to background following the pulses. No infrasound or lightning signals were detected and no eruptive cloud was observed in satellite data.
The Aviation Color Code remains at ORANGE and the Alert Level remains at WATCH.
Source : AVO.
Photo : Read, Cyrus