August 13 , 2017. EN. Piton de la Fournaise , Reventador , Sinabung , Karymsky .
August 13 , 2017.
Piton de la Fournaise , La Réunion :
Activity Report for Saturday, August 12, 2017 at 3:00 pm (Local Time)
The eruption begun on July 14 at 00:50 local time continues. The volcanic tremor (indicator of surface eruptive intensity) has experienced a slight increase for about two days (Figure 1).
Figure 1: Evolution of the RSAM (volcanic tremor and eruption intensity indicator) between 12:00 pm (8:00 pm UTC) on July 14 and 14:30 (10:30 UTC) on August 12 at the RVL seismic station, located on the flank South of the volcano.
– No volcano-tectonic earthquake was recorded under the summit craters during yesterday.
– A slight inflation (swelling) of the entire terminal cone of the volcano is always observed (<1 cm since the beginning of the eruption).
The bad weather conditions of the night and the beginning of the day did not make it possible to carry out this day of reconnaissance on the ground, or aerial, nor to estimate the flow through the use of satellites.
Source : OVPF
Photo : Clicanoo ( 21/07)
Reventador , Écuador :
REPORT OF ACTIVITY OF THE VOLCANO REVENTADOR, Friday, August 11, 2017.
SUMMARY OF VOLCAN ACTIVITY:
The volcano maintains a high and continuous eruptive activity. Surface activity was characterized by gas and vapor emissions of heights greater than 500 m and the generation of a pyroclastic flow down to 600 m along the east-southeast flank of the volcanic cone.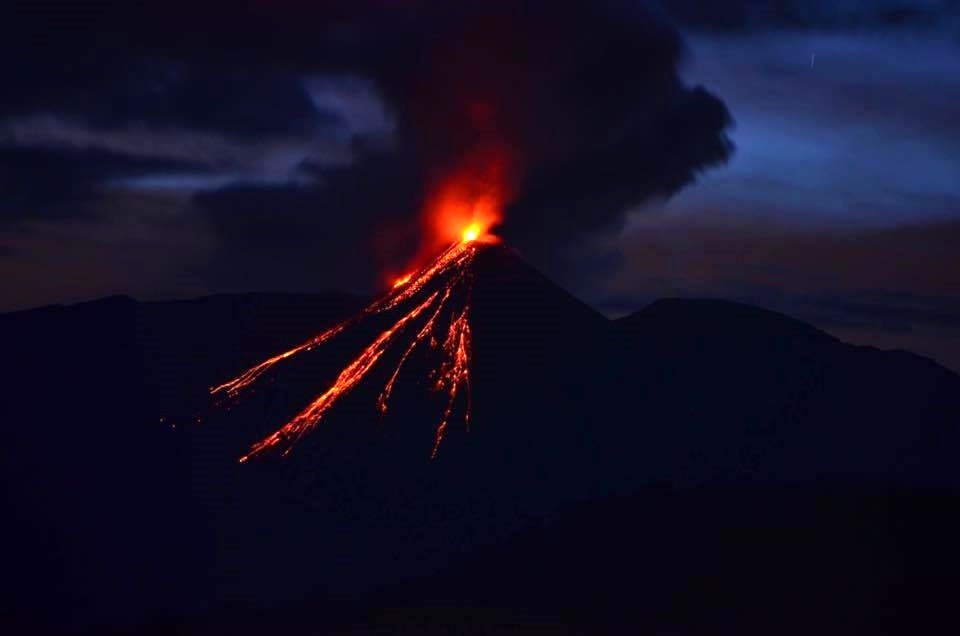 TECHNICAL APPENDIX AND COMMENTS
Seismicity:
(TL) today, 4 episodes of harmonic tremor (TRA), 6 episodes of tremor of emission (TRE), 38 events of the long period (LP) and 35 explosions ( EXP) were recorded.
Observations, emissions and ash:
In the evening hours we observed incandescence and rocks of rocks up to about 800 meters below the level of the crater on all sides of the volcano. In the afternoon and morning of today, several gas and ash emissions have been observed at heights greater than 500 meters with directions to the west and southwest. An additional pyroclastic flow descends about 600 meters below the level of the crater on the East-South-East flank.
Rain and lahares:
There was no rain.
GENERAL INFORMATIONS
This daily report will be issued at 12:00 noon (TL) and as long as the level of activity of the volcano justifies it. In the event of an increase or change in the behavior of the volcano, a special report will be issued immediately.
Source : IGEPN
Photo : Juan Carlos
Sinabung , Indonesia:
G. Sinabung:
Level IV level of activity (AWAS).
The Sinabung (2460 m altitude) since yesterday until this morning often seems foggy. We observe gusts of thick white smoke from low to medium pressure, with a height of 50 to 1000 m. The wind blows towards the West, the South-East and the East. Visually and through the recording of the seismographs, the eruption occurred three times, the column of ash thick, of low to medium pressure reached a height of 1000 m above the peak. No rumbling from the observation post of G. Sinabung which is 8 km south – east of the summit. The eruptions accompanied by lava collapse slide down the South-East and East slopes to 500-1200 m distance and are not followed by the descent of warm clouds.
Dams on the River Laborus, formed by the accumulation of hot cloud deposits, are still potentially dangerous and can cause lahars / floods if the dams collapse.
Recommendations: Communities / visitors should not engage in activities within a radius of 3 km around the summit, and sectorally, from the top, 7 km south-south-east, 6 km south -Est and 4 km to the east and north. Regarding the dams upstream of the Laborus River, residents living downstream from the watersheds must remain vigilant as these dams can collapse when they can no longer resist the volume of water, which can lead to a lahar / downstream flooding.
Volcano Observatory Notice for Aviation (VONA):
Last Issued: 12/08/2017.
Current Aviation Color Code: ORANGE
Volcanic Activity Summary:
Eruption with volcanic ash cloud at 0829 UTC (1629 local). Eruption and ash emission is continuing.
Volcanic Cloud Height:
Best estimate of ash-cloud top is around 13632 FT (4260 M) above sea level, may be higher than what can be observed clearly. Source of height data: ground observer.
Other Volcanic Cloud Information:
Ash-cloud moving to east.
Remarks:
Seismic activity is characterized by continuous volcanic tremor with maximum amplitude 97 mm and 222 second of duration.
Source : VSI / Magma .
Photos : Sadrah Peranginangin .
Karymsky , Kamtchatka :
VOLCANO OBSERVATORY NOTICE FOR AVIATION (VONA).
Issued: 20170812/2217Z
Volcano: Karymsky (CAVW #300130)
Current Aviation Color Code: ORANGE
Previous Aviation Color Code: orange
Source: KVERT
Notice Number: 2017-193
Volcano Location: N 54 deg 2 min E 159 deg 26 min
Area: Kamchatka, Russia
Summit Elevation: 4874.08 ft (1486 m)
Volcanic Activity Summary:
According to satellite data, ash explosions began from 1650 UTC on 12 August. At now a front of ash cloud in size 44×67 km is located for about 110 km to the south-east (azimuth 119 degrees) from the volcano (NOAA 18, 2124 UTC, 12.08.2017.). A height of ash cloud is about 2-2.5 km a.s.l.
A moderate eruptive activity of the volcano continues. Ash explosions up to 16,400-19,700 ft (5-6 km) a.s.l. could occur at any time. Ongoing activity could affect low-flying aircraft.
Source : Kvert
Photo : A. Belousov, IVS FEB RAS.