August 10 , 2017. EN . Piton de la Fournaise , Sinabung , Descabezado Grande , Poas , Turrialba , Rincon de la Vieja .
August 10 , 2017.
Piton de la Fournaise , La Réunion :
Activity report for Wednesday, August 9, 2017 at 5:00 pm (local time).
The eruption begun on July 14 at 00:50 local time continues. The volcanic tremor (surface eruptive indicator) has been relatively constant for 72 hours, and remains at a low intensity level (Figure 1).
Figure 1: Evolution of the RSAM (volcanic tremor and eruption intensity indicator) between 00:00 (20h UTC) on July 14th and 16h30 (12h30 UTC) on August 9th on the seismic station of RVL, located on the flank South of the volcano. (© OVPF / IPGP)
In the field, small projections are visible at the small mouth which remained active on the northern flank of the eruptive vent (Figures 2, 3). The rest of the activity is done in tunnels of lava, with some resurgences of small spatial extension visible on the surface. It should be noted that between 10.30 and 13.00 (local time), during the reconnaissance on the ground of an OVPF team, no resurgence was visible. Only one casting arm set up earlier in the morning could be sampled.
Gas emissions remain high.
Figure 2: Shooting of the eruptive site on August 9, 2017 (11:00 local time). (© OVPF / IPGP)
Figure 3: Shooting of the eruptive vent on 09 August 2017 (13h10 local time). (© OVPF / IPGP)
– A volcano-tectonic earthquake was recorded under the summit craters during yesterday's day.
– A slight inflation (swelling) of the entire terminal cone of the volcano is still observed (<1 cm since the beginning of the eruption), with however a slowdown in the summit zone for two days.
Most of the activity occurring in the tunnel of lava no flow estimate could be made for this day.
Source : OVPF
Photo : C Chapelle
Sinabung , Indonesia :
Volcano Observation Notices for aviation (VONA)
Last published: 09/08/2017.
Current Code Color  Aviation: ORANGE
Summary of volcanic activity:
Eruption with clouds of volcanic ash at 11:34 UTC (18:34 local time). The eruption lasted 336 seconds.
Altitude of the volcanic cloud: The ash cloud is not visible.
Other information about the volcanic cloud:
The ash cloud moves east – south-east. The Sinabung volcano is not visible.
Remarks:
Seismic activity is characterized by deep earthquakes, low frequency earthquakes and hybrid earthquakes. Hot avalanches can be observed in the east-south-east slope and reach a distance of 2300 meters from the summit.
Conclusion:
G.Sinabung's level of activity remains at Level IV (Awas)
Recommendation:
Community and visitors / tourists should not operate within a radius of 3 km around the summit, 7 km in the South – East sector, 6 km in the East – South – East sector, and At a distance of 4 km in the north-east sector of Sinabung. And the people who live near the rivers that spill from Sinabung must remain vigilant about the potential dangers of lahars.
The materials formed a dam upstream on the Laborus River. People who live and move around the watershed downstream must maintain vigilance because these dams can collapse at any time, resulting in downstream lahar / flooding. BPBDs Tanah Karo will immediately disaster or flood threat for people who live and move downstream along and around the Laborus River.
BNPB reported intense activity at Sinabung on 2 August; between 0800 and 1200, pyroclastic flows were generated 17 times and traveled as far as 4.5 km ESE. Ash plumes rose up to 4.2 km above the crater and drifted S, causing ashfall in local areas including Perbaji (4 km SW), Sukatendel, Temberun, Perteguhen (7 km ESE), Kuta Rakyat (5 km NE), Simpang Empat (7 km SE), Tiga Pancur (6 km SSE), Selandi (5 km SSW), Payung (5 km SSW), and Kuta Gugung (5 km N). Significant ashfall was noted in Ndokum Siroga (9 km ESE), Gajah (8 km E), and Naman Teran (5 km NE). BNPB noted that there were 2,038 families (7,214 people) displaced to eight shelters, and an additional 2,863 people living in refugee camps. Based on PVMBG observations, webcam and satellite images, and wind data, the Darwin VAAC reported that during 6-7 August multiple ash plumes rose as high as 5.5 km (18,000 ft) a.s.l. and drifted ENE, E, and SE. The Alert Level remained at 4 (on a scale of 1-4), with an exclusion zone of 7 km from the volcano on the SSE sector, and 6 km in the ESE sector, and 4 km in the NNE sector.
Source : VSI, GVP.
Photo : Endro Lewa
Descabezado

  Grande , Chile :
Special volcanic activity report (REAV), Maule region. 09 August 2017.15: 20 hours (local time).
The National Service of Geology and Mines of Chile (SERNAGEOMIN) describes the following information obtained by the monitoring teams of the National Volcano Monitoring Network (NVNV), processed and analyzed at the South Volcanological Observatory of the South Andes (OVDAS):
On Wednesday, August 9, 2017 at 14:52 local time (18:52 GMT), monitoring stations near Descabezado volcano recorded five (5) earthquakes associated with rock fracture (volcano-tectonic); The major event was located under the main crater at 2.6 km depth.

The location obtained from the most important earthquake was as follows:
Original time: 14:53 (GMT-4)
Latitude: 35 ° 34'98 « South
Longitude: 70 ° 45'01 « West
Depth: 2.6 km
Magnitude: M 3.6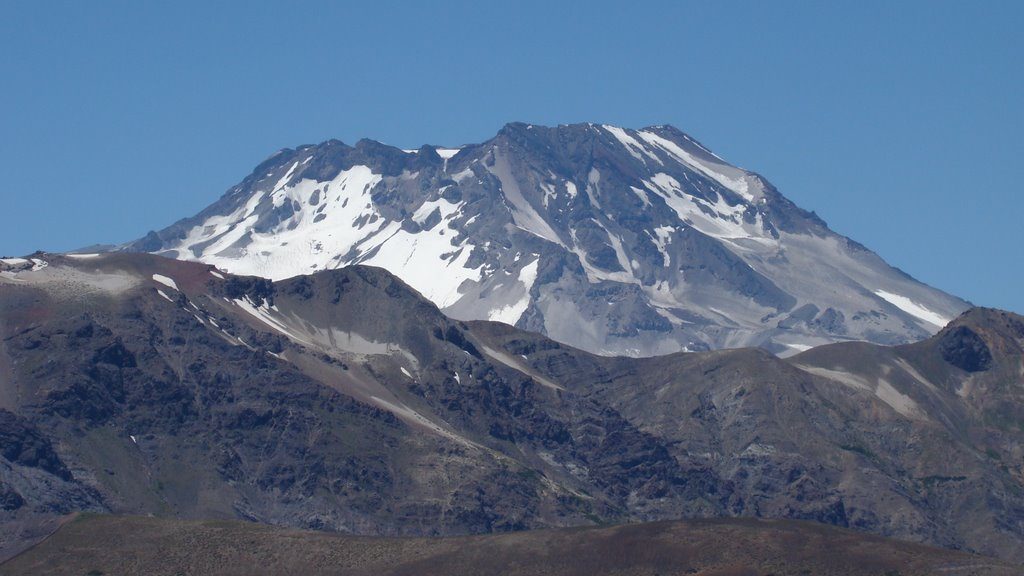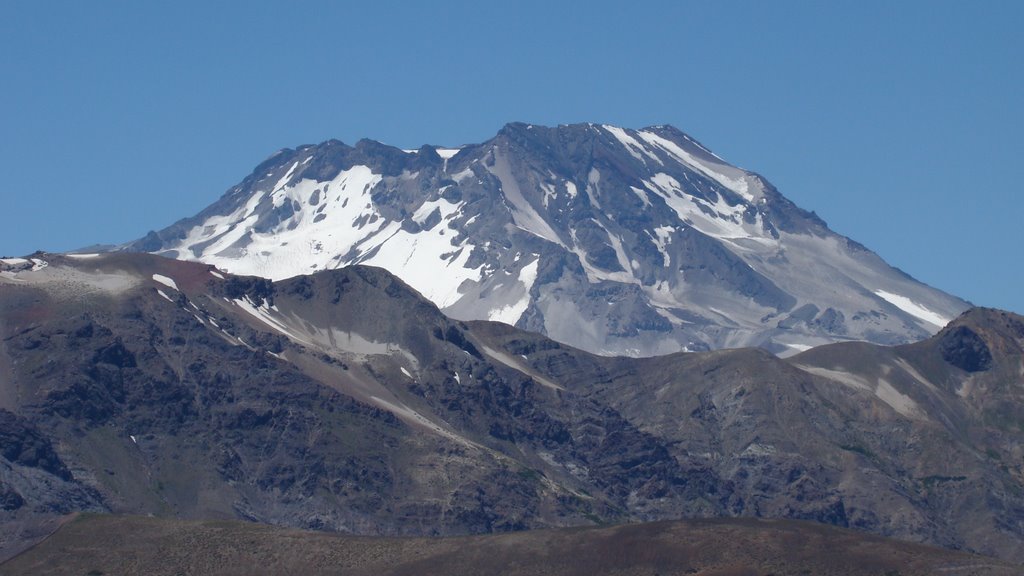 NOTES:
The process began with a smaller event. A few seconds later, the event occurred with a local magnitude (ML) of 3.6, which, until the issuance of this report, presented three (3) replicas.
The level of volcanic technical alert is maintained at the GREEN level.
The Sernageomin will continue with on-line monitoring and provide timely information on possible changes in volcanic activity in the region.
Source : Sernageomin
Photo : Chiletreck , Sernageomin.
Poas , Turrialba , Rincon de la Vieja , Costa Rica :
Activity report of the Turrialba, Poás and Rincon de la Vieja volcanoes.
9 August 2017, updated at 11h00.
Volcano Poas:
In the last 24 hours, the Poas volcano sporadically emitted a plume rich in ash, but the seismic activity remains low.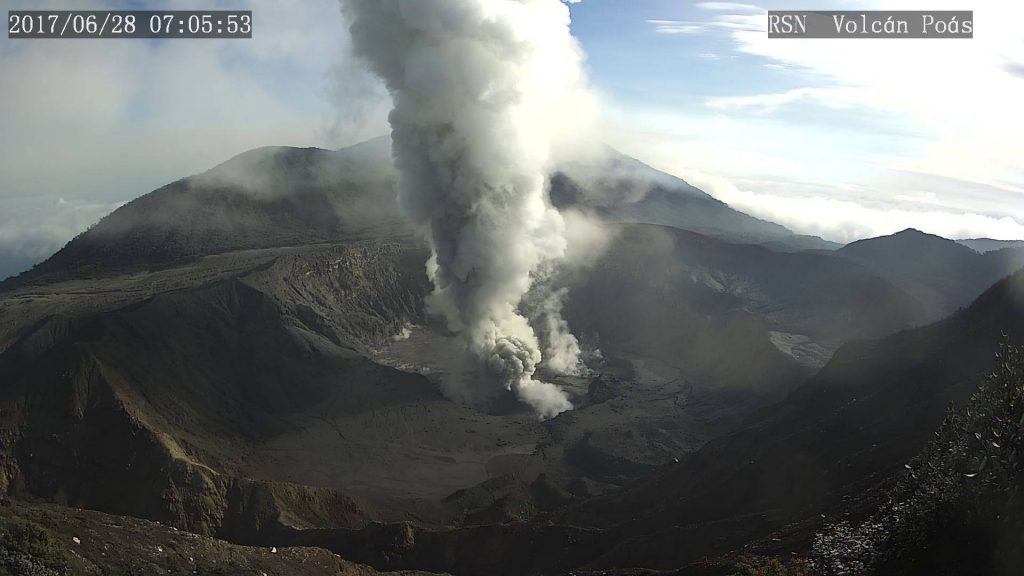 The plume of gases and aerosols is directed towards the west without taking any height. A smell of sulfur was reported in the morning in the town of Poasito.
Turrialba Volcano:
The Turrialba volcano has been maintained with frequent degassing and eruptions with a low ash content. Seismicity remains low. The plume heads southwest without taking any height.
There are no reports of ash falls. An odor of sulfur is reported in Sabanilla de Alajuela.
Rincón de la Vieja Volcano:
The volcano Rincón de la Vieja remains without major activity.
OVSICORI-UNA remains vigilant on seismic and volcanic activity
Source : Ovsicori