August 08 , 2017. EN. Piton de la Fournaise , Fuego , Bogoslof , Bulusan .
August 08 , 2017.
Piton de la Fournaise , La Réunion :
Activity Report of Monday, August 7, 2017 at 3:30 pm (local time).
The eruption begun on July 14 at 00:50 local time continues. The volcanic tremor (indicator of surface eruptive intensity) continues to decline very gradually (Figure 1).
Figure 1: Evolution of the RSAM (volcanic tremor and eruption intensity indicator) between 00:00 (20h UTC) on July 14th and 15h00 (11h00 UTC) on August 7th on the seismic station of RVL, located on the flank South of the volcano. (© OVPF / IPGP)
In the field, small projections are visible again at the small mouth which remained active on the northern flank of the eruptive vent. The rest of the activity is done in tunnels of lava, with some resurgences of small spatial extension visible on the surface.
Gas emissions remain high.
– A volcano-tectonic earthquake was recorded under the summit craters during yesterday's day.
– A slight inflation (swelling) of the summit area of the volcano is always observed.
Estimates based on satellite imagery via the HOTVOLC platform (OPGC – Clermont Ferrand) show a minimum flow rate of less than 1 m3 / s.
Source : OVPF
Photo : F. Leveneur .
Fuego , Guatemala :
SPECIAL VULCANOLOGICAL BULLETIN Guatemala 7 August 2017, 09h30 (local time)
INCREASE IN ACTIVITY
Attraction type: Vulcanienne
Morphology: Stratovolcan composite
Geographical location: 14 ° 28'54 « Latitude N; 90 ° 52'54˝ Longitude W.
Altitude: 3,763msnm.
The Observatory of the Fuego volcano, OVFGO, has recorded an increase in the explosive activity of the volcano in the last few hours, as can be seen on the seismogram of the FG3 station. It indicates explosions with weak to moderate characteristics, which generate columns of ash that reach a height of about 4,500 m (14,764 feet). It travels more than 10 kilometers to the west and southwest. The lava flow to the Ceniza canyon persists and fine materials are observed in the Santa Teresa canyon due to the possible formation of a lava flow in this direction. Falls of volcanic materials of different sizes (ballistics) more than 150 meters above the crater and reaching a distance of 200 meters are noted.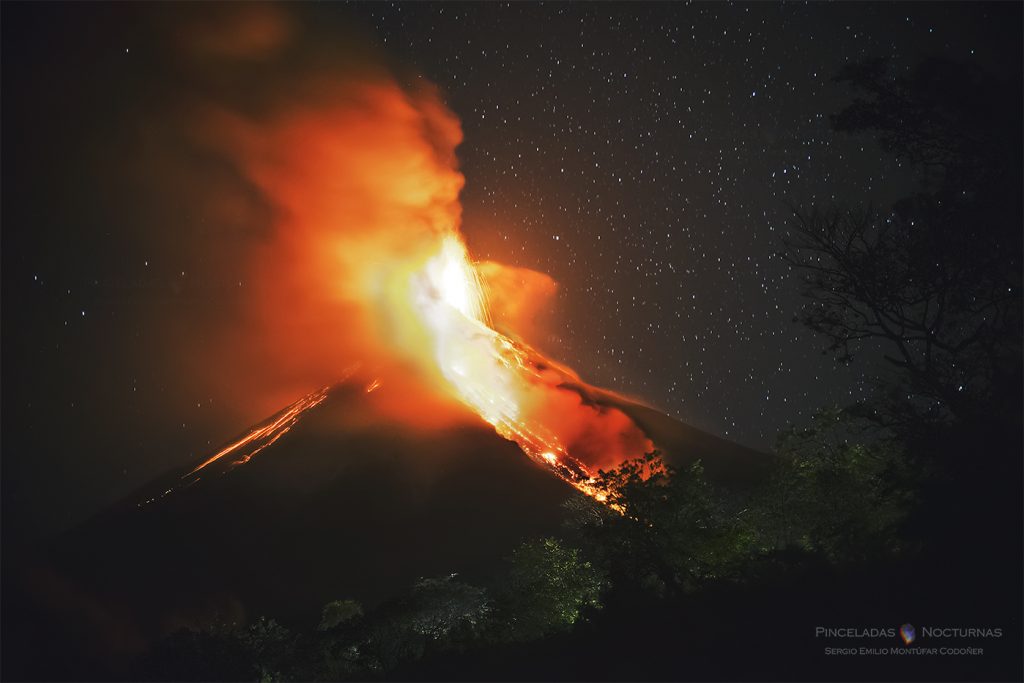 The explosions are accompanied by weak and moderate rumblings which give rise to moderate to strong shock waves, causing vibrations in the roofs of the homes of communities near the volcano.
According to the observations of the seismic activity, the energy of the explosions is maintained, with the possibility that, within the next few hours, lava flows will be generated and a new eruptive phase will develop.
Source : Insivumeh
Photo : Pinceladas nocturnas
Bogoslof , Alaska :
VOLCANO OBSERVATORY NOTICE FOR AVIATION (VONA)
Issued: August 07 , 2017.
Volcano: Bogoslof (VNUM #311300)
Current Color Code: RED
Previous Color Code: ORANGE
Source: Alaska Volcano Observatory
Volcano Location: N 53 deg 55 min W 168 deg 2 min
Area: Aleutians
Summit Elevation: 492 ft (150 m)
Volcanic Activity Summary:
A significant explosive eruption began at Bogoslof volcano at about 18:00 UTC (10:00 AKDT) on August 7 and is continuing. A pilot report at 18:45 UTC indicates that the ash cloud had reached 32,000 ft asl. Thus, AVO is raising the Aviation Color Code to RED and Alert level to WARNING for Bogoslof volcano.
Winds are currently to the south. Seismic and infrasound data suggest that the ash emissions are continuing.
Volcanic cloud height: 32,000 ft asl estimated by pilot report
Other volcanic cloud information: Cloud moving towards south
Remarks:
The SIGMET warning message for aviation, issued by the National Weather Service Alaska Aviation Weather Unit, currently is in effect up to 32,000 ft above sea level.
 Source : AVO
Photo : Read, Cyrus
Bulusan , Philippines :
BULUSAN VOLCANO BULLETIN 07 August 2017 8:00 A.M.
Bulusan Volcano's seismic monitoring network recorded seven (7) volcanic earthquakes during the past 24 hours. Degassing at the active vents could not be observed due to thick clouds covering the summit. Sulfur dioxide (SO2) emission was measured at an average of 88 tonnes/day on July 31, 2017. Precise leveling data obtained on June 14 – 23, 2017 indicated inflationary changes relative to February 2017. Meanwhile, continuous GPS measurements indicated short-term deflation of the edifice since January 2017. In general, the edifice remains inflated with respect to July 2016 based on continuous GPS data.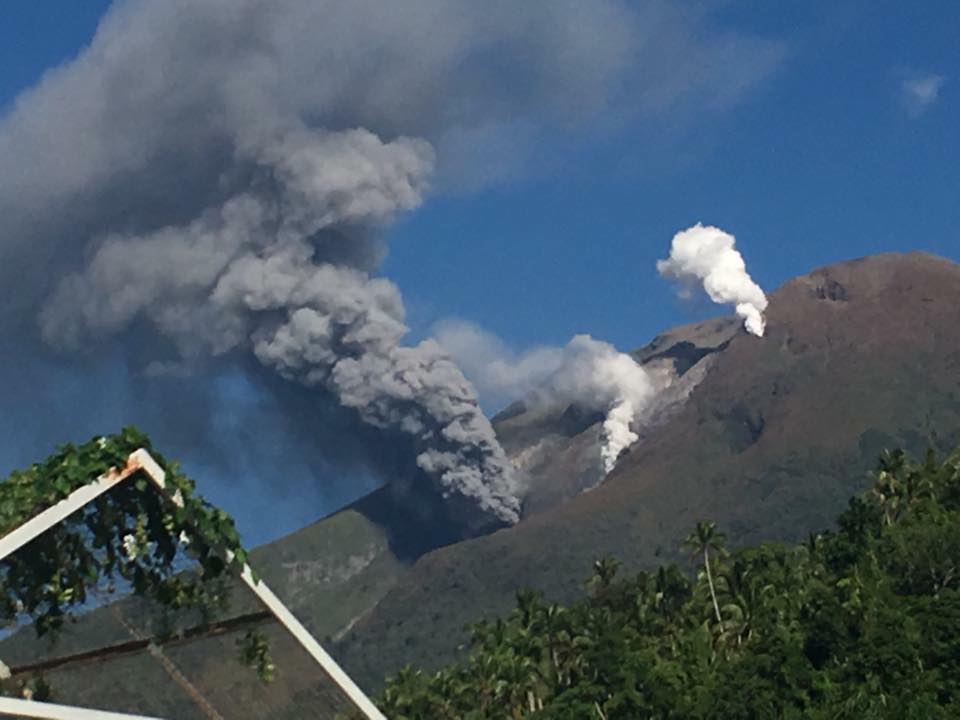 Alert Level 1 (abnormal) status remains in effect over Bulusan Volcano, which means that it is currently in a state of unrest probably driven by hydrothermal processes that could generate steam driven or phreatic eruptions. Local government units and the public are reminded that entry into the 4-kilometer radius Permanent Danger Zone (PDZ) is strictly prohibited and that vigilance in the Extended Danger Zone (EDZ) must be exercised due to the increased possibilities of sudden and hazardous phreatic eruptions.
Source : Phivolcs