August 02 , 2017. EN. Piton de la Fournaise , Cleveland , Klyuchevskoy , Ubinas .
August 02 , 2017.
Piton de la Fournaise , La Réunion :
Activity Bulletin of Tuesday, August 1, 2017 at 3:30 pm (local time).
The eruption begun on July 14 at 00:50 local time continues. After a drop in intensity between 6 pm and 7 pm (local time) yesterday (31 July), the volcanic tremor (surface eruptive intensity indicator) is stable again, at a value equivalent to about 20% of that seen in the beginning of eruption (Figure 1).
Figure 1: Evolution of RSAM (volcanic tremor and eruption intensity indicator) between 00:00 (20h UTC) on July 14th and 15h00 (11h00 UTC) on August 1st on the RVL seismic station, located on the flank South of the volcano. (© OVPF / IPGP)
This decline in the value of the tremors results in a decrease in activity (Figure 2).
Figure 2: Shooting of the eruptive site from the OVPF / IRT camera installed in Piton de Bert. (© OVPF / IPGP)
– No earthquakes have been recorded in the past 24 hours.
– The trend recorded on deformation sensors, in particular GPS, at the top of the volcano, seems to register a resumption of inflation again. This parameter will be followed in the next few days.
Due to bad weather conditions since the morning on the volcano, no reconnaissance on the ground nor any estimate of flows by satellite method could be made today.
Source : OVPF
Photo : C. Paradivin
Cleveland , Alaska :
52°49'20 » N 169°56'42 » W,
Summit Elevation 5676 ft (1730 m)
Current Volcano Alert Level: WATCH
Current Aviation Color Code: ORANGE
Slow growth of the lava dome in the summit crater continues. Satellite data through 29 July show that the dome surface area was at least 50×45 m (~2,100 square meters area), an increase of about 75% since 25 July (~1,200 square meters). The surface of the dome continued to inflate while the area increased. Elevated surface temperatures were observed in satellite images over the past day, consistent with this slow growth of the lava dome. Minor steaming was observed in web camera images during periods of clear weather. No significant activity detected in seismic or infrasound data over the past day.
Cleveland volcano is monitored with a limited real-time seismic network, which inhibits AVO's ability to detect precursory unrest that may lead to an explosive eruption. Rapid detection of an ash-producing eruption may be possible using a combination of seismic, infrasound, lightning, and satellite data.
Source : AVO
Photo : Lyons, John ( 2016)
Klyuchevskoy , Kamtchatka :
VOLCANO OBSERVATORY NOTICE FOR AVIATION (VONA).
Issued: August 02 , 2017
Volcano: Klyuchevskoy (CAVW #300260)
Current Aviation Color Code: ORANGE
Previous Aviation Color Code: orange
Source: KVERT
Notice Number: 2017-173
Volcano Location: N 56 deg 3 min E 160 deg 38 min
Area: Kamchatka, Russia
Summit Elevation: 15580 ft (4750 m)
Volcanic Activity Summary:
A moderate eruptive activity of the volcano continues. Gas-steam plume containing some amount of ash extended for about 65 km to thesouth-west from the volcano.
Eruptive activity of the volcano continues. Ash explosions up to 26,200-32,800 ft (8-10 km) a.s.l. could occur at any time. Ongoing activity could affect international and low-flying aircraft.
Volcanic cloud height: 18040 ft (5500 m) AMSL
Time and method of ash plume/cloud height determination: 20170802/0035Z – Video data
Other volcanic cloud information: Distance of ash plume/cloud of the volcano: 40 mi (65 km)
Direction of drift of ash plume/cloud of the volcano: SW / azimuth 218 deg
Time and method of ash plume/cloud determination: 20170802/0020Z – Himawari-8
Duration of explosion: ~ 720 minutes
Source : Kvert
Photo : Volkstat ru.
Ubinas , Peru :
1. Sismo-volcanic monitoring:
Overall, the Ubinas volcano has a low level of activity.
Again, seismic activity during this period is dominated by VT events, associated with rock fracturing. The average occurrence rate for these events was 3 earthquakes per day, similar to that observed during the first half of July. Moreover, the energy generated by this seismic activity has remained at a low level.
During this period, there were Tornillos type earthquakes, linked to an increase in pressure in the volcanic system. In the last 15 days, 8 low energy Tornillos events, which according to the rash prediction model are present in the first of the four identified phases of an eruption were observed. This does not allow us to rule out the beginning of a new eruptive process in the medium term.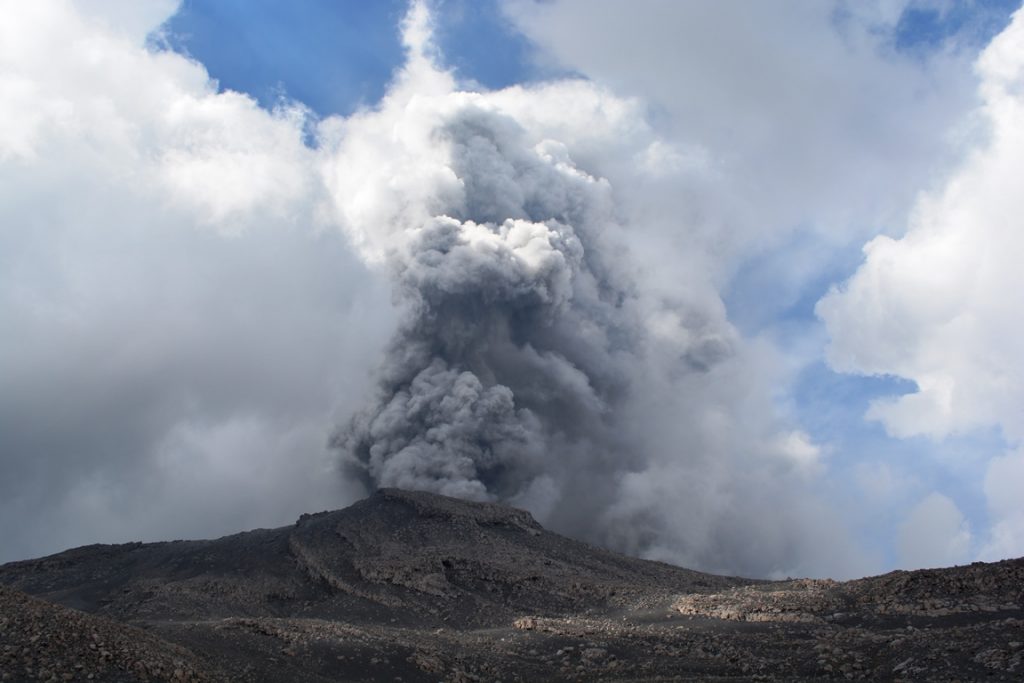 2. Satellite Surveillance:
Thermal anomalies and SO2: The Mirova system (www.mirovaweb.it) did not detect any thermal anomalies for this period. In addition, the GSDM-NASA satellite system « EOS Aura » (http://so2.gsfc.nasa.gov/) did not detect any significant anomalies of SO2.
3. Visual inspection
During this period, the activity of fumaroles of the Ubinas was practically nil. It was not distinguished from the expulsion of fumaroles from water vapor and magmatic gases from the crater.
Conclusions:
In general, the seismic – volcanic activity of Ubinas remains low. During this period, the recording of seismic activity maintains an average of 3 VTs earthquakes per day, considered to be a low value. In addition, a total of 8 Tornillos events have been observed, earthquakes considered as precursors of a volcanic eruption (in a prediction model).
Any changes will be reported in a timely manner.
Source : IGP