24/07/2017. EN. Piton de la Fournaise , Klyuchevskoy , Sabancaya , Popocatepetl .
24/07/2017.
Piton de la Fournaise , La Réunion :
Activity bulletin of Sunday, July 23, 2017 at 3:30 pm (local time).
The eruption begun on July 14 at 00:50 local time continues. The intensity of the volcanic tremor (indicator of the surface eruptive intensity) has fluctuated somewhat in the last 24 hours before reaching 15:30 (local time) at a level close to that observed between July 18 and 20 (Figure 1 ).
Figure 1: Evolution of the RSAM (volcanic tremor and eruption intensity indicator) between 00:00 (20h UTC) on July 14th and 15h30 (11h30 UTC) on July 23rd on the seismic station of RVL, located on the flank South of the volcano. (© OVPF / IPGP)
– A volcano-tectonic earthquake has been recorded in the last 24 hours under the summit of the volcano.
– A slight deflation (deflation) is always observed at the top of the terminal cone.
Estimates carried out using satellite methods via the HOTVOLC platform (OPGC – Clermont Ferrand) show that minimum flows are always between 1 and 3 m3 / s.
Source : OVPF
Photo : Stéphane Michel.
Klyuchevskoy , Kamtchatka :
VOLCANO OBSERVATORY NOTICE FOR AVIATION (VONA)
Issued: 20170724/0013Z
Current Aviation Color Code: ORANGE
Previous Aviation Color Code: orange
Source: KVERT
Notice Number: 2017-171
Volcano Location: N 56 deg 3 min E 160 deg 38 min
Area: Kamchatka, Russia
Summit Elevation: 15580 ft (4750 m)
Volcanic Activity Summary:
A moderate eruptive activity of the volcano continues. Gas-steam plume containing some amount of ash extended for about 45 km to the north-east from the volcano.
Eruptive activity of the volcano continues. Ash explosions up to 26,200-32,800 ft (8-10 km) a.s.l. could occur at any time. Ongoing activity could affect international and low-flying aircraft.
Volcanic cloud height: 16400-18040 ft (5000-5500 m) AMSL
Time and method of ash plume/cloud height determination: 20170724/0010Z – Video data
Other volcanic cloud information:
Distance of ash plume/cloud of the volcano: 28 mi (45 km)
Direction of drift of ash plume/cloud of the volcano: ENE / azimuth 61 deg
Time and method of ash plume/cloud determination: 20170723/2340Z – Himawari-8
Duration of explosion: ~ 300 minutes
In Kamchatka, the Klyuchevskoy volcano erupted after Sheveluch's eruption .
24 JULY 2017. The volcano Klyuchevskaya Sopka, erupted to an altitude of 5.5 kilometers above sea level in the afternoon, the press service of the regional department of the Ministry of Emergencies reported.
According to the Kamchatka Response Team for volcanic eruptions (KVERT), an ash plume spread 45 kilometers east-north-east of the volcano toward the Ozernaya Bay. There are no settlements on the way of its distribution, ash deposition in the villages of the Ust-Kamchatka region has not been recorded.
The volcano is assigned an « orange » (elevated) aviation hazard code. International routes of aircraft traffic in the area of ​​Klyuchevskaya volcano do not pass. Tourist organizations are advised not to conduct tours in the area of ​​the volcano.
Earlier this morning a powerful ash release occurred on the volcano Shiveluch. Its height was 12 kilometers above sea level, Ash plume also « left » towards the Gulf of Ozernaya, bypassing populated areas.
Source : Kvert ,  KAMCHATKA / Jeannie Curtis.
Photo : Volkstat Ru. , Yu Demyanchuck.
Sabancaya , Peru :
Alert of ash falls for the volcano Sabancaya.
Communities and affected areas: Huanca and Lluta
Type of event: Explosions
Ash Dispersion Direction: Heading south of the volcano.
Radius of dispersion: more than 40 KM.
Date: July 21, 2017.
Time: 15:43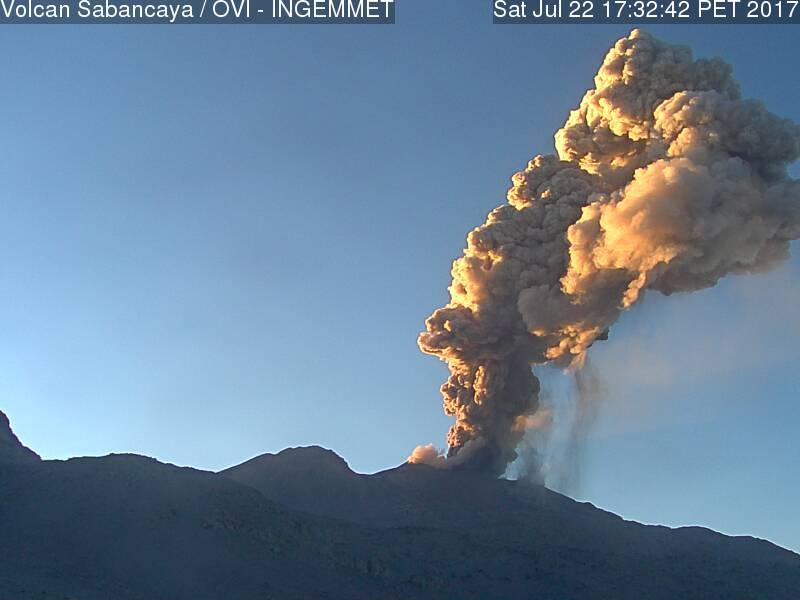 Observations:
The prognosis of dispersal of the ashes emitted by the Sabancaya volcano indicates mainly a southern direction, on the populations of Huanca and Lluta
Recommendations:
Ashes can cause problems affecting people's health. It is recommended :
– To protect the eyes using glasses and respiratory tract with masks.
-That the competent authorities and institutions carry out permanent assessments of the impact of ash on water, air, soil and human health.
Source : IGP
Popocatepetl , Mexico :
23 July 20.30 (24 July, 01.00 GMT)
The monitoring system of the Popocatepetl recorded from 16:00 until the moment of this update sequence of exhalations of low amplitudes. Due to intense clouds in the area, no ash was observed. It should be noted that the volcanic alert semaphore remains at yellow phase two. If changes in volcano activity occur, a report will be issued in due course.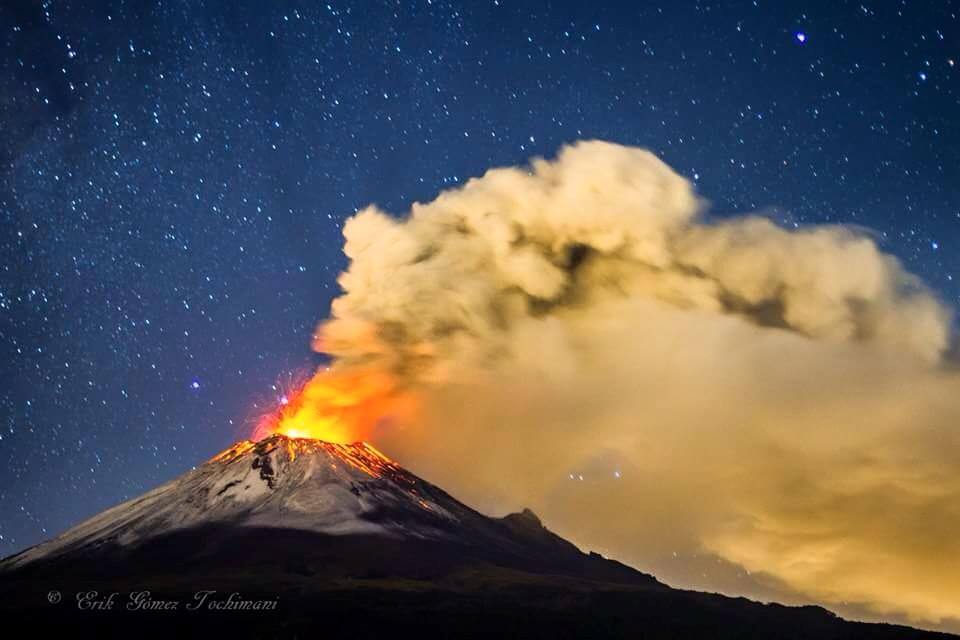 23 July 11.00 (23 July, 16.00 GMT)
Over the past 24 hours, the Popocatepetl volcano monitoring systems have recorded 53 low-intensity exhalations accompanied by steam and gas emissions.
Overnight incandescence was observed on the crater with continuous emission of water vapor and gas.
At the time of this report, continuous volcanic gas emissions to the southwest were again observed.
CENAPRED asks not to approach the volcano and in particular the crater.
The Popocatepetl volcanic alert semaphore is located in Amarillo Phase 2.
Source : Cenapred .
Photo : Erik Gomez Tochimani