July 23 , 2017. EN . Piton de la Fournaise , Kilauea , Great Sitkin , Fuego .
July 23 , 2017.
Piton de la Fournaise , La Réunion :
Activity report for Saturday 22 July 2017 at 17:00 (Local time)
The eruption begun on July 14 at 00:50 local time continues. The intensity of the volcanic tremor (indicator of surface eruptive intensity) has been relatively constant for 24 hours and is close to that observed between 18 and 20 July (Figure 1).
Figure 1: Evolution of the RSAM (volcanic tremor and eruption intensity indicator) between 00:00 (20h UTC) on 14 July and 16h00 (12h00 UTC) on 22 July on the RVL seismic station, located on the flank South of the volcano. (© OVPF / IPGP)
An overflight carried out today by the OVPF enabled mapping of the lava flow by aerial image processing (Figure 2). The casting extends in its maximum length over 2.8 km and in its maximum width over 0.6 km. The casting front has not progressed since the last seven days.
Figure 2: Mapping of lava flow at 22 July 2017, 7.30 am (Background map: GoogleEarth). (© OVPF / IPGP)
The morphology of the eruptive cone downstream of the eruptive crack continues to evolve (Figure 2). Observations at 7:30 this morning testified to the presence of three active mouths at the main cone, all three open towards the east. A fourth mouth on the north wall of the main cone remained entirely closed and emitted only sporadic projections.
This morning two arms of flow were active: the first one in direction of « Castle Fort » in open channel, the second towards the southwest in tunnel.

Figure 3: Shooting at the eruptive site on July 22, 2017, 7:30 am (local time). (© OVPF / IPGP)
– No earthquakes have been recorded this day.
– A slight deflation (deflation) is always observed at the top of the terminal cone.
Estimates carried out using satellite methods via the HOTVOLC platform (OPGC – Clermont Ferrand) show that minimum flows are always between 1 and 3 m3 / s.
Source : OVPF
Photo : Kiwi.
Kilauea , Hawaï :
19 ° 25'16 « N 155 ° 17'13 » W,
Summit Elevation 4091 ft (1247 m)
Current Volcano Alert Level: WATCH
Current Aviation Color Code: ORANGE
Activity Summary:
Kīlauea Volcano continues to erupt at its summit and from the Pu'u'Ō'ō wind on its East Rift Zone. The episode 61g lava flows from Pu'u to continue to enter the ocean at Kamokuna. Surface flows are active above the pali, with continued activity on the coastal plain. These flows pose no threat to nearby communities. There have been significant changes in seismicity levels across the volcano. At the summit, there was no significant change in ground tilt and the lake was measured at around 25 m (82 ft) below the crater overlook  this morning.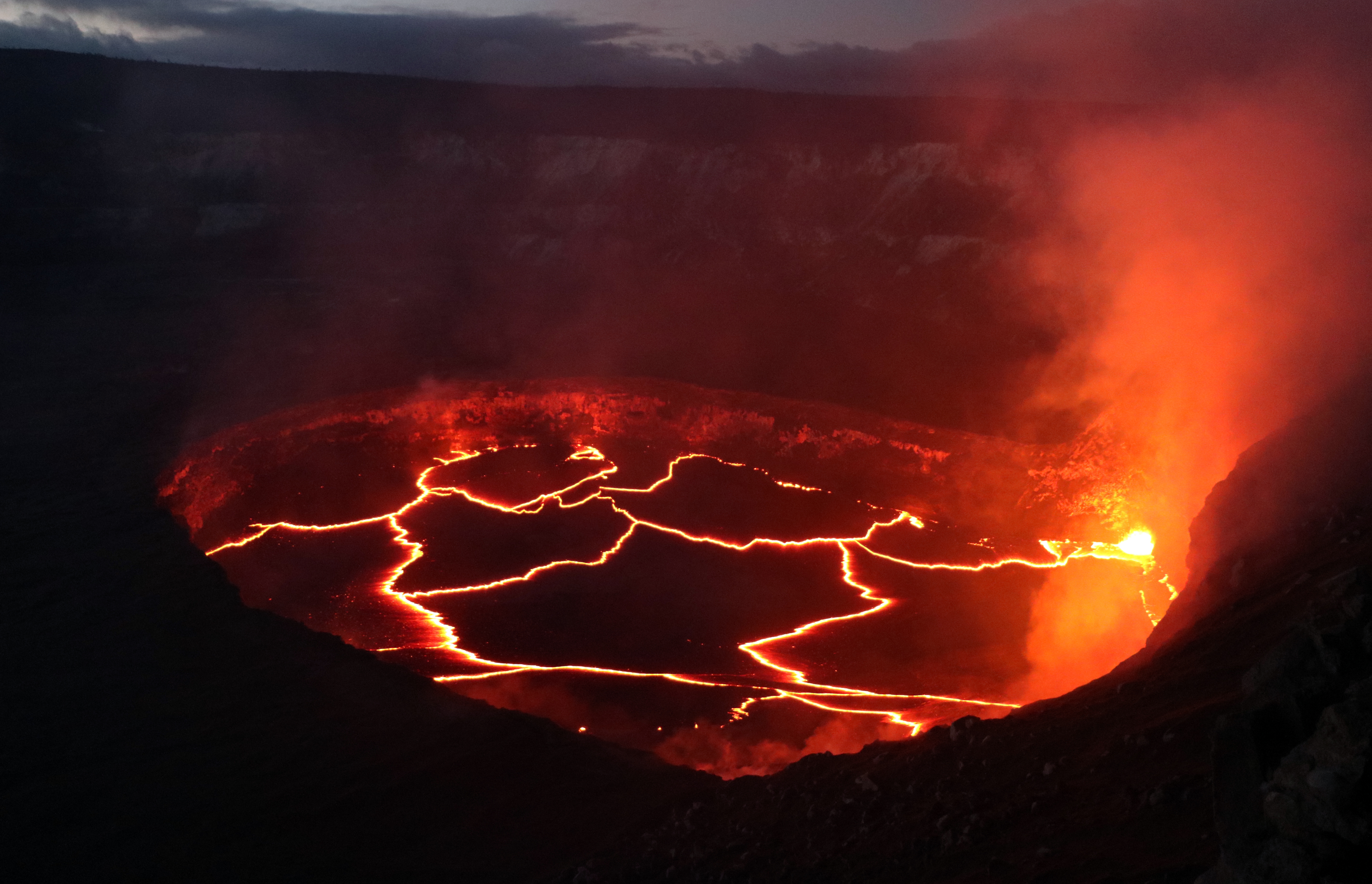 Clear weather provided good views of the lava lake at Kīlauea Volcano's summit. The activity this evening was typical for the lava lake, with variable spattering along the lake margins. Spattering shown here was in the southeast part of the lake, which is the most common site for spattering. This photo was taken by USGS scientists from the rim of Halema'uma'u crater, an area that remains closed to the public due to ongoing volcanic hazards.
Summit Observations:
There was no significant change in ground tilt over the past day, and the level of the lava lake was measured at about 25 m (82 ft) below the Overlook crater rim.  Summit tremor continuous to fluctuate in response to variations in lava lake spattering and earthquakes. Summit sulfur dioxide emissions remain high.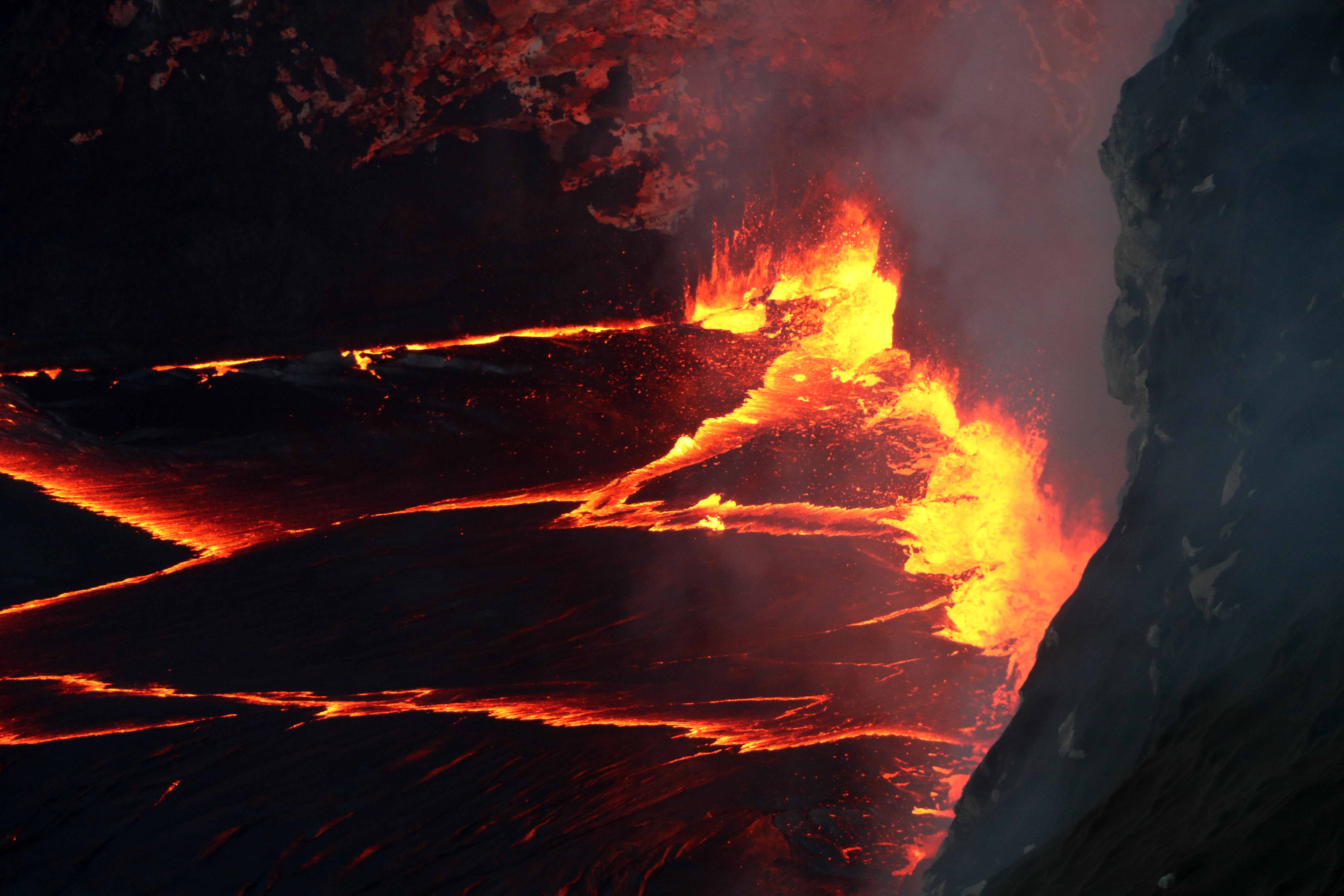 Pu'u'Ō'ō Observations:
Webcam images continue to show persistent glow from long-term sources at Pu'u'Ō'ō. Seismic activity is at background levels, and ground tilt measurements were affected by rain over the past day. The sulfur dioxide emission rate from the East Rift Zone has been steady over the past several months and remains lower than the summit emission rate.
Lava Flow Comments:
Kamokuna is the most important and most important part of Kamokuna. Several large cracks have developed in the lava delta, running parallel to the coastline and spanning the width of the delta. These cracks increase the likelihood of a large delta collapse.
Surface flows continuously on the upper part of the flow. Minor breakouts on the coastal plain continuous, roughly 2 km (1.2 mi) upslope from the gravel emergency road.
Source : HVO
Photos : HVO , David Ford .
Great Sitkin , Alaska :
52°4'35 » N 176°6'39 » W,
Summit Elevation 5709 ft (1740 m)
Current Volcano Alert Level: NORMAL
Current Aviation Color Code: GREEN
An increase in seismic activity was detected at Great Sitkin starting with seismic tremor on July 21 16:17 AKDT (July 22 00:17 UTC). After about an hour, tremor transitioned to discrete earthquakes. Small earthquakes continue at present at a much decreased rate of several per hour. No anomalous airwaves were detected at the Adak infrasound array, and nothing was observed in satellite data above weather cloud tops, which were at about 10,000 ft asl. AVO continues to monitor Great Sitkin with a local seismic network, distal infrasound networks and with satellite observations.
Great Sitkin Volcano is a basaltic andesite volcano that occupies most of the northern half of Great Sitkin Island, a member of the Andreanof Islands group in the central Aleutian Islands. It is located 43 km (26 miles) east of the community of Adak. The volcano is a composite structure consisting of an older decapitated volcano and a younger parasitic cone with a 2-3 km diameter summit crater. A steep-sided dome occupies the center of the crater. Great Sitkin erupted at least three times in the 20th century, most recently in 1974 when a lava dome formed in the crater accompanied by at least one ash cloud that reached ~10,000 ft. above sea level. A poorly documented eruption occurred in 1945, also producing a lava dome that was partially destroyed in the 1974 eruption. Within the past 280 years a large explosive eruption produced pyroclastic flows that partially filled the Glacier Creek valley on the southwest flank.
Source : AVO
Photo : Mees, Burke
Fuego , Guatemala :
Activity type: vulcanian
Morphology:  Composit stratovolcano
Geographical location: latitude 14 ° 28'54˝ N; Longitude 90 ° 52'54˝ W.
Altitude: 3,763msnm.
Weather conditions: Partly Cloudy
Wind: East 10 km / h
Precipitation: 0.0 mm.
Activity:
The volcano has a low white plume reaching a height of 4,200 meters (13,780 feet), which moves northwest, west and southwest. There are on average between 3 and 5 low to moderate explosions per hour, ejecting ash plumes at a height of about 4,500 to 4,800 meters (14,763 to 15,748 feet) moving 11 kilometers north- West, West and South West.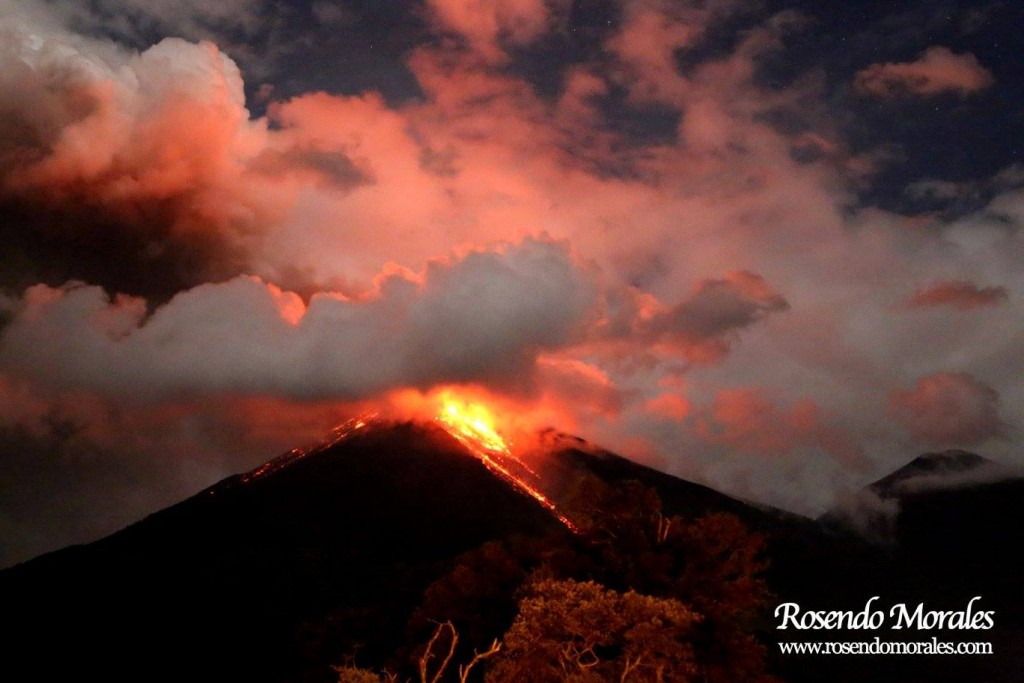 Moderate rumblings are heard, generating low shock waves that cause vibrations in the houses. Incandescent pulses ranging from 150 to 200 meters above the crater cause slight to moderate avalanches towards Santa Teresa, Taniluyá, Ceniza, Trinidad, Las Lajas and Honda canyons. Ash falls are reported from the communities of Panimache, Morelia, Hagia Sophia, El Porvenir, Sangre de Cristo, Panimaché II, San Pedro Yepocapa, among others.
Source : Insivumeh
Photo : Rosendo Morales