July 08 , 2017. EN. Villarica , Kilauea , Fuego , Klyuchevskoy .
July 08 , 2017.
Villarica , Chile :
A total of four thousand five hundred and thirty-seven (4537) seismic events, of which 4487 were classified as long-period earthquakes (LP), related to fluid dynamics in the volcanic edifice with a reduced displacement value  (RDC) less than 3.9 cm2. In addition, fifty (50) seismic events associated with the fracturing of rigid materials have been classified as volcano-tectonic (VT) earthquakes. The highest energy event had a local magnitude (ML) of M2.7 and was located 9 km to the southeast (SE) of the active crater at a depth of 4.7 km.
The intensity of the volcanic tremor (TR), a seismic signal associated with the fluid dynamics within the volcano, exhibited an average reduced displacement value (RDC) of 2 cm2, which is considered low, while dominant frequencies were mainly maintained between 1.0 and 2.1 Hz during the period.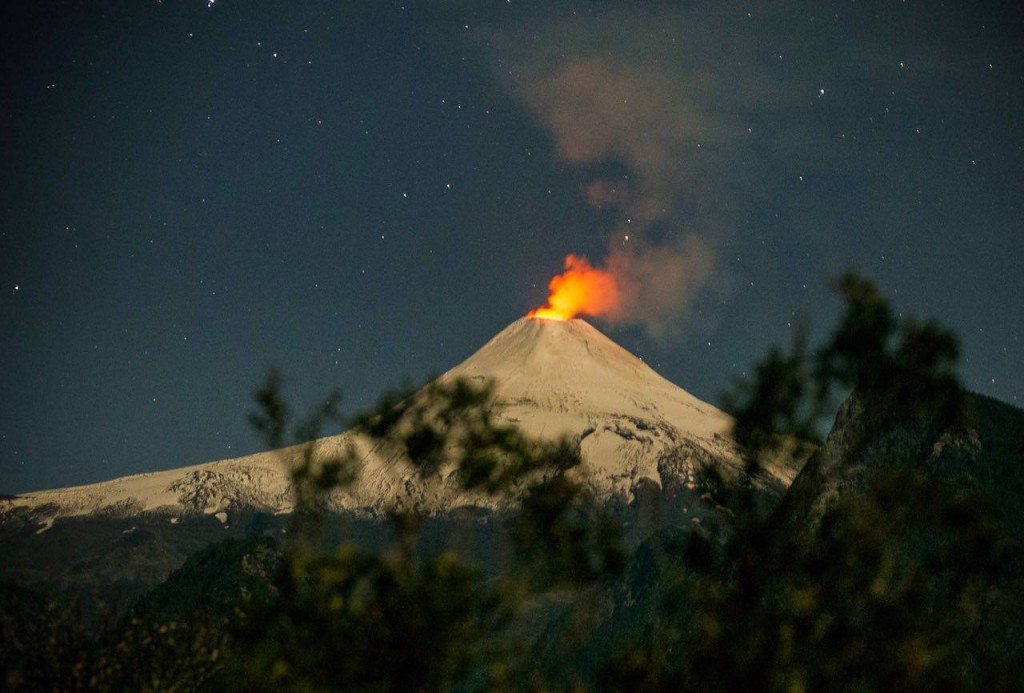 Infrasound sensors installed 4 km from the volcano crater recorded minor explosions associated with surface activity in the lava lake housed inside the main crater. The maximum value calculated was 7.5 Pascals on 18 June.
Images recorded with IP cameras installed in the volcano area, when weather permitted, showed persistent low intensity degassing and low height, whitish color and predominantly nocturnal glow. The altitudes of the column did not exceed 170 m.
Based on data from five (5) GNSS stations controlling deformation of the volcano, small horizontal and vertical variations with low velocity amplitudes were observed. It should also be noted that the length of control lines that cross the volcano are stable, consistent with the data provided by the two (2) inclinometers.
The data obtained from the Nevados and Tralco station's optical spectroscopy equipment (DOAS), located 10 km northeast (NE) and 6 km SE (respectively) of the active crater, recorded an average sulfur dioxide (S02) emission value of 884 ± 552 t / day, with a maximum value of 1513 t / day reported on 02 June. S02 emissions remain at their reference level for the surface area of ​​a lava lake.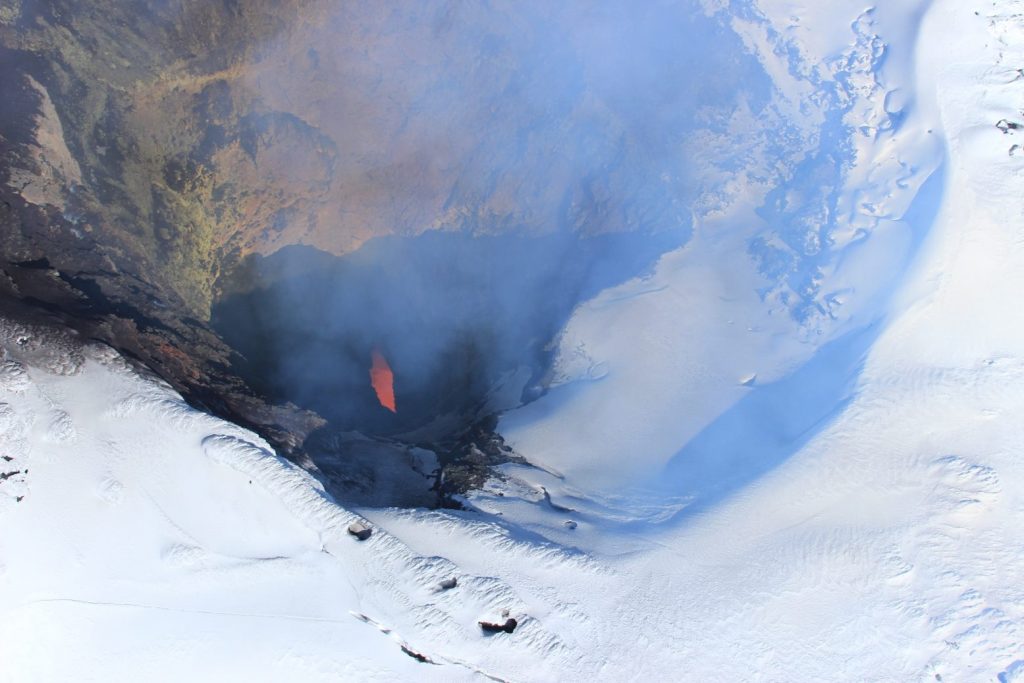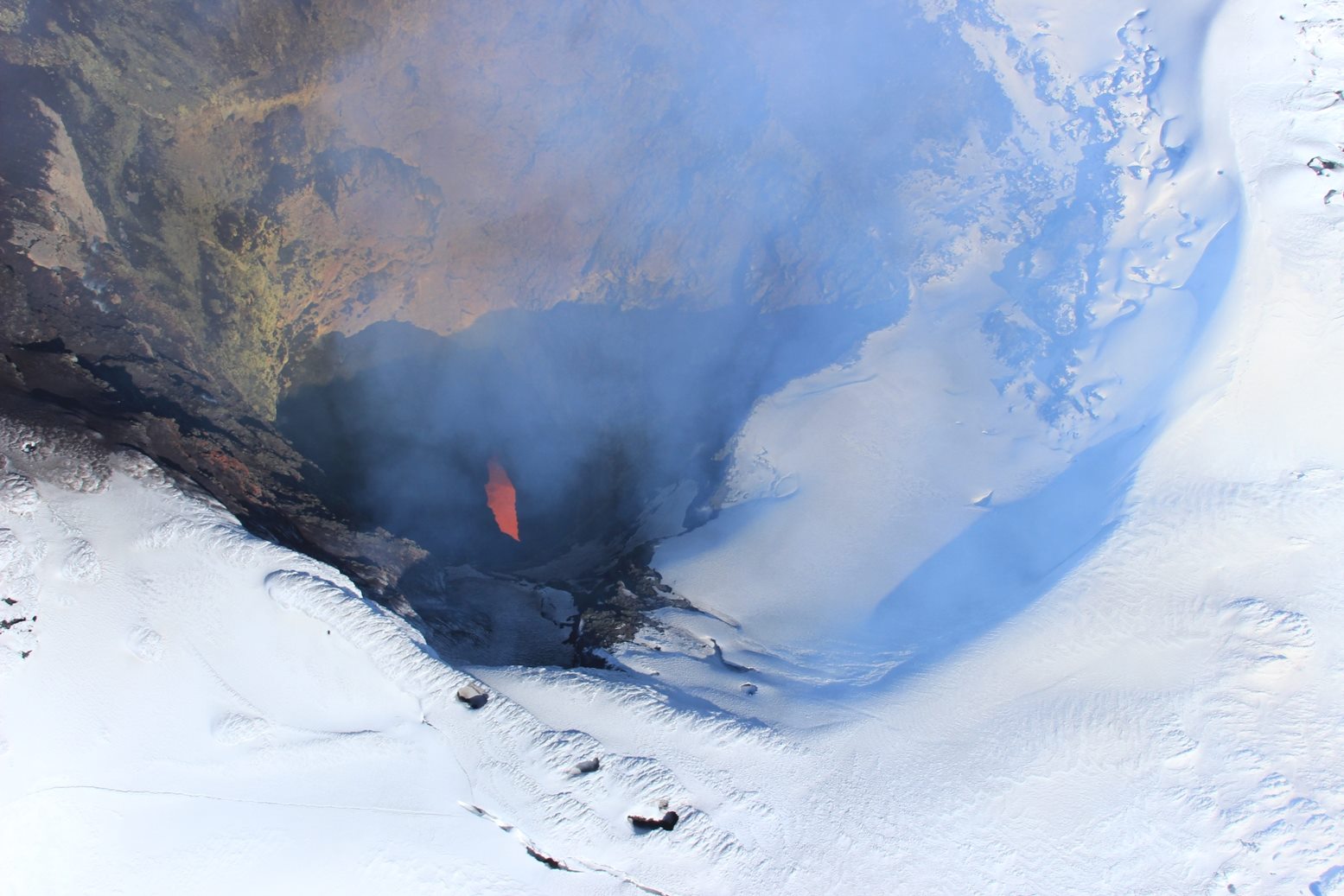 No emissions of sulfur dioxide (S02) into the atmosphere have been reported, according to data published by the Ozone Monitoring Instrument (IMO) Sulfur dioxide group (http: //so2.gsfc. Nasa.gov) and NESDIS (http://satepsanoine.nesdis.noaa.gov).
Thermal warnings were reported in the area associated with the volcano throughout the month, the highest alert was recorded on June 20 with a volcanic radiating power (VRP) of 17 MW, according to data processed by Mirova (http: //www.mirovaweb.it/) and near-real time monitoring of MODVOLC hot spots (http://modis.higp.hawaii.edu/).
Volcanic activity parameters remained at stable levels for several months, with residual oscillations specific to the dynamics of a lava lake at shallow levels in an open system. The tectonic earthquake reported on June 23 (REAV_20170623_Villarrica) did not directly or immediately change the equilibrium of the volcanic system. Under present conditions, low-level explosions are expected in the crater with a hazard associated with the fallout of pyroclastic materials in the area adjacent to the main crater.
Therefore, the level of volcanic alert remains:
At GREEN LEVEL: Active volcano with stable behavior – There is no immediate risk – Possible time for an eruption: months / years.
Note: It is recommended to apply preventive restrictions on the access of an area near the crater with a radius of 500 m.
Source : Sernageomin
Kilauea , Hawai :
19°25'16 » N 155°17'13 » W,
Summit Elevation 4091 ft (1247 m)
Current Volcano Alert Level: WATCH
Current Aviation Color Code: ORANGE
Activity Summary:
Kīlauea Volcano continues to erupt at its summit and from the Puʻu ʻŌʻō vent on its East Rift Zone. The episode 61g lava flow from Puʻu ʻŌʻō continues to enter the ocean at Kamokuna. Surface flows are active both above the pali and on the coastal plain, close to the pali base. These flows pose no threat to nearby communities. The summit lava lake was about 32 m (105 ft) below the Overlook crater rim as of this morning. There have been no significant changes in seismicity levels or ground deformation trends across the volcano.
Summit Observations:
Modest inflationary tilt began yesterday morning, consistent with the transition from deflation to inflation that marks a summit DI event (see definitions below). The lava lake level accordingly went up and was about 32 m (105 ft) below the Overlook crater rim, as of this morning. Webcam views of the lava lake can be found at this webpage: http://hvo.wr.usgs.gov/cams/region_kism.php. Summit tremor continues to fluctuate in response to variations in lava lake spattering and earthquakes occurred at normal, background rates. Summit sulfur dioxide emission rates remain high.
Puʻu ʻŌʻō Observations:
Glow from long-term sources at Puʻu ʻŌʻō continue to be visible in webcam images, including glow from a small lava pond on the west side of the crater. Minor inflationary tilt was recorded on a nearby tiltmeter. There was no significant change in East Rift Zone seismicity. The sulfur dioxide emission rate from the East Rift Zone vents has been steady over the past several months and remains significantly lower than the summit emission rate.
Lava Flow Observations:
The episode 61g flow is still active and entering the ocean at Kamokuna. Surface flows continue on the upper portion of the flow field. Surface flows are also present on the coastal plain close to the base of the pali. HVO geologists in the field reported that the front of the breakout was about 500 m (550 yards) from the bottom of the pali yesterday afternoon. These flows do not pose any threat to nearby communities at this time.
Source : HVO
Photos : Bruce Omori , David Ford .
Fuego , Guatemala :
Increased activity.
Type of activity: Vulcanian
Morphology: Stratovolcan composite
Geographical location: latitude 14 ° 28'54˝ N; Longitude 90 ° 52'54˝ W.
Height: 3,763msnm.
Weather conditions: Clear
Wind: South 0 km / h
Precipitation: 0.0 mm.
Activity:
A white degassing rising to a height of approximately 4500 meters (14,764 feet) goes west. On average, between 4 and 7 explosions per hour, weak to moderate, expelling columns of ash at a height between about 4,300 to 4,600 m (14,108 to 15,092 feet), dispersing at a distance of between 6 and 10 km, West and South-West. These incandescent explosions generate pulses ranging from 100 to 200 meters above the crater, producing avalanches in the Santa Teresa, Ceniza, Taniluyá, and Trinidad canyons. Some explosions generate low and moderate rumblings with sounds similar to a locomotive engine.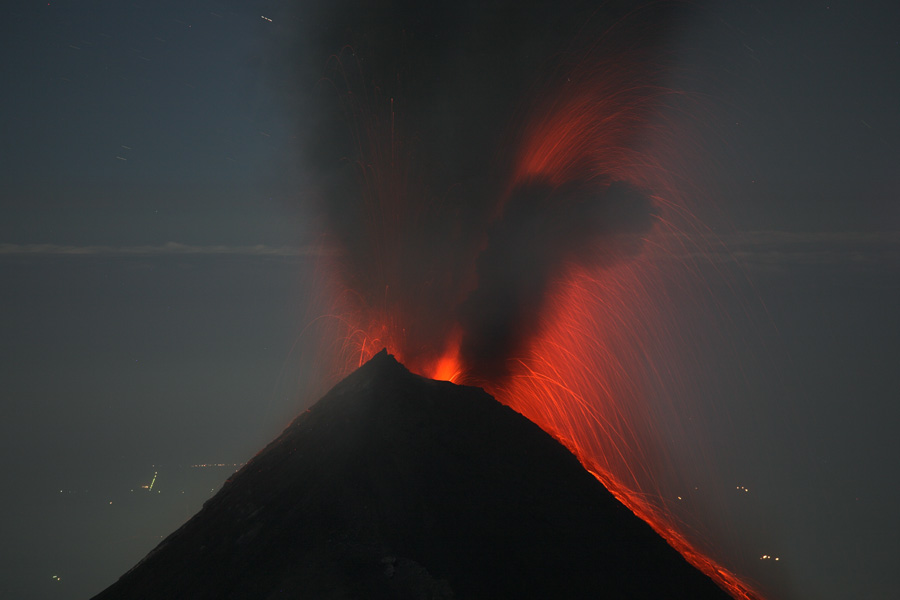 Since 19 hours, the activity is increasing, with 7 to 10 explosions per hour, expelling columns of ashes at 4800m, dispersing over a distance of 15 km towards the West. There are ash falls on Santa Sofia, Morelia, Panimache, Porvenir, Sangre de Cristo and maybe on San Pedro Yepocapa. A lava flow is observed in the Las Lajas ravine for 1 km.
Source : Insivumeh.
Klyuchevskoy , Kamchatka :
VOLCANO OBSERVATORY NOTICE FOR AVIATION (VONA)
Issued: 20170708/0215Z
Volcano: Klyuchevskoy (CAVW #300260)
Current Aviation Color Code: ORANGE
Previous Aviation Color Code: orange
Source: KVERT
Notice Number: 2017-158
Volcano Location: N 56 deg 3 min E 160 deg 38 min
Area: Kamchatka, Russia
Summit Elevation: 15580 ft (4750 m)
Volcanic Activity Summary:
A moderate eruptive activity of the volcano continues. A ash plume extending for about 28 km to south-east from the volcano.
Eruptive activity of the volcano continues. Ash explosions up to 26,200-32,800 ft (8-10 km) a.s.l. could occur at any time. Ongoing activity could affect international and low-flying aircraft.
Volcanic cloud height: 18040 ft (5500 m) AMSL
Time and method of ash plume/cloud height determination: 20170708/0140Z – Himawari-8
Other volcanic cloud information:
Distance of ash plume/cloud of the volcano: 17 mi (28 km)
Direction of drift of ash plume/cloud of the volcano: SE / azimuth 125 deg
Time and method of ash plume/cloud determination: 20170708/0140Z – Himawari-8
Duration of explosion: ~ 720 minutes
Source : Kvert
Photo : Yu. Demyanchuk, IVS FEB RAS, KVERT