July 01 , 2017. EN. Piton de la Fournaise , Bogoslof , Fuego , Poas , Turrialba , Rincon de la Vieja .
July 01 , 2017.
Piton de la Fournaise , La Réunion :
Monthly Bulletin of Friday, June 30, 2017
Seismicity:
In June, 2017 (until June 30 – 12h local time), the OVPF recorded in total:
176 superficial volcano-tectonic earthquakes (0-2 km deep) under the summit craters;
9 deep earthquakes (> 2 km deep);
187 collapses (in Dolomieu Crater and in the walls of the enclos Fouqué);
28 local earthquakes (under the island, Piton des Neiges side);
0 regional earthquake (in the Indian Ocean zone).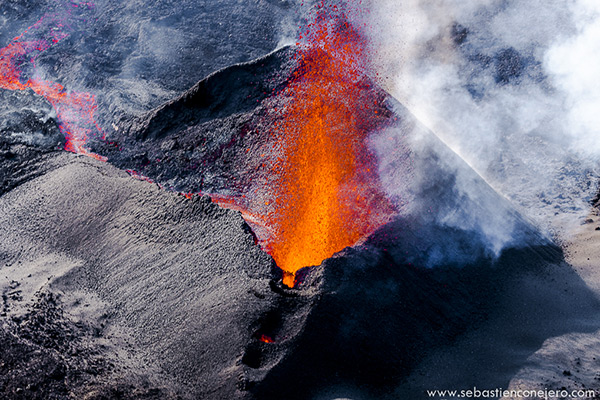 Following a phase of re-growth of the superficial volcanic-tectonic seismicity under the summit craters at the beginning of June, seismicity gradually decreased during the month to reach an average of less than one event per day (Figure 1).
Figure 1: Histogram representing the number of superficial volcanic tectonic earthquakes recorded under the summit craters between 1 and 30 June 2017 (12h local time). (© OVPF / IPGP)
Concerning the deep earthquakes recorded under the Piton de la Fournaise, they were located under the eastern flank of the volcano (around 2 km below sea level) and under the extra-northwest part of the building (rift -zone N120 around 20 km below sea level; Figure 2).
Figure 2: Location map of the earthquakes registered by the OVPF network over a month. Only locatable earthquakes have been shown on the map. The observatory records seismic events not shown on this map because they can not be located because of their low magnitude. (© OVPF / IPGP)
Deformation:
The inflation phase (swelling) of the volcanic edifice which resumed following the magma injection of May 17, 2017, stopped around mid-June. Since no significant deformation is recorded (Figure 3).
Figure 3: Illustration of the deformation during the last twelve months (eruptions of 11-18 September 2016 and 31 January-27 February 2017 are shown in yellow and the magma injection of 17 May 2017 is represented by a black bar ). Here is shown a baseline (distance between two GPS receivers) crossing the Dolomieu crater from north to south (in black the raw data, in blue the smoothed data over a week). A rise is synonymous with elongation and therefore swelling of the volcano; Conversely a decrease is synonymous with contraction and thus of deflation of the volcano. (© OVPF / IPGP)
Geochemistry of gases:
– Emissions of SO2 and H2S in the air at the top are below the detection threshold.
– CO2 concentrations in the soil measured at the remote stations of Plaine des Cafres and at the level of the Gîte du volcan show a decrease compared to the end of last month (May 2017, Figure 4). It should be noted that a decrease in CO2 concentrations in the soil is generally observed on remote stations several days to several weeks before a seismic crisis.
Figure 4: Concentration of CO2 in the soil at the level of the volcano deposit between March 2016 and June 2017 (eruptions of 26-27 May, 11-18 September 2016 and 31 January-27 February 2017 are shown in red, and The magma injection of May 17, 2017 is represented by a gray bar). In blue the rainfall data. Values ​​are normalized to the maximum value. (© OVPF / IPGP)
Balance sheet:
Even if the present observations show a relatively low seismicity and deformation, vigilance remains in order. Indeed, a considerable recharge of the surface reservoir (at a depth of 2 km) occurred during and following the injection of magma towards the surface of May 17, 2017. The magma being present and stored at shallow depth and the medium being already A new recharge of the reservoir could quickly trigger its rupture and a departure of magma towards the surface as shown by the last eruptive crises of 2016-2017 (Figure 3).
Source : OVPF
Photo : S. Conejero.
Bogoslof , Alaska :
53°55'38 » N 168°2'4″ W,
Summit Elevation 492 ft (150 m)
Current Volcano Alert Level: WATCH
Current Aviation Color Code: ORANGE
Several eruptive episodes containing multiple explosions have occurred over the past week, twice prompting AVO to raise the Aviation Color Code to RED and the Volcano Alert Level to WARNING. A series of 9 explosions were detected in seismic and/or infrasound data the night of Friday, June 23, the largest of which produced a volcanic cloud reaching an altitude of 36,000 ft above sea level (asl). On Monday evening and early Tuesday morning, two explosions sent volcanic clouds to 25,000 and 30,000 ft asl. Winds carried most of these volcanic clouds to the north and northeast, and AVO received no reports of ashfall from local communities. Bogoslof erupted again yesterday afternoon producing a small plume, and intermittent low-level seismicity has been observed over the last 24 hours. Low-level eruptive activity may be occurring locally, and the Aviation Color Code currently remains at ORANGE and the Volcano Alert Level at WATCH.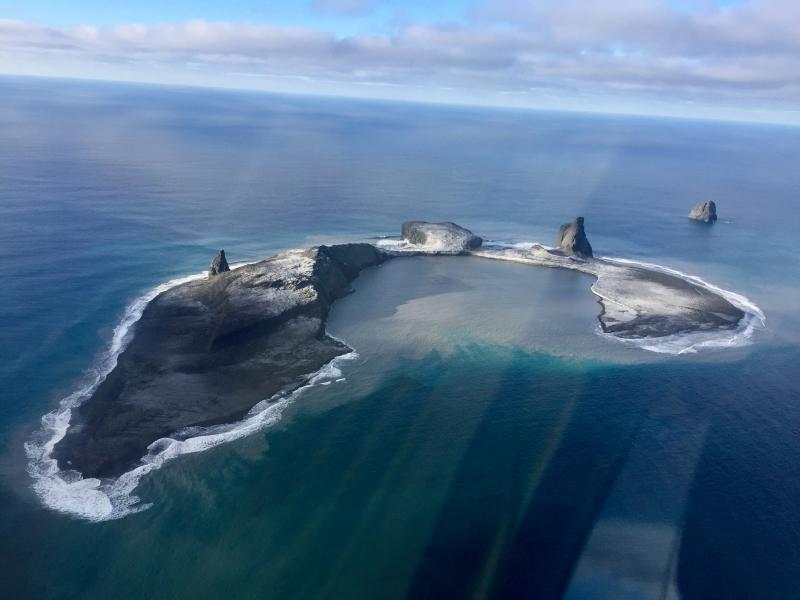 Volcanic explosions producing high-altitude (>15,000 ft) volcanic clouds with little or no warning remain possible. Some previous explosions have been preceded by an increase in earthquake activity that allowed for short-term forecasts of imminent significant explosive activity. Although we are able to detect energetic explosive activity in real-time, there is typically a lag of tens of minutes until we can characterize the magnitude of the event and the altitude of the volcanic cloud.
It is possible for low-level unrest, including explosive activity, to occur that we are unable to detect with existing data sources. Such low-level periods of unrest and possible explosions could pose a hazard in the immediate vicinity of the volcano. A Temporary Flight Restriction (TFR) is in effect over the volcano at the present time.
Source : AVO
Fuego , Guatemala :
Type of activity: Vulcanian
Morphology: Composite stratovolcano..
Geographical location: 14 ° 28'54˝ latitude N; 90 ° 52'54˝ longitude W.
Altitude: 3,763msnm.
Weather conditions: Clear
Wind: East 11 km / h
Rainfall: 11.4 mm.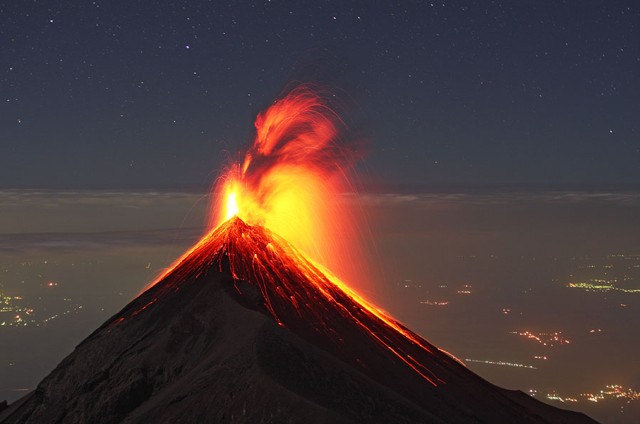 Activity:
Persistence of a white degassing activity towards the west at low altitude. A total of 30 low-level explosions were reported that expelled columns of gray ash at a height of about 4,400 meters (14,436 feet), which dissipated for about 9 km to the west. These explosions generated low rumblings and shock waves, sensitive to 10 kilometers in the volcanic perimeter, as well as low avalanches towards the Santa Teresa, Ceniza, Taniluyá and Trinidad gullies, sometimes to vegetation. It was possible to hear the degassing as the machine of a train locomotive and a turbine of airplane every 5 minutes approximately.
Source : Insivumeh
Photo : Archives
Poas , Turrialba , Rincon de la Vieja , Costa Rica :
Activity report of volcanoes Poas, Turrialba and Rincon de la Vieja. June 30, 2017, updated at 11:00 am.
Volcano Poas: activity in the last 24 hours.
The volcano had, since early morning, an emission of passive volcanic gases, without ash emissions. Yesterday at 11:15 local time, an eruption was recorded, with a column that reached the height of 1000 meters above the crater. There was no extraordinary seismic activity and at night it was possible to see the active crater glowing.
Residents of neighboring regions especially to the west of the massif, reported an odor of sulfur.
Turrialba volcano : activity in the last 24 hours.
The Turrialba volcano remained with a weak and stable activity with emissions, mainly of water vapor and volcanic gases. There were no reports of ash falls. Also, during the night, incandescence was observed in the active crater. The dispersion of the gas plume is sent to the northwest.
Rincon de la Vieja volcano : activity in the last 24 hours.
No change. There are no reports of populations for an eruption in the last 24 hours.
OVSICORI-A remains vigilant on seismic and volcanic activity.
Source : Ovsicori .