June 28 , 2017. EN. Bogoslof , Cerro Machin , Sabancaya , Sinabung .
June 28 , 2017.
Bogoslof , Alaska :
AVO/USGS Volcanic Activity Notice
Current Volcano Alert Level: WARNING
Previous Volcano Alert Level: WATCH
Current Aviation Color Code: RED
Previous Aviation Color Code: ORANGE
Issued: Tuesday, June 27, 2017, 3:52 AM AKDT
Source: Alaska Volcano Observatory
Location: N 53 deg 55 min W 168 deg 2 min
Elevation: 492 ft (150 m)
Area: Aleutians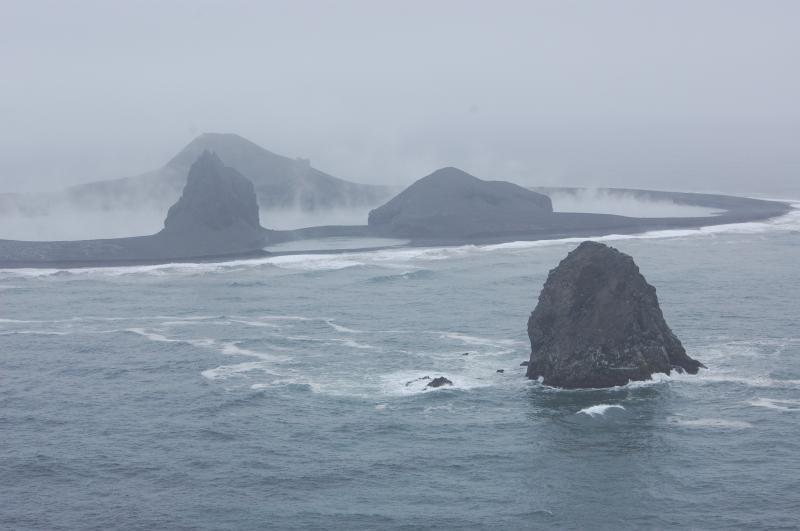 Bogoslof from the NW. Fire Island in foreground. Bogoslof Island aerial recon opportunity courtesy of U.S. Coast Guard Air Station Kodiak and U.S.C.G Cutter Mellon.
Volcanic Activity Summary:
A significant explosive eruption began at Bogoslof volcano at 11:17 UTC on June 27 (03:17 AKDT) as indicated in seismic and lighting data and is continuing. Although at this time there have been no satellite images or pilot reports received confirming eruptive activity, these monitoring data strongly suggest that significant ash emissions have occurred. Thus, AVO is raising the Aviation Color Code to RED and Alert level to WARNING.
AVO is evaluating all data sources and will update this report as more information becomes available.
Recent Observations:
[Volcanic cloud height] None detected yet. NWS eruption SIGMET issued to 30,000 ft asl.
[Other volcanic cloud information] Wind direction to the northeast
[Lava flow/dome] N/A
[Lava flow] N/A
Remarks:
The National Weather Service Alaska Aviation Weather Unit has issued an eruption SIGMET warning for aviation up to 30,000 ft above sea level. This may be revised as new information becomes available. Please see the NWS AAWU at http://aawu.arh.noaa.gov/sigmets.php for updated information on aviation warning messages.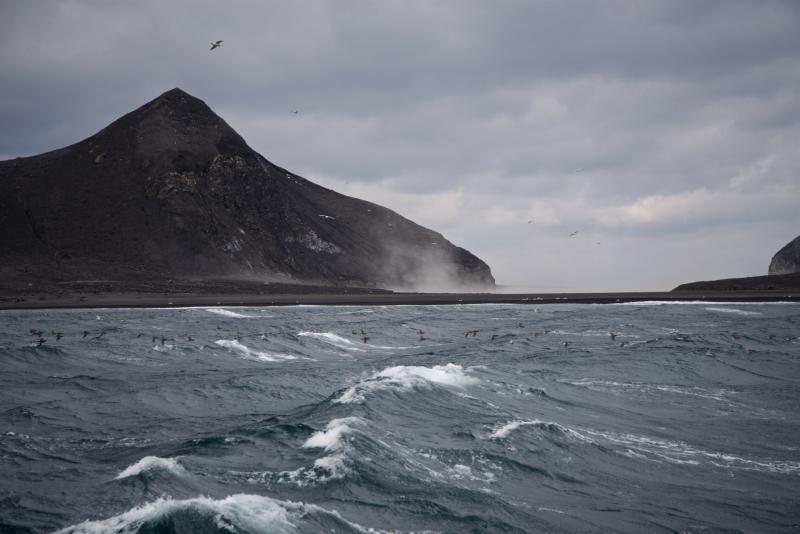 Bogoslof Volcano seen from the M/V Miss Alyssa during attempted hydrophone deployment. Steam from the crater is seen in the center of the image.
Issued: Tuesday, June 27, 2017, 3:36 PM AKDT
Volcanic Activity Summary:
No further ash emissions have occurred at Bogoslof Volcano since the explosion on June 27 at 03:17 AKDT (11:17 UTC) and seismicity remains low. We are therefore lowering the Aviation Color Code to ORANGE and the Alert Level to WATCH. Additional ash-producing eruptions could occur at any time, however, with no detectable precursors.
Source : AVO
Photos : Kaufman, Max ; Read, Cyrus .
Cerro Machin , Colombia :
Weekly activity bulletin of the Cerro Machin volcano, 20 June to 26 June, 2017.
The level of activity continues: at the level of yellow (III) activity: changes in the behavior of the volcanic activity.
As regards the monitoring of the activity of the Cerro Machin volcano, the Colombian Geological Survey reports that: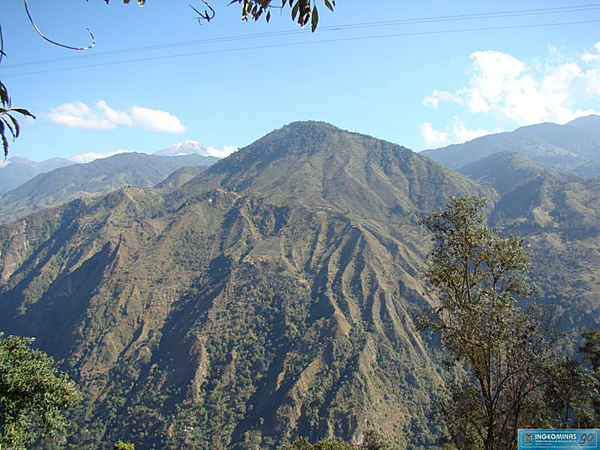 During the last week, the seismic activity related to the fracturing of rocks in the volcanic structure was recorded. This type of activity showed a slight increase in the number of recorded earthquakes as seismic energy released compared to the previous week. It should be noted that a slight seismic increase occurred on 24 June between 20:23 and 21:23, the earthquakes were at a distance of 0.5 km south of the main dome, at depths between 3 , 5 and 4.5 km. The maximum magnitude recorded during the week was 0.5 ML (local magnitude) for the earthquake of June 24 at 06:48 (local time), located southwest of the main dome, at a depth of 8, 5 km. On the other parameters monitored, there are no significant changes.
The Colombian Geological Survey continues to monitor the evolution of the volcanic phenomenon and will continue to report in a timely manner on any changes that may occur.
Source : Ingeominas
Sabancaya , Peru :
The number of explosions continues to decline. There were an average of 15 explosions / day, which were lower and lower energy (* Reduced movement = 72 cm2). Seismic activity continues to be dominated by events associated with the movement of fluids (long period). On the other hand, events associated with the uplift of magmatic material are rare and low energy. There is an important tremor activity associated with ash, gas and steam emissions.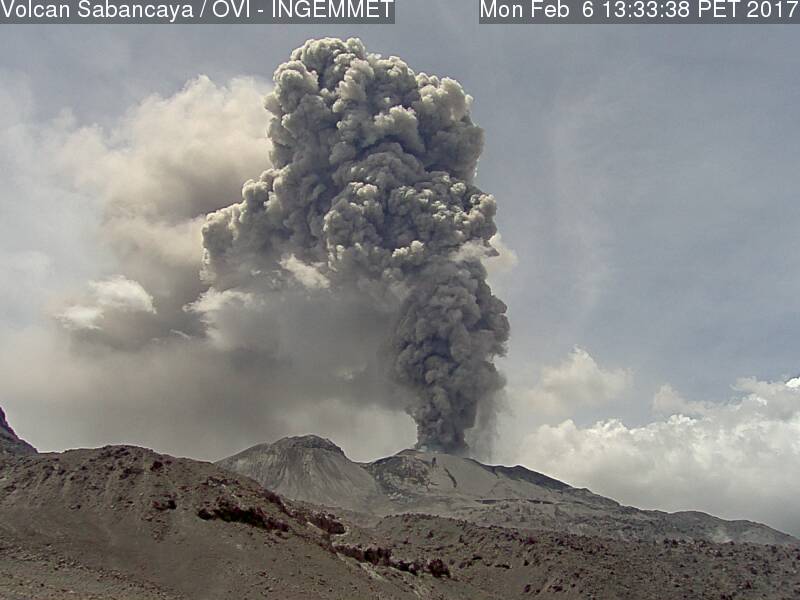 The eruptive columns of gases and ashes were about 3500 m above the crater and propagated within a radius of 40 km in a southerly direction, predominantly.
The GPS station located south-east of the volcano did not show any significant changes in the deformation of the vertical components.
The volcanic gas flow (SO2) recorded on June 24, showed a maximum value of 5,700 tons / day.
Up to 10 thermal anomalies have been detected with values ​​between 1 and 33 MW distributed on the South – East, North and Northeast flanks of the volcano.
Overall volcanic activity experienced fewer explosions, as well as long continuous emissions with high ash and gas contents. This activity can be maintained in the same way over the next few days.
* Reduced offset (DR): Area moved by the event in its home area. Useful for determining the size and energy of the seismic signal (explosions).
Source : IGP
Sinabung , Indonesia :
Volcano Observatory Notice for Aviation (VONA):
Last Issued: 20170628/0331Z
Current Aviation Color Code: ORANGE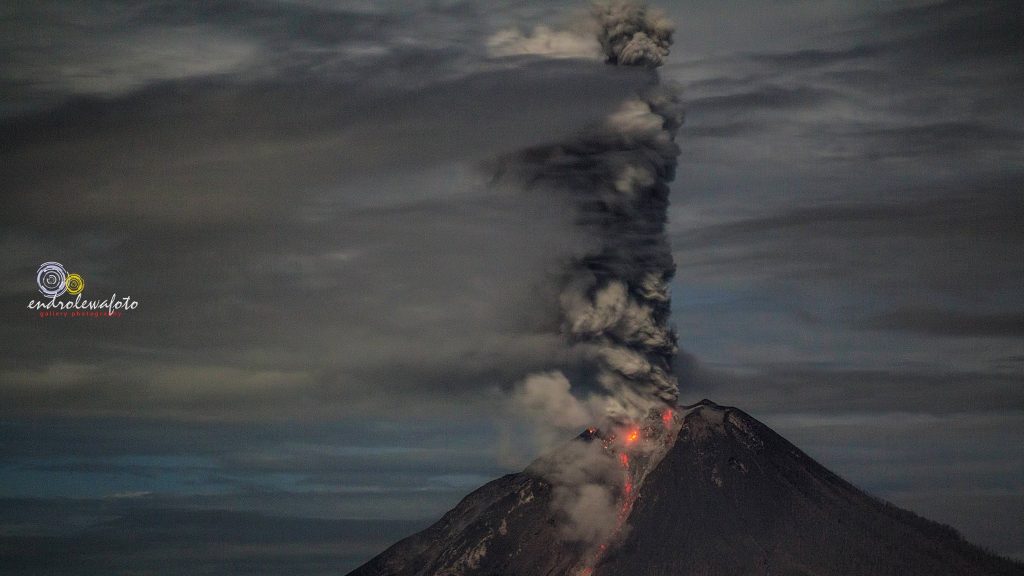 Volcanic Activity Summary:
Eruption with ash clouds at 03:16 UTC (10:16 local time). The eruption lasted for 487 seconds.
Volcanic Cloud Height:
Ash-cloud not visible.
Other Volcanic Cloud Information:
Ash cloud is moving to East
Remarks:
Seismic activity is characterized by the Deep Volcanic Earthquake, Low Frequency Earthquake, and Hybrid Earthquake. Rock avalanche (Incandescent lava) is not identified.
Conclusion:
The level of activity of G. Sinabung remains at Level IV (Awas)
Recommendation:
Community and visitors / tourists should not operate within a radius of 3 km around the summit, and 7 km to the South-East sector, at a distance of 6 km in the East-South -Est sector, and at a distance of 4 km in the Northeast sector. People who live near the rivers that spill from Sinabung must remain vigilant about the potential dangers of lahars. The expelled materials formed a dam upstream of the Laborus River. People who live and move around the downstream watershed must remain vigilant because these dams can collapse at any time. With consequence of the lahar / flood downstream. The BPBDs Tanah Karo will communicate immediately in case of disaster or threat of lahar / flood to people who live and move downstream, along and around the river Laborus.

Source : VSI
Photo : Endro Lewa.