June 25 , 2017. EN. Villarica , Bogoslof , Karymsky , Sinabung .
June 25 , 2017.
Villarica , Chile:
Special volcanic activity report (REAV), Regions of Araucania and Los Rios, June 23, 2017,11: 45 hours (local time).
The Chilean National Geological and Mining Service (SERNAGEOMIN) publishes the following information obtained by the monitoring teams of the National Volcano Monitoring Network (NVNV), recorded and analyzed by the Southern Andes Volcanological Observatory (OVDAS):
On Friday, June 23, 2017 at 06:00 local time (10:00 GMT), monitoring stations near Villarrica Volcano recorded one (1) deep tectonic earthquake with an epicenter near the volcano, 5.1 km East of the main crater.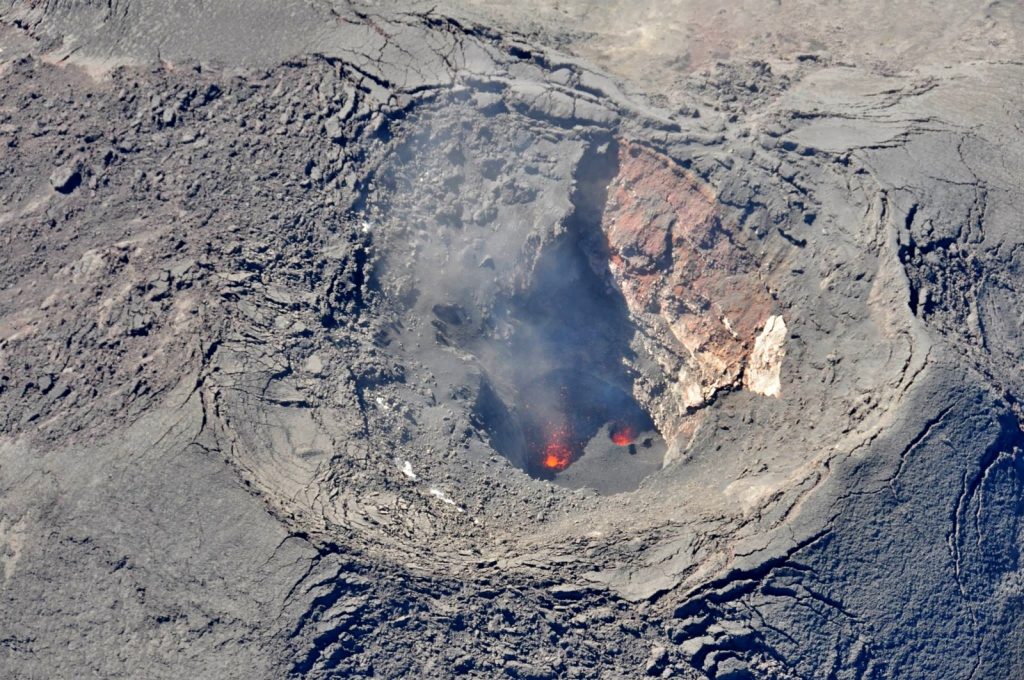 The event was located as follows:
Original time: 10:00 hl (GMT -4)
Latitude: 39 ° 25 '15 « South
Longitude: 71 ° 52 '48 « West
Depth: 5.1 km
Observations:
Based on the characteristics of the earthquake and the course of the fracture mechanism obtained through the US Geological Survey (USGS), this event suggests that it was associated with a magma movement and / or deep volumetric change, Which could affect the equilibrium of the more superficial volcanic system. At the time of this report, no changes were detected in the volcano – seismological register. Unfavorable weather conditions do not make it possible to visualize the current characteristics of the surface activity of the volcano.
The technical alert level of the volcano is maintained at the GREEN level.
SERNAGEOMIN continues to monitor and report on any changes in volcanic activity in the region in good time.
Bogoslof , Alaska :
Photograph of volcanic plume from Bogoslof, taken by crew of USFWS R/V Tiglax, from about 30 miles away. Photo was taken at about 6:30 P.M., AKDT, June 5, 2017.
Bogoslof volcano remains at a heightened state of unrest and in an unpredictable condition. Additional explosions producing high-altitude volcanic clouds could occur at any time. Low-level explosive activity that is below our ability to detect in our data sources may be occurring. These low-level explosions could pose a hazard in the immediate vicinity of the volcano.
The Aviation Color Code remains at RED and the Alert Level remains at WARNING.
Volcanic Activity Summary:
No further explosions or ash emissions have been detected at Bogoslof Volcano since the explosive event at 0:40-0:44 AKDT (8:40-8:44 UTC), June 24. Since then, Bogoslof seismicity has remained low and nothing noteworthy has been detected in satellite, infrasound or lightning data. We are therefore lowering the Aviation Color Code to ORANGE and the Alert Level to WATCH. Additional ash-producing eruptions could occur at any time, and precursory unrest may be minor or not detectable.
Karymsky , Kamchatka :
VOLCANO OBSERVATORY NOTICE FOR AVIATION (VONA)
Issued: 2017 , June 24
Current Aviation Color Code: ORANGE
Previous Aviation Color Code: orange
Source: KVERT
Notice Number: 2017-146
Volcano Location: N 54 deg 2 min E 159 deg 26 min
Area: Kamchatka, Russia
Summit Elevation: 4874.08 ft (1486 m)
Gas-steam activity of Karymsky volcano on 14 September, 2016.
Volcanic Activity Summary:
A moderate eruptive activity of the volcano continues. Satellite data by KVERT showed ash plume drift for about to south-south-west from the volcano.
Moderate eruptive activity of the volcano continues. Ash explosions up to 16,400-19,700 ft (5-6 km) a.s.l. could occur at any time. Ongoing activity could affect low-flying aircraft.
Volcanic cloud height: 13120 ft (4000 m) AMSL
Time and method of ash plume/cloud height determination: 20170624/2300Z – Himawari-8
Other volcanic cloud information:
Distance of ash plume/cloud of the volcano: 29 mi (46 km)
Direction of drift of ash plume/cloud of the volcano: SSW / azimuth 204 deg
Source : Kvert
Photo : IVS FEB RAS
Sinabung , Indonesia :
Volcano Observatory Notice for Aviation (VONA):
Last Issued: 2017 , June 25
Current Aviation Color Code: ORANGE
Volcanic Activity Summary:
Eruption with ash clouds at 00:41 UTC (07:41 local time). The eruption lasted for 159 seconds
Volcanic Cloud Height:
Best estimate of ash-cloud top is around 11072 FT (3460 M) above sea level, may be higher than what can be observed clearly. Source of height data: ground observer.
Other Volcanic Cloud Information:
Ash cloud is moving to South – Southeast
Remarks:
Seismic activity is characterized by the Deep Volcanic Earthquake, Low Frequency Earthquake, and Hybrid Earthquake. Rock avalanche (Incandescent lava) is not identified.
Conclusion:
The level of activity of G. Sinabung remains at level IV (Awas).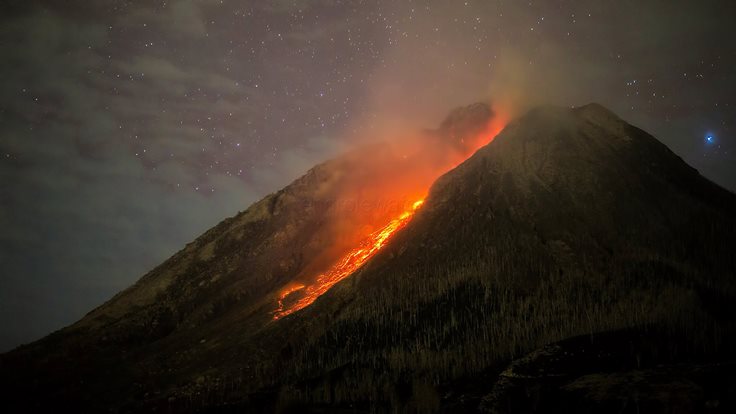 Recommendations:
Community and visitors / tourists should not operate within a 3 km radius of the summit, 7 km in the South – East sector, 6 km in the East – South – East sector of the sector , and at a distance of 4 km in the Northeast sector. People who live near the rivers that discharge from G. Sinabung must remain vigilant about the potential dangers of lahars. The eruption deposits formed a dam upstream on the Laborus River. People who live and move around the downstream watershed must maintain vigilance because these dams can collapse at any time, with downstream consequences of lahars / floods. Tanah Karo's BPBD will broadcast immediately in case of disaster or threat of lahar / flood to people who live and move downstream, along and around the River Laborus.
Source : VSI
Photo : Endro Lewa .