June 21 , 2017. EN. Nishinoshima , Poas , Turrialba , Rincon de la Vieja , Cleveland , Ibu .
June 21 , 2017.
Nishinoshima , Japan :
Ogasawara Islands' Nishinoshima volcano erupting again.
20 JUNE 2017. Nishinoshima Island is erupting again after about a year and a half, and the level of volcanic activity is about the same as the 2014-2015 eruptions that saw the island's surface area expand at a remarkable rate, the Japan Meteorological Agency (JMA)'s Meteorological Research Institute announced on June 19.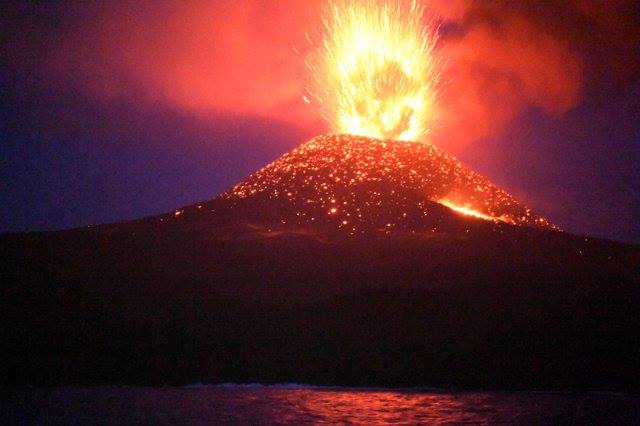 Based on analysis of gases emanating from the volcano in the Ogasawara Island chain, the institute believes there is a steady supply of magma and the eruption is likely to continue for some time.
The JMA observation vessel Keifu Maru took the readings from May 25 to 27, and recorded Strombolian eruptions — small to medium explosive lava eruptions — about once every 46 seconds. The JMA also observed Vulcanian eruptions — short and violent explosions — about once an hour, scattering ash and other ejecta around the area. The volcano is spewing out about 500 metric tons of sulfur dioxide per day, indicating a high level of activity not seen on Nishinoshima since October 2015.
In this thermal infrared image taken from the western side of Nishinoshima, white areas mark high temperatures, showing uncooled lava running into the ocean.
The Nishinoshima volcano began erupting in November 2013, calming down again almost exactly two years later. It began erupting once more in April this year. « It's very rare to be able to observe a volcano re-erupting, » commented research institute volcanologist Akimichi Takagi.
Source :  MAINICHI
Photos : Kazuyoshi Miyoshi , Institut de recherche météorologique .

Poas , Turrialba, Rincon de la Vieja , Costa Rica :
Activity report of the Poas, Turrialba and Rincon de la Vieja volcanoes, on 20 June, 2017, updated at 11h00.
Volcano Poas:
Poas Volcano maintains a passive degassing with a low ash content. The plume does not rise is more than 500 meters above the crater and heads southwest. No ash drops have been reported. An odor of sulfur is reported in Alajuela, Poas de Alajuela. Grecia, Naranjo.
Poas Volcano, from 11 am to 1 pm on 20 June. Two mouths that emit materials. The smallest at the back, at times, is perceived to be yellowish in color. This is probably due to the presence of sulfur. The other at the front, has a greater presence of ashes.
Turrialba Volcano:
The Turrialba volcano remains with passive degassing with low ash content. The plume does not rise is more than 300 meters above the summit. Its direction varies between the North-West and South-West. No ash drops have been reported. Sulphurous odor is reported from Dulce Number of Coronado and Escazu
Rincon de la Vieja Volcano:
No significant activity was recorded in the last 24 hours.
OVSICORI-A remains vigilant on seismic and volcanic activity.
Source : Ovsicori
Cleveland , Alaska :
52°49'20 » N 169°56'42 » W,
Summit Elevation 5676 ft (1730 m)
Current Volcano Alert Level: WATCH
Current Aviation Color Code: ORANGE
Low-level unrest continues at Cleveland Volcano. Slightly elevated surface temperatures and a possible steam plume were observed in two satellite images from this morning, but otherwise, nothing noteworthy observed in satellite data over the past day. Clouds obscured views of the volcano by web camera. No unusual activity was detected in seismic or infrasound data over the past day.
Cleveland volcano is monitored with a limited real-time seismic network, which inhibits AVO's ability to detect precursory unrest that may lead to an explosive eruption. Rapid detection of an ash-producing eruption may be possible using a combination of seismic, infrasound, lightning, and satellite data.
Source : AVO.
Photo : Lyons, John
Ibu , Indonesia :
Volcano Observatory Notice for Aviation (VONA).
Last Issued: 2017 , June 19
Current Aviation Color Code: ORANGE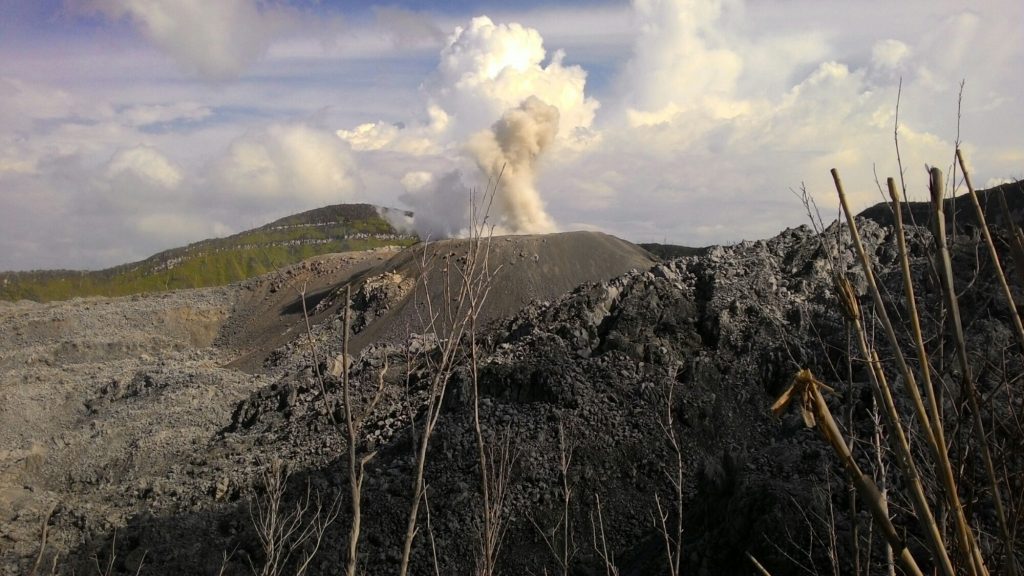 Volcanic Activity Summary:
Eruption with volcanic ash cloud at 2343 UTC (0843 local).
Volcanic Cloud Height:
Best estimate of ash-cloud top is around 4880 FT (1525 M) above sea level, may be higher than what can be observed clearly. Source of height data: ground observer.
Other Volcanic Cloud Information:
Ash cloud moving to West.
Remarks:
Eruption and gas emission is continuing.
Conclusion:
The level of activity of G. Ibu remains at Level II (Waspada)
Recommendation:
Communities and visitors / tourists should not move within a radius of 2.0 km around G. Ibu. A sectoral extension is extended to 3.5 km in front of the openings of the crater, in the northern part of the active crater of the G. Ibu.
Source : VSI
Photo : John Massolo.