June 17 , 2017. Bezymianny , Poas , Turrialba , Rincon de la Vieja , Bogoslof , Klyuchevskoy .
June 17 , 2017.
Bezymianny , Kamchatka :
Major explosive eruption of Bezymianny volcano, ash to 12.2 km (40 000 ft) a.s.l.
A major explosive eruption took place at Russia's Bezymianny volcano at 04:53 UTC on Friday, June 16, 2017. By 05:10 UTC, ash plume from the eruption reached an altitude of 12.2 km (40 000 feet) above sea level and a distance of 40 km (25 miles) NE of the volcano, according to the Tokyo VAAC. This is the strongest eruption of this volcano since September 2012.
At 05:43 UTC, KVERT said they raised the Aviation Color Code from Orange to Red. « Ash cloud as big as 28 x 25 km (17.4 x 15.5 miles) drifts to the northeast of the volcano, » the Observatory said, adding that ash explosions up to 10 – 15 km (32 800 – 49 200 feet) a.s.l. could occur at any time. « Ongoing activity could affect international and low-flying aircraft.
This is the strongest eruption of Bezymianny volcano since September 1/2, 2012. It comes just two days after a powerful eruption of nearby Sheveluch volcano ejected ash to an altitude 12 km (39 360 feet) a.s.l. Sheveluch is located 90 km (56 miles) NE of Bezymianny.
The last significant eruption of Bezymianny volcano, although nowhere near today's, took place on March 9, 2017. Based on webcam observations, an ash plume rose to altitudes of 6 – 7 km (20 000 – 23 000 feet) a.s.l. and drifted 20 km (12.4 miles) northeast. The Aviation Color Code was raised from Yellow to Orange. About 30 minutes later, an ash plume rose to altitudes of 7 – 8 km (23 000 – 26 200 feet) a.s.l. and drifted 60 km (37 miles) northwest. Later that day a 274-km-long (170 miles) ash plume identified in satellite images drifted NW at altitudes of 4 – 4.5 km (13 100 – 14 800 feet) a.s.l.; the majority of the leading part of the plume contained a significant amount of ash. A lava flow traveled down the NW part of the lava dome.
Bezymianny is one the most active volcanoes in the world. In 1955, for the first time in history, it started to erupt, and after six months it produced a catastrophic eruption with the total volume of eruptive products over 3 km3.
The lava dome began to grow in the explosive caldera immediately after the catastrophe and still continues. At least 44 Vulcanian-type strong explosive eruptions of Bezymianny occurred between 1965 – 2012.
Source : watchers.news, Kvert.
Photos : videodata KB GS RAS , A. Sokorenko, IVS FEB RAS .
Poas , Turrialba , Rincon de la Vieja , Costa Rica :
Activity report of the Poas and Turrialba Volcanoes, 16 June, 2017, Updated at 11h00.
Volcano Poas: activity in the last 24 hours.
During the last 24 hours, seismic signals of very low amplitude, an almost imperceptible tremor and some small events of LP type of low amplitude were observed.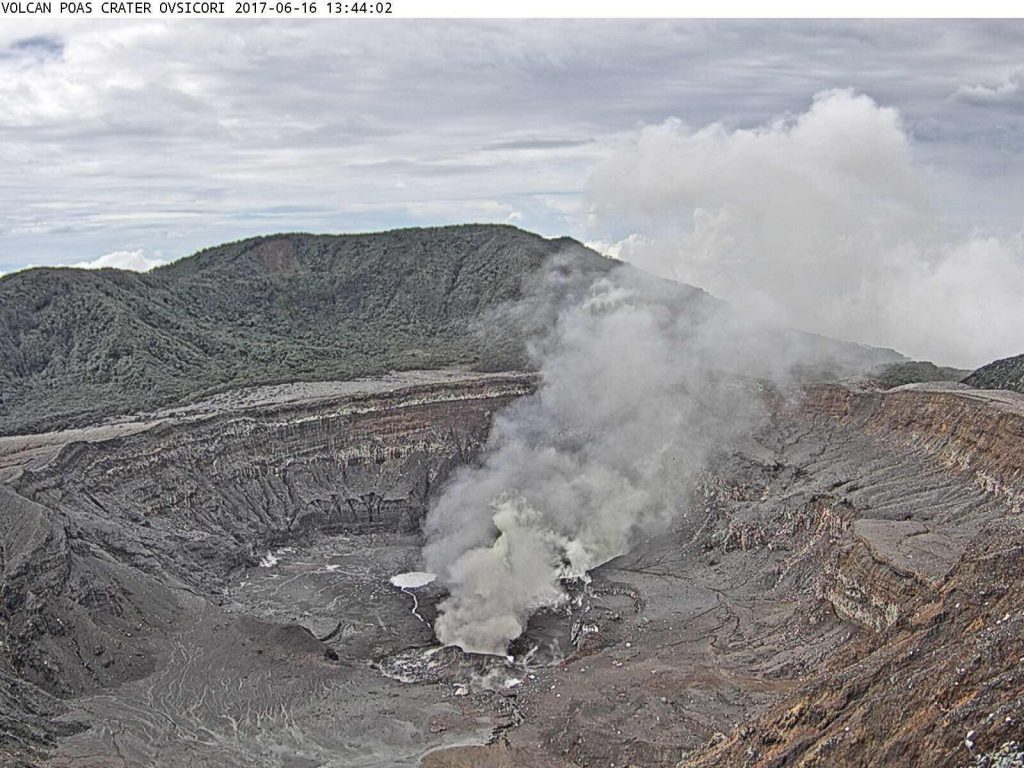 When weather conditions permitted, it was possible to observe ash eruptions with little intensity, which are now being maintained, reaching heights of less than 1 km above the summit crater and observed by the Members of the Ovsicori, who remain at the top doing maintenance and sampling work. The direction of the wind at the moment is in the north direction.
Volcan Turrialba: activity in the last 24 hours.
During the last 24 hours, tremors of low amplitude have been observed. There were some small VT-type earthquakes. The camera showed a variable intensity degassing with a column of water vapor, magmatic gases and aerosols, as well as eruptive activity with the presence of ash, at a height of about 500 meters from the bottom of the active crater since the early hours of this morning, and which still persists. At the time of this report, the winds at the top of the volcano are mainly northwest, with an influence on the central valley, which could suffer ash falls in the coming hours.
Volcano Rincon de la Vieja: activity in the last 24 hours.
The Rincòn presents an almost imperceptible tremor, and there have been no reports of eruptions in the last few hours. Yesterday, a smell of sulfur was reported in Buenos Aires de Upala in the afternoon because of volcanic material carried by the rivers, due to the rains that fell in the region.
Lahars in the Quebrada Azufrosa
OVSICORI-A remains vigilant on seismic and volcanic activity.
Volcanologists believe that the magma of Poas Volcano is located in the last kilometer before reaching the mouth of the crater. This one can erupt at any time and without notice.
These results were obtained by analyzing the rocks emitted during the April 22 eruption. 80% of their composition is juvenile magma, which does not correspond to the old explosions, but to a new eruptive material.
According to Geoffroy Avard, a volcanologist and seismologist from the Costa Rican Observatory (OVSICORI), the strong juvenile magma component shows that the lava flow or magmatic impulse was rapid and took place within a few months.
For comparison, in the case of the Turrialba volcano, magma took more than a decade to be reflected in the ashes which gradually rose from low to more than 20% in the last analysis, but on the Poas the percentage of fresh magma has increased in an accelerated manner.
According to Mauricio Mora, a volcanologist with the National Seismological Network (NSN) in recent months, the internal pipes of the Poas have been cleaned and an open system is now being evacuated by the main mouth and a nearby fumarole.
This free passage allows the magma, in case of a new deep magmatic feed, to go up easily and quickly. The Poas has the potential to erupt without notice, as no earthquake precursors are recorded, the scientist said.Source : Ovsicori .
Photo : Ovsicori , Oscar Alvarado Villegas , Pablo Ruiz Cubillo.
Bogoslof , Alsaka :
53°55'38 » N 168°2'4″ W,
Summit Elevation 492 ft (150 m)
Current Volcano Alert Level: WATCH
Current Aviation Color Code: ORANGE
The eruption of Bogoslof volcano continues. Bogoslof has had 6 explosive eruptions over the past week, beginning Saturday June 10 with a 2-hour event (11:18-13:28 UTC) that emitted an ash-rich cloud to 34,000 ft asl and was detected in seismic, infrasound, lightning, and satellite data. This explosive event destroyed the 160-m diameter lava dome that was first observed June 5. On Monday evening, June 12, a series of 4 small explosions lasting 10-30 minutes each emitted volcanic clouds that rose to a maximum height of 25,000 ft asl, and dissipated within about 30 minutes. Tuesday morning, June 13, a six-minute-long explosion occurred although no ash cloud was observed in satellite imagery likely because it was below our detection limits. June 12 and 13 events were detected in seismic and infrasound data but no lightning was detected.
Weakly elevated surface temperatures were detected in satellite imagery on Wednesday June 10 and today, and may suggest that a new lava dome is extruding beneath the surface of the water. Satellite imagery shows persistent degassing from the island in between explosions. In addition, residents of Unalaska/Dutch Harbor reported smelling sulfur on June 12, and winds were consistent with a source at Bogoslof.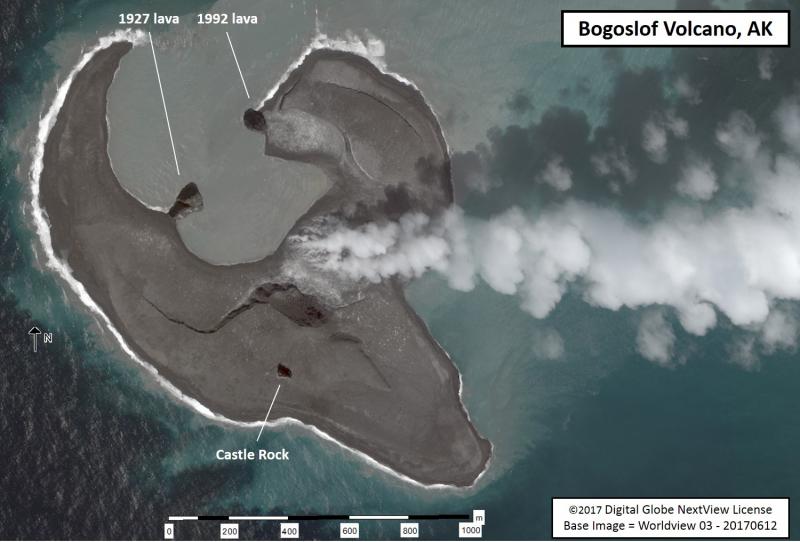 Worldview satellite image of Bogoslof volcano collected at 23:13 UTC on June 12, 2017. The circular embayments were formed by a series of more than 40 explosions that began in mid-December, 2016. These explosions have greatly reshaped the island as material is removed and redeposited as air fall. Vigorous steaming is observed from a region to the south of the most active vent areas in the lagoon. Lava extrusion produced a circular dome that first rose above the water on June 5 and grew to a diameter of ~160 m (525 ft) before being destroyed by an explosion early in the day on June 10. Large blocks of the destroyed dome can be seen littering the surface of the island near the lagoon.

Eruptive activity over the past two weeks suggests that the volcano is in a period of lava effusion punctuated by explosive eruptions. This style of activity could continue for weeks or more. Additional explosions producing high-altitude (>15,000 ft) volcanic clouds with little precursory activity could occur with little or no warning. Some previous explosions have been preceded by an increase in earthquake activity that allowed for short-term forecasts of imminent significant explosive activity. Although we are able to detect energetic explosive activity in real-time, there is typically a lag of tens of minutes until we can characterize the magnitude of the event and the altitude of the volcanic cloud.
Source : AVO
Photos : Angeli, Kim
Klyuchevskoy , Kamchatka :
VOLCANO OBSERVATORY NOTICE FOR AVIATION (VONA)
Issued: 2017, June 17 / 0201Z
Volcano: Klyuchevskoy (CAVW #300260)
Current Aviation Color Code: ORANGE
Previous Aviation Color Code: orange
Source: KVERT
Notice Number: 2017-142
Volcano Location: N 56 deg 3 min E 160 deg 38 min
Area: Kamchatka, Russia
Summit Elevation: 15580 ft (4750 m)
Volcanic Activity Summary:
Explosive eruption of the volcano continues. Satellite data show ash plume extend for about 100 km to the east from the volcano.
Explosive eruption of the volcano continues. Ash explosions up to 26,200-32,800 ft (8-10 km) a.s.l. could occur at any time. Ongoing activity could affect international and low-flying aircraft.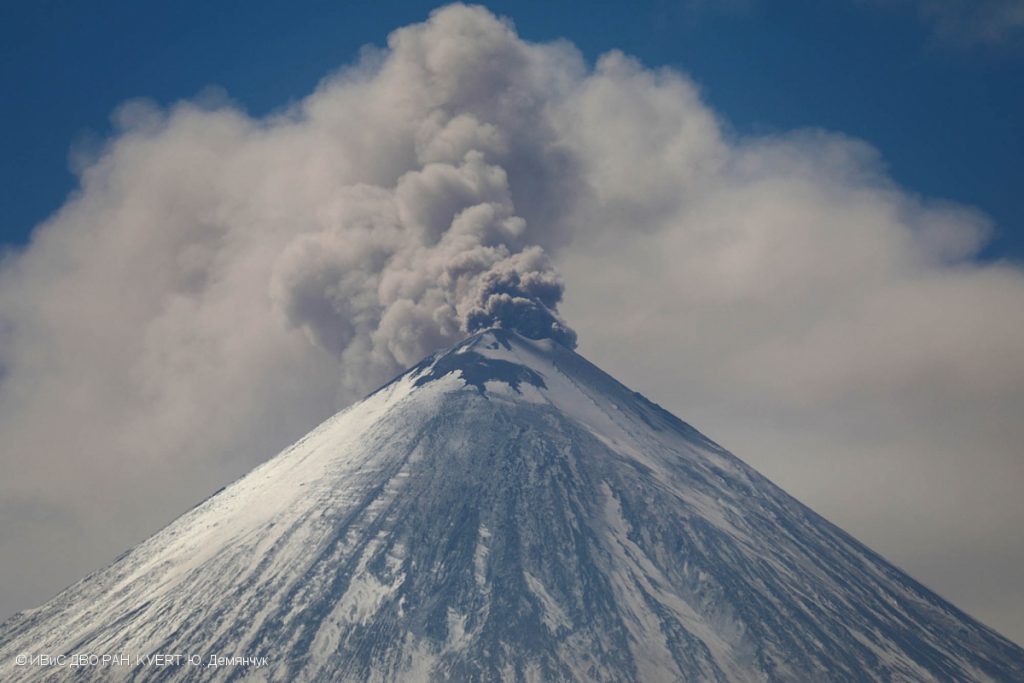 Volcanic cloud height: 16400-19680 ft (5000-6000 m) AMSL
Time and method of ash plume/cloud height determination: 20170617/0029Z – MODIS TERRA (31m32)
Other volcanic cloud information: Distance of ash plume/cloud of the volcano: 62 mi (100 km)
Direction of drift of ash plume/cloud of the volcano: E / azimuth 99 deg
Source : Kvert.
Photo : Yu. Demyanchuk, IVS FEB RAS, KVERT