June 16 , 2017. EN . Pavlof , Sheveluch , Taupo , Fuego , Yellowstone .
June 16 , 2017.
Pavlof , Alaska :
55°25'2″ N 161°53'37 » W,
Summit Elevation 8261 ft (2518 m)
Current Volcano Alert Level: ADVISORY
Current Aviation Color Code: YELLOW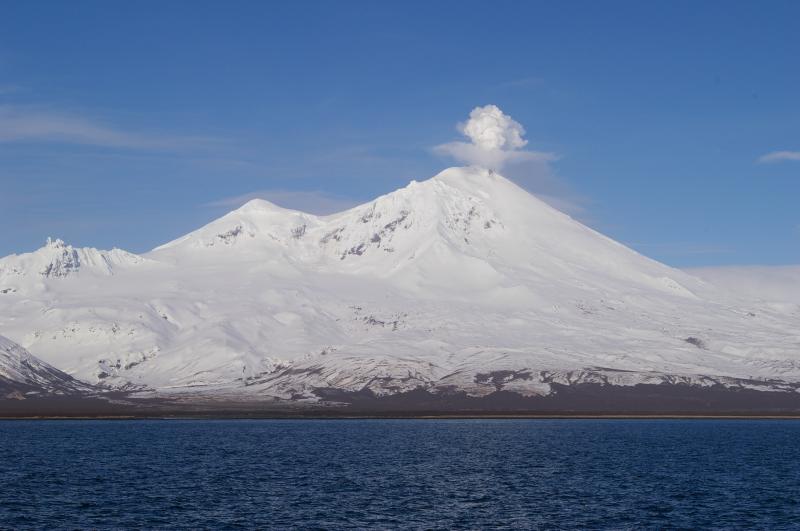 No activity has been observed in seismic or infrasound data from the past day. Satellite data shows weakly elevated surface temperatures at the summit of Pavlof early this morning. A 35 mile-long steam plume was observed dispersing to the west in satellite imagery from yesterday afternoon (~16:14 AKDT). Low-level steaming was observed in web camera images from this morning.
The level of unrest at Pavlof can change quickly and progression to eruptive activity can occur with with little or no warning.
Source : AVO.
Sheveluch , Kamchatka :
56.64 N, 161.32 E;
Elevation 10768 ft (3283 m), the dome elevation ~8200 ft (2500 m)
Aviation Color Code is ORANGE
Explosive-extrusive eruption of the volcano continues. Ash explosions up to 32,800-49,200 ft (10-15 km) a.s.l. could occur at any time. Ongoing activity could affect international and low-flying aircraft.
A growth of the lava dome continues (a viscous lava flow reveal in the northern its part), strong fumarole activity, ash explosions, hot avalanches and an incandescence of the dome blocks and hot avalanches accompany this process. According to video and satellite data by KVERT, the power explosive eruption began at 1625 UTC on 14 June: explosions sent ash up to 12 km a.s.l., ash clouds extended for about 1000 km to the north-east and south-west from the volcano on 14-16 June. Ash falls were noted at Klyuchi, Maiskoe, Kozyrevsk and Atlasovo Villages. On 10-13 June, explosions sent ash up to 8 km a.s.l. and ash clouds drifted for about 1500 km to the south-east and north-west from the volcano.
Source : Kvert
Photo : Yu. Demyanchuk, IVS FEB RAS, KVERT  ( 14/05/2017)
Taupo , New – Zealand  :
Taupo has been shaken by earthquakes from two locations today.
Late this morning and then again after lunch the residents of the Taupo area (including the GeoNet team at Wairakei) were shaken by two earthquake sequences. The first came from the west, then the later one from the north-east. Both appear as main shock and after shock sequences, not part of a swarm.
Volcanologists Colin Wilson and Peter Bellance examine a roadcut that dissects deposits of major eruptions from the Taupo volcanic center. The unit at the level of the feet of the volcanologists is an exposure of an unwelded pyroclastic-flow deposit from the Oruanui eruption, which formed Taupo's initial caldera about 22,600 years ago. Light-colored airfall-pumice deposits from other major eruptions occur between it and the deposits of the 1800-year-old Taupo eruption (upper right), which were responsible for Taupo's second caldera.
This morning's main earthquake was a M3.5 at 8 km depth. It was located about 10 km north-west of Taupo, or 5 km north of Kinloch. More than a dozen aftershocks followed, but only three are large enough for us to locate. There are several major faults in that area. These earthquakes are likely to be generated from those faults.
The slightly larger earthquake after lunch was a M3.8, also at 8 km depth. It was located about 10 km north-east of Taupo, near Lake Rotokawa. Again, we have recorded many small aftershocks and six are locatable. Earthquake activity is very common about the Rotokawa Geothermal Field. We have located over 70 earthquakes there in the last year.
Source : Geonet.
Photo : Bruce Houghton (Wairakei Research Centre).
Fuego , Guatemala :
Activity:
A high level of activity was maintained, with vulcanian explosions, which ejected columns of abundant ashes with a height of 4800m. (15,748 feet) which spread over more than 20 kilometers to the west. Ash falls are recorded on Sangre de Cristo, Yepocapa and other villages on this flank. Explosions and strong rumblings constantly generate shock waves and avalanches of blocks on the crater outline, which reach the vegetation.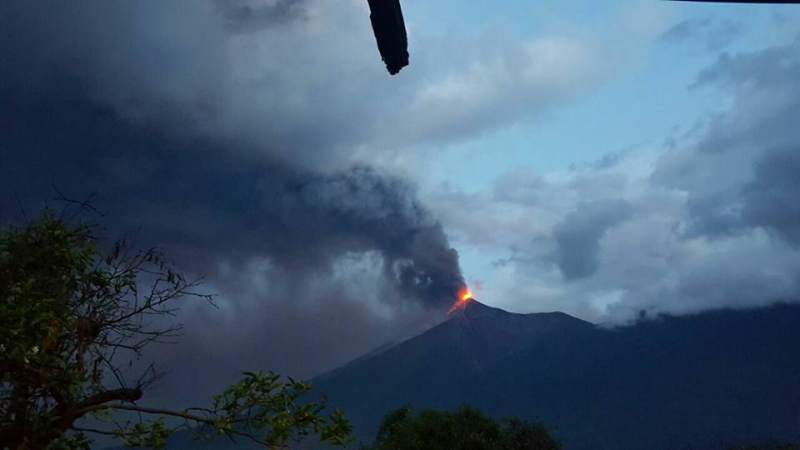 Moreover, it is necessary to mention that the precipitations are strong at the top of the volcano, which generates moderate to strong lahars in different canyons, mainly in the rivers Pantaleón, Ceniza, Trinidad and Jute, so it is necessary to take precautions , mainly in the afternoon and evening.
Source : Insivumeh
Yellowstone ,  United – States :
44°25'48 » N 110°40'12 » W,
Summit Elevation 9203 ft (2805 m)
Current Volcano Alert Level: NORMAL
Current Aviation Color Code: GREEN
The University of Utah, a YVO member agency, sent out the following press release about a magnitude 4.5 earthquake near West Yellowstone, MT that occurred at 6:48 PM MDT.
PRESS RELEASE
University of Utah Seismograph Stations
Released: June 15, 2017 07:55 PM MDT
The University of Utah Seismograph Stations reports that a light earthquake of magnitude 4.5 occurred at 06:48 PM on June 15, 2017 (MDT). The epicenter of the shock was located in Yellowstone National Park, eight miles north-northeast of the town of West Yellowstone, Montana. The earthquake was reported felt in the towns of West Yellowstone and Gardiner, Montana, in Yellowstone National Park, and elsewhere in the surrounding region.
Today's earthquake is part of an energetic sequence of earthquakes in the same area that began on June 12. This sequence has included approximately thirty earthquakes of magnitude 2 and larger and four earthquakes of magnitude 3 and larger, including today's magnitude 4.5 event. Today's earthquake is the largest earthquake to occur in Yellowstone National Park since March 30, 2014, when a magnitude 4.8 event occurred 18 miles to the east, near Norris Geyser Basin.
Source : YVO