June 13 , 2017. EN . Bogoslof , Rincon de la Vieja , Poas , Sabancaya , Fuego .
June 13 , 2017.
Bogoslof , Alaska :
AVO/USGS Volcanic Activity Notice
Current Volcano Alert Level: WATCH
Current Aviation Color Code: ORANGE
Issued: Monday, June 12, 2017, 6:13 PM AKDT
Source: Alaska Volcano Observatory
Location: N 53 deg 55 min W 168 deg 2 min
Elevation: 492 ft (150 m)
Area: Aleutians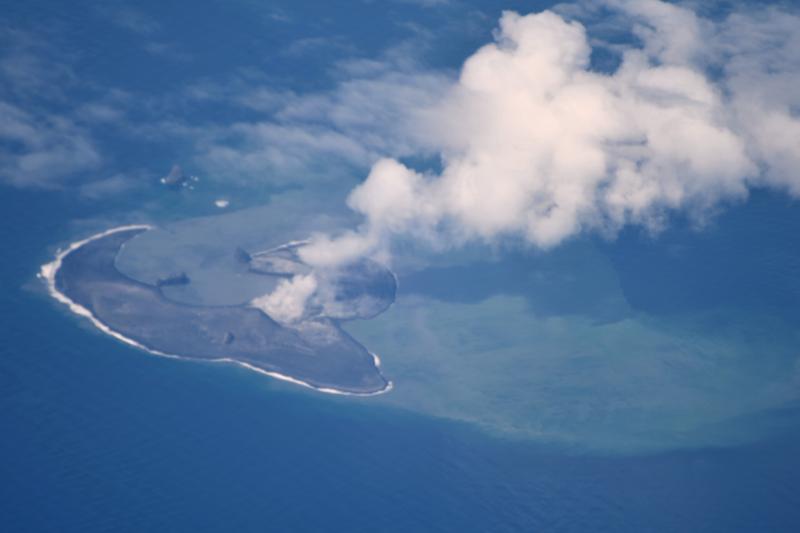 Photo of Bogoslof Island, June 11, 2017. Photo taken from an Alaska Airlines jet enroute to Adak, by Cyrus Read, USGS/AVO.
Volcanic Activity Summary:
A short-lived eruption of Bogoslof volcano began June 13 at 01:47 UTC (17:47 AKDT June 12) and lasted about 9 minutes according to seismic and infrasound data. No ash cloud has been detected in satellite data yet but a single lightning stroke has been observed, thus volcanic ash emissions are likely occurring. Winds are to the southeast and no ashfall is expected on communities.
We are evaluating the magnitude of this eruptive episode and activity may resume at any time. The Aviation Color Code remains at ORANGE and the Volcano Alert Level remains at WATCH at present. AVO is evaluating all data sources and will update this report as more information becomes available.
Recent Observations:
[Volcanic cloud height] None detected yet. NWS eruption SIGMET issued to 25,000 ft asl.
[Other volcanic cloud information] n/a
[Lava flow/dome] N/A
[Lava flow] N/A
Remarks:
The National Weather Service Alaska Aviation Weather Unit has issued an eruption SIGMET warning for aviation up to 25,000 ft above sea level. This may be revised as new information becomes available.
Configuration of Bogoslof Island as of May 18th, 2017 (before the May 28, 2017 explosion). This photo was taken from a flight between Adak and Anchorage. The former lake is now open to the Bering Sea. The eruption on the evening of May 16th (local time) caused a dramatic change to the NW end of the island. The 1926-28 lava dome is now an island, and the 1992 dome remnant is barely connected to the east half of the tuff ring.

Issued: Monday, June 12, 2017, 7:40 PM AKDT
Volcanic Activity Summary:
The eruption of Bogoslof that began 01:47 UTC June 13 (17:47 AKDT June 12) with a 9-minute duration explosion has resumed starting at 02:57 UTC June 13 (18:57 AKDT June 12) based on seismic and infrasound data.
The ash cloud produced during the initial 9-minute event has been observed in satellite data through 02:20 UTC June 13 (18:20 AKDT June 12) and is estimated to be at about 25,000 feet above sea level drifting SE toward Unalaska Island. Ash emissions from this new activity have yet to be observed but they are likely occurring with winds to the SE. Thus, AVO is raising the Aviation Color Code to RED and Alert level to WARNING for Bogoslof volcano. Activity is ongoing and additional explosive events may occur.
Recent Observations:
[Volcanic cloud height] 25,000 ft asl estimated by satellite data.
[Other volcanic cloud information] Cloud moving towards SE
Remarks: The SIGMET warning message for aviation, issued by the National Weather Service Alaska Aviation Weather Unit currently is in effect up to 25,000 ft above sea level.
Source : AVO.
Photo : Read, Cyrus , Kaufman, Max .
Rincon de la Vieja , Poas , Costa Rica :
June 12, 2017.
The fumarolic activity on the Rincón de la Vieja Volcano is maintained in vigorous form, these images captured by Milena Berrocal. It is possible to observe the column of steam which is rising. There were no records of new eruptions after that of 11 June at 05:42. Monitoring by OVSICORI, as well as by residents of the region, is maintained.
Activity report of the Volcano Poas, 11/06/2017:
On 11.06.2017 at 18:10 local time, an eruption was recorded on the Poas volcano, with a column rising 600 meters above the crater, 3308 meters (10850.24 ft).
Duration of the activity: Ongoing.
Ash falls reported in: no ash falls.
Sulfur odor reported in: No reported sulfur odor.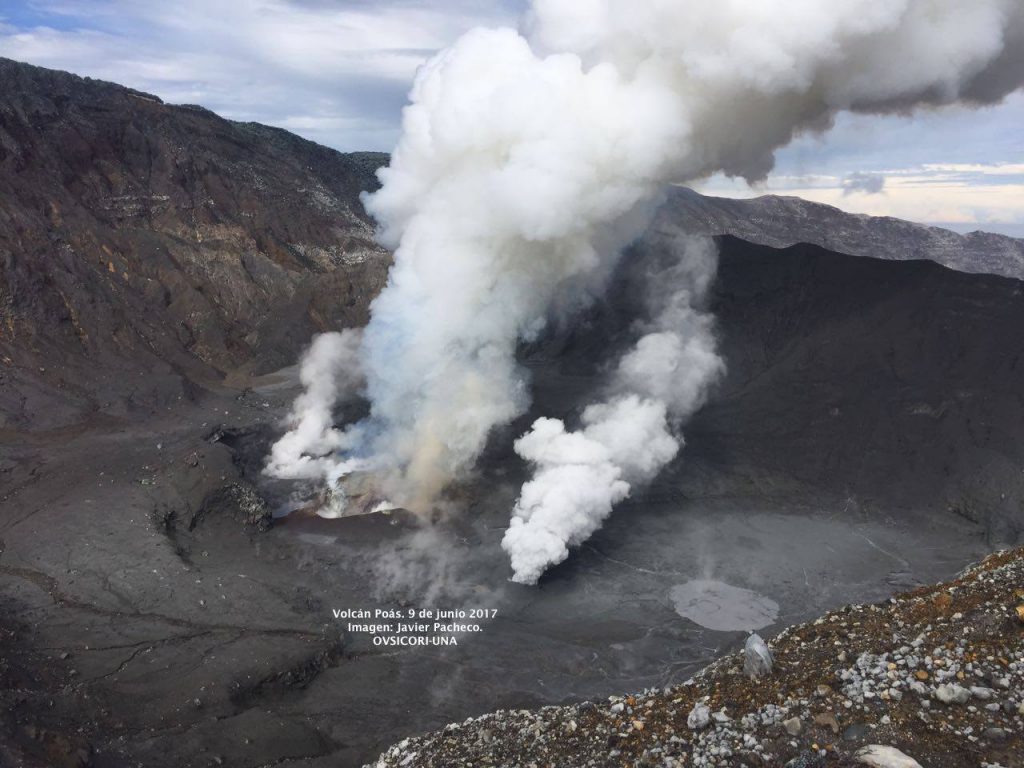 Comments: The plume is estimated at a vertical height of at least 600 meters from the crater. The wind is spreading mainly south-east towards the volcano Botos, the volcano Barva and the Parque Nacional Braulio Carrillo y Limón.
Source : Ovsicori.
Photos : Milena Berrocal  , Ovsicori .
Sabancaya , Peru :
The explosive activity shows a slight decrease, reaching an average of 31 explosions per day and a maximum displacement value of 76 cm2.
The earthquakes associated with the rise of a magmatic material are recorded in a restricted number (hybrid), while the movements of associated fluids (long duration) have been moderately in number and energy.
• Eruptive ash and gas columns were about 2800 m above the crater, extending 30 km to the east and south-east.
• The GPS station « SBSE » did not show any significant changes in the vertical component, which remains within the margin of error of the equipment.
• The volcanic gas flow (SO2) recorded on June 6th had a maximum value of 3392 tonnes / day
• Up to 4 thermal anomalies have been detected with values ranging from 1 MW to 7 MW distributed over the South-East, North-West and North slopes of the volcano.
Overall volcanic activity decreased from last week. No significant changes are expected in the coming days.
Source : IGP
Photo : Archive IGP.
Fuego , Guatemala :
SPECIAL BULLETIN volcanology, Guatemala 12 June, 2017, 19:30 (Local Time)
STRONG lahars in the Pantaleon and Ceniza rivers.
Activity type: Vulcanian
Morphology: Stratovolcan composite
Geographical location: latitude 14 ° 28'54˝ N; 90 ° 52'54˝ longitude W.
Height: 3,763msnm.
As already mentioned, this afternoon and this night were generated the largest lahars of this rainy season, in the Pantaleon and Ceniza rivers.

In the Pantaleon River, this lahar has reached 50 meters wide and sometimes a height of 3.5 meters. This lahar is hot as a result of the pyroclastic eruption of May 5, carrying fine, abundant materials, blocks of 2 to 3 meters diameter and whole trees. In some parts of his descent he also overflowed and cut off the road between the communities of Morelia, Hagia Sophia, El Porvenir and others with the municipality of Yepocapa.
The river Ceniza due to the strength of the lahar overflowed in front of the village of Las Palamas. He also reported that it overflowed on part of the Finca Scout where the bridge of the same name was lost last Friday.
INSIVUMEH therefore recommends:
At SE-CONRED: to take precautions especially in this weir zone, because these lahars can be of the same order of magnitude or even more, likely to affect Siquinalá by the bed of the river which passes through the center of the city ​​.
Source : Insivumeh