June 11 , 2017. EN . Bogoslof , Reventador , Popocatepetl , Fuego .
June 11 , 2017.
Bogoslof , Alaska :
AVO/USGS Volcanic Activity Notice
Current Volcano Alert Level: WARNING
Previous Volcano Alert Level: WATCH
Current Aviation Color Code: RED
Previous Aviation Color Code: ORANGE
Issued: Saturday, June 10, 2017, 5:03 AM AKDT
Source: Alaska Volcano Observatory
Location: N 53 deg 55 min W 168 deg 2 min
Elevation: 492 ft (150 m)
Area: Aleutians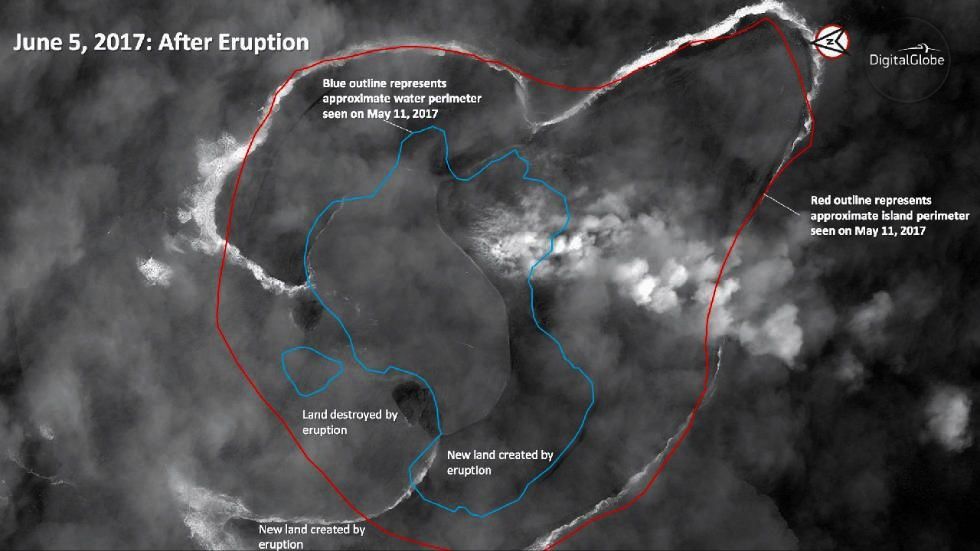 Bogoslof – morphological changes before June 11th and after the eruption, June 5th – photo Courtesy of Digital Globe
Volcanic Activity Summary:
An explosive eruption is detected in multiple data streams. Small explosions were first observed on infrasound stations located on nearby Islands beginning at 11:18 UTC (3:18 AKDT). Activity transitioned to continuous seismic tremor at about 12:16 UTC and is ongoing. An eruption cloud has been observed in satellite data and lightning has been detected. AVO is raising the Aviation Color Code to RED and the Volcano Alert Level remains at WARNING. More information will be released as it becomes available.
Recent Observations:
[Volcanic cloud height] 30,000 ft estimate at 12:20 UTC
[Other volcanic cloud information] Winds are generally northward
[Lava flow/dome] NA
[Lava flow] N/A
Remarks:
The National Weather Service has issued a SIGMET for this eruption to 30,000 ft asl.
Issued: Saturday, June 10, 2017, 3:01 PM AKDT
Current Volcano Alert Level: WATCH
Previous Volcano Alert Level: WARNING
Current Aviation Color Code: ORANGE
Previous Aviation Color Code: RED
Volcanic Activity Summary:
No further ash emissions have occurred at Bogoslof Volcano since the explosion on Saturday, June 10 at 3:18 AKDT (11:18 UTC) and seismicity remains low. We are therefore lowering the Aviation Color Code to ORANGE and the Alert Level to WATCH. Additional ash-producing eruptions could occur at any time, however, with no detectable precursors.
Source : AVO
Photo : Digital Globe , archives AVO.

Reventador , Ecuador :
Reventador Volcanic Activity Bulletin, Saturday, June 10, 2017
SUMMARY OF VOLCANIC ACTIVITY
The volcano maintains a high continuous activity. Due to unfavorable weather conditions in the area, surface observations could not be made. Precipitation was recorded in the area.
TECHNICAL ANNEX AND OBSERVATIONS.
Seismicity:
From 11:00 am (TL) yesterday at 11:00 am (TL) today, 4 episodes of tremor harmonic (TRA), 3 episodes of tremor of emission (ERT), 32 events long period (LP) and 47 explosions recorded.
Observations, emissions and ash:
During the last 24 hours, the volcano area remained completely covered, there were no observations of surface activity.
Rains and lahars:
Early morning and up to 12 hours, rainfall was recorded in the area of the volcano.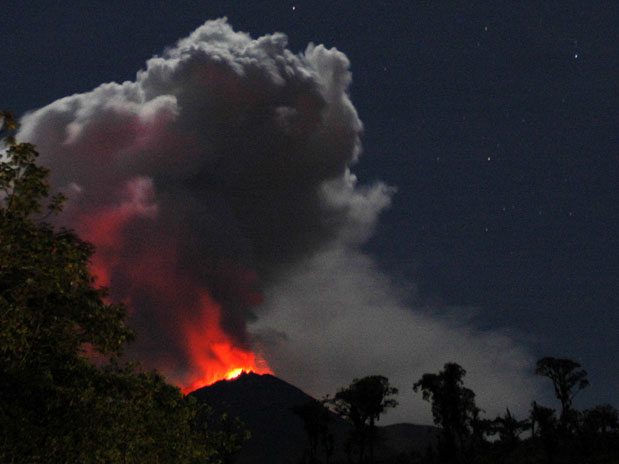 GENERAL INFORMATIONS
This report will be published on a daily basis at 12:00 (TL). In the case of an increase or change in the behavior of the volcano it will be immediately published a special report.
Source : IGEPN
Photo : AFP
Popocatepetl , Mexico :
10 June 11.00 (10 June, 16.00 GMT)
Over the past 24 hours, by monitoring systems of the Popocatepetl volcano, 183 low-intensity exhalations, accompanied by volcanic ash and gas have been identified. Because the weather conditions were cloudy it was not possible to observe all emissions.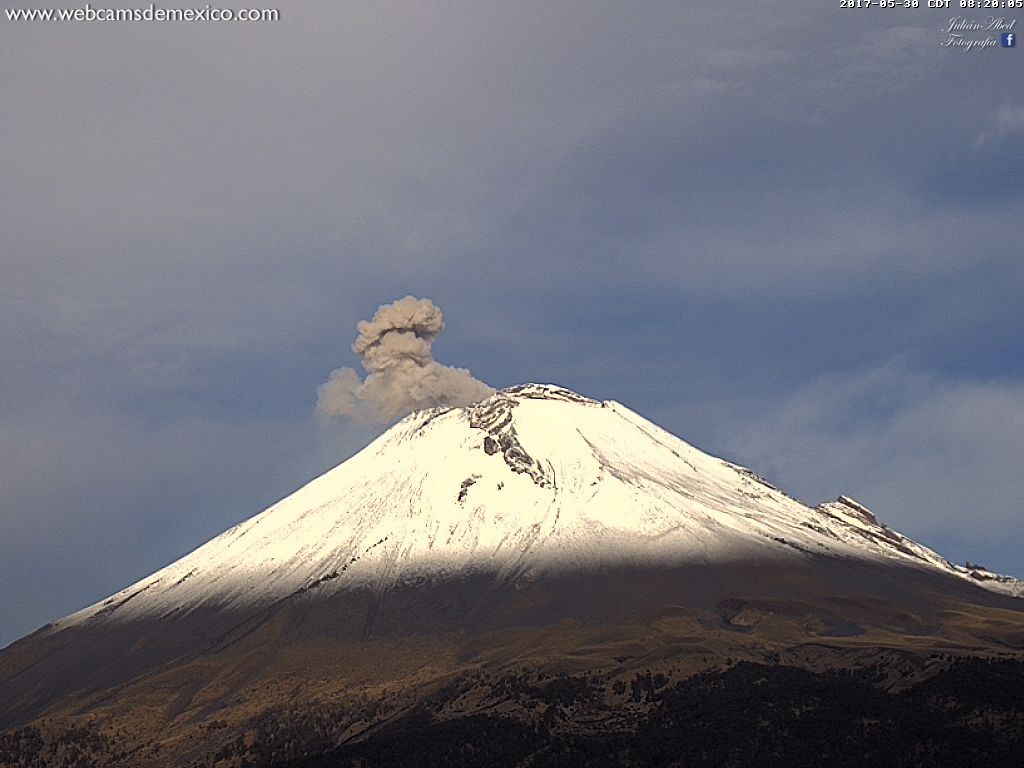 During this report, steam and gas emission with small amounts of volcanic ash is observed to the south.
CENAPRED asks not to approach the volcano and in particular the crater.
The semaphore of volcanic alert of Popocatepetl Volcano is located in Amarillo Phase 2.
Source : Cenapred
Photo : Webcamdemexico ( archives)
Fuego , Guatemala :
SPECIAL volcanological BULLETIN .
Guatemala 10 June, 2017, 13:30 hours. (Local time) . Strong lahar in the canyon Ceniza.
Activity type: Vulcanian
Morphology: Composite Stratovolcano
Geographical location: latitude 14 ° 28'54˝ N; 90 ° 52'54˝ longitude W.
Altitude: 3,763msnm.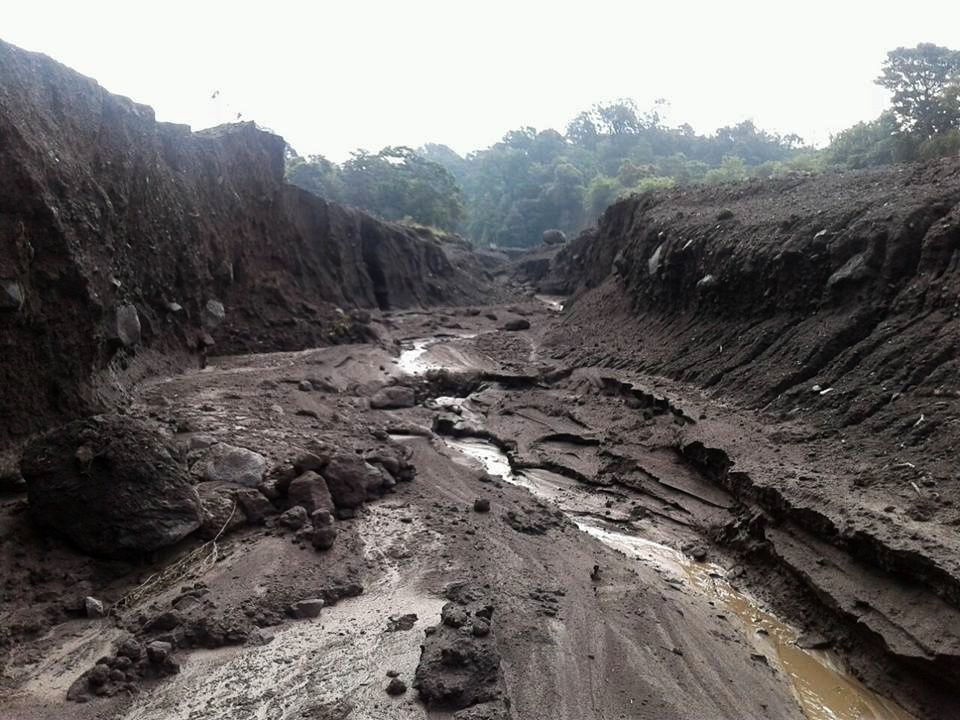 Fuego – lahar from the ashes of the volcano combined with torrential rains ,  photo 07.06.2017 Mario Ovalle, Unidad de Prevención de Volcanes -UPV
Constant rainfall has been present in the Fuego volcano area since 11:50 am and again leads to the descent of a strong lahar through Canyon Ceniza.
These lahares can reach an approximate size of 15 to 18 meters wide and a height of about 1 to 3 meters. On its course it carries materials ranging from fine sediments (mainly ashes), blocks up to 1 meter in diameter as well as trees and vegetation.
Because of the constant rain in the area, these events may also be present in the rivers Mineral, Santa Teresa / Seca, El Jute and Las Lajas rivers, so if the people pass through these areas, take precautions .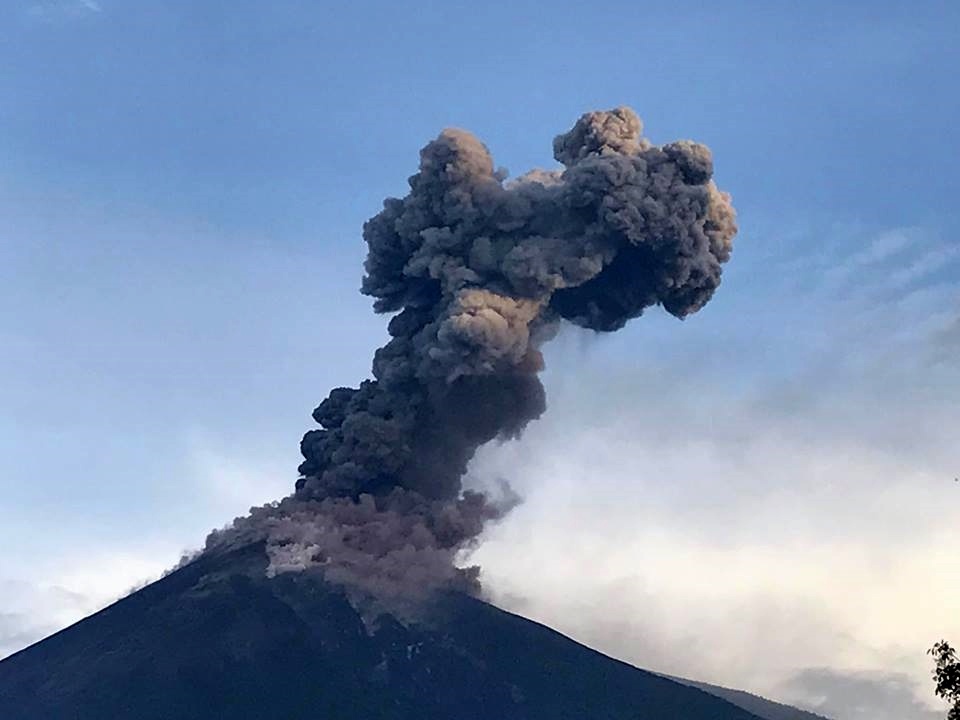 Activity:
Presence of continuous white outgassing fumaroles, reaching a height of about 4,400 meters (14,435 ft), spreading westward. Approximately 27 explosions were reported, of which 20 were moderate and 2 were strong, emitting columns of gray ash at a height of 4.400 to 4.800 meters (4.435 to 15.748 feet) spreading 12 km to the West, Northwest and North. Some explosions generated moderate to strong rumblings. The explosions produced moderate to severe avalanches to the Ceniza, Taniluyá, Santa Teresa and Trinidad gullies. The projections reached the vegetation.

Source : Insivumeh
Photo : Mario Ovalle, Kevin Godbee .