June 10 , 2017. EN. Sheveluch , Bogoslof , Poas , Turrialba , Ibu .
June 10 , 2017.
Sheveluch , Kamchatka :
56.64 N, 161.32 E;
Elevation 10768 ft (3283 m)
the dome elevation ~8200 ft (2500 m)
Aviation Color Code is ORANGE
Explosive-extrusive eruption of the volcano continues. Ash explosions up to 26,200-32,800 ft (8-10 km) a.s.l. could occur at any time. Ongoing activity could affect international and low-flying aircraft.
A growth of the lava dome continues (a viscous lava flow reveal in the northern its part), strong fumarole activity, ash explosions, hot avalanches and an incandescence of the dome blocks and hot avalanches accompany this process. According to KVERT satellite data, powerful explosions sent ash up to 8 km a.s.l. on 03, 05, 07 and 08 June.
Explosive event of Sheveluch volcano on 10 June 2017, emitting a plume at 8 km a.s.l. . View of the volcanological station of F.Yu. Levinson-Lessing Kamchatkan Volcanological Station.
Runout of pyroclastic flows was about 10 km. Ash clouds and plumes drifted for about 1554 km to the south-west, south and south-east from the volcano. Ashfall was noted at Klyuchi Village on 08 June. A thermal anomaly over the volcano was noted all week.
Source : Kvert
Photo : Yu. Demyanchuk, IVS FEB RAS, KVERT
Bogoslof , Alaska :
53°55'38 » N 168°2'4″ W,
Summit Elevation 492 ft (150 m)
Current Volcano Alert Level: WATCH
Current Aviation Color Code: ORANGE
The eruption of Bogoslof volcano continues. This week marked a change in activity at the volcano, with the appearance of a lava dome that breached the surface of the ocean on or around June 6. This is the first observation of lava at the surface since the start of the eruption sequence that began in mid-December 2016. The dome was estimated to be 110 m in diameter on Wednesday, June 7 and has grown to a diameter of 160 m as of this morning, June 9. Dome growth may be continuing at present, but we are unlikely to observe many of the seismic signals associated with lava effusion given the lack of near-by seismic instruments. Four short-duration explosions were detected in seismic and/or infrasound data between Monday and Wednesday and generated volcanic clouds that in many cases were too small to be observed in satellite data. Robust steaming has been observed in satellite data and by a USF&WS ship in the region following the emergence of the lava dome and is likely due to, or enhanced by, the effusion of lava into the ocean.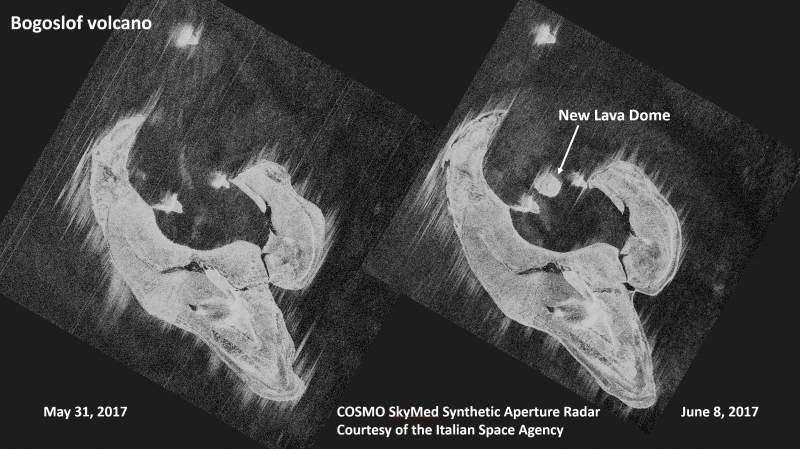 Bogoslof – comparative radar images showing the appearance of the new dome on 8 June 2017 – Italian Space Agency.

Some past eruptive sequences of Bogoslof have ended with the emplacement of a lava dome, but in other cases, lava effusion has been followed by additional explosive eruptions. If future explosive eruptions do occur, the resulting volcanic cloud could be more ash-rich than those that have occurred thus far in the sequence that began in 2016. Low-level eruptive activity may occur that is below our ability to detect in seismic, infrasound, or satellite data sources, and could generate hazardous phenomena in the immediate vicinity of the volcano. A Temporary Flight Restriction (TFR) is in effect over the volcano at the present time.
Here I reproduce part of the blog of Bernard Duick, which will delight animal lovers, who were afraid for the seal colonies on the island of Bogoslof:
Back on the eruption of May 28, 2017 at Bogoslof, with images, published by Digital Globe (DigitalGlobe is a US company specialized in space imagery and an operator of Earth observation satellites).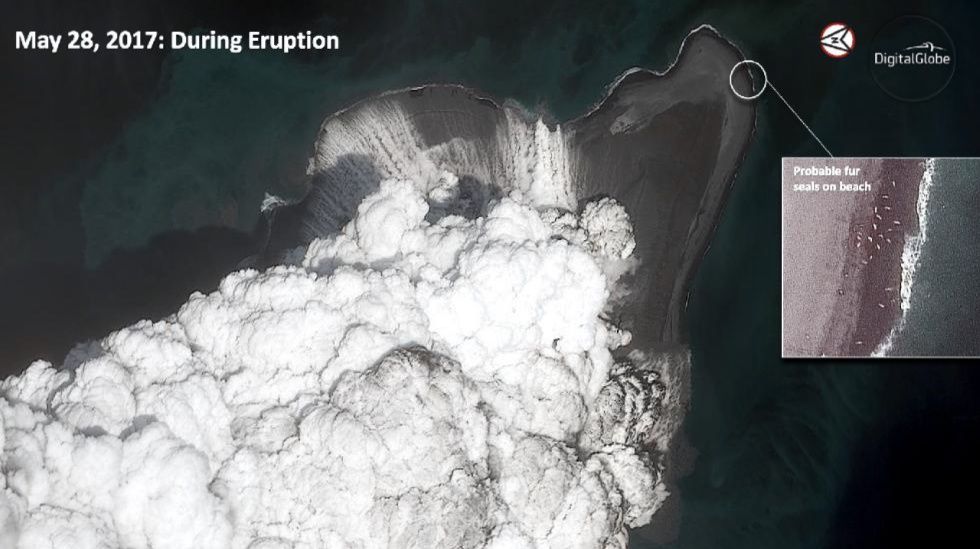 Bogoslof – during the eruption of May 28, 2017, with the presence of a colony of fur seals – photo Courtesy of Digital Globe
They show us that life is still possible on this volcanic hell, with a possible presence of fur seals on the southern tip of the island before, during and after the eruption.
Source : AVO , Bernard Duick ( http://www.earth-of-fire.com/2017/06/un-point-sur-l-acivite-du-bogoslof-et-du-stromboli.html )
Photos : Digital Globe , Italian Space Agency
Poas , Turrialba , Costa Rica :
Activity report of the Poas and Turrialba Volcanoes, 9 June 2017, updated at 17h00.
  Volcano Poas:
The Poas continues to record low amplitude tremor seismic signals and discrete VT (volcano – tectonic) earthquake signals associated with rock fracturing as well as LF (low frequency) earthquakes, associated with the vigorous plume of water vapor, magmatic gases and bluish and yellowish aerosols (very fine particles of sulfur, sulphates, silica, droplets of sulfuric acid) through the two main mouths, exposed to  atmosphere after total drying of the acid lake.
The plume of steam, gases and aerosols dispersed mainly in the northwest, southwestern, western and southern region of the Poas volcano. No reports were received on sulphurous odors or ash falls. However, during the day there was occasional perception on the campus of the National University of Heredia of a slight odor of sulfur that could be caused by the sulfur gases of the two volcanoes Poas and Turrialba.
Turrialba Volcano:
The Turrialba volcano showed an almost constant tremor of low and variable amplitude. There have been a few VT earthquakes of low magnitude. Similarly, a few volcanic earthquakes have been recorded.
The plume of vapor, magmatic gas, and bluish aerosol of sulphate, silica and sulfuric acid droplets was dispersed mainly north-east, western and south-west. The height of the plume varied between 500 and 1000 meters above the top of the volcano. There were no eruptions.
OVSICORI-A remains vigilant on seismic and volcanic activity.
Source : Ovsicori
Photo : J. Pacheco
Ibu , Indonésia :
Volcano Observatory Notice for Aviation (VONA):
Last Issued: 2017 , June 10 / 0030Z
Current Aviation Color Code: ORANGE
Volcanic Activity Summary:
Eruption with volcanic ash cloud at 2332 UTC (0832 local).
Volcanic Cloud Height:
Best estimate of ash-cloud top is around 5360 FT (1675 M) above sea level, may be higher than what can be observed clearly.
Source of height data: ground observer.
Other Volcanic Cloud Information: Ash cloud moving to south.
Remarks:
Eruption and gas emission is continuing.
Administrative and geographical location: West Halmahera, Maluku Nord
Longitude: 127.63, Latitude: 1488
Altitude: 1325 m
Observation period: 09/06/2017 00 h 00 – 23 h 59.
Climatology:
Weather: Cloudy
Wind direction: East
Observation of the tremor:
Conclusion:
Level of G. Ibu Activity: Level II (Waspada)
Recommendations:
Communities and visitors / tourists should not move within a radius of 2.0 km around G. Ibu and the area is 3.5 km to the openings of the crater in the northern part of the active crater of G. Ibu .

Source : VSI
Photo : John Massolo – WordPress.com