June 07 , 2017. EN . Bogoslof , Sheveluch , Poas / Turrialba , Nevados de Chillan .
June 07 , 2017.
Bogoslof , Alaska :
VOLCANO OBSERVATORY NOTICE FOR AVIATION (VONA)
Issued: (20170606/1445Z)
Volcano: Bogoslof (VNUM #311300)
Current Color Code: ORANGE
Previous Color Code: ORANGE
Source: Alaska Volcano Observatory
Volcano Location: N 53 deg 55 min W 168 deg 2 min
Area: Aleutians
Summit Elevation: 492 ft (150 m)
Volcanic Activity Summary:
A short duration explosive event occurred at Bogoslof volcano at 14:00 UTC on June 6 (6:00 am AKDT) The duration of the event was less than 2 minutes, and seismicity returned to low levels following the explosion. No cloud from this event was observed in satellite data. Due to the brevity of the event, the Aviation Color Code remains at ORANGE and the Volcano Alert Level remains at WATCH.
This level of activity is consistent with the current Aviation Color Code of ORANGE and the Volcano Alert Level of WATCH.
Volcanic cloud height: None Observed
Other volcanic cloud information: Unknown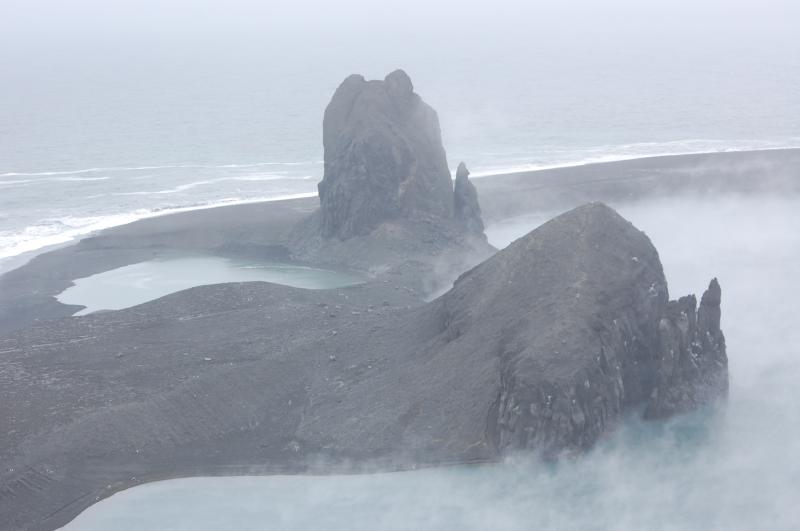 Pre-existing dome remnants on the NW end of Bogoslof Island and the vent/crater now filled by a warm saltwater lake. Bogoslof Island aerial recon opportunity courtesy of U.S. Coast Guard Air Station Kodiak and U.S.C.G Cutter Mellon.
Tuesday, June 6, 2017, 12:29 PM AKDT (Tuesday, June 6, 2017, 20:29 UTC)
Unrest continues at Bogoslof volcano. There has been no new activity detected since the brief explosive event that occurred this morning, June 6, at 14:00 UTC (6:00 am AKDT). It is likely that this event produced low-level (< 10,000 ft asl) emissions. A possible plume to about 6000 ft asl was observed in satellite data following the detection of the activity in seismic and infrasound data, but quickly dissipated. No significant activity has been detected in data from seismic or infrasound stations located on nearby Islands since this event. Persistent elevated surface temperatures have been observed in satellite data over the past 24 hours.
Source : AVO
Photo : Kaufman, Max
Sheveluch , Kamchatka :
VOLCANO OBSERVATORY NOTICE FOR AVIATION (VONA)
Issued: 2017 – 06 – 07
Volcano: Sheveluch (CAVW #300270)
Current Aviation Color Code: ORANGE
Previous Aviation Color Code: orange
Source: KVERT
Notice Number: 2017-104
Volcano Location: N 56 deg 38 min E 161 deg 18 min
Area: Kamchatka, Russia
Summit Elevation: 10768.24 ft (3283 m), the dome elevation ~8200 ft (2500 m)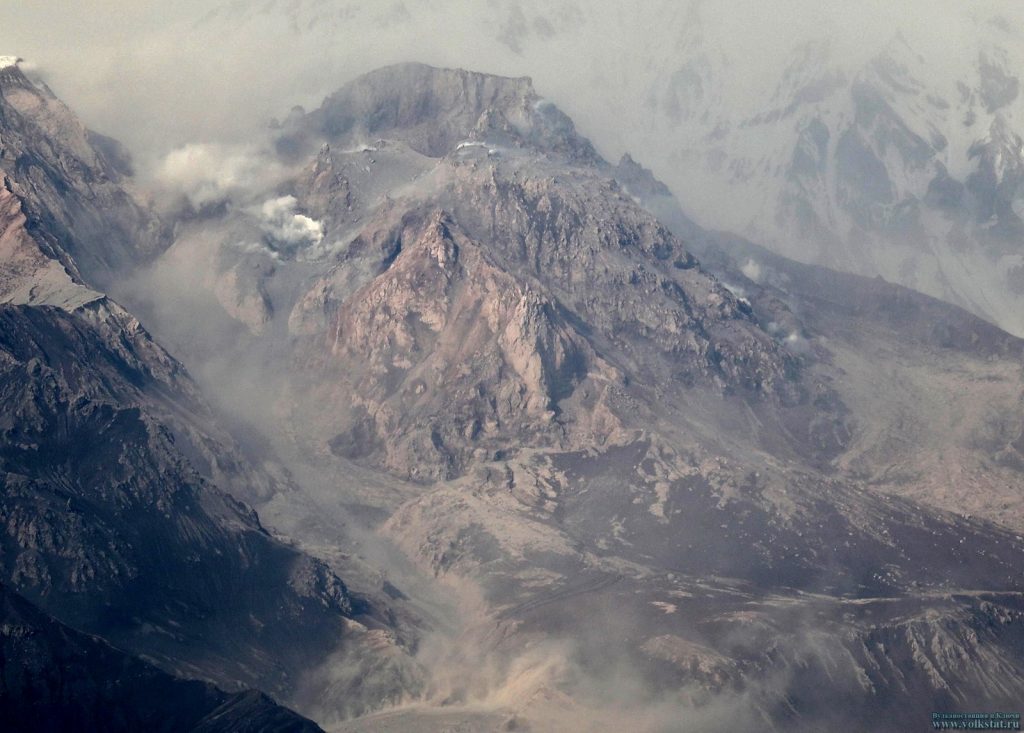 Volcanic Activity Summary:
According to satellite data, explosions sent ash up to 7 km a.s.l., ash cloud drift to the south-west from the volcano.
Explosive-extrusive eruption of the volcano continues. Ash explosions up to 26,200-32,800 ft (8-10 km) a.s.l. could occur at any time. Ongoing activity could affect international and low-flying aircraft.
Volcanic cloud height: 22960 ft (7000 m) AMSL
Time and method of ash plume/cloud height determination: 20170607/0230Z – Himawari-8
Other volcanic cloud information: Distance of ash plume/cloud of the volcano: 14 mi (23 km)
Direction of drift of ash plume/cloud of the volcano: SW / azimuth 223 deg
Source : Kvert
Photo : Volkstat ru.
Poas , Turrialba , Costa Rica :
New eruption of Poas Volcano reported this Tuesday morning.
6 JUNE 2017. The National Research Institute of Volcanology and Seismology of the National University (OVSICORI) reported an eruption that reached 1,000 meters above the crater at 3,708 meters above sea level (12,162.24 ft). It started at 8:50 am local time on Tuesday and was still running at 10:05 am.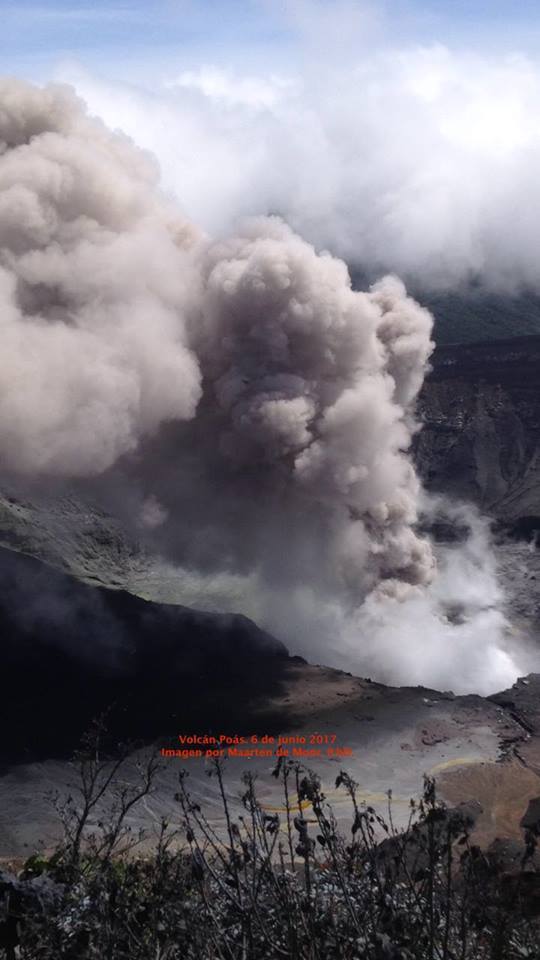 On Friday 2 June, Poás Volcano recorded steady activity with small eruptions and columns of gas and ash. On Saturday, the activity continued, but on Sunday and Monday there are no further eruptions although there is an intense column of steam and gas emanating from the crater.
The Poás Volcano has undergone several structural changes since eruptions began in April, with new cones formed, the pre – existing dome almost completely destroyed, and the lake water drying out quickly, new small fumaroles also appeared and incandescent materials have been seen from some areas at night.
At present, there have been no reports of ash falls in neighboring communities. However, the direction of the wind is towards the west, which means they could reach the community of Bajos del Toro.
Turrialba Volcano.
During the last 24 hours, there have been no major eruptions on the Turrialba volcano, and little volcanic tremor. There have been several small events of the LP type, and sometimes some small-scale VT-type events, small emissions with a low ash content and low energy. The plume does not exceed 300 meters above the crater and is scattered to the northwest. Degassing continues with moderate values (500 – 1000 T / d). The CO2 / SO2 ratio has dropped considerably yesterday and today, with values of about 3, compared to the average values of more than 5 during the last week.
Source : COSTA RICA STAR , Ovsicori .
Photo: Dr. Maarten de Moor , Ovsicori.

Nevados de Chillan , Chile :
After an eruptive activity on the night of 02-06-2017 which saw explosions with ejection of pyroclastic materials, Nevados de Chillan experienced a new crisis on June 5, with the emission of a column of ashes that exceeded the kilometer in altitude.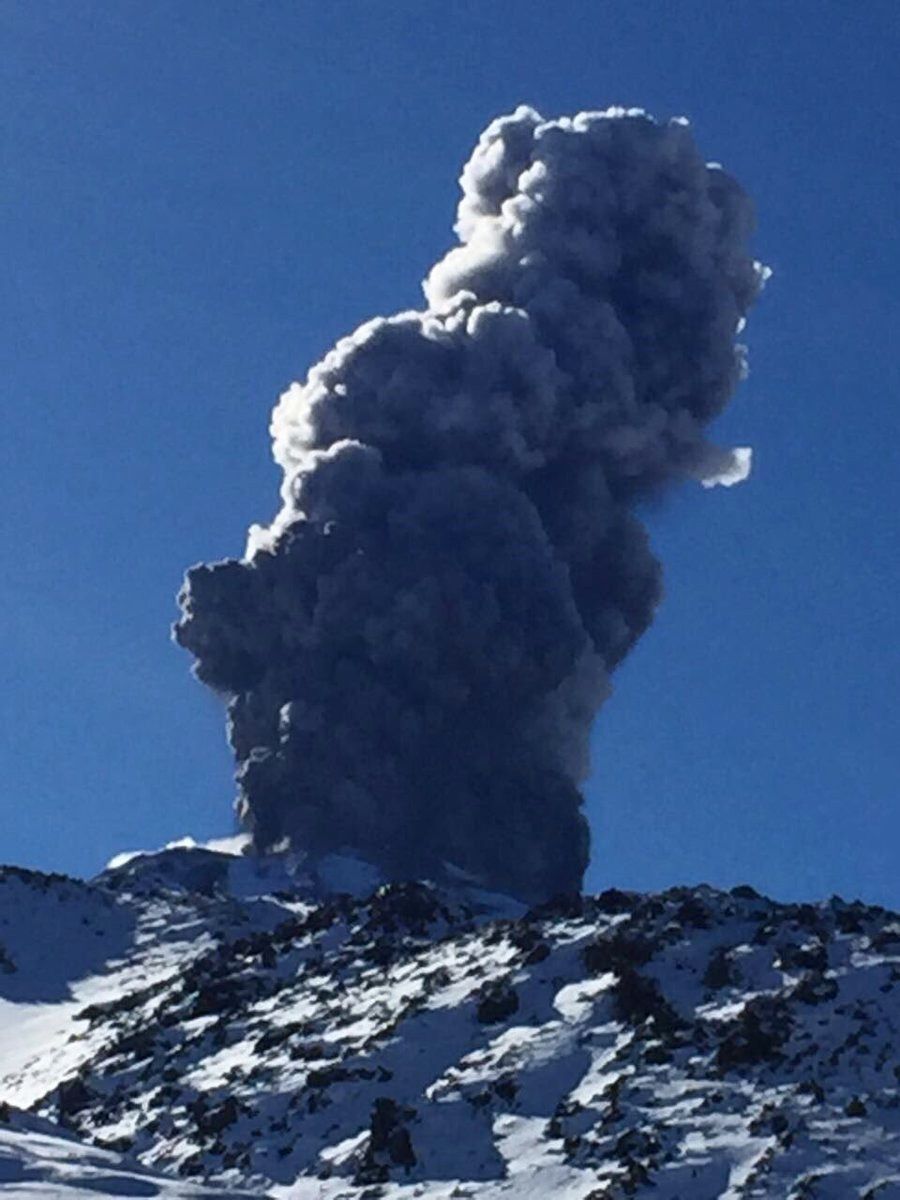 The  volcanic complex Nevados of Chillan produced a new eruptive impulse.
After 11 pm yesterday (5/06), the Nevados of Chillan presented a new eruptive impulse, which could be seen from several points of the province of Ñuble, where the volcanic complex is located.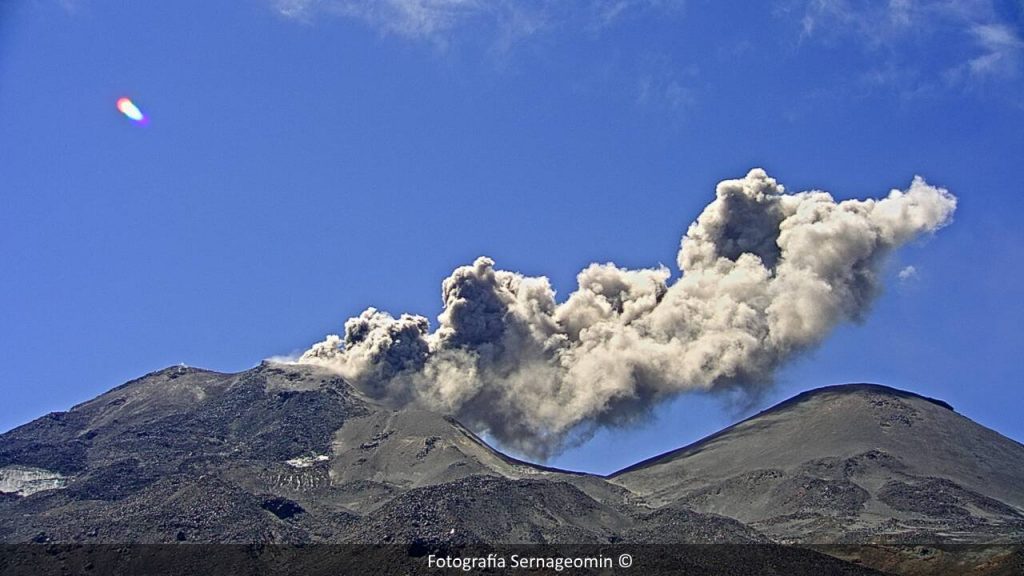 The enormous amount of ashes ejected attracted the attention of the community, through the social networks that propagated the image. However, according to SERNAGEOMIN data, the yellow alert level is maintained, as presented on 31 December 2015. There is currently an exclusion zone of 3 km radius around the crater. Monitoring of the South Andean Volcano Observatory continues, before a possible increase in seismic activity.
Source : Diario Crónica Chillán