June 03 , 2017. EN. Bárðarbunga , Manam , Yellowstone , Fuego .
June 03 , 2017.
Bárðarbunga , Iceland :
Three earthquakes at Bárðarbunga this morning .
1 JUNE 2017. This morning, three earthquakes over the magnitude of 3 occured in Bárðarbunga at a five minute interval. All occurred in the northern part of the caldera, the first at 9:49, the second at 9:53 and the third at 9:54. This is reported by the Iceland Met Office.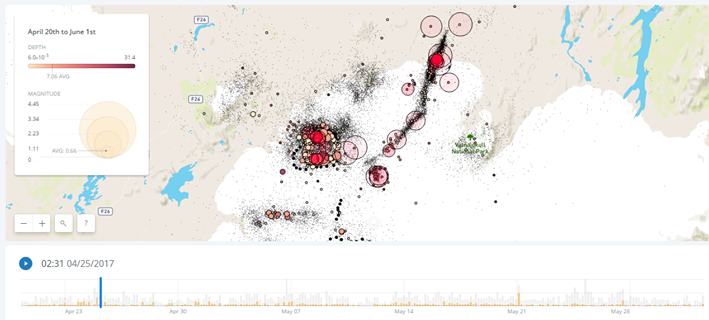 Last week, nearly 600 earthquakes were measured in Iceland which is similar to the preceeding week. Only six of them exceeded the magnitude of 3, the largest occurring on May 27th in Bárðarbunga. No earhtquakes were detected in Hekla this week.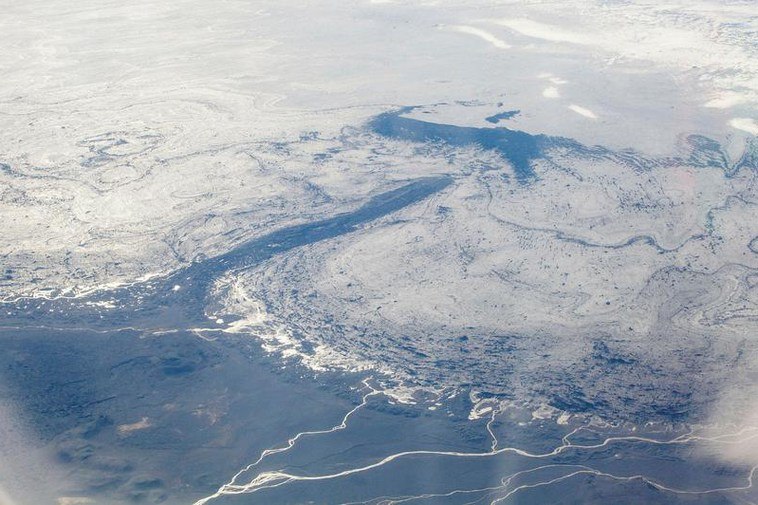 Bárðarbunga is a stratovolcano located under Vatnajökull, Iceland's largest glacier. mbl.is/Þórður
The risks of a possible subglacial eruption can induce massive flooding (Jokülhlaup). It should be noted that the seismic activity has been constant since the eruption of 2014-15 on Holuhraun. This is only a sequel after several earthquakes in recent days in this area.
Source : MBL ,  ISLANDIA. .
Photo : Mbl.is/Þórður
Manam ,

Papua New Guinea

:
Evacuated Manam Islanders facing food shortages .
1 JUNE 2017. Over 800 people evacuated from the volcanic island of Manam are facing food shortages on Papua New Guinea's mainland.
The islanders were evacuated after the eruption alert level for the Manam volcano was raised to stage three in late April.
According to the newspaper The National, the islanders have been at the Potsdam Care Centre in Madang for almost a month.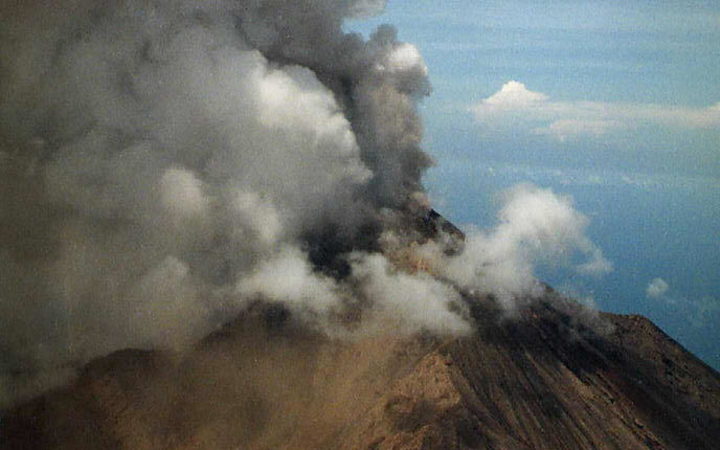 The volcano erupts, releases fragments of lava and ash on the villages of Manam Island, off the north coast of Papua New Guinea, on 4 December 1996. Photo: POST COURIER / AFP
Manam leader Paul Maburau said the Madang provincial disaster office gave each family a bail of rice, 5kg of flour and two litres of oil when they first arrived.
He said they had now run out of food and couldn't find any way of obtaining more.
Mr Maburau said people at the care centre were also getting sick and the nearest health centre did not have any medical supplies.
Citing a lack of communication with the Madang government, he said the islanders were confused about whether they would be going back to the island or not.
Mr Maburau said he got two 200-litre containers of petrol from the provincial disaster office and used one to get food from the island on a dinghy but said that was not enough.
Manam Islanders evacuated due to volcanic activity on their island are staying at a care centre at Potsdam Harbour.
Some people, he explained, were starting to leave the care centre and return to the island because of food shortages and other problems.
Mr Maburau appealed to the government to provide a piece of land for them to do their own gardening.
Source : radionz.co.nz
Photo : POST COURIER / AFP
Yellowstone , United – States :
44°25'48 » N 110°40'12 » W,
Summit Elevation 9203 ft (2805 m)
Current Volcano Alert Level: NORMAL
Current Aviation Color Code: GREEN
Seismicity.
During May 2017, the University of Utah Seismograph Stations, responsible for the operation and analysis of the Yellowstone Seismic Network, reports 94 earthquakes were located in the Yellowstone National Park (YNP) region. The largest event was a microearthquake of magnitude 2.9 that occurred on May 7, 07:03 AM MDT located about 8 miles northeast of West Yellowstone, MT.
The event was part of a small earthquake swarm of 27 quakes, May 5-8, ranging from magnitude 0 to 2.9.
Yellowstone earthquake activity in May remains at low background levels.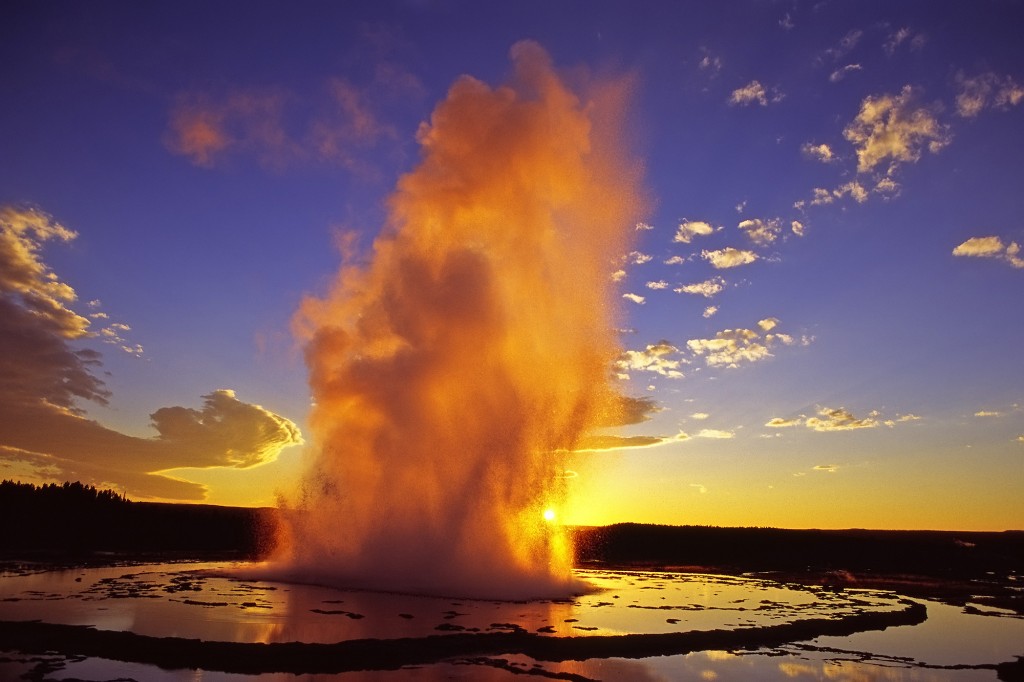 Ground deformation.
Monitored locations within the Yellowstone caldera continue to slowly subside.
Uplift north of the caldera, centered near the Norris Geyser Basin continues at a low rate.
Current deformation patterns at Yellowstone remain within historical norms.
An example of GPS data can be found at http://www.unavco.org/instrumentation/networks/status/pbo/data/WLWY (click on Static Plots / Time Series)
The Yellowstone Volcano Observatory (YVO) provides long-term monitoring of volcanic and earthquake activity in the Yellowstone National Park region. Yellowstone is the site of the largest and most diverse collection of natural thermal features in the world and the first National Park. YVO is one of the five USGS Volcano Observatories that monitor volcanoes within the United States for science and public safety.
Source : YVO
Fuego , Guatemala :
Activity type: Vulcanian
Morphology: Stratovolcano composite
Geographical location: latitude 14 ° 28'54˝ N; Longitude 90 ° 52'54˝ W.
Height: 3,763msnm.
Weather conditions: Partly Cloudy
Wind: N at 3 km / h
Precipitation: 40.7 mm.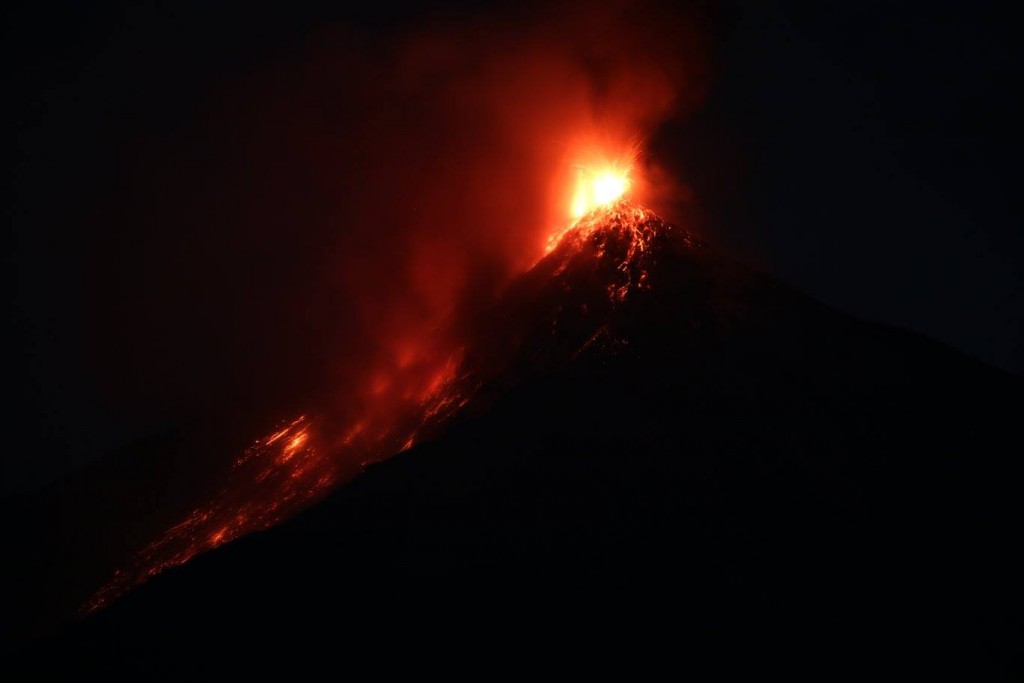 Activity:
White-colored degassing fumaroles rose to a height of 4,400 m and dispersed to the southwest. 42 explosions were generated, 28 weak and 14 moderate. The gray ash columns rose to a height of 4,300 to 4,700 m (14,105 to 15,420 feet) and dispersed 10 to 12 km to the west and southwest. They were accompanied by rumblings, 20 weak, 12 moderate and 10 which generated strong shock waves, sensitive internally at 20/25 km. Incandescent impulses increased 300 to 500 m above the crater, resulting in moderate to strong avalanches to the Ceniza, Taniluya and Santa Teresa gullies.
Lahars in the ravine SANTA TERESA, tributary of the rivers PANTALEON AND MINERAL.
As already reported, the materials of the pyroclastic flows of the volcano eruption on May 5, combined with heavy rains on the volcanic complex of recent days, generated this afternoon and tonight, strongs lahars to The Pantaleon and Mineral rivers, descending with abundant volcanic material, hot blocks of 1, 2 and 2.5 meters in diameter , trees and branches, with a width of 30 to 40 meters, and a height of 1, 2, 3 meters.
These lahars are in the category of strongs, which makes them dangerous and can cause problems to the road infrastructure and overflow on the paths and roads beside.

Source : Insivumeh
Photos : Archives , Hostingmurah ( Indonesie)